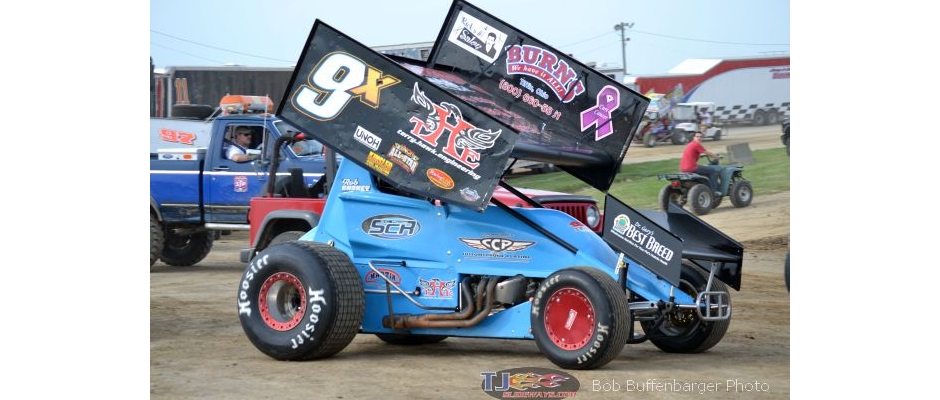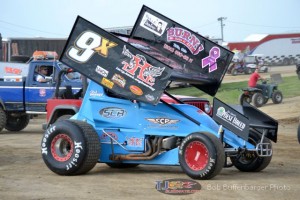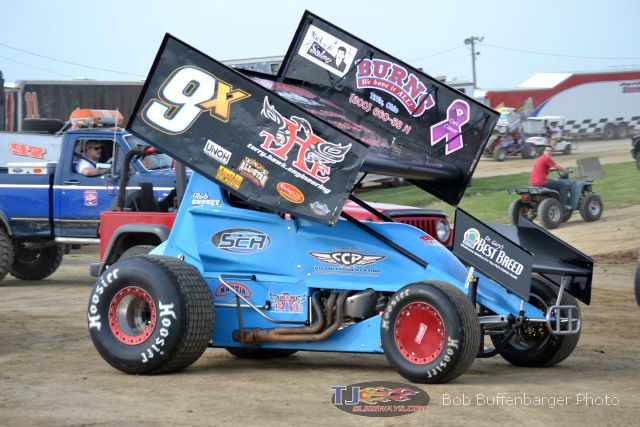 From Brian Liskai
Attica, OH — (April 24, 2015) — Rob Chaney avoided contact with another racer on two occasions and then blasted past Gary Taylor on a restart to drive to his 10th career 410 sprint win at Attica Raceway Park Friday.
At the beginning of the race Chaney and Cap Henry tangled on the front stretch while battling for third. A few laps later the two would make contact entering turn three leaving Henry with a flat tire while Chaney continued on. A restart with 19 laps to go gave Chaney the opportunity he needed as he executed a perfect slider on Taylor to take the lead. Taylor would hound Chaney the rest of the race including a restart with five laps to go. But, the Millersburg, Ohio driver would master the cushion to perfection to take the victory on Fisher Performance/Merrill Lynch Night.
Chaney is coming off a second place run with the UNOH All Stars the previous week at Wayne County Speedway. Though on Friday, his Stan Cortad owned team would bring out a different machine.
"You know how we are. We were running good so we had to try another car and see if we could make it go good. I guess it worked out," said Chaney beside his Jon Wright's Custom Chrome Plating backed #9x.
"We had motor troubles all night and actually in the feature I really had a hard time running the curb the way I wanted to because it would pull down when I get up into it and I'd get tight. It may have helped me down the straight-away…it wouldn't spin the tires but it was tough in the corners. For as bad as the motor was running the car was phenomenal. I want to thank Stan and all these guys. I've been with him a long time and it's sweet to get these wins," continued Chaney.
"The front stretch is on him and the back stretch is on me," added Chaney of his run-in with Henry. "I'm going to go apologize to him because that was a really bad spot to get into him and honestly I don't know how I closed on him that quick. I don't know if he spun and I didn't but I definitely didn't intend to get into him there," concluded Chaney, adding the win is a 16th birthday present to his son, Brayden.
Defending Attica 305 sprint champion Jordan Ryan would drive around Steve Rando on a restart with just one lap to go to score his third straight win and the eighth of his career at the track. Ryan said his goal this year is to win not only the Attica title again but the Fremont Speedway and JLH General Contractor FAST 305 Championship Series as well.
"I was going to low in one and two a couple of laps before and Rando kept getting a run. So I knew (on the last lap restart) I had to hit my marks in the middle. I could pretty much hold it wide open in the middle. The car was getting on the left rear so good and I came out next to him. I knew he was going to be fast in three and four and I knew I had to get the good slide job in and it worked," said Ryan beside his Village Pizza House/KDB Rentals/Burns Electric/Frosty Frog/Sandwisch Hay and Straw/J&J Automotive/Kistler Racing Products/Griff's Engines/Big D's Lawncare/Walton's Cutting Crew/Precision Body and Frame backed machine.
"To keep going from last year is pretty cool. We're going to try and win all three championships. This time it wasn't so easy," added Ryan who started 11th in the feature.
For the O'Reilly Auto Parts 410 Sprints 30 lap feature Jordan Harble and Gary Taylor would bring the field to green. Taylor would jump out to a big advantage over Harble with Chris Andrews, Chaney, Henry, Duane Zablocki and Dean Jacobs in tow.
Harble's motor would let go a lap later with Taylor holding a commanding lead over Andrews, Henry, Chaney, Jacobs, Zablocki, Nate Dussel and Byron Reed. Taylor would blast into lapped traffic on lap six with a tremendous three-way battle being waged for second involving Andrews, Henry and Chaney. Henry and Chaney would tangle entering turn three on lap seven with Henry stopping with a flat tire. He would rejoin the rear of the field. The restart order was Taylor, Andrews, Chaney, Jacobs, Reed and 14th starter Caleb Griffith.
When the green flew so did Taylor, pulling away to a several car length lead while Andrews, Chaney and Jacobs battled hard for second. D.J. Foos would bring out the caution with 11 laps in with the running order now Taylor, Chaney, Andrews, Reed, Jacobs and Griffith.
On the restart Chaney executed a perfect slider in turns one and two to take the lead. Taylor would continue to race to Chaney's inside over the next three laps while Andrews was fending off Jacobs, Reed, Stuart Brubaker, Dussel and Hunter Schuerenberg who started 16th.
The leaders would hit heavy lapped traffic by the 18th lap with the running order Chaney, Taylor, Andrews, Jacobs, Reed, Brubaker, Dussel, Schuerenberg and Griffith. Dussel would take a tumble in turn four on lap 22 to bring the action to a halt. Dussel was uninjured.
Chaney and Taylor would pull away slightly on the restart with Andrews and Jacobs locked in a battle for third with Reed, Brubaker, Griffith and Schuerenberg in pursuit. Dain Naida would coast to a stop on the front stretch with five laps to go with the running order Chaney, Taylor, Andrews, Jacobs, Reed, Griffith, Brubaker and Schuerenberg.
Chaney and Taylor continued to run close with Jacobs taking third on lap 27 followed by Andrews, Reed, Griffith and Brubaker. Chaney would drive to the win over Taylor, Jacobs, Andrews and Griffith.
John Ivy and Luke Griffith paced the field for the 25-lap 305 sprint feature. Griffith, last year's rookie of the year, would gain the advantage over Ivy, Steve Rando, Seth Schneider and T.J. Michael.
Coming out of four to complete the fourth lap, Griffith would tangle with the heavy cushion and spin, handing the lead go Ivy. When the green reappeared Ivy would have his hands full with Rando and Michael as Schneider, Ricky Peterson and Paul Weaver gave chase.
On lap six Michael would blast into the cushion in turn four, ending his night. On the restart Ivy would lead Rando, Schneider, Peterson, Weaver, Ryan and Jamie Miller. Ivy and Rando raced side by side over the next hand full of laps while Ryan methodically worked his way into third by lap 12.
Rando would bounce over the cushion in turns three and four on lap 14 allowing Ryan to take second. Ryan would immediately race to Ivy's inside but the veteran held off the young challenger over the next few laps.
It was nearly disaster on lap 17 when Frank Neill and Jim Taddeo would tangle in turn four right in front of the leaders. On the restart Ivy would continue to hold off Ryan with Randy mounting another challenge with Schneider, Peterson and Bobby Clark giving chase.
From lap 18 through lap 22 it was a tremendous three car battle for the lead with Ryan on the bottom, Ivy in the middle and Rando up top. Rando would drive into the lead on lap 23 with Ryan taking second while Ivy stayed close in third.
As the leaders raced into turns three and four on the final lap Neill and Alex Hill would bring out the caution. It would then become a one lap fight to the finish with the running order Rando, Ryan, Ivy, Clark, Schneider and Weaver.
Ryan would drive the middle of the track in turns one and two on the restart and Rando would blast to the top. The two were side by side down the back stretch and Ryan executed a slider in turn three to take the lead as they drove to the checkers. Behind Ryan and Rando at the finish line were Ivy, Clark and Weaver.
Attica Raceway Park will be back in action Friday, May 1. It will be a Kistler Racing Products Fremont Attica Sprint Title (FAST) Championship Series point race for the 410 sprints. The late models and 305 sprints will also be in action on Sutton Bank Night.
May 1st is also Scout night and all scouts and their leaders are encouraged to wear their uniforms for free admission. It will also be $1 hot dog night and the pits will be opened to everyone to meet the times following hot laps and before the night's racing gets underway.
For more information go to www.atticaracewaypark.com
Attica Raceway Park
April 24, 2015
Fisher Performance/Merrill Lynch Night
Starting position [x]
O'Reilly Auto Parts410 Sprints –
Nitro Black Performance by Engine Pro Heat 1 – (8 Laps, 8 advance to A)
1. 19-Chris Andrews[2] ; 2. 15H-Mitch Harble[1] ; 3. 21-DJ Foos[3] ; 4. 40DD-Nate Dussel[5] ; 5. 60-Jody Keegan[4] ; 6. 20N-Hunter Schuerenberg[8] ; 7. 77-Dain Naida[6] ; 8. 59-Bryan Nuckles[7]
Summit Racing Equipment Heat 2 – (8 Laps, 8 advance to A)
1. 97-Dean Jacobs[3] ; 2. 5R-Byron Reed[2] ; 3. 9x-Rob Chaney[5] ; 4. 16-Stuart Brubaker[4] ; 5. 33M-Caleb Griffith[7] ; 6. 22-Cole Duncan[6] ; 7. 16X-Ryan Ruhl[1] ; 8. 41J-Jeremy Powley[8]
Ultra Shield Race Products Heat 3 – (8 Laps, 7 advance to A)
1. 1st-Gary Taylor[1] ; 2. 53-Cap Henry[4] ; 3. 5-Jordan Harble[2] ; 4. 9Z-Duane Zablocki[5] ; 5. 81-Lee Jacobs[7] ; 6. 45L-Brian Lay[3] ; 7. 68G-Tyler Gunn[6]
A-Main 1 – (30 Laps)
1. 9x-Rob Chaney[6] ; 2. 1st-Gary Taylor[2] ; 3. 97-Dean Jacobs[8] ; 4. 19-Chris Andrews[4] ; 5. 33M-Caleb Griffith[14] ; 6. 5R-Byron Reed[10] ; 7. 16-Stuart Brubaker[11] ; 8. 16X-Ryan Ruhl[20] ; 9. 20N-Hunter Schuerenberg[16] ; 10. 60-Jody Keegan[13] ; 11. 68G-Tyler Gunn[21] ; 12. 21-DJ Foos[12] ; 13. 81-Lee Jacobs[15] ; 14. 53-Cap Henry[5] ; 15. 9Z-Duane Zablocki[3] ; 16. 45L-Brian Lay[18] ; 17. 59-Bryan Nuckles[22] ; 18. 77-Dain Naida[19] ; 19. 41J-Jeremy Powley[23] ; 20. 40DD-Nate Dussel[7] ; 21. 15H-Mitch Harble[9] ; 22. 22-Cole Duncan[17] ; 23. 5-Jordan Harble[1]
*Hard Charger Ryan Ruhl [20] to 8 +12 spots
Foster Auto Body 305 Sprints –
Nitro Black Performance by Engine Pro Heat 1 – (8 Laps, 8 advance to A)
1. 1W-Paul Weaver[2] ; 2. 11G-Luke Griffith[1] ; 3. 36-Seth Schneider[3] ; 4. 18-TJ Michaels[7] ; 5. 8-Bobby Clark[5] ; 6. 4*-Tyler Street[4] ; 7. 7M-Brandon Moore[6] ; 8. 75-Jerry Dahms[8]
Summit Racing Equipment Heat 2 – (8 Laps, 8 advande to A)
1. 5R-Jordan Ryan[4] ; 2. 2-Ricky Peterson[2] ; 3. 3J-Trey Jacobs[1] ; 4. 20I-Kelsey Ivy[5] ; 5. 22M-Dan McCarron[6] ; 6. 18N-Frank Neill[3] ; 7. 87-Brian Gibbs[7]
Ultra Shield Race Products Heat 3 – (8 Laps, 6 advance to A)
1. 39-Jamie Miller[1] ; 2. 77I-John Ivy[3] ; 3. 19R-Steve Rando[4] ; 4. 25-Jason Keckler[2] ; 5. 12-Kyle Capodice[7] ; 6. 77X-Alex Hill[5]
A-Main 1 – (25 Laps)
1. 5R-Jordan Ryan[11] ; 2. 19R-Steve Rando[4] ; 3. 77I-John Ivy[1] ; 4. 8-Bobby Clark[13] ; 5. 1W-Paul Weaver[10] ; 6. 2-Ricky Peterson[5] ; 7. 36-Seth Schneider[3] ; 8. 39-Jamie Miller[8] ; 9. 3J-Trey Jacobs[9] ; 10. 12-Kyle Capodice[15] ; 11. 25-Jason Keckler[12] ; 12. 22M-Dan McCarron[14] ; 13. 7M-Brandon Moore[19] ; 14. 4*-Tyler Street[16] ; 15. 75-Jerry Dahms[21] ; 16. 87-Brian Gibbs[20] ; 17. 77X-Alex Hill[18] ; 18. 18N-Frank Neill[17] ; 19. 4T-James Taddeo[22] ; 20. 20I-Kelsey Ivy[7] ; 21. 11G-Luke Griffith[2] ; 22. 18-TJ Michaels[6]
*Hard Charger Jordan Ryan [11] to 1 +10 spots