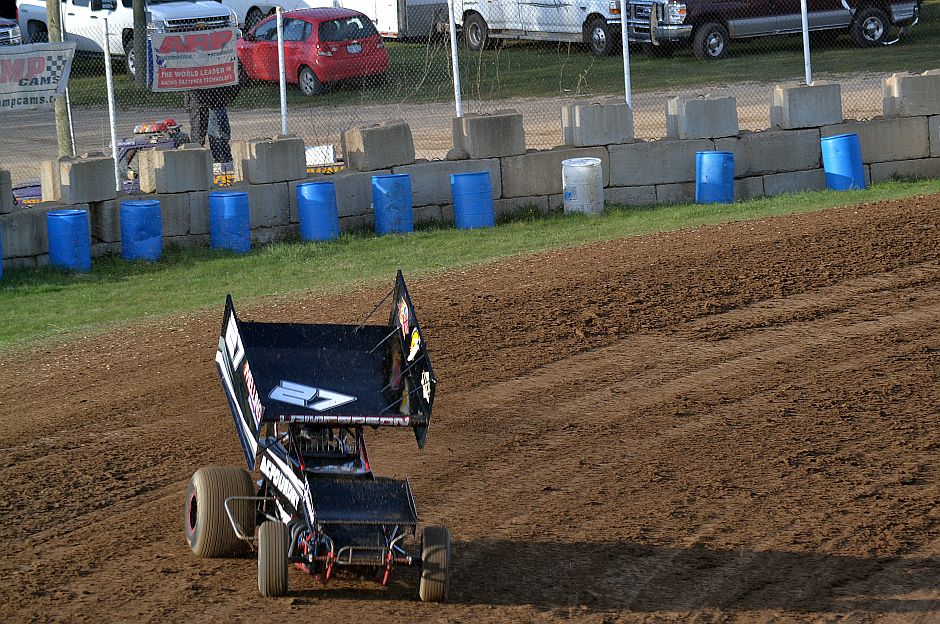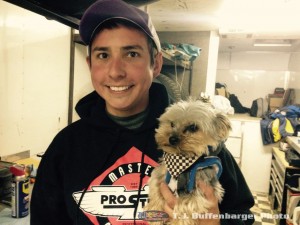 By T.J. Buffenbarger
Saturday's Engine Pro Sprints on Dirt presented by ARP event at Crystal Motor Speedway went off without a hitch. While it does not seem out of the ordinary for a series that has been around for over 30 years ago, it took a tremendous last minute effort by Adrianna Irwin and her SOD staff to pull it all together.
Two weeks before the SOD season when Adrianna took over the series many of the off season tasks had not been accomplished. Adrianna and her staff dove into action and pulled together contacts, sponsors, rules, competitors, equipment, and countless other things to make it to opening night. While there was some minor grumbling over some procedure and rule changes one could not ask for a better first night. The program ran smoothly, the racing was tremendous, and everyone went home safely.
Hopefully the remainder of season goes as well for the new crew. Having several returning people such as Pat Holzinger, who does so much of the paperwork and what not in the pit area, Fred Alberts, and others helped the transition. I sincerely hope that teams will cut this crew some slack the first year, have a positive experience, and see what they can do with a full off season under their belts. Adrianna seems highly motivated and enthusiastic so far. With a built in brand, a schedule that has tracks wanting dates, and a strong group of competitors SOD could grow a lot over the next few years with just a little bit of tending. Hopefully Adrianna and her crew do not get burned out by the end. So far though, it's an excellent start to what should be a great season.
T.J.'s Notebook:
• How good was Saturday night's program at Crystal Motor Speedway? I would rate it as one of the better races SOD races I've ever seen at Crystal. At one point midway through the 25-lap feature the top five cars were dicing for the lead in lapped traffic. This seems to be a trend at Crystal as the past couple of seasons the bottom of the track has become useable space during the feature and has helped produce some tremendous side by side racing. I'm not sure if it's the surface, the way it's prepped, but the sprint car racing has been much better in recent year.
• Brad Lamberson grabbed defeat from the jaws of victory courtesy of an engine problem coming down for the white flag in the feature on Saturday at Crystal. Lamberson confirmed with us on Tuesday the engine issue was significant and he will be putting in the backup engine on Saturday, which was resident in Brad's brother Jared's entry on Saturday at Crystal. So unless sponsorship arises to fix the engine the Lamberson effort is down to one car.
• Winner Ryan Ruhl's remarkable improvement over the past couple of seasons appears to be extending into this year as well. Ruhl was very impressive running up from mid-pack in the feature, passing the SOD driver with the more feature wins at Crystal and SOD all time Dustin Daggett with authority, and putting himself in position to take advantage of Lamberson's misfortune. For something different we took a victory lane photo post race with Ruhl's dog Khan.
• Florida resident Kyle Pitts has returned to Michigan for the second. Pitts schedule will mirror what he did last summer following the SOD tour and various other races in the area on off nights. When asked why he return for a second year it came down to his enjoyment of racing around here and use of the ASCS motor versus the more limited Top Gun series engine in Florida.
• Another somewhat new combination for 2015 on the SOD tour will be Mark Aldrich joining forces with Marques Huffer. Aldrich will drive using his own car using Huffer's engine and hauler. The Aldrich/Huffer combination had a bit of a scare during heat race competition when an oil leak became prevalent by sight and odor. Thankfully the problem was resolved for the feature.
• Craig Karazim's sophomore season got off to a rough start on Saturday night at Crystal. After making the feature Karazim experienced engine problems and had to scratch from the feature event. This opened up a fifth transfer spot in the B-Main, which Eric Smith was able to capitalize one. Smith, who changed his car number to 24 during the off season in hopes of his racing luck changing as well, started off much better this season managing to stay upright and running during the opener.
• Tracks around the Midwest cancelling due to weather brought visitors Dan McCarron and Alex Hill to Crystal on Saturday with their 305 engines. This season SOD is allowing Ohio legal 305's to compete without restrictor gaskets.
McCarron is a former regular with SOD that actually resides closer in Southeast Michigan to Attica and Fremont than many of the SOD tracks. McCarron put together a solid sixth place run.
Hill used Crystal to make her debut in the 360 class during her first season of full size sprint car season. Hill, 15 years of age, finished second in the B-Main and ran all of the laps in the feature finishing 13th. Hill is a very grounded young lady with a good head on her shoulders, speaking like an intelligent young lady without seeming to public relations programmed like so many other young drivers. Look for Hill to race the crate sprint car division at Ohsweken Speedway on Friday and the 305 sprint car series at Fremont Speedway on Saturday.
• Speaking of the Hills Racing Team, if all goes well look for an all star lineup for the team at the 2015 Canadian Sprint Car Nationals.
Notes from around the country….
• Mother Nature was the big winner over the weekend. Over a four day span 50 open wheel feature events were rained out based on our win list with a handful of events yet to report. The impressive thing was the geographical reach of rained out events as California to Western Pennsylvania was effected.
• Bill Balog winning a feature with the Interstate Racing Association is hardly news. Balog winning in someone else's car is. Balog drove veteran midget car owner Hans Lein's new winged sprint car to the win on Sunday at Beaver Dam Raceway. Balog has driven midgets for Lein in the past. If the quality of Lein's midget equipment follows his sprint car efforts, winged sprint car racing has gained top quality new team.
• Kudos to Trey Starks, who has taken his lumps at times during his relatively new career in sprint car racing. Last weekend Starks captured two feature victories in the Northwest at Cottage Grove Speedway and Grays Harbor Raceway Park.
• Even though its two weeks away it's not too early to start talking about the USAC Amsoil National Sprint Car Series / World of Outlaws series double header May 8-9 at Eldora Speedway. Keeping with their tradition of some of the smallest ticket prices relative to the magnitude of the event, fans can see this historic double header for the general admission price of just $25.00. There are stand along World of Outlaw shows that cost nearly double that price. Fans can pick up tickets today at http://www.eldoraspeedway.com/