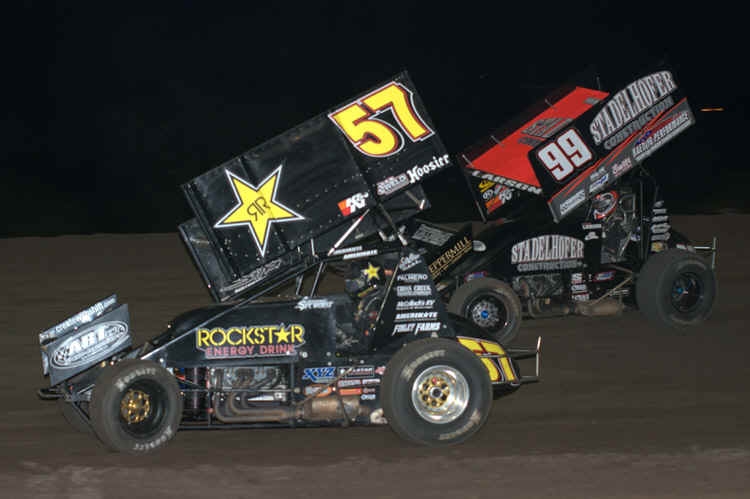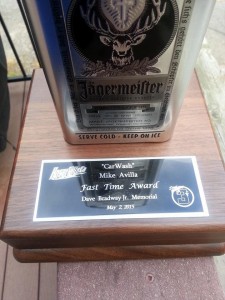 From Gary Thomas
Chico, CA — (April 29, 2015) — Thanks to a $500 donation from Kyle Larson the Carwash Mike Fast Time Award for Saturday's Dave Bradway Jr. Memorial is up to $840. Kyle's career best outing at the Bradway came in 2010 when he ran second to Shane Stewart, who he currently co-owns a car for on the World of Outlaws tour. Other donations have come in from Backyard Dreams, 50th Stater & Julie Ripperger.
If anyone would like to donate more to the award or anything else for the event please let myself or Dave & Dianne Durica know at 916-988-5958. Brad Johnson Trucking has also donated $200 to the night's hard charger award in the 40-lap main event.
Saturday is also the first Williams Roofing Royal Fan Pill Draw night, which works as follows. A trivia question will be asked from the announce booth and the fan that answers correctly will pull a random number (1-22) out of a bag. The fan automatically wins $100 and if the driver wins the feature from the starting spot drawn, the driver receives a $1000 bonus. The Draw is taking place at KWS events that are part of the Prentice Motorsports Group Double Down Bonus weekends, which includes this Friday at Ocean Speedway & Saturday at Silver Dollar Speedway.
The front gate will open at 5pm on Saturday May 2, with adult tickets costing $20, juniors 12-15 will be $15 and kids 6-11 are $6. All seating is general admission during the night. Silver Dollar Speedway is a high-banked quarter-mile clay oval and is considered one of the most famous dirt track venues in the country.
Camping is available for the weekend and is $35 a night that is collected by the fairgrounds. On Saturday the Northern California Auto Racing Alumni will hold their annual Hall of Fame barbeque at the garden court area inside the fairgrounds. The lunch takes place at noon.
The Silver Dollar Speedway is located on the Silver Dollar Fairgrounds, a half-mile west of SR 99 on Park Ave in Chico, California. For directions and a map visit http://www.silverdollarspeedway.com/location.php
Info on the King of the West 410 Sprint Car Series can be found at www.racepmg.com