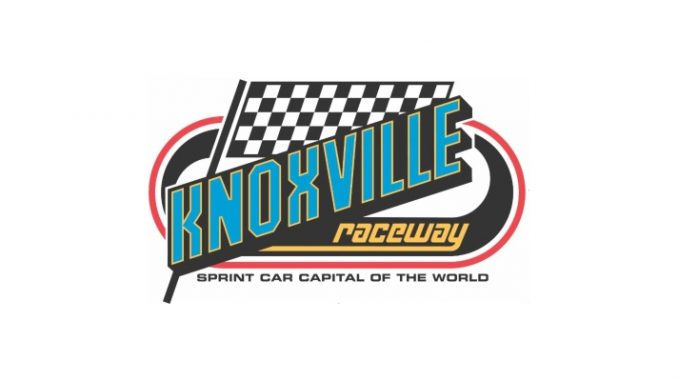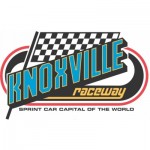 From Bill Wright
Windom, MN — (May 5, 2015) — So far, Mother Nature has been cruel to the Knoxville Raceway. For the first time in the track's history, the first three nights of racing have been washed out at the "Sprint Car Capital of the World". This Saturday night, they will give it another try in a big way! It will be the first of four visits for the FVP National Sprint League in 2015. Saturday will also serve as night #2 for the Durst Motorplex $20,000 bonus going to any driver who can sweep weekend FVP National Sprint League events at Eagle Raceway in Nebraska on Friday, May 8, and at Knoxville Saturday.
Knoxville's event will also serve as the first eligibility race for the $25,000 DeBerg Concrete Triple Crown Challenge. Drivers eligible for the Challenge must win one FVP National Sprint League race at Knoxville (May 9, June 27, July 4 or August 29), one event at Huset's Speedway (May 24, July 3 or July 26) and the finale of the Jackson Nationals on September 5.
Saturday will be a sprint car lover's dream, as three classes of sprints will be in action. In addition to the FVP National Sprint League competing with the 410's, the Knoxville Championship Cup Series 360 and 305 sprint cars will also be in action!
FVP National Sprint League drivers expected to compete Saturday include four-time Knoxville Nationals champion, nine-time Knoxville track champ and National Sprint Car Hall of Famer, Danny Lasoski, Seven-time Knoxville Raceway champ, Terry McCarl, two-time Knoxville Raceway track champ Brian Brown, two-time "King of California" Tim Kaeding, Knoxville track record holder Brooke Tatnell, seven-time IRA champ Bill Balog, two-time USAC champion Bryan Clauson, five-time Huset's Speedway champion Mark Dobmeier, Brad Loyet, Dusty Zomer, Davey Heskin and many more!
Justin Henderson, who has finished in the top five at the Knoxville Nationals the last two years will help to lead the local contingent at Knoxville. He will be joined by 2013 Knoxville track champion, Bronson Maeschen, Don Droud Jr., Dustin Selvage and many more who are looking to finally sling mud in 2015 at the "Sprint Car Capital of the World"!
Defending Knoxville Raceway track champion, Ian Madsen is looking forward to Saturday's FVP National Sprint League event. "I'm really looking forward to any kind of racing at Knoxville!" he says. "The fact that it's a FVP National Sprint League race is going to make it even bigger, better and cooler! It's going to be pretty historic. There are a lot of good things to come!"
Grandstand gates open at 6:00 p.m. Saturday. Hot laps are scheduled for 6:45 p.m. with qualifying and racing to follow. Admission is $15 for adults 20+, youth 19 and under are FREE! Pit gates open at 3 p.m. Pit passes are $25. In addition to the sprint car tripleheader, dirt trucks are also on the card.
Durst Motorplex $20,000 Bonus!
Any driver who can sweep events this weekend at Eagle Raceway near Eagle, Nebraska Friday and Knoxville Raceway in Knoxville, Iowa on Saturday will earn a $20,000 bonus from Phil Durst, CEO and President of Durst Motor Company. Phil puts his customers first at Durst! The Durst Motor Company has over 95 years in combined experience in the automotive industry in Lincoln and southeast Nebraska. To visit the Durst Motor Company online, visit www.DurstMotorCo.com!
Stay tuned to the FVP National Sprint League website at www.NationalSprintLeague.com, on Facebook, and @NSLSeries on Twitter for more information on the weekend. For more information on Eagle Raceway, visit www.EagleRaceway.com. Knoxville Raceway's website is located at www.KnoxvilleRaceway.com!
Photo: Defending Knoxville Championship Cup Series champion Ian Madsen (Dave Hill Photo)
2015 FVP National Sprint League Driver Point Standings
Wayne Johnson, Knoxville, IA 77x 344
Terry McCarl, Altoona, IA 24 310
Brad Loyet, Sunset Hills, MO o5 307
Danny Lasoski, Dover, MO 2 304
Bryan Clauson, Noblesville, IN 17w 302
Brian Brown, Grain Valley, MO 21 279
Tim Kaeding, San Jose, CA 3 270
Mark Dobmeier, Grand Forks, ND 13 226
Bill Balog, Brookfield, WI 17B 212
Ian Madsen, St. Mary's, NSW, Aust. 18 211
Dusty Zomer, Sioux Falls, SD 82 205
Paul Nienhiser, Chapin, IL 9 200
Lynton Jeffrey, Prairie City, IA 12 193
Davey Heskin, St. Michael, MN 56 187
Brooke Tatnell, Sans Souci, NSW, Aust. 55 185
Kaley Gharst, Decatur, IL 7 178
Austin Johnson, Pleasant Hill, IA 81 161
Tasker Phillips, Pleasantville, IA 7TAZ 158
Josh Schneiderman, West Burlington, IA 49 147
Chris Martin, Ankeny, IA 44 124
Bryan Gossel, Windsor, CO 6 120
Stu Snyder, Waverly, NE 23s 118
Ryan Bunton, Morton, IL 7R 114
Matt Juhl, Sioux Falls, SD 09 108
Curtis Evans, Norborne, MO 1P 106
Austin McCarl, Altoona, IA 99 102
Brandon Stevenson, Holstein, IA 0 100