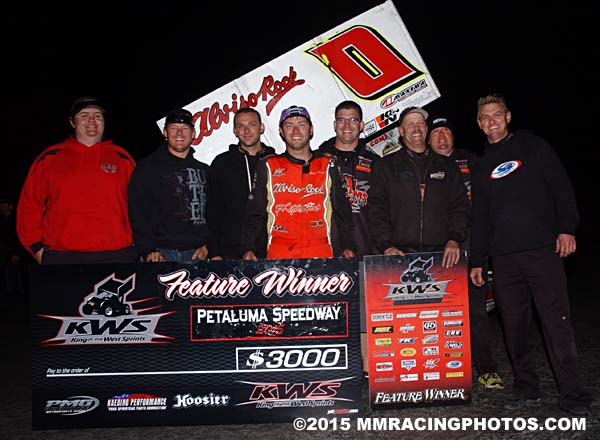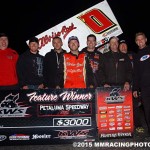 From Gary Thomas
Petaluma, CA — (May 9, 2015) — Despite a number of double file restarts in the main event on Saturday at Petaluma Speedway nobody could catch the fast moving Bud Kaeding, who started from the front row and led all 30-laps for his second straight King of the West 410 Sprint Car Series victory.
Just a week after picking up one of the biggest wins of his career the Campbell, CA driver came back and looked every bit as strong; hitting his marks to near perfection on Saturday, on what became a different than usual, but racy & wide Petaluma surface in the feature. It was Kaeding's 12th career series victory, which places him into a tie with Kevin Pylant & Kyle Hirst for eighth on the all-time win list.
"It feels great to be up here in victory lane once again and I can't remember the last time I won back-to-back races," Kaeding joked on the front stretch. "The track definitely changed in the main event and wasn't what we're used to in Petaluma, but it made for a drivers track. I just kept focusing on hitting my restarts well and working the lapped cars when they came up. My family has been coming to this track for a long time and I want to thank all the fans that came to support this series tonight. Also big thanks to Morrie & Katie Williams and this whole Williams Motorsports team. My guys are doing a great job and it's giving me a lot of confidence."
Kaeding started alongside pole sitter & Dash winner Jonathan Allard of Chico, who was his stiffest challenge early on. The three-time KWS champ hounded Kaeding's rear bumper and looked to pounce with traffic approaching, but the first of multiple caution periods would occur, taking the chance away. Allard would eventually suffer a flat tire on lap eight and have apparent motor issues, knocking him out of the race on lap 10. Despite the number of cautions taking away any chance of racing through thick lapped traffic, the double file restarts kept things interesting and saw positions shake up on every occurrence.
A multiple car fight for the second spot behind Kaeding went on between Fresno's Dominic Scelzi, Fremont's Shane Golobic, Auburn's Andy Forsberg, Roseville's Colby Copeland and Lemoore's Carson Macedo. All five battled amongst each other on a surface that had gotten noticeably slicker as the race went on. Drivers crossed each other over on both ends of the speedway, as Scelzi held onto the runner up spot for much of the contest and did close on Kaeding over the later stages.
Macedo, who started 13th on the grid, moved into the third spot on lap 18 and began to put the heat on Scelzi. Both youngsters charged hard after Kaeding, who did get slowed by some traffic later on.
With the two Central Valley young guns closing, Kaeding had to hit his marks lap after lap and that's exactly what he did, pulling away the final few circuits to take the checkered flag by 1.284 seconds for the victory. Macedo was able to slice under Scelzi with just a couple laps left off turn four to earn his second straight runner up finish in King of the West competition. The 18-year-old earned the Hard Charger award in the feature and is the only driver to finish on the podium in all three KWS races so far this year. He'll go into Tulare next week holding onto a one-point lead in the series standings aboard the WFO Apparel/ Tarlton & Son No. 21x mount.
"We had a great run in the main event tonight and I can't thank this team enough for what they do for me," said Macedo. "I feel like I really put us behind the eight ball in qualifying, but to be able to come forward like that in the feature is pretty awesome. I've never been here before so to get a runner up behind Bud Kaeding feels great. It was a fun race and I really enjoyed dicing it up with some of the guys coming through the field. I'm definitely excited to go to my favorite track next week, Thunderbowl Raceway."
Scelzi earned a third place finish for the second weekend in a row at the helm of his Scelzi Enterprises/ Red Rose Transportation No. 41 machine. He now sits in a tie with Bud Kaeding for the second spot in the KWS points, just one-marker behind Macedo for the top spot.
"I'm really happy to bring home another podium tonight for my team, Scelzi said. "I thought I had a shot at Bud there for a bit late in the race, but he just didn't make any mistakes, and then I made a mistake in turn four that let Carson get by. It's no doubt a better ending this week though because nobody is mad at me and we can all be smiling after the races. Getting my qualifying down this year has been a big thing and it's helped a lot with our results. I can't wait for Tulare next week."
Golobic ended the 30-lapper in fourth, with Forsberg rounding out the top-five in his KWS season debut. Hanford's DJ Netto rebounded from an early race incident to finish sixth. 16th starter Bobby McMahan charged to seventh, despite having something contact his helmet midway through the race, leaving him with a bloody & swollen lip. Campbell's Brent Kaeding, Copeland and Fair Oak's Chad Compton completed the top 10. Full results are available online at www.racepmg.com
The nights Dash was captured by Jonathan Allard, with the three 10-lap heat races picked off by Shane Golobic, Princeton's Mason Moore and Bud Kaeding. Santa Rosa's JoJo Helberg kicked-off the night by earning his first career KWS fast time with a blazing fast clocking of 12.071 around the 3/8 mile oval.
A-main finish: 1. #0 Bud Kaeding, 2. #21X Carson Macedo, 3. #41 Dominic Scelzi, 4. #22 Shane Golobic, 5. #7C Andy Forsberg, 6. #88N DJ Netto, 7. #25 Bobby McMahan, 8. #69 Brent Kaeding, 9. #5V Colby Copeland, 10. #69C Chad Compton, 11. #13 Rowdy Mc Clenon, 12. #37 Mitchell Faccinto, 13. #22M Mason Moore, 14. #7H JoJo Helberg, 15. #12 Jarrett Soares, 16. #3B Bill Cornwell, 17. #9N Riley Matson, 18. #94 Gordon Rodgers, 19. #91RI Eli Deshaies, 20. #3C Jonathan Allard, 21. #68 Chase Johnson, 22. #29 Willie Croft, 23. #09S Geoffrey Strole
The King of the West 410 Sprint Car Series will be right back in action next Saturday May 16 in the annual Chris & Brian Faria Memorial at Tulare Thunderbowl Raceway. Reserved grandstand seats for next Saturday cost $20 with general admission bleacher tickets $18. To reserve your seat contact (559) 688-0909. The front gate will open at 4pm with racing expected to get underway around 7pm. More info on the track can be found at www.thunderbowlraceway.com