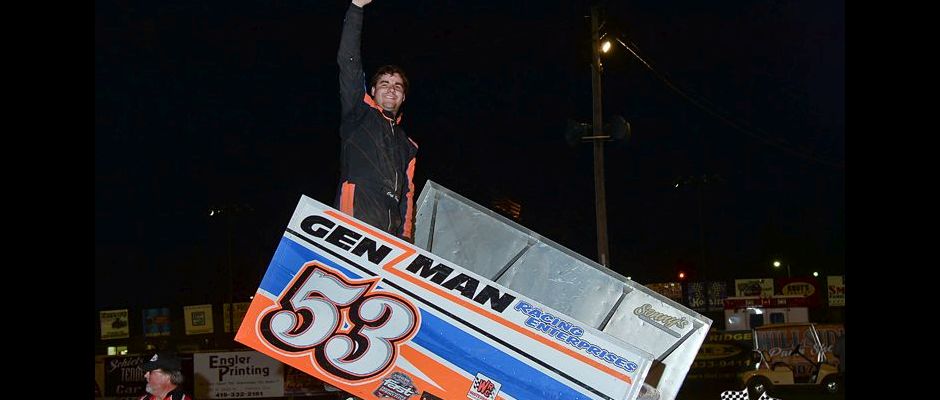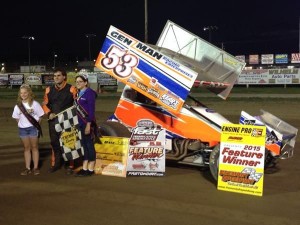 From Tyler Altmeyer and Brian Liskai
Knoxville, IA — (May 15, 2015) — Cap Henry capped off a fantastic weekend in the Kistler Racing Products Fremont Attica Sprint Title (FAST) Championship Series by winning the exciting 410 sprint feature at Fremont Speedway Saturday.
Henry's thrilling win after a great battle with Byron Reed throughout most of the feature, was the second of the weekend for the Bellevue, Ohio driver who also claimed the FAST victory Friday at Attica Raceway Park. The weekend FAST sweep puts Henry into a tight point battle with Reed for the $10,000 championship.
"This goes out to Guy, Ralph, Marilyn, Ryan and Jamie. I think they changed the set-up every time we hit the race track tonight. They kept getting it better and better. I told Guy (Meyers, crew chief) hey it's in your hands…keep doing it. I can't thank those guys enough. This is just awesome," said Henry beside his Level Performance, Kear's Speed Shop, Ludwig Propane, J&J Auto Racing, Handy Grafix backed machine.
"When Byron got by me I was like 'game over.' And he left the line wide open going into one and I had to go for it. It stuck," continued Henry in the Engine Pro Victory Lane.
"This team is more like a family than it is a race team with Marilyn Genzman. I love being a part of it. I couldn't really ask to be in a better situation. I did that All Star deal for four years and I learned a lot and it's paying off now," concluded Henry.
In the Fremont Federal Credit Union 305 Sprint feature – a point race in the JLH General Contractor 305 FAST Championship Series – Plano, Texas driver T.J. Michael took the lead from Alvin Roepke in lapped traffic on lap nine and then survived a couple of late race restarts to claim his third career Fremont Victory. Michael also has a 305 sprint win in Texas and at Attica in 2015.
"I knew once it gets dry and slick the two cars to beat are Alvin Roepke and Jordan Ryan. I look up on the scoreboard with six to go and it's not too comfortable to see those two are behind me. I knew if I just stayed in my line and run the bottom they wouldn't be able to get around me," said Michael beside his Advanced Cast Stone, Fremont Fence, AroTech Services, B&L Heating and Cooling, Miller Rigging, Nagy Equipment Sales, Willy's Trucking, Fremont Floor Covering backed #18m.
"I can't thank my guys enough. This thing was probably close to perfect," added Michael in the Engine Pro Victory Lane.
In front of a large crowd – made up of many area teens as over 10,000 tickets were given to all the Sandusky County Schools – Dean Jacobs and Henry would bring the field to green in the Fort Ball Pizza Palace 410 Sprint feature. The two would battle side by side with Jacobs gaining the advantage with Reed, Cole Duncan and Chad Kemenah racing hard for third.
Jacobs would continue to lead but couldn't shake Henry and Reed with Kemenah closing. By lap 10 it was now a three car war for the lead. Henry would drive under Jacobs exiting turn four on lap 12 for the lead with Reed right on their rear bumpers. By lap 13 it became a four car race for the lead with Henry narrowly leading Reed, Jacobs and Kemenah with Duncan, Chris Andrews and 11th starter Dale Blaney in tow.
With the crossed flags in the air to show the half-way point Reed would charge to the outside of Henry to take the lead. However, Henry would hit his marks on the bottom of turn one and regained the top spot a lap later. Kemenah and Jacobs would continue to swap the third spot over the next couple of laps with Blaney and Duncan battling behind them.
Just as the leaders were ready to hit heavy lapped traffic the first caution of the race would fly on lap 19 when Jacobs and Blaney got together while battling with Kemenah for third. On the restart D.J. Foos would spin. When the green flew again it was Henry leading Reed as Kemenah fell to the clutches of Duncan and Craig Mintz. The car on the move was rookie Nate Dussel who had climbed from 17th to eighth.
The final caution came out on lap 21 for a Broc Martin spin. On the restart Henry was able to pull away slightly from Reed while Duncan and Mintz traded the third spot with Chris Andrews, Dussel, Stuart Brubaker, Kemenah and Tim Shaffer in pursuit.
Reed would mount a final assault for the lead with four to go but Henry hit his marks perfectly and drove to the win. Reed, Mintz, Duncan and Andrews would round out the top five. Dussel would earn the hard charger honor to finish sixth with Brubaker, Kemenah, Shaffer and Shaffer coming back from the tail to round out the top 10.
Roepke and Jamie Miller would bring the field to green for the 25 lap 305 sprint feature with Roepke gaining the advantage. The caution would fly on lap two for Jerry Dahms with the running order Roepke, Miller, Paul Weaver, Josh Harrison, Michael, Ricky Peterson, Ryan, Bobby Clark and Kyle Capodice.
On the restart Michael would jump into fourth and would drive into third on lap five. Michael drove under Miller for second on lap eight and used a lapped car to move around Roepke into the lead on lap nine. Kyle Farmer would bring out the caution on lap 13 with Michael leading Roepke, Miller, Peterson, Ryan, Weaver, Clark and Steve Rando.
When the green flew Miller would go pit side as Michael tried to keep Roepke behind him with Ryan and Peterson locked in a tremendous battle for third. Just as the leaders were set to hit lapped traffic on lap 19, Alex Paden would spin.
On the restart Roepke applied pressure to Michael's outside with Ryan joining. Michael would hit his marks perfectly and drove to the win over Roepke, Ryan, Peterson and Weaver rounding out the top five. Clark, who came into the night leading the FAST points, Rando, Capodice, Harrison and Jason Keckler would round out the top 10.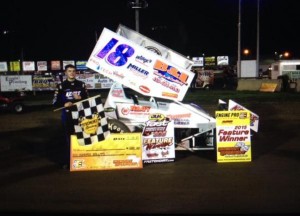 Full Results: Kistler Racing Products Fremont/Attica Sprint Title '410' Championship Series presented by KS Sales & Service – Night #6 – Saturday, May 16th, 2015:
Fremont Speedway – 5/16/2015
Roots Poultry Night
Fort Ball Pizza Palace 410 Sprints (31 Cars)
[#]-Starting Position
Qualifying – Fricker's Restaurant/Callie's Performance
1. 1-Dale Blaney, 12.857; 2. 21-DJ Foos, 12.863; 3. 5R-Byron Reed, 12.896; 4. 22-Cole Duncan, 12.915; 5. 53-Cap Henry, 12.921; 6. 19-Chris Andrews, 12.954; 7. 97-Dean Jacobs, 13.116; 8. 10H-Chad Kemenah, 13.144; 9. 45-Tim Shaffer, 13.261; 10. O9-Craig Mintz, 13.284; 11. 45L-Brian Lay, 13.312; 12. 33M-Caleb Griffith, 13.312; 13. 8M-TJ Michael, 13.347; 14. 16-Stuart Brubaker, 13.394; 15. 4-Tracy Hines, 13.406; 16. 6M-Max Stambaugh, 13.408; 17. 83M-Broc Martin, 13.421; 18. 40DD-Nate Dussel, 13.429; 19. 68G-Tyler Gunn, 13.479; 20. 60-Jody Keegan, 13.554; 21. 2+-Brian Smith, 13.621; 22. 10X-Dustin Stroup, 13.690; 23. 85-Mike Terry Jr, 14.076; 24. 9Z-Duane Zablocki, 14.132; 25. 14-Chad Wilson, 14.164; 26. 16M-Jim Morris, 14.252; 27. 4T-Josh Turner, 14.439; 28. 23-Jimmy Light, 14.707; 29. 33K-Kyle Patrick, 14.927; 30. 51-Kyle Baker, 15.012; 31. 27-Beau Stewart, 99.990
Heat 1 – American Power Sports (8 Laps – Top 4 finishers transfer to the A-feature)
1. 2+-Brian Smith[1] ; 2. 53-Cap Henry[5] ; 3. 45-Tim Shaffer[4] ; 4. 83M-Broc Martin[2] ; 5. 1-Dale Blaney[6] ; 6. 8M-TJ Michael[3] ; 7. 33K-Kyle Patrick[8] ; 8. 14-Chad Wilson[7]
Heat 2 – Kistler Racing Products (8 Laps – Top 4 finishers transfer to the A-feature)
1. 16-Stuart Brubaker[3] ; 2. O9-Craig Mintz[4] ; 3. 40DD-Nate Dussel[2] ; 4. 19-Chris Andrews[5] ; 5. 10X-Dustin Stroup[1] ; 6. 21-DJ Foos[6] ; 7. 16M-Jim Morris[7] ; 8. 51-Kyle Baker[8]
Heat 3 – Hoosier Racing Tires (8 Laps – Top 4 finishers transfer to the A-feature)
1. 68G-Tyler Gunn[2] ; 2. 97-Dean Jacobs[5] ; 3. 5R-Byron Reed[6] ; 4. 4-Tracy Hines[3] ; 5. 45L-Brian Lay[4] ; 6. 85-Mike Terry Jr[1] ; 7. 4T-Josh Turner[7]
Heat 4 – The Computer Man (8 Laps – Top 4 finishers transfer to the A-feature)
1. 9Z-Duane Zablocki[1] ; 2. 6M-Max Stambaugh[3] ; 3. 10H-Chad Kemenah[5] ; 4. 22-Cole Duncan[6] ; 5. 60-Jody Keegan[2] ; 6. 33M-Caleb Griffith[4] ; 7. 23-Jimmy Light[7]
Dash – Borer Glass & Mirror (6 Laps, finishing order determined first 6 starting positions of A-feature
1. 97-Dean Jacobs[1] ; 2. 53-Cap Henry[4] ; 3. 5R-Byron Reed[2] ; 4. 22-Cole Duncan[5] ; 5. 10H-Chad Kemenah[6] ; 6. 19-Chris Andrews[3]
B-Main – Computer Man Inc. (10 Laps – Top 4 finishers transfer to the A-feature)
1. 21-DJ Foos[2] ; 2. 1-Dale Blaney[1] ; 3. 33M-Caleb Griffith[4] ; 4. 8M-TJ Michael[5] ; 5. 45L-Brian Lay[3] ; 6. 60-Jody Keegan[6] ; 7. 23-Jimmy Light[12] ; 8. 85-Mike Terry Jr[8] ; 9. 14-Chad Wilson[9] ; 10. 10X-Dustin Stroup[7] ; 11. 16-Stuart Brubaker[-] ; 12. 33K-Kyle Patrick[13] ; 13. 51-Kyle Baker[14] ; 14. 27-Beau Stewart[15] ; 15. 4T-Josh Turner[11]
A-Main – (30 Laps)
1. 53-Cap Henry[2]; 2. 5R-Byron Reed[3]; 3. O9-Craig Mintz[8]; 4. 22-Cole Duncan[4]; 5. 19-Chris Andrews[6]; 6. 40DD-Nate Dussel[17]; 7. 16-Stuart Brubaker[9]; 8. 10H-Chad Kemenah[5]; 9. 45-Tim Shaffer[7]; 10. 1-Dale Blaney[11]; 11. 9Z-Duane Zablocki[20]; 12. 33M-Caleb Griffith[13]; 13. 6M-Max Stambaugh[15]; 14. 2+-Brian Smith[19]; 15. 4-Tracy Hines[10]; 16. 21-DJ Foos[12]; 17. 8M-TJ Michael[14]; 18. 97-Dean Jacobs[1]; 19. 68G-Tyler Gunn[18]; 20. 83M-Broc Martin[16]
Hard Charger: 40DD-Nate Dussel[+11]
Full Results: JLH General Contractors Fremont/Attica Sprint Title '305' Championship Series presented by Engine Pro – Night #4 – Saturday, May 16th, 2015:
Fremont Federal Credit Union 305 Sprints (22 Cars)
[#]-Starting Position
Heat 1 – American Power Sports (8 Laps – Top 5 finishers transfer to the A-feature)
1. 19R-Steve Rando[2] ; 2. 10-Josh Harrison[5] ; 3. 11G-Luke Griffith[4] ; 4. 2-Ricky Peterson[3] ; 5. 77I-John Ivy[6] ; 6. 7M-Brandon Moore[7] ; 7. 87-Brian Gibbs[1] ; 8. 44M-Joe McEwen[-]
Heat 2 – Kistler Racing Products (8 Laps – Top 5 finishers transfer to the A-feature)
1. 39-Jamie Miller[1] ; 2. 8-Bobby Clark[5] ; 3. 36-Seth Schneider[4] ; 4. 12-Kyle Capodice[7] ; 5. 25-Jason Keckler[3] ; 6. 75-Jerry Dahms[6] ; 7. 44-Kyle Farmer[2]
Heat 3 – Hoosier Racing Tires (8 Laps – Top 5 finishers transfer to the A-feature)
1. 5R-Jordan Ryan[1] ; 2. 18-TJ Michael[4] ; 3. 1W-Paul Weaver[2] ; 4. 99-Alvin Roepke[3] ; 5. 18N-Frank Neill[5] ; 6. 24-Alex Paden[7] ; 7. 37-Austin Ream[6]
A-Main – (25 Laps)
1. 18-TJ Michael[5]; 2. 99-Alvin Roepke[1]; 3. 5R-Jordan Ryan[7]; 4. 2-Ricky Peterson[6]; 5. 1W-Paul Weaver[3]; 6. 8-Bobby Clark[12]; 7. 19R-Steve Rando[9]; 8. 12-Kyle Capodice[8]; 9. 10-Josh Harrison[4]; 10. 25-Jason Keckler[14]; 11. 36-Seth Schneider[11]; 12. 11G-Luke Griffith[10]; 13. 77I-John Ivy[13]; 14. 44M-Joe McEwen[22]; 15. 37-Austin Ream[21]; 16. 18N-Frank Neill[15]; 17. 87-Brian Gibbs[19]; 18. 75-Jerry Dahms[17]; 19. 44-Kyle Farmer[20]; 20. 39-Jamie Miller[2]; 21. 7M-Brandon Moore[16]; 22. 24-Alex Paden[18]
Hard Charger: 44M-Joe McEwen[+8]