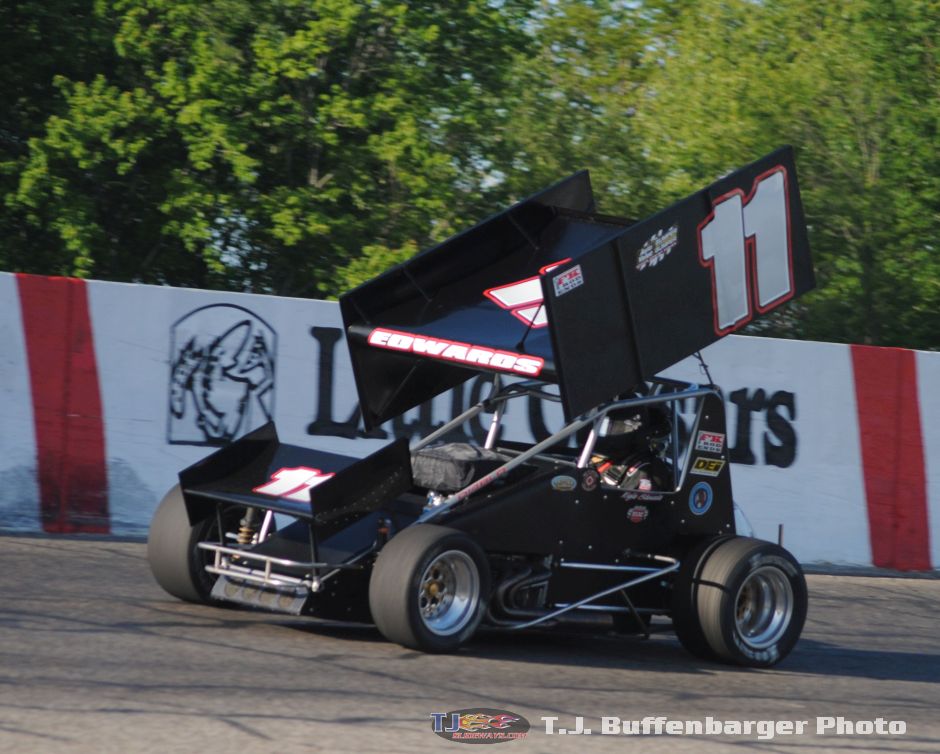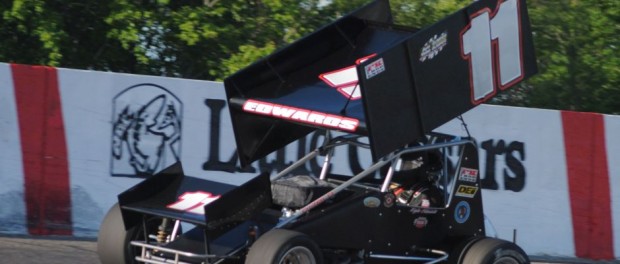 By T.J. Buffenbarger
Kalamazoo, MI – (June 5, 2015) – Kyle Edwards won the Auto Value Bumper to Bumper Sprint Car Series feature Saturday night at Kalamazoo Speedway. Edwards took over the top stop after Kevin Feeney tangled with a lapped car and held off Jason Cox until Cox's engine lost oil pressure for the victory.
"(Feeney) got us initially at the start and got wadded up with a lapped car. I was lucky enough to miss it. From there it was pretty much clear sailing, maneuvering the lapped traffic, I probably didn't drive my best race but it was good enough to stay up front," said Edwards following his victory. "So we will head to Toledo next weekend and if everything goes well there go to Auto City."
The eight car inversion put Feeney and Edwards on the front row for the 50-lap main event. Feeney jumped into the lead with Edwards right on his back bumper through the first 20 laps of the main. Edwards got a run under Feeney on lap 12, but a slower car impeded Edwards progress and allowed Feeney to pull away.
Then on lap 14 the tables turned with slower traffic as Feeney made contact with a slower car and spun in turns one and two. Feeney was able to restart at the tail of the field as Edwards inherited the lead.
Edwards motored into the lead while new track record holder Aaron Pierce began marching up from eighth starting spot. Pierce moved past Jason Blonde for third on lap 22 and started to run down the leaders. Up front Edwards began getting pressure from Jason Cox through slower traffic until lap 32 when Cox engine lost oil pressure, forcing him to the infield.
From there Pierce was only able to pull within a straightaway of Edwards, with Edwards taking the victory. Pierce held on for second while Jason Blonde, Bobby Santos, III, and Ryan Gillenwater rounded out the top five.
During qualifications Pierce set a new sprint car track record 10.114 seconds around the 3/8-mile oval at an average speed of 133.478 miles per hour. Edwards and John Turnbull won heat race events.
Auto Value Bumper to Bumper Super Sprints
Kalamazoo Speedway – Kalamazoo, MI
Saturday June 6, 2015
Qualifications:
1. 26 – Aaron Pierce, 10.114 (new track record)
2. 45 – Ryan Gillenwater, 10.503
3. 42 – Jason Blonde, 10.559
4. 71H – Cody Gallogly, 10.662
5. 40 – Jason Cox, 10.696
6. 22A – Bobby Santos, 10.747
7. 11 – Kyle Edwards, 10.790
8. 61 – Kevin Feeney, 10.866
9. 71R – Derek Snyder, 10.889
10. 26E – Jeff Bloom, 11.104
11. 3A – Mike Astrauskas, 11.207
12. 12 – John Turnbull, 11.301
13. 21 – Mike Stutsman, 11.836
14. 31 – Matt Kinzinger, 13.259
15. 11G – Tom Geren, 14.745
Heat Race #1:
1. 11 – Kyle Edwards
2. 42 – Jason Blonde
3. 40 – Jason Cox
4. 3A – Mike Astrauskas
5. 26 – Aaron Pierce
6. 71R – Derek Snyder
7. 21 – Mike Stutsman
8. 11G – Tom Geren
Heat Race #2:
1. 12 – John Turnbull
2. 61 – Kevin Feeney
3. 71H – Cody Gallogly
4. 45 – Ryan Gillenwater
5. 22A – Bobby Santos
6. 26E – Jeff Bloom
7. 31 – Matt Kinzinger
Feature:
1. 11 – Kyle Edwards
2. 26 – Aaron Pierce
3. 42 – Jason Blonde
4. 22A – Bobby Santos
5. 45 – Ryan Gillenwater
6. 71R – Derek Snyder
7. 61 – Kevin Feeney
8. 71H – Cody Gallogly
9. 12 – John Turnbull
10. 21 – Mike Stutsman
11. 3A – Mike Astrauskas
12. 40 – Jason Cox
13. 26E – Jeff Bloom
14. 11G – Tom Geren
15. 31 – Matt Kinzinger