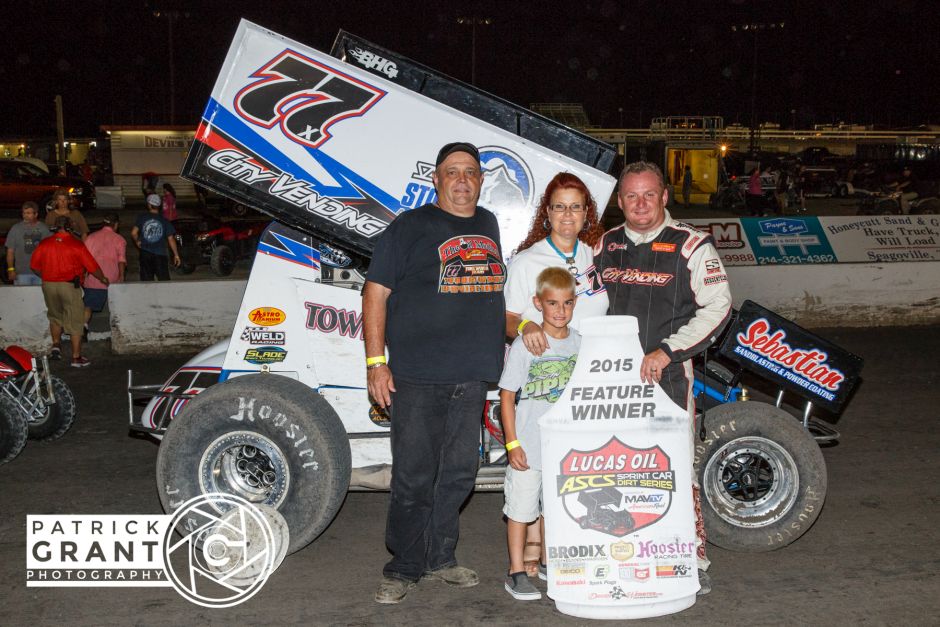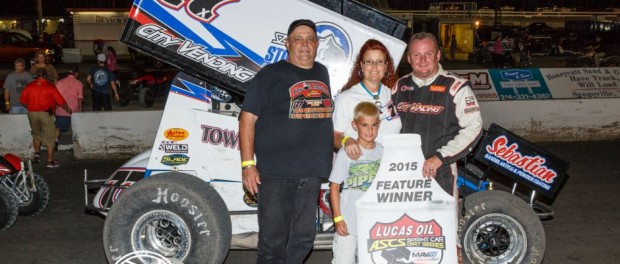 From Bryan Hulbert
Mesquite, TX — (June 13, 2015) — For the seventh time in his career, Oklahoma City's Wayne Johnson parked his Townline Variety No. 77x in Victory Lane at the Devil's Bowl Speedway with the Lucas Oil American Sprint Car Series presented by MAVTV American Real.
His first victory of the 2015 season with the Lucas Oil ASCS presented by MAVTV American Real, Johnson's run to ASCS National win No. 44 was a dominate one, beating out runner-up Johnny Herrera by 4.705 seconds.
Putting the No. 77x on the front row, Johnson gave chase to Shawn Petersen for the first six laps, until slower traffic finally played into Wayne's favor.
"I tell you what, Shawn [Petersen] is kind of a rookie you could say, and a rookie mistake on his part 'bout wrecked us both there on the start, but I knew I just needed to let him go and make a mistake, and that's what happened," commented Johnson.
"Our car was really good and I'll tell you man, lapped traffic were treacherous out there. There was just that one spot around the top of one and two, and I found the bottom of three and four there at the end and I wasn't sure if I should stick with that because it felt really good when I was working by lapped cars but I wasn't going to change my line until I saw somebody."
Making it the fifth straight night of gains in National standings, Johnson jumped from fifth to third and is 63 points out of the lead.
A red on Lap 8 for Joe Wood, Jr. the single-file restart put Johnson in clean air with Herrera working on Petersen for the runner-up spot. Coming from 10th, Herrera overtook the No. 4x on Lap 18, netting Johnny's third silver showing of the season in Lucas Oil ASCS competition.
"We started 10th there, and I don't know what lap we were on, but Kevin Ramey nearly spun out and I had to turn right to avoid the crash, and I felt like we dropped back to 18th so I was really hoping for a yellow, but we ended up having to race back up there to 10th," said Johnny when asked about a few tense moments in the early laps.
"On that restart, we actually jumped to fourth going into the first corner, and I set my sights out but just couldn't ever run him [Wayne] down. I really think we were just as good as Wayne, but starting 10th versus starting on the front row, it makes a difference."
The MVT No. 45x has taken over the points lead by seven markers after Aaron Reutzel was unable to attend the Devil's Bowl due to the death of longtime friend, and sponsor, Bob Miller.
In a decision by the drivers of the Lucas Oil American Sprint Car Series presented by MAVTV American Real, in light of events for Jesse Hockett In 2010, Aaron was awarded 86 last place show-up points and had to forfeit a full point provisional.
Matt Covington rolled to a third place finish in the T&L Foundry No. 95 after several battles through traffic with Travis Rilat, Seth Bergman, John Carney II, and Blake Hahn.
"That was a heck of a battle for third," said a winded Matt Covington. "It seemed like Blake, Johnny, Seth, and Carney were all there and they all roll good at this track so they made me work for it but I had a ton of fun, and couldn't ask for anything more other than beating Wayne to the finish."
Travis Rilat would end up fourth with Seth Bergman marching from 23rd to fifth after mechanical problems forced the No. 23 to utilize a provisional into the night's A-Feature.
Challenging as high as third on Lap 14, Blake Hahn crossed sixth with Jeff Swindell rolling from 18th to seventh. Tony Bruce, Jr. came from 17th to eighth with Kevin Ramey and Jordan Weaver completing the top-ten.
A field of 36 drivers dropped into five Heat Races with Kris Miller, Wayne Johnson, Matt Covington, John Carney II, and Jordan Weaver each taking wins. Duel B-Features went to Tony Bruce, Jr. and Jeff Swindell.
Joined with the American Bank of Oklahoma ASCS Red River Region presented by Smiley's Racing Products, Kevin Ramey earned high points for the region with Shawn Petersen, Zane Lawrence, John Carney II, and Kade Morton completing the top-five in regional point earners.
The start to the 23rd ASCS Sizzlin' Summer Speedweek and Bob Westphal Memorial Cup, the Lucas Oil ASCS presented by MAVTV American Real heads for the Lawton Speedway in Lawton, Okla. on Wednesday, June 17. The event will be co-sanctioned with the American Bank of Oklahoma ASCS Red River Region presented by Smiley's Racing Products.
For continued updates on the Lucas Oil ASCS presented by MAVTV American Real, log onto http://www.ascsracing.com.
Race Results:
Lucas Oil ASCS National Tour
Devil's Bowl Speedway – Mesquite, Texas
Saturday, June 13, 2015
Car Count: 36
Heat Races: 8 Laps, taking the winner plus the next the next 11 highest in passing points to the A-Feature.
Heat 1 (8 Laps): 1. 33-Kris Miller[2]; 2. 11-Joe Wood Jr[6]; 3. 1J-Danny Jennings[5]; 4. 7M-Chance Morton[7]; 5. 22X-Payton Williams[3]; 6. 3-Raven Culp[4]; 7. 45-Martin Edwards[8]; 8. 05M-Charles McManus[1]
Heat 2 (8 Laps): 1. 77X-Wayne Johnson[2]; 2. 76-Zane Lawrence[1]; 3. 8M-Kade Morton[3]; 4. 23-Seth Bergman[4]; 5. 84-Brandon Hanks[7]; 6. 17W-Harli White[5]; 7. 17B-Josh Baughman[6]
Heat 3 (8 Laps): 1. 95-Matt Covington[2]; 2. 1A-Kevin Ramey[4]; 3. 18-Tony Bruce Jr[3]; 4. 12W-Dale Wester[6]; 5. 94-Jeff Swindell[7]; 6. 17-Beau Smith[5]; 7. (DNF) 22-Koby Barksdale[1]
Heat 4 (8 Laps): 1. 74B-John Carney II[4]; 2. 55-Brad Queen[1]; 3. 29-Travis Rilat[2]; 4. 2-Mickey Walker[3]; 5. 14-Michael Lang[5]; 6. 14K-Kyle Bellm[7]; 7. 27-Andy Shouse[6]
Heat 5 (8 Laps): 1. 92-Jordan Weaver[1]; 2. 4X-Shawn Petersen[3]; 3. 45X-Johnny Herrera[5]; 4. 52-Blake Hahn[7]; 5. 14T-Channin Tankersley[6]; 6. 88M-Keith Meyer[2]; 7. 33X-Mark Huddleston[4]
B-Feature(s): 12 laps, taking the top 3 to the tail of the A-Feature.
B Feature (12 Laps): 1. 18-Tony Bruce Jr[1]; 2. 84-Brandon Hanks[2]; 3. 14T-Channin Tankersley[4]; 4. 14K-Kyle Bellm[5]; 5. 17W-Harli White[6]; 6. 88M-Keith Meyer[8]; 7. (DNF) 23-Seth Bergman[3]; 8. (DNF) 45-Martin Edwards[7]; 9. (DNF) 27-Andy Shouse[9]; 10. (DNF) 22-Koby Barksdale[10]
B Feature 2 (12 Laps): 1. 94-Jeff Swindell[2]; 2. 29-Travis Rilat[1]; 3. 17B-Josh Baughman[8]; 4. 17-Beau Smith[6]; 5. 2-Mickey Walker[3]; 6. 3-Raven Culp[7]; 7. 14-Michael Lang[4]; 8. 05M-Charles McManus[10]; 9. (DNF) 22X-Payton Williams[5]; 10. (DNF) 33X-Mark Huddleston[9]
A-Feature: 30 Laps
A Feature (30 Laps): 1. 77X-Wayne Johnson[2]; 2. 45X-Johnny Herrera[10]; 3. 95-Matt Covington[6]; 4. 29-Travis Rilat[20]; 5. 23-Seth Bergman[23]; 6. 52-Blake Hahn[12]; 7. 94-Jeff Swindell[18]; 8. 18-Tony Bruce Jr[17]; 9. 1A-Kevin Ramey[3]; 10. 92-Jordan Weaver[4]; 11. 84-Brandon Hanks[19]; 12. 4X-Shawn Petersen[1]; 13. 17B-Josh Baughman[22]; 14. 76-Zane Lawrence[13]; 15. 14K-Kyle Bellm[24]; 16. 12W-Dale Wester[15]; 17. 33-Kris Miller[7]; 18. (DNF) 1J-Danny Jennings[9]; 19. (DNF) 55-Brad Queen[14]; 20. (DNF) 14T-Channin Tankersley[21]; 21. (DNF) 74B-John Carney II[5]; 22. (DNF) 8M-Kade Morton[16]; 23. (DNF) 11-Joe Wood Jr[8]; 24. (DNF) 7M-Chance Morton[11]
Lap Leader(s): Shawn Petersen 1-6; Wayne Johnson 7-30
KSE Hard Charger: Seth Bergman +18
FSR High Point: John Carney II
Provisional(s): Seth Bergman (P2); Kyle Bellm (P2)
=======================
2015 Lucas Oil ASCS Winners: Aaron Reutzel 2; Seth Bergman 2; Jason Sides 1; Mark Smith 1; Brian Brown 1; Blake Hahn 1; Wayne Johnson 1;
Lucas Oil ASCS Driver Points (Top 10): 1. Johnny Herrera 1,124; 2. Aaron Reutzel 1,117; 3. Wayne Johnson 1,061; 4. Seth Bergman 1,037; 5. Jeff Swindell 1,003; 6. Tony Bruce, Jr. 969; 7. Matt Covington 957; 8. Blake Hahn 906; 9. Kyle Bellm 840; 10. Brandon Hanks 719;