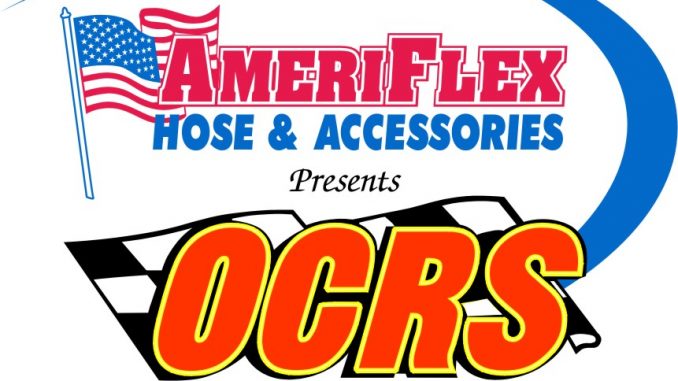 By John Lemon
Tulsa Okla. (June 16, 2015) – Oklahoma Sports Parks makes another attempt to hold the 7th Annual Harold Leep Jr. Memorial sprint car race after having to wave off the initial attempt last month due to soggy grounds. As with the past six offerings of the event, the AmeiFlex Hose & Accessories / Oil Capital Racing Series will sanction the race honoring Leep Jr; a former racer himself, who passed away in 2008.
The Harold Leep Jr. Memorial began in 2009 and Gary Owens of Pauls Valley OK is shooting for his third straight win in the event after winning last year and in 2013. Frank Dittman was the initial victor followed by 3-time AmeriFlex / OCRS champ Mike Goodman in 2010, Whit Gastineau in 2011 and 4-time AmeriFlex / OCRS champ Jamie Passmore in 2012.
Some strong challengers have an opportunity to add their name to those who have graced victory lane for this event. Mustang Oklahoma's Robert Sellers has the most victories in AmeriFlex / OCRS competition in 2015 with three and has taken over the point lead after a runner-up finish at the Tri-State Speedway last weekend to Sean McClelland while Sheldon Barksdale encountered mechanical woes. Barksdale now sits in the second spot.
Sean McClelland has scored twice this year with Nigel Calvert taking the season opener. Veteran Zach Chappell is coming off his first podium at Tri-State in only his second outing with the series and looms as a threat to snare victory hardware as well. Add Brian McClelland (who won twice in 2014) and others to the mix, and Saturday's race is up for the taking.
Nutz n' Boltz
Late Arrivals: Due to the rainout last month, the teams of the AmeriFlex / OCRS series will be making their latest initial calendar trip to the Oklahoma Sports Park since a June 12th visit in 2010 where Mike Goodman left town with the bag of loot. Typically, there are 3-4 AmeriFlex / OCRS events at OSP per year with May being the normal first visit of the season by the travelers.
Who Left The Water Running: Last Friday night, the AmeriFlex / OCRS series was in Monett Mo. ready to perform at the 'Grand Ole Lady' (aka Monett Speedway). The curtain never came up however as the skies literally opened up as the sprinters were in staging waiting to take to the track for hot laps. Instead, they executed a 180 and reentered the cocoons they came out of. Look for a make-up journey announcement soon.
Found The Shut Off Valve: The night after the Monett trip, the AmeriFlex / OCRS series strolled into the improved facility of the Tri-State Speedway where the skies opened up prior to hot laps. This time, the shut off valve was located and water ceased to dribble onto the speedway. Tri-State Speedway crew gets an A++ for having an outstanding racing surface after the large amounts fluid that was dumped onto the new clay surface. Speeds were high yet the track was smooth. Good job track crew.
Spokesmen For A Day: As with last year, Tri-State had local car dealer Champ Hinton Enterprises as the race sponsor. The auto lot held a live radio remote from the hours of 1-3pm where series drivers Sheldon Barksdale and Brett Wilson displayed their racers for the public to see. Each were also interviewed by the radio station where they instantly became spokesmen for the series for a spell. The AmeriFlex / OCRS office awaits their invoices for their speaking engagement nervously.
Stylin' In New Shades: Julie Barksdale, mother of Sheldon, graced the AmeriFlex / OCRS officials with new sunglasses from Prato Eyewear, a company of which Ms. Barksdale is affiliated with. These are great shades and can be viewed at their website www.pratoeyewear.com. Julie can take your inquires and/or orders at jbarksdale20s@gmail.com. The staff is all giddy over the presents as we can be easily swooned with track burgers.
Here is the itinerary for this Saturday's special event:
WHAT: 7th Annual Harold Leep Jr. Memorial featuring AmeriFlex / OCRS sprint cars
WHERE: Oklahoma Sports Park / Ada Oklahoma
WHEN: Saturday June 20, 2015
TIME: Main gates open 5pm / Hot laps 7pm / Racing 7:30pm / AmeriFlex – OCRS drivers meeting at 6:30pm
Oklahoma Sports Park is home to a 4/10-mile clay oval track and is located just 10 miles northwest of Ada, Oklahoma on state highway 3W. Parking is FREE!
Track Phone: 580-332-5535 / Promoters Phone: 580-332-5383
Track website: www.oklahomasportspark.com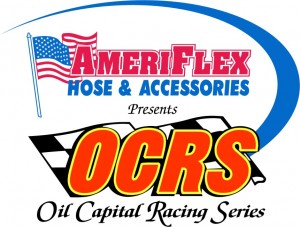 About the AmeriFlex Hose & Accessories / Oil Capital Racing Series –
Established in 2002, the AmeriFlex / OCRS series sanctions dirt track sprint car racing in the southern region of the central plains with its headquarters in Tulsa OK. Events are typically held at racetracks in Oklahoma, Kansas, Missouri and Texas with an average of 22 race dates per season. Past series champions include: Jamie Passmore (4), Sean McClelland (3), Mike Goodman (3), Harli White and Andrew Deal (1 each)
Website: www.ocrsracing.com
About AmeriFlex Hose & Accessories-
Located in Tulsa OK, AmeriFlex Hose & Accessories is a family owned and operated company. From food grade hose to hoses for the petroleum industry, AmeriFlex will strive to fill your needs. AmeriFlex can build a hose to your specifications or we will assist you in creating what you have designed while you wait. AmeriFlex has several hard to find items that some vendors can't get or find. Product can be shipped quickly and efficiently. If we do not have what you are looking for, we will direct you on where to find it. Give us a try, after all…………..
AmeriFlex Has The Stuff That Keeps You Going!
Website: www.ameriflexhose.com