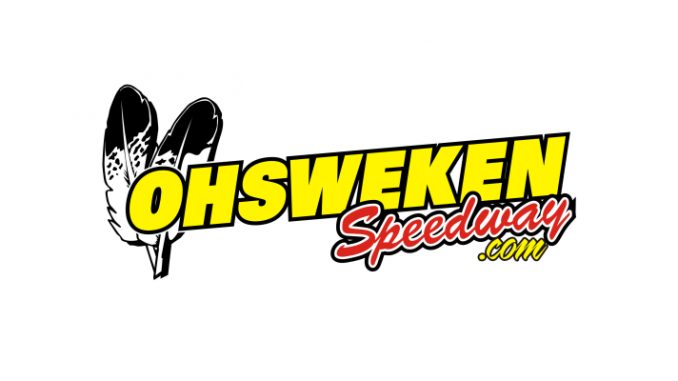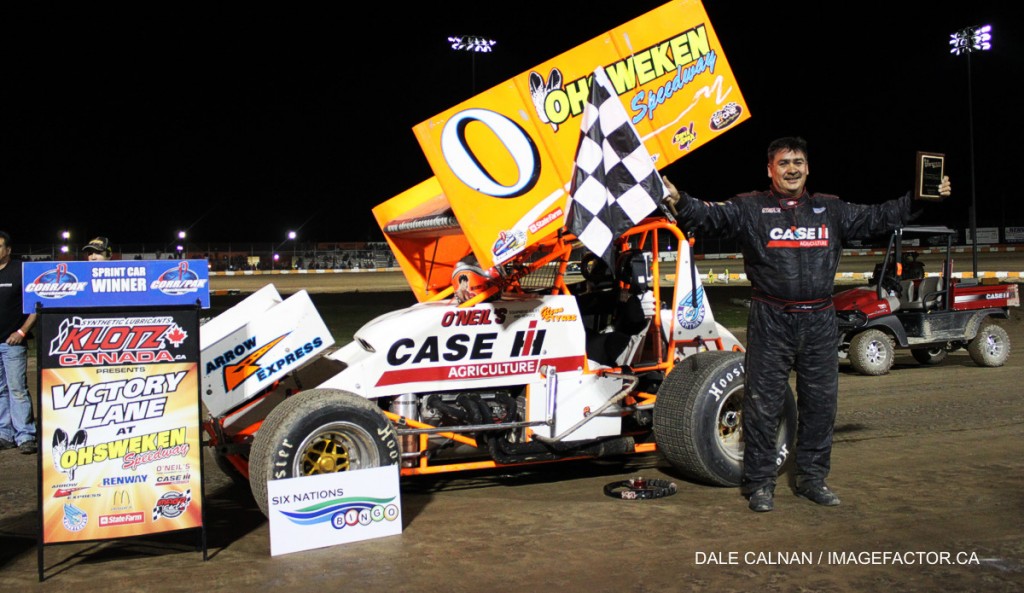 Ohsweken, ON — (June 30, 2015) — Glenn Styres won the Triple Crown Showdown on Tuesday at Ohsweken Speedway.
hampionship contender Mitch Brown and rookie Dylan Westbrook were on the front row for the 360 Sprint Car feature. Westbrook took the lead and stayed put in the face of several Glenn Styres slide job attempts before eventually giving up the lead on lap 14. Brown, meanwhile, fell back as far as 6th before starting to move forward again. Stewart Friesen gained 3 spots in the first 5 laps before a mechanical problem forced him to the sidelines.
Westbrook fought back after Styres got by, but lost ground as the race wound to a conclusion while Todd Hoddick worked on taking the second spot. Westbrook's hopes for a major upset win were dashed when he got over the cushion and suffered a front suspension problem on the last lap. Brown was caught up in the incident, and wound up finishing 15th. Styres stayed ahead of Hoddick to take the win, followed by Steve Collins, Keith Dempster, and 19th starter Jim Huppunen.
Triple Crown Showdown
Ohsweken Speedway
Ohsweken, ON
Tuesday June 30, 2015
Heat Race #1:
1. 1Z – Stewart Friezen
2. 0 – Glenn Styres
3. 47x – Dylan Westbrook
4. 19 – Cory Turner
5. 6 – Curtis Gartly
6. 94z – Stan Zanchin
7. 38 – Tyler Hendricks*
8. 43 – Scott Sherk
9. 22T – James Thompson
Heat Race #2:
1. 5 – Keith Dempster
2. 49 – Todd Hoddick
3. 57 – Charlie Sandercock
4. 80 – Chris Steele
5. 5c – Connor Mahoney
6. 11 – Jamie Turner
7. 14H – Jim Huppunen
8. 69 – Kris Root
9. 91 – Ryan Turner*
Heat Race #3:
1. 67 – Steve Collins
2. 77 – Dain Naida
3. 10 – Mitch Brown
4. 2 – Lee Winger*
5. 81 – Derek Johnathon
6. 11z – Zach Zumpe
7. 77x – Alex Hill
8. 33k – Kyle Patrick
B-Main:
1. 14H – Jim Huppunen
2. 77x – Alex Hill
3. 38 – Tyler Hendricks*
4. 43 – Scott Sherk
5. 69 – Kris Root
DNS. 33k – Kyle Patrick
DNS. 22 – James Thompson
DNS. 67 – Chris Durand
DNS. 91 – Ryan Turner*
Feature:
1. 0 – Glenn Styres
2. 49 – Todd Hoddick
3. 67 – Steve Collins
4. 5 – Keith Dempster
5. 14H – Jim Huppunen
6. 77 – Dain Naida
7. 80 – Chris Steele
8. 19 – Cory Turner
9. 57 – Charlie Sandercock
10. 5c – Connor Mahoney
11. 11 – Jamie Turner
12. 6 – Curtis Gartly
13. 77x – Alex Hill
14. 81 – Derek Johnathon
15. 10 – Mitch Brown
16. 47x – Dylan Westbrook
17. 38 – Tyler Hendricks*
18. 94z – Stan Zanchin
19. 2 – Lee Winger*
20. 69 – Kris Root
21. 11z – Zach Zumpe
22. 43 – Scott Sherk
23. 1Z – Stewart Friezen