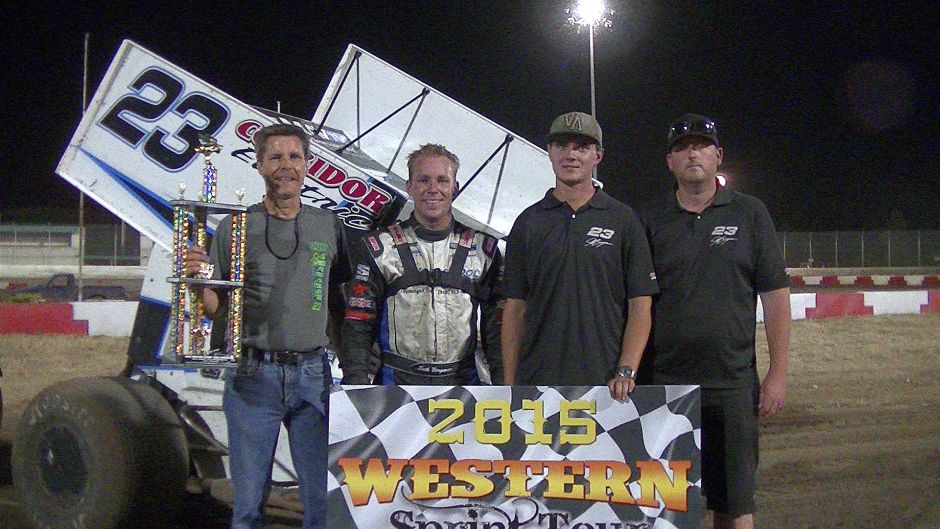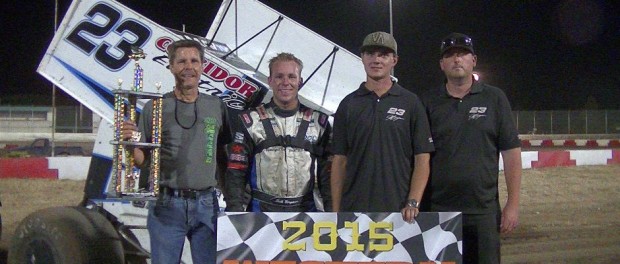 From Ben Deatherage
Lebanon, OR — (July 2, 2015) — After taking Wednesday July 1st off for traveling drivers and teams were pumped to get back to racing on Thursday the 2nd. The venue would be Willamette Speedway for the four fourth round of Speedweek Northwest. Thirty cars were in the pits representing Oregon, Washington, California, Idaho, and Montana as well as the nations of Canada, New Zealand, and Australia.
Roger Crockett, of Medford, would seize the lead in his Rocket Designs/Auto Stitch Embroidery/BC Motorsports/Parker Racing Engines #11 KPC. Setting sail and cruising out in front he would lose the lead on lap twelve only for the yellow to come out and Roger would get the position back. The driver to make the move was the Oilfield Equipment Manufacturing/Corridor Electric/Young Tool Company #23 Eagle driven by Seth Bergman from Snohomish, Washington.
It would not be too long after the lap eleven restart that Bergman would pressure Crockett again. Working in some thick traffic Bergman would get around Crockett again on lap eighteen. Just as the battle was about to resume a caution was out on lap twenty-three. On the restart Crockett made a very impressive move on lap twenty-four driving past Bergman only to give it back due to a caution. Bergman would hold off Crockett despite some massive pressure to win his first Speedweek Northwest victory.
Roger Crockett was second while the Finley Farms/CLT Logging/Rider Racing Engines #77 Maxim, of Chico, California's Kyle Hirst, would get third for car owners Scott and Jason Finley. Steven Tiner from Visalia, California would post a fourth place result in his Wright Processing Systems/Larry Davis Farms/Tech9 Chassis/Stewart Ranch #94 Tech9 and finishing the top five in fifth was the Jim & Annette Van Lare owned Bianke Farms/Cameron & Cameron Vineyard & Ranch Supplies/Kyle Larson Racing #5V A.R.T. driven by Colby Copeland of Roseville, California. Copeland's original plans were to race in Montana but decided to stay and try and win some more races.
Roger Crockett would set a new track record in time trials at 12.116 seconds and also won the trophy dash to earn the pole position in the feature. Heat races were won by Seth Bergman, Kyle Hirst, the All Star Powdercoating/Corban Learning Center #21 KPC of Colfax, California's Colby Wiesz, and Billings, Montana pilot Phil Dietz in his Prevost Racing/Dietz Auto Inc,/Pacific Steel & Recycling/Staley's Automotive #72 Maxim. The Jacob Daniels Attorney at Law/All Seasons Equipment/Oregon State Representative Cedric Ross Hayden/LaChance Kofoid Enterprises #5D KPC of Patrick Dills from Cottage Grove won the consolation feature.
Cottage Grove Speedway will be the site of the final two races of Speedweek Northwest. The historic 1/4-mile clay oval will have racing on Friday July 3rd and Saturday the 4th. After all of the races on Saturday night there will be a massive fireworks show.
For each night the Pit Gates will open at 2:00 PM, Front Gates open at 4:00, and Racing starts at 6:45. Ticket prices per event are Adults $15.00, Seniors/Military/Juniors (13-17) $13.00, Youths (Ages 12-6) $8.00, and Children under the age of 5 are FREE. Log on to www.cottagegrovespeedway.com for more information.
For the latest news about the Western Sprint Tour be sure and follow them on the web at sprints.nwextremeseries.com. Also be sure and "like" them on Facebook.
Race Summary:
Western Sprint Tour Race #6/Speedweek Northwest Round #4
Thursday July 2nd, 2015
Willamette Speedway
Lebanon, Oregon
A Feature : 1. 23-Seth Bergman; 2. 11-Roger Crockett; 3. 77-Kyle Hirst; 4. 94-Steven Tiner; 5. 5V-Colby Copeland; 6. 21-Colby Wiesz; 7. 55-Trey Starks; 8. 31C-Justyn Cox; 9. 22-Garen Linder; 10. 17-Cameron (Cam) Smith; 11. 22B-Brock Lemley; 12. 3-J.J. Hickle; 13. 72-Phil Dietz; 14. 1NZ-Jamie Duff; 15. 11K-Michael (Buddy) Kofoid; 16. 5D-Patrick Dills; 17. 12P-Randy Pierce; 18. 44NZ-Daniel Anderson; 19. 70-Raquel Ivie; 20. 96-Greg Hamilton; 21. 35-Dominic Scelzi; 22. 10-Kyle Miller
Hard Charger: Colby Copeland +8
Lap Leaders: Roger Crockett (1-17), Seth Bergman (18-30)
B Feature: 1. 5D-Patrick Dills; 2. 11K-Michael (Buddy) Kofoid; 3. 70-Raquel Ivie; 4. 44NZ-Daniel Anderson; 5. 23L-Rob Lindsey; 6. 22R-Mike Romig; 7. 9A-Luke Didiuk; 8. 22C-Trevor Cook; 9. 6A-Kady Adelman; DNS 3AU-Daniel Sayre; DNS 28-Mark Herz; DNS 87-Kyler Barraza
Dash : 1. 11-Roger Crockett; 2. 77-Kyle Hirst; 3. 23-Seth Bergman; 4. 94-Steven Tiner; 5. 31C-Justyn Cox; 6. 1NZ-Jamie Duff
Heat 1: 1. 23-Seth Bergman; 2. 22B-Brock Lemley; 3. 11-Roger Crockett; 4. 31C-Justyn Cox; 5. 70-Raquel Ivie; 6. 23L-Rob Lindsey; 7. 6A-Kady Adelman
Heat 2: 1. 77-Kyle Hirst; 2. 35-Dominic Scelzi; 3. 3-J.J. Hickle; 4. 94-Steven Tiner; 5. 11K-Michael (Buddy) Kofoid; 6. 22R-Mike Romig; 7. 10-Kyle Miller
Heat 3: 1. 21-Colby Wiesz; 2. 1NZ-Jamie Duff; 3. 22-Garen Linder; 4. 55-Trey Starks; 5. 9A-Luke Didiuk; 6. 5D-Patrick Dills; DNS 3AU-Daniel Sayre
Heat 4: 1. 72-Phil Dietz; 2. 5V-Colby Copeland; 3. 17-Cameron (Cam) Smith; 4. 96-Greg Hamilton; 5. 12P-Randy Pierce; 6. 22C-Trevor Cook; 7. 44NZ-Daniel Anderson
Qualifying: 1. 11-Roger Crockett; 2. 94-Steven Tiner; 3. 1NZ-Jamie Duff; 4. 12P-Randy Pierce; 5. 31C-Justyn Cox; 6. 77-Kyle Hirst; 7. 55-Trey Starks; 8. 17-Cameron (Cam) Smith; 9. 23-Seth Bergman; 10. 10-Kyle Miller; 11. 22-Garen Linder; 12. 96-Greg Hamilton; 13. 22B-Brock Lemley; 14. 3-J.J. Hickle; 15. 5D-Patrick Dills; 16. 5V-Colby Copeland; 17. 70-Raquel Ivie; 18. 35-Dominic Scelzi; 19. 21-Colby Wiesz; 20. 44NZ-Daniel Anderson; 21. 6A-Kady Adelman; 22. 11K-Michael (Buddy) Kofoid; 23. 9A-Luke Didiuk; 24. 72-Phil Dietz; 25. 23L-Rob Lindsey; 26. 22R-Mike Romig; 27. 3AU-Daniel Sayre; 28. 22C-Trevor Cook; 29. 87-Kyler Barraza; DNS 28-Mark Herz
Western Sprint Tour Point Standings (Top Ten):
1. 55-Trey Starks 552; 2. 11-Roger Crockett 540; 3. 22-Garen Linder 503; 4. 31C-Justyn Cox 452; 5. 96-Greg Hamilton 442; 6. 11K-Michael Kofoid 369; 7. 87-Kyler Barraza 361; 8. 5V-Colby Copeland 358; 9. 5D-Patrick Dills 356; 10. 77-Kyle Hirst 350
Speedweek Northwest Point Standings (Top Ten):
1. 5V-Colby Copeland 358; 2. 77-Kyle Hirst 350; 3. 11-Roger Crockett 342; 4. 94-Steven Tiner 329; 5. 31C-Justyn Cox 296; 6. 55-Trey Starks 287; 7. 22-Garen Linder 264; 8. 72-Phil Dietz 258; 9. 21-Colby Wiesz 251; 10. 11K-Michael Kofoid 243