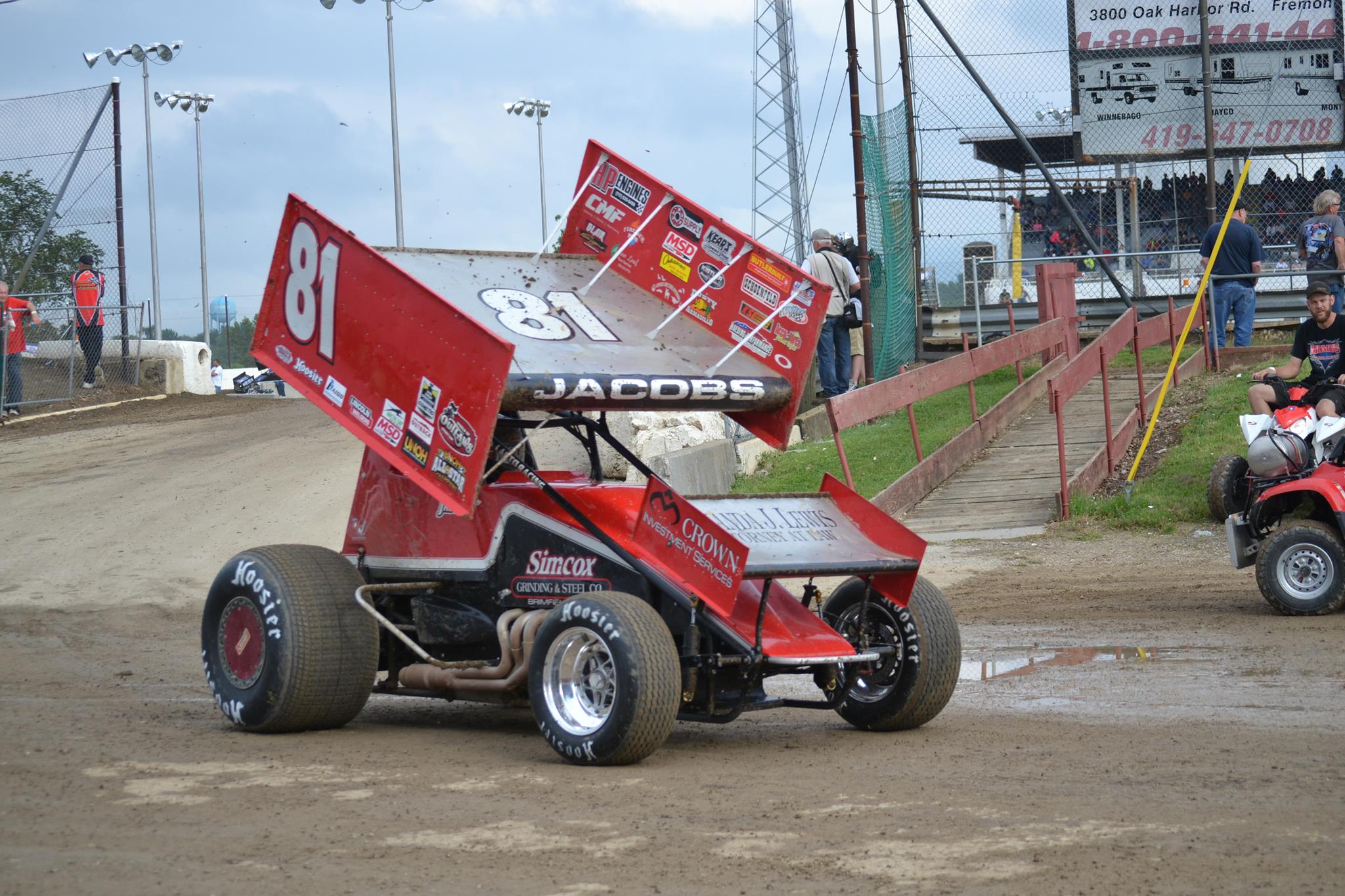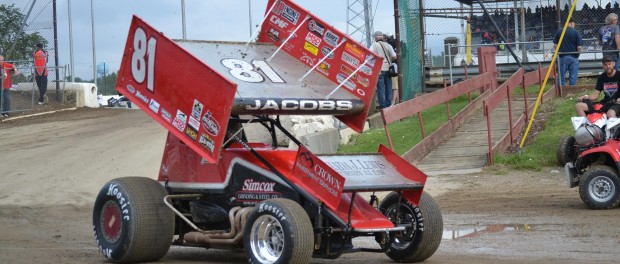 From Mercer Raceway Park
Mercer, PA — (July 3, 2015) — Lee Jacobs beat the rain and a stout field of UNOH All Stars Circuit of Cars on night number one at Mercer Raceway Park. Before a red flag for Caleb Helms' flip in turn one, Jacobs used the high line through turns one and two to take second. On the restart, he used the same maneuver to pass Sheldon Haudenschild for the lead. Jacobs then held off a fast-closing Chad Kemenah for his third career win with the series.
George Englert, last year's Rock Concrete Modified Lite champion, scored his career first win in the Bonnell's Rod Shop Outlaw Sprint Warriors. He survived a rain delay and a second red flag for a flip by fourth place runner Cody Bova to earn the victory. Bob Schwartzmiller wired the field in the Precise Racing Products Stock Cars. Kyle Fink did the same in the Approved Toilet Rentals 358 Modifieds.
"I was kinda struggling, missing spots on the track," Jacobs lamented about his recent performances. "Tonight, I don't know if I found my balls or what I did, but I put it back on the high side, where I need to be, and it really hooked up." Jacobs was appreciative of car owner Johnny Lewis sticking by him through the rough times, but he was especially happy for his cousins, as three of them were turning wrenches for him this night. "We haven't had a great year, but it was really neat to win with them helping out tonight."
Rod George led Kody Kinser on the first lap, with Jacobs, track points leader Brandon Matus, and series points leader Dale Blaney in tow. George held sway for the first five laps of the contest, but Sheldon Haudenschild soon cracked the top five and he was closing in on the leaders. By the fifth lap, he was second, and the fans were starting to wonder if the "Mild Child" would carry his success from the recent Ohio Sprint Speedweek over the border to the Keystone State. They got their answer, as he swept by George on the backstretch to take the lead with six rounds in the books.
Haudenschild began to open a lead, but a spin by Andrew Palker brought him back to the rest of the field. George still ran second, but now he had Jacobs right on his tail. Blaney had advanced to fourth, and Kemenah was fifth at the stoppage.
When racing resumed, Haudenschild jumped out front, with George a ways back in second. A three-car battle for third heated up amongst Jacobs, Blaney, and Kemenah. Behind them, Danny Holtgraver was fighting off Tim Shaffer, who came from fifteenth on the grid.
Another caution slowed the pace, due to A.J. Flick's car coming to a halt at the turn three exit from the speedway. In the brief interlude before the two-car crash involving Helms and Travis Philo, Jacobs mad his move into second.
While the racers were waiting for the clean-up to finish, Haudenschild's left rear tire began to lose some air. He was able to restart, and he tried valiantly to maintain his advantage. But, Jacobs was not to be denied. He pulled even with Haudenschild as they raced through the first two turns, and he pulled ahead as they ran down the back chute.
With Jacobs out front, Haudenschild began to fade. His night came to an end two laps shy of the checkers, when the left rear tire finally let go. That put George back into second, but he was unable to hold that spot. Kemenah blasted by on the restart, and he took off after Jacobs. Kemenah was able to cut the margin to a car length or two, but he did not have enough time to mount a serious challenge for the win.
At the finish, it was Jacobs over Kemenah. George was the top local driver, in third. Tim Shaffer came all the way up to fourth. Darrah was fifth. Holtgraver, Blaney, Ryan Smith, Brandon Matus, and Greg Wilson completed the top ten.
Shaffer was the hard charger. Holtgraver turned the evening's fastest time trial, 13.556. The heat winners were Brandon Matus, Helms, Haudenschild, and Kemenah. George took the dash, and Parker Price-Miller led the way in the B Main.
Big George Englert topped the Bonnell's Rod Shop Outlaw Sprint Warriors for the first time since moving up from the Rock Concrete Modified Lites. He led the entire 20 lap distance, although his run to victory was punctuated by two red flags. Evan Kornbau turned in am impressive run, taking second. After missing several weeks of action, Joe McEwen returned to finish third in his crate engined racer. Fourth went to Alex Paden, and fifth to Darin Gallagher.
Sixth through tenth belonged to Tyler Denochick, Mike Marano, II, Darren Pifer, Kotie Kirkbride, and Jacob Bova, in his Warriors debut. The heat winners were Cody Bova and Kornbau. There was no B Main.
All Stars Circuit of Champions Sprint Cars: Lee Jacobs, Chad Kemenah, Rod George, Tim Shaffer, Cody Darrah, Danny Holtgraver, Dale Blaney, Ryan Smith, Brandon Matus, Greg Wilson, Adam Kekich, Jack Sodeman, Jr., Kody Kinser, Brent Matus, Carl Bowser, Dan Shetler, Sheldon Haudenschild, Travis Philo, Caleb Helms, Andrew Palker, A.J. Flick, Scott Priester, Parker Price-Miller, Danny Smith. DNQ: John McCracken, Jr., Michael Bauer, Andy McKisson, Dennis Wagner, Dan Kuriger, Eric Williams, Francis Sesco, Jimmy Morris, Sye Lynch.
Bonnell's Rod Shop Outlaw Sprint Warriors: George Englert, Evan Kornbau, Joe McEwen, Alex Paden, Darin Gallagher, Tyler Denochick, Mike Marano, II, Darren Pifer, Kotie Kirkbride, Jacob Bova, Greg Dobrosky.