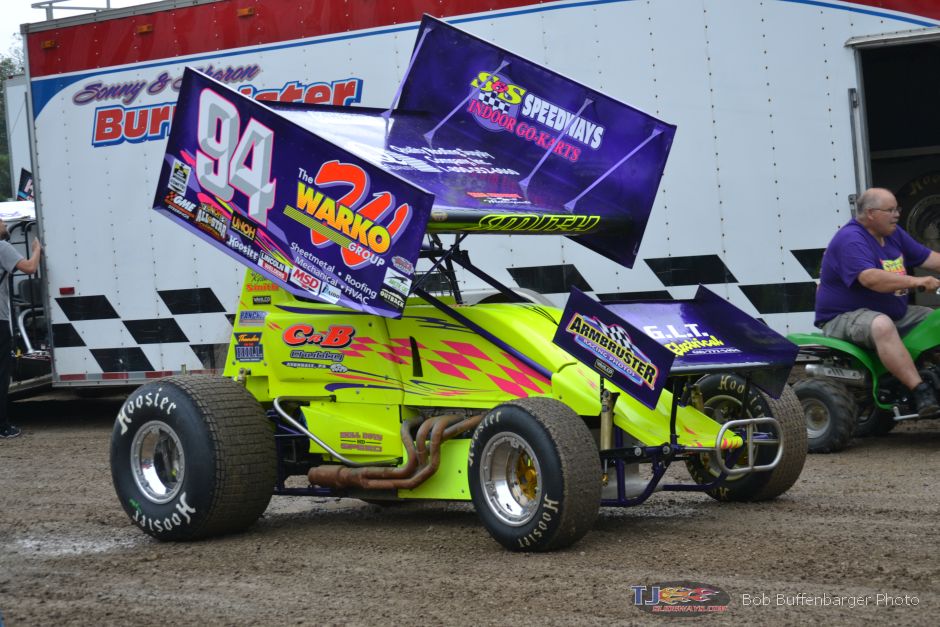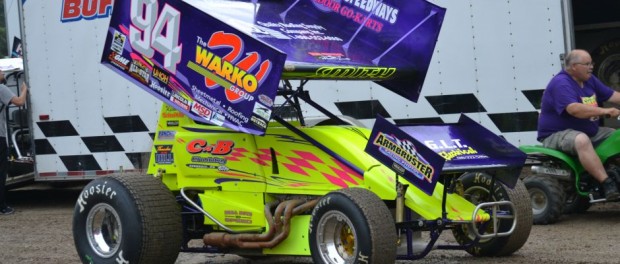 From Mercer Raceway Park
Mercer, PA — (July 4, 2015) — Ryan Smith flew to victory on the second night of UNOH All Stars Circuit of Champions at Mercer Raceway, Park. It was his first career win at the tricky oval, and second All Stars triumph of the season for the Kunkeltown Kid.
Since rolling out a new car, Smith has been getting faster each outing. "We caught some breaks there in the heat race, we timed good, and the car was good right out of the box." Then, he noted, "the track came to me with the water, the top came in."
Smith had to fend off the All Stars kingpin, Dale Blaney, in the closing laps. "If we could have stayed in traffic a little longer, I might have had a chance," Blaney said. "But he was running the same line that I was down there in one and two, and I started to work the bottom a little bit in three and four, but
I just couldn't get going after the yellow."
Another Ryan, Moyer that is, was the first-time winner in the Precise Racing Products Stock Cars. He capitalized upon some late rate skirmishes to move to the front in the closing laps. Mark Rossey also earned his first career score in the Bonnell's Rod Shop Outlaw Sprint Warriors. Rossey regained the the lead when Mike Miller tangled with a lapped car before the halfway mark in the contest. J.R. McGinley was a thousand dollars richer after the Approved Toilet Rentals 358 Modified feature. He out dueled Lonny Riggs and Kyle Fink after a lap 11 restart to grab the lead.
Lee Jacobs hoped that lightning would strike again at the Park, as he led the opening lap of the feature event. However, Parker Price-Miller had another idea. He drove by Jacobs on the second lap and he immediately opened up a lead of several car lengths. Ryan Smith worked his way into third, with Bale Blaney and Andrew Palker in tow.
With Price-Miller out front, Smith moved into second on lap six, and he began to close in on the leader while they sliced through traffic.Jacobs continued to hold the third position, ahead of Blaney, Palker, and Greg Wilson.
Blaney then flexed some muscle, taking the third spot with a dozen laps in the books. As Price-Miller and Smith wove through traffic, Blaney started to reel them in. At the halfway mark, Price-Miller's lead was vanishing, and Blaney was eating into Smith's advantage as well.
Smith assumed command just past the halfway mark, and now Blaney was hounding the teen from Kokomo, IN. On lap 19, Price-Miller's impressive run came to an end, as he pulled above the cushion and stopped in turn two. That put Blaney on the tail of Smith. Cody Darrah was on the move before the caution, and he lined up in third for the final restart of the event.
Smith got away cleanly, and led the last seven laps without incident. Blaney held off Darrah for the second spot. Wilson slipped by Jacobs in the final rounds. Palker crossed in sixth, with Chad Kemenah, Sheldon Haudenschild, Danny Holtgraver, and Jack Sodeman, Jr. completing the top ten. Haudenschild was awarded the hard charger for the night.
The evening's fastest qualifier was Caleb Helms, who turned the speedway in 13.728 seconds. Heat wins went to Dale Blaney, Greg Wilson, Parker Price-Miller, and Andy McKisson. McKisson blew his engine as he crossed the finish line, so he was a scratch for the feature event. Lee Jacobs won the dash. Tim Shaffer captured the B Main.
In the Bonnel's Rod Shop Outlaw Sprint Warriors, Mark Rossey grabbed the initial lead despite heavy challenges from Mike Marano, II, and Mike Miller on the opening lap. Rossey raced out to a comfortable lead, but Miller quickly cut into it as the laps clicked off. Miller made his move inside turn one to grab the lead with six laps completed. Miller then began to pull away from Rossey, but misfortune struck just a few circuits later. Miller tangled with a lapper between turns three and four, and his night was over. That put Rossey back on the point for the restart, and he held control the rest of the way. Marano held off a furious charge by Jake Gomola in the closing laps to maintain the second spot. George Hobaugh was fourth, and Evan Kornbau fifth. Darin Gallagher, Greg Dobrosky, Andy Feil, George Englert, and Darren Pifer rounded out the top ten. Gallagher, Dobrosky, and Kornbau copped the preliminaries. There was no B Main.
All Stars Circuit of Champions Sprint Cars: Ryan Smith, Dale Blaney, Cody Darrah, Greg Wilson, Lee Jacobs, Andrew Palker, Chad Kemenah, Sheldon Haudenschild, Danny Holtgraver, Jack Sodeman, Jr., Caleb Helms, Tim Shaffer, Adam Kekich, Dan Kuriger, Rod George, A.J. Flick, Carl Bowser, Dan Shetler, Sye Lynch, Parker Price-Miller, Brandon Matus, Travis Philo, Scott Priester, Dennis Wagner.
Bonnell's Rod Shop Outlaw Sprint Warriors: Mark Rossey, Mike Marano, II, Jake Gomola, George Hobaugh, Evan Kornbau, Darin Gallagher, Greg Dobrosky, Andy Feil, George Englert, Darren Pifer, Alex Paden, Joe McEwen, Terry Young, Cody Bova, Devin Litwiler, Kyle Colwell, Jacob Bova, Ken Rossey, Bobby Siegel, Mike Miller, Jeff Taylor, Mike Lutz (DNS).