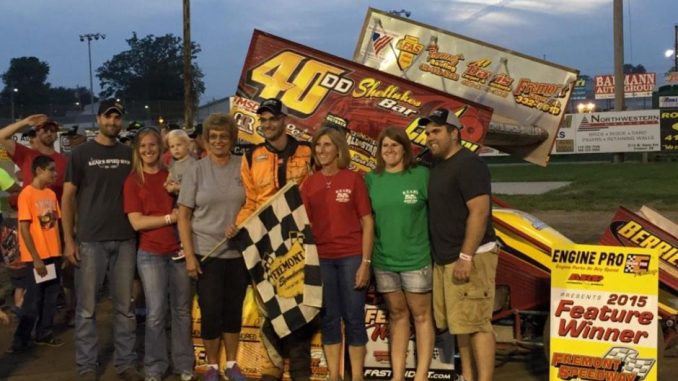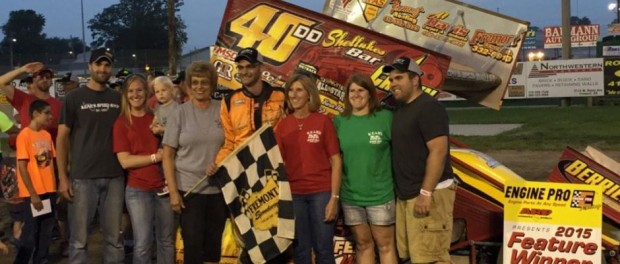 From Brian Liskai
Fremont, OH — (July 11, 2015) — Gibsonburg's Nate Dussel wondered for a long time if he would ever get the chance to drive a 410 sprint car. After all, in his many years of 305 sprint racing he had won many features and track championships. Why were team owners over-looking him?
This past winter when his driver said family commitments would keep him from racing for track championships, Al Davis made the call to Dussel and it paid off Saturday.
Dussel lead all 30 non-stop laps of the Fort Ball Pizza Palace 410 Sprint feature on Kear's Speed Shop Night at Fremont Speedway to score his first career division win. Dussel, who came into the night sixth in the track points and seventh in the Kistler Racing Products Fremont Attica Sprint Title (FAST) Championship Series standings – a separate point fund from that of both tracks – gained very valuable points and is nearly assured the track and FAST rookie of the year honors with his performance.
"To be honest I raced 305s for seven or eight years and never once did anyone give me an opportunity. January Al Davis and Brad and Josh wanted me to be their driver. And I'll tell you what I've been locked in since then. There's been so many owners who passed me and never gave me a look. These guys just went off potential and we went through some rough patches…we're running so good now. There's literally no one in the pits that has as much fun as we do," said a very emotional Dussel in the Engine Pro Victory Lane beside his McDonald's Restaurant, JLH General Contractor, Shelluke's Bar, Crown Battery, Donny Atkinson, Ez Shop, Berrier Fabrication backed machine.
"The 410 deal is obviously completely different…the competition is unbelievable. I knew this one was going to be tough with Cap (Henry)….he's about the only one we haven't beaten when it gets slick. When it comes to lapped traffic you just have to go where they aren't and take some chances. I'm not sure this party will ever end," added Dussel of his Super Muffler, Griff's Engine, Fremont Fence, B&L Plumbing, Kistler Racing Products, Fremont Athletic Supply, Bethesda Care Center, Fremont Roofing, Tackle Box II sponsored sprint car.
In another non-stop feature, Fremont's Paul Weaver took the lead from Brandon Moore on lap five and drove to his 35th career Fremont victory in the Fremont Federal Credit Union 305 Sprints. Weaver moved into 10th on the track's all-time win list.
"My wife and Chad Gullett worked hard on this thing. We changed a bunch of stuff. This is a fairly new car…second time on the track. This is a Triple X. I wrecked my other car that I really liked but we put this car together…it's a little bit different but we got it figured out. Thank goodness the 410 guys all ran the bottom because they left something there on the top. I'd like to thank Darl Schiets…first time this year I get to collect money from him," joked Weaver beside his Schiets Motorsports, Tender Touch Car Wash, Weaver Performance, M&L Excavating, Hampshire Racing Engines, Buckeye Mobile Coatings, Fostoria Mod Shop backed #1w.
Bellevue, Ohio's Cory Ward led all 20 laps of the AAA Ohio Auto Club Dirt Truck feature to claim his first win of the season and the 24th of his career.
"It's been awhile….a long time. I didn't want to see that caution with two laps to go. I want to thank my dad, my grandpa, my uncle….every day during the week they are working their butts off on this thing," said Ward beside his Budweiser, B&L Heating and Air Conditioning, Gibson Auto Recycling, Precision Body and Frame, Hiser's Transmissions, Griff's Engines, Mini Warehousing, Jeff Ward Demolitions backed #18W.
Bowling Green's Dustin Sautter held off Ky Harper and led all 15 laps to claim his fourth win of the season in the McCullough Industries 602 Late Models.
"I can't thank my guys enough for all the hard work they've put in…especially to night when we tore it up in the heat. Rusty Schlenk Racing has helped us so much. My family….I couldn't do any of this without them," said Sautter of his Sautter Farms, Shipley Auto and Towing backed machine.
Dussel and Henry would bring the field to green for the 30-lap 410 sprint feature with Dussel gaining the upper hand. Fast qualifier and third place starter Broc Martin would charge into second with Henry, Duane Zablocki, Stuart Brubaker and Brian Smith in tow.
Dussel would begin to pull away while the battle for second heated up between Martin and Henry. With just eight laps in the books, Dussel was getting set to encounter heavy lapped traffic and that allowed Martin to close. Dussel looked like a seasoned veteran slicing through the traffic as he maintained his lead over Martin, Henry, Zablocki, Brubaker, Smith and T.J. Michael.
As Dussel worked through traffic, Henry reeled in Martin and the two battled for the runner-up spot which Henry eventually took on lap 22. Henry would pull to within a couple car lengths of Dussel with four laps to go, but Dussel cleared the back-markers and drove to the victory.
Henry, Martin, Zablocki and Brubaker would round out the top five. Smith, Michael, 15th starter Dean Jacobs, Cale Thomas and 18th place starter Byron Reed would round out the top 10.
In the just over seven minute 305 sprint feature, Brandon Moore and Jason Keckler brought the field to green with Moore gaining the advantage over Keckler, Weaver, Josh Harrison, Bobby Clark, Seth Schneider, John Ivy and Dustin Dinan.
While everyone was running the bottom, Weaver would get to the cushion and blasted into second on the second circuit and immediately raced to Moore's outside. Weaver would take the lead for good on lap five.
Weaver would enter lapped traffic by the 11th circuit with Moore, Harrison, Clark, Keckler, Ivy, Schneider and Trey Jacobs in tow. Moore stayed within five car lengths of Weaver as Harrison and Clark battled for third with Clark taking the spot on lap 16.
With eight laps to go, Clark was closing on Weaver and Moore as they struggled in traffic. Weaver would continue his high line and drove to the win with Moore recording his best career finish in second followed by Clark, Harrison and Ivy rounding out the top five. Jacobs, Keckler, Jordan Ryan (up from 12th), Schneider and Dinan would round out the top 10.
Ward and Eric Devanna would bring the field to green in the 20 lap dirt truck feature. Ward would grab the lead over Devanna, Dustin Keegan, Cory McCaughey and Jeff Ward before the caution would fly after a lap for a tangle involving Len Benyak and Brad Stuckey.
On the restart Cory Ward drove away as Devanna maintained second with at tremendous battle for third involving McCaughey, Keegan, Ward, Matt Foos and Keith Sorg which would be waged the rest of the race.
Ward would hold a comfortable lead over Devanna with Foos taking third on lap four followed by Keegan, Jeff Ward, McCaughey, Gene Potridge, Kent Brewer and Jimmy McGrath. Andrew Lutman would spin on lap eight, putting the rest of the field right on Cory Ward's rear bumper.
On the restart Devanna would challenge for the lead with Foos, McCaughey, Brewer and Keegan battling. Another caution for a Brandon Leighton spin on lap 12 kept the tight race interesting. Ward was able to pull away slightly on the restart with Devanna now trying to hold off Foos, McCaughey and Brewer.
As Ward led Devanna was able to get away from the battle for third which saw the position change hands three times in three laps. Dana Fry would bring out the caution with two laps to go.
When the green flew Ward was able to pull away as McCaughey grabbed second from Devanna with Brewer, Foos and McGrath all close. Brewer would take third on the white flag lap and closed on Ward and McCaughey.
Ward would hold off McCaughey for the win with Brewer, Foos and Devanna rounding out the top five.
Dale Cole and Sautter brought the field to green for the 15 lap late model main but before a lap could be completed Tim Sabo, Chester Fitch and Steve Sabo would tangle. On the second attempt at a start Tim Sabo and Fitch would come together again, ending their night.
On the third try Sautter bolted into the lead with Cole, Ky Harper and Dustin Keegan staying close. Harper would take second on lap two and closed quickly on Sautter. Sautter and Harper ran side by side over the next hand full of laps with Cole locked in a battle with Keegan for third while Brandon Perkins, Steve Sabo, John Ivy and Jeff Hites gave chase.
Perkins would spin on lap nine, bunching the field back up. On the restart Perkins again had problems necessitating another restart. A lap later and Hites would bring out the final caution of the feature.
With four laps to go, Sautter would have to hold off Harper with Keegan, Cole and Ivy in tow. Sautter would pull away slightly to take the win with Harper, Keegan, Cole and Ivy rounding out the top five.
It was "Throw Back Night" at "The Track That Action Built," and many fans wore their oldest racing t-shirts. Legendary driver Art Ball's daughter won a pass for the rest of the season with her 1975 Art Ball t-shirt.
Also, three families with children with Congenital Heart Defects were in attendance and Logan Schimmoeller gave a heart-warming speech to the crowd to bring awareness about CHD. Logan and his family have founded the Racing for Heart Research Organization for this cause.
Fremont Speedway will be back in action Saturday, July 25th for Fort Ball Pizza Palace Night. It will be a Kistler Racing Products FAST Championship Series Presented by KS Sales and Service point night for the 410 sprints and a JLH General Contractor FAST 305 Championship Series Presented by Engine Pro point night for the 305 sprints. The dirt trucks and 602 late models will also be in action. The night will also feature the two car, two lap King of the Hill match races for the 410 and 305 sprints.
For more information go to www.fremontohspeedway.com
Fremont Speedway – 7/11/2015
Kear Speedshop Night
Fort Ball Pizza Palace 410 Sprints (19 Cars)
[#]-Starting Position
Qualifying – Fricker's Restaurant/Callie's Performance
1. 83M-Broc Martin, 12.951; 2. 14H-Todd Heller, 13.028; 3. 39M-Dj Foos, 13.130; 4. O9-Craig Mintz, 13.139; 5. 40DD-Nate Dussel, 13.175; 6. 16-Stuart Brubaker, 13.220; 7. 53-Cap Henry, 13.241; 8. 9Z-Duane Zablocki, 13.247; 9. 2+-Brian Smith, 13.258; 10. 8M-Tj Michael, 13.286; 11. 91-Cale Thomas, 13.293; 12. 45L-Brian Lay, 13.298; 13. 68G-Tyler Gunn, 13.298; 14. 5AU-Danny Reidy, 13.308; 15. 97-Dean Jacobs, 13.333; 16. 19C-Chris Andrews, 13.382; 17. 9-Jordan Ryan, 13.404; 18. 5-Byron Reed, 13.588; 19. 7K-Kyle Pitts, 13.707
Heat 1 – American Power Sports (8 Laps – Top 10 finishers transfer to the A-feature)
1. 53-Cap Henry[2] ; 2. 83M-Broc Martin[4] ; 3. 19C-Chris Andrews[6] ; 4. 8M-Tj Michael[1] ; 5. 68G-Tyler Gunn[5] ; 6. O9-Craig Mintz[3] ; 7. 7K-Kyle Pitts[7]
Heat 2 – Kistler Racing Products (8 Laps – Top 10 finishers transfer to the A-feature)
1. 9Z-Duane Zablocki[2] ; 2. 14H-Todd Heller[4] ; 3. 40DD-Nate Dussel[3] ; 4. 91-Cale Thomas[1] ; 5. 9-Jordan Ryan[6] ; 6. 5AU-Danny Reidy[5]
Heat 3 – Hoosier Racing Tires (8 Laps – Top 10 finishers transfer to the A-feature)
1. 45L-Brian Lay[1] ; 2. 97-Dean Jacobs[5] ; 3. 16-Stuart Brubaker[3] ; 4. 2+-Brian Smith[2] ; 5. 39M-Dj Foos[4] ; 6. 5-Byron Reed[6]
Dash – Borer Glass & Mirror (6 Laps, finishing order determined first 6 starting positions of A-feature
1. 40DD-Nate Dussel[1] ; 2. 53-Cap Henry[4] ; 3. 83M-Broc Martin[6] ; 4. 16-Stuart Brubaker[2] ; 5. 9Z-Duane Zablocki[5] ; 6. 14H-Todd Heller[3]
A-Main – (40 Laps)
1. 40DD-Nate Dussel[1]; 2. 53-Cap Henry[2]; 3. 83M-Broc Martin[3]; 4. 9Z-Duane Zablocki[5]; 5. 16-Stuart Brubaker[4]; 6. 2+-Brian Smith[7]; 7. 8M-Tj Michael[8]; 8. 97-Dean Jacobs[15]; 9. 91-Cale Thomas[9]; 10. 5-Byron Reed[18]; 11. O9-Craig Mintz[12]; 12. 45L-Brian Lay[10]; 13. 19C-Chris Andrews[16]; 14. 39M-Dj Foos[11]; 15. 14H-Todd Heller[6]; 16. 9-Jordan Ryan[17]; 17. 68G-Tyler Gunn[13]; 18. 7K-Kyle Pitts[19]; 19. 5AU-Danny Reidy[14]
Hard Charger: 5-Byron Reed[+8]
Fremont Federal Credit Ution 305 Sprints (27 Cars)
[#]-Starting Position
Heat 1 – American Power Sports (8 Laps – Top 5 finishers transfer to the A-feature)
1. 1X-Dustin Dinan[2] ; 2. 1W-Paul Weaver[1] ; 3. 25-Jason Keckler[5] ; 4. 5R-Jordan Ryan[4] ; 5. 12-Kyle Capodice[7] ; 6. 7-Thomas Schinderle[3] ; 7. 32H-Dan Hennig[8] ; 8. 75-Jerry Dahms[6] ; 9. 44-Kyle Farmer[9]
Heat 2 – Kistler Racing Products (8 Laps – Top 5 finishers transfer to the A-feature)
1. 39-Jamie Miller[1] ; 2. 8-Bobby Clark[2] ; 3. 77I-John Ivy[6] ; 4. 10-Josh Harrison[4] ; 5. 77X-Alex Hill[9] ; 6. 22M-Dan McCarron[7] ; 7. 87-Brian Gibbs[8] ; 8. 87-Brian Gibbs[8] ; 9. 26-Ryan French[5]
Heat 3 – Hoosier Racing Tires (8 Laps – Top 5 finishers transfer to the A-feature)
1. 3J-Trey Jacobs[2] ; 2. 36-Seth Schneider[1] ; 3. 19R-Steve Rando[8] ; 4. 7M-Brandon Moore[5] ; 5. 2-Ricky Peterson[9] ; 6. 99-Alvin Roepke[7] ; 7. 20I-Kelsey Ivy[4] ; 8. 37-Austin Ream[3] ; 9. 18N-Frank Neill[6]
B-Main – Computer Man Inc. (10 Laps – Top 5 finishers transfer to the A-feature)
1. 7-Thomas Schinderle[1] ; 2. 99-Alvin Roepke[3] ; 3. 22M-Dan McCarron[2] ; 4. 32H-Dan Hennig[4] ; 5. 20I-Kelsey Ivy[6] ; 6. 87-Brian Gibbs[5] ; 7. 37-Austin Ream[9] ; 8. 44-Kyle Farmer[10] ; 9. 26-Ryan French[11] ; 10. 75-Jerry Dahms[7] ; 11. 18N-Frank Neill[12] ; 12. 39C-Scott Riley[8]
A-Main – (25 Laps)
1. 1W-Paul Weaver[6]; 2. 7M-Brandon Moore[1]; 3. 8-Bobby Clark[3]; 4. 10-Josh Harrison[4]; 5. 77I-John Ivy[7]; 6. 3J-Trey Jacobs[10]; 7. 25-Jason Keckler[2]; 8. 5R-Jordan Ryan[12]; 9. 36-Seth Schneider[5]; 10. 1X-Dustin Dinan[8]; 11. 12-Kyle Capodice[13]; 12. 99-Alvin Roepke[17]; 13. 19R-Steve Rando[11]; 14. 2-Ricky Peterson[15]; 15. 77X-Alex Hill[14]; 16. 32H-Dan Hennig[19]; 17. 22M-Dan McCarron[18]; 18. 20I-Kelsey Ivy[20]; 19. 7-Thomas Schinderle[16]; 20. 39-Jamie Miller[9]
Hard Charger: 1W-Paul Weaver[+5]
AAA Auto Club Dirt Trucks (20 Trucks)
[#]-Starting Position
Heat 1 – American Power Sports (8 Laps – Top 10 finishers transfer to the A-feature)
1. 2-Matt Foos[2] ; 2. 4S-Keith Sorg[1] ; 3. 33-Jeff Ward[3] ; 4. 99X-Gene Portidge[5] ; 5. 22-Brandon Leighton[4] ; 6. 79-Andrew Lutman[6] ; 7. P51-Tim Baker[7]
Heat 2 – Kistler Racing Products (8 Laps – Top 10 finishers transfer to the A-feature)
1. 8KB-Kent Brewer[4] ; 2. 23M-Brad Mitten[1] ; 3. 36M-Cory McCaughey[5] ; 4. 17X-Dustin Keegan[6] ; 5. 7F-Dana Frey[3] ; 6. 85S-Bradley Stuckey[2] ; 7. 25-Randy Ryan[7]
Heat 3 – Hoosier Racing Tires (8 Laps – Top 10 finishers transfer to the A-feature)
1. 5JR-Jimmy McGrath [2] ; 2. 18W-Cory Ward[1] ; 3. 37-Eric Devanna[5] ; 4. 9-Curt Inks[6] ; 5. 13-Len Benyak[4] ; 6. 3-Andy Earnhart[3]
A-Main – (20 laps)
1. 18W-Cory Ward [1]; 2. 36M-Cory McCaughey[5]; 3. 8KB-Kent Brewer[11]; 4. 2-Matt Foos[9]; 5. 27-Eric Devanna[2]; 6. 5JR-Jimmy McGrath[7]; 7. 33-Jeff Ward[6]; 8. 23M-Brad Mitten[12]; 9. 4S-Keith Sorg[4]; 10. 17x-Dustin Keegan[3]; 11. 22-Brandon Leighton[13]; 12. 99X-Gene Potridge[8]; 13. 79-Andrew Lutman[16]; 14. 7F-Dana Fry[14]; 15. 85S-Bradley Stuckey[17]; 16. 3-Andy Earnhart[18]; 17. 9-Curt Inks[10]; 18. 13-Len Benyak[15]; 19. P51-Tim Baker[19]
McCullough Industries 602 Late Models (10 Cars)
[#]-Starting Position
Heat 1 – American Power Sports (8 Laps – Top 10 finishers transfer to the A-feature)
1. 3-Dale Cole[1] ; 2. 17X-Dustin Keegan[6] ; 3. 98-Tim Sabo[10] ; 4. 23-Dustin Sautter[7] ; 5. 116-Steve Sabo[4] ; 6. 101-Chester Fitch[9] ; 7. O1-Brandon Perkins[8] ; 8. 34-Ky Harper[3] ; 9. 1-John Ivy[5] ; 10. O4-Jeff Hites[2]
A-Main – (15 Laps)
1. 23-Dustin Sautter[2]; 2. 34-Ky Harper[8]; 3. 17X-Dustin Keegan[3]; 4. 3-Dale Cole[1]; 5. 1-John Ivy[9]; 6. O4-Jeff Hites[10]; 7. O1-Brandon Perkins[7]; 8. 116-Steve Sabo[4]; 9. 98-Tim Sabo[5]; 10. 101-Chester Fitch[6]
Hard Charger: 34-Ky Harper[+6]