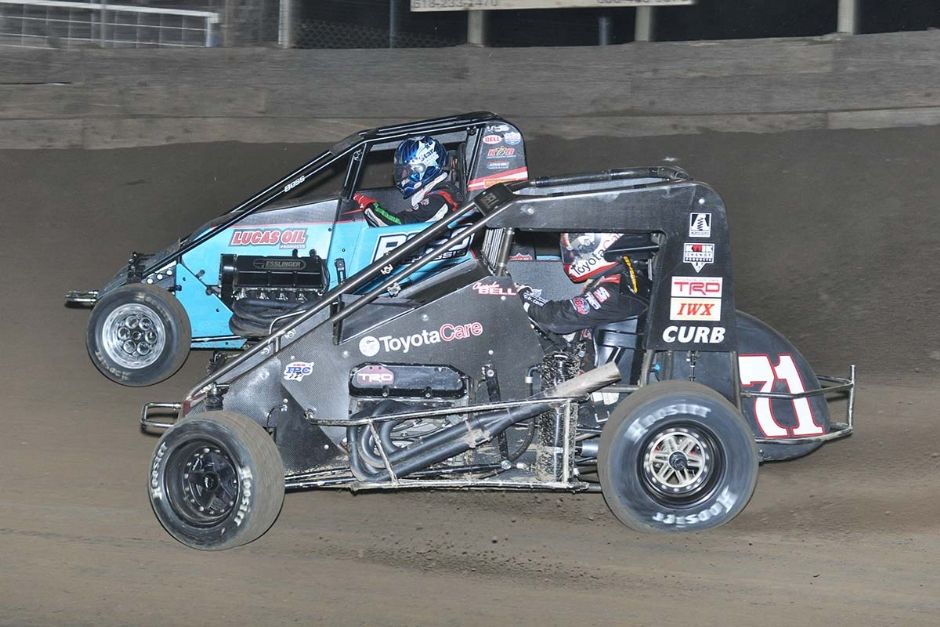 From POWRi
Belleville, IL — (July 12, 2015) — Christopher Bell earned his fifth POWRi Lucas Oil National Midget Series victory of 2015. Involved in an incident early one, Bell came from the back to claim the 30 lap event on the high-banked 1/5th mile Belle-Clair Speedway for the National Midget portion of the "Battle at Belle-Vegas III." Aaron Andruskevitch of Riverton, Illinois survived an action-packed, 20 lap feature event to snag his second POWRi Speedway Motors 600cc Outlaw Micro Series victory of 2015.
Starting on the pole with Darren Hagen to the outside, Bell would narrowly miss the jump on the initial restart as Shane Cockrum would stop in turns one and two, issuing the first caution of the evening, calling back the start. Lined back up, Bell's Keith Kunz/Curb-Agajanian Motorsports Toyota-powered Bullet would get a much better start and take the early lead. As the field started to get sorted out, Kyle Schuett would bring out the second caution of the evening after looping it off turn four. With two laps in the books, Bell would rocket off as Spencer Bayston challenged Hagen for the second position. On lap seven the caution would fly as both Daniel Robinson and Tucker Klaasmeyer's machines sat tangled atop turn two.
Coming back to green, Bell would assert his lead as Bryan Clauson edged into the fourth position. With 11 laps down, misfortune would hit as Christopher Bell came upon lap traffic; cars would collide and collect, including Andy Malpocker, Tucker Klaasmeyer, Kyle Schuett, Daniel Adler, and leader Bell and second place runner, Spencer Bayston. Inheriting the top position, Darren Hagen would lead the field to green in the Austin Brown, Esslinger-powered BOSS Chassis entry. Immediately coming back to green, the racing would be slowed as Tyler Thomas stopped on the back stretch. Resuming racing, Hagen headed straight to the top side of the high-banked 1/5th mile, working to put more space between himself and the rest of the field, as Jake Neuman slid Bryan Clauson for second.
On lap 14, Gage Walker would bring out the caution after looping it on the bottom of turns one and two. This time when Hagen showed the way, Austin Brown would steal second from Neuman coming off turn two. Three laps later, Spencer Bayston would stop on the front stretch after contact, while separately, Gage Walker and Ryan Robinson tangled in turn four. Coming back to green, Hagen would check out until Dereck King slowed entering turn three, coming to a stop on the front stretch and bringing out the caution. Coming back to green, Bell would slide for third from the fifth position, causing Jake Neuman running in third to attempt to turn back underneath him, only to spin and bring the caution back out.
With 23 laps complete, Hagen would try his best to hold off Brown, Felker and Bell coming to green, but Bell's head of steam would be too much as Bell slid for the top position off turn four on lap 27 to lead the final three laps. Coming in second was Darren Hagen with Andrew Felker in third. Austin Brown earned fourth and Tanner Thorson took fifth.
"I definitely didn't expect to get up through there," Bell said. "POWRi midget week when I started in the back, I wasn't able to make my way back up there, but I hope the fans enjoyed that one because I did in the racecar."
"I've got to apologize to my teammate," stated Hagen. "On that restart, I got in there and just hit the fence in one and two and got real tight dragging the brake. Totally my fault, but hat's off to Christopher Bell and his team to come from the back."
"Just started too deep and kept catching the cautions wrong," said Felker. "Had another awesome car and salvaged a 13th to third. Definitely felt like we had a car to win. Hopefully we can keep this momentum going."