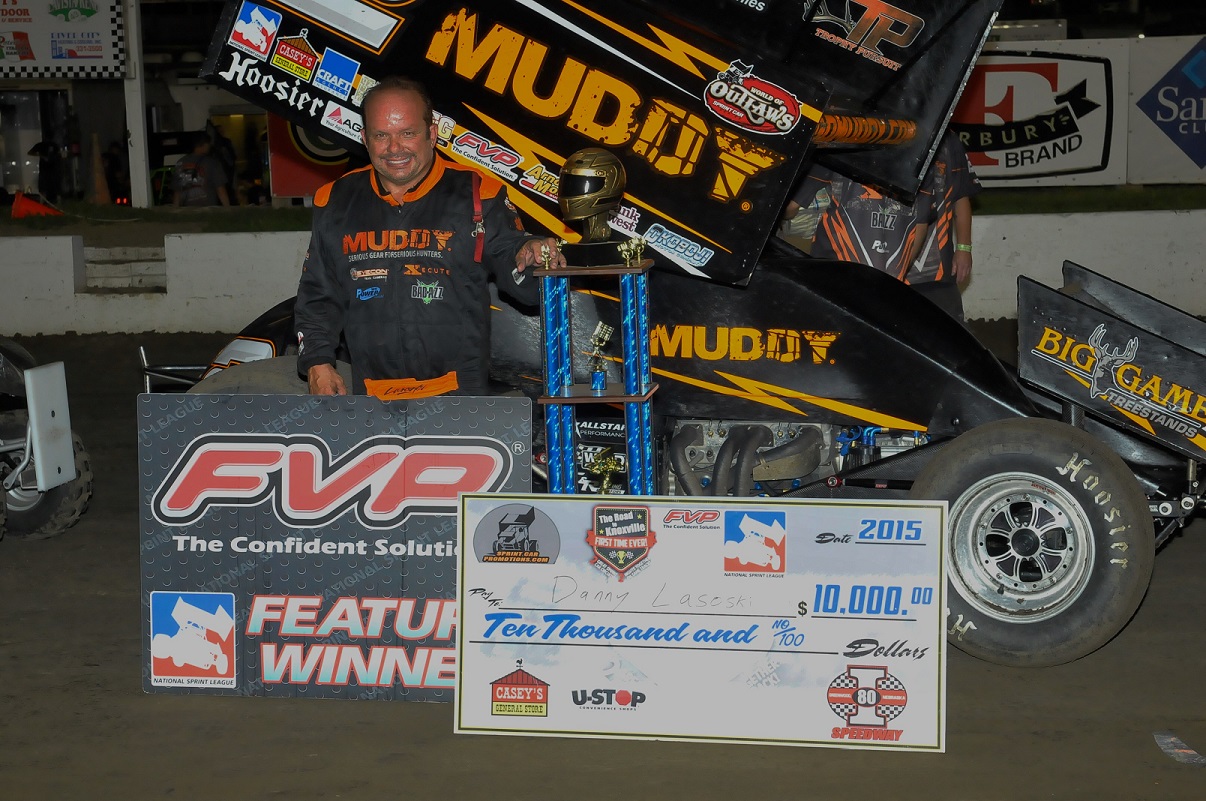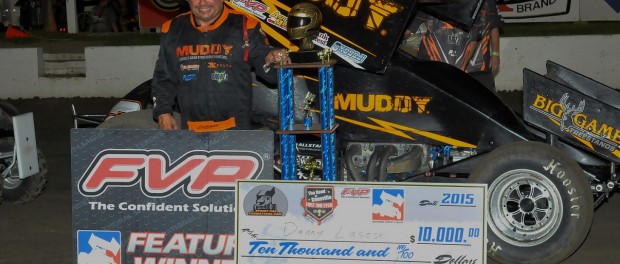 From Bill Wright
Greenwood, NE — (July 31, 2015) — Danny Lasoski led all 30 laps to complete a sweep of the two-night "Road to Knoxville" at the I-80 Speedway near Greenwood, Nebraska on Friday. Friday's finale was worth $10,000 to the "Dude" aboard the Big Game Motorsports #2. The win was also the Dover, Missouri pilot's sixth with the FVP National Sprint League this season and gave him $15,000 in his two-night sweep on the 4/10-mile oval.
Lasoski drew the pole for the main event and shot out to an early lead over Bryan Clauson and Tim Kaeding. With a lap completed, Paul Nienhiser slowed on the front stretch bringing the caution flag. Lasoski led Clauson, Kaeding, Lynton Jeffrey and Terry McCarl back to green flag racing.
While Lasoski pulled away, Kaeding and Clauson battled for second, while Ian Madsen worked into the top five from the tenth starting spot. Bryan Gossel spun with six laps in the books to bring another caution. When the green fell, Lasoski pulled away, while Kaeding used the low groove to move by Clauson for second. The pair battled for the spot for fifteen laps.
Back in the pack, Bill Balog moved into the top ten from the 20th starting spot by the halfway point. A battle back in the pack saw him mixing it up with Mark Dobmeier, Brian Brown and Willie Croft. Up front, Lasoski had built over a four second lead on Kaeding, who was receiving constant pressure from Clauson.
Disaster struck for Clauson with seven laps to go when his car went up in smoke. The final caution of the race saw a dash to checkers. Lasoski would pull away, ahead of Kaeding, Madsen, McCarl and Brooke Tatnell. Jeffrey, Jamie Veal, Matt Juhl, Brown and Balog rounded out the top ten. Lasoski set quick time, while Tasker Phillips, Brown and Tatnell won heat races.
"We have to thank that young man for drawing us the one pill," said Lasoski in Victory Lane in reference to a young fan's drawing of the pole position for him. "Track position was key tonight. The bottom was sticky and you had to stay there. Lapped traffic was pretty tough. Our team has confidence, but not an overabundance of it. We know it takes a lot of luck. When we roll into Knoxville, we've give it 100%."
"They've been fast all year," said Kaeding of the Big Game Motorsports team. "To get a podium finish tonight was really exciting. We've been consistently fast all year, but we've started in the back too much. It's been a rough couple of days finding out my grandpa has a month to live. This goes out to him."
"I had an awesome racecar," said Madsen. "I made some moves and was able to get through there early. I knew TK was committed to the bottom on that last restart and tried to make some moves on the top. I just couldn't quite get it done. It was still an awesome run for my team."
The FVP National Sprint League heads to the $20,000 to win Front Row Challenge at the Southern Iowa Speedway in Oskaloosa on Monday, August 10!!! For more information on the FVP National Sprint League, visit www.NationalSprintLeague.com!
Results from I-80 Speedway
FVP A main (started), 30 laps: 1. 2, Danny Lasoski, Dover, MO [1]; 2. 3, Tim Kaeding, San Jose, CA [3]; 3. 18, Ian Madsen, St. Mary's, NSW, Aust. [10]; 4. 24, Terry McCarl, Altoona, IA [5]; 5. 55, Brooke Tatnell, Sans Souci, NSW, Aust. [8]; 6. 12, Lynton Jeffrey, Prairie City, IA [4]; 7. 35AU, Jamie Veal, Warrnambool, VIC, Aust. [7]; 8. 09, Matt Juhl, Tea, SD [12]; 9. 21, Brian Brown, Grain Valley, MO [14]; 10. 17B, Bill Balog, Brookfield, WI [20]; 11. 13, Mark Dobmeier, Grand Forks, ND [17]; 12. 29, Willie Croft, Roseville, CA [11]; 13. 2L, Logan Forler, Boise, ID [18]; 14. 7TAZ, Tasker Phillips, Pleasantville, IA [15]; 15. 69, Michael Moore, Des Moines, IA [16]; 16. 6, Bryan Gossel, Windsor, CO [13]; 17. 41A, Andee Beierle, Bismarck, ND [19]; 18. 17w, Bryan Clauson, Noblesville, IN [2]; 19. 4K, Thomas Jeffrey, Kelleyville, NSW, Aust. [9]; 20. 5H, Dakota Hendrickson, Omaha, NE [21]; 21. 17A, Austin McCarl, Altoona, IA [22]; 22. 9, Paul Nienhiser, Chapin, IL [6]. Lap Leader: Lasoski 1-30. KSE Hard-charger: Balog.
Fuel Safe Heat one (started), 8 laps: 1. Tasker Phillips [1]; 2. Ian Madsen [3]; 3. Tim Kaeding [4]; 4. Matt Juhl [2]; 5. Paul Nienhiser [5]; 6. Logan Forler [6]; 7. Dakota Hendrickson [7]
DMI Heat two (started), 8 laps: 1. Brian Brown [1]; 2. Willie Croft [2]; 3. Bryan Clauson [4]; 4. Mark Dobmeier [6]; 5. Lynton Jeffrey [5]; 6. Thomas Jeffrey [3] DNS – Austin McCarl
Kaeding Performance Heat three (started), 8 laps: 1. Brooke Tatnell [2]; 2. Terry McCarl [3]; 3. Jamie Veal [4]; 4. Danny Lasoski [5]; 5. Bryan Gossel [1]; 6. Bill Balog [8]; 7. Michael Moore [6]; 8. Andee Beierle [7]
The Minnesota Mafia Time Trials (Qualifying Order), 2 laps: 1. Danny Lasoski, 14.264 [14]; 2. Lynton Jeffrey, 14.277 [7]; 3. Paul Nienhiser, 14.323 [10]; 4. Jamie Veal, 14.373 [12]; 5. Bryan Clauson, 14.455 [8]; 6. Tim Kaeding, 14.464 [21]; 7. Terry McCarl, 14.477 [1]; 8. Thomas Jeffrey, 14.479 [6]; 9. Ian Madsen, 14.497 [9]; 10. Brooke Tatnell, 14.615 [17]; 11. Willie Croft, 14.637 [20]; 12. Matt Juhl, 14.638 [5]; 13. Bryan Gossel, 14.665 [3]; 14. Brian Brown, 14.669 [16]; 15. Tasker Phillips, 14.729 [2]; 16. Michael Moore, 14.944 [18]; 17. Mark Dobmeier, 14.966 [19]; 18. Logan Forler, 14.968 [15]; 19. Andee Beierle, 15.157 [22]; 20. Austin McCarl, 15.303 [13]; 21. Dakota Hendrickson, 15.580 [11]; 22. Bill Balog, NT [4].
Contingencies
The Minnesota Mafia Quick Time – Danny Lasoski
Fuel Safe Heat – Tasker Phillips
DMI Heat – Brian Brown
Kaeding Performance Heat – Brooke Tatnell
Maxim Driver of the Night – Andee Beierle
Speedway Graphics "From the Tail Award" – Austin McCarl
KSE Hard-charger Award – Bill Balog
Bell Helmets "Hard Luck Award" – Paul Nienhiser
Brown & Miller Racing Solutions "3 for 3 Award" – Danny Lasoski