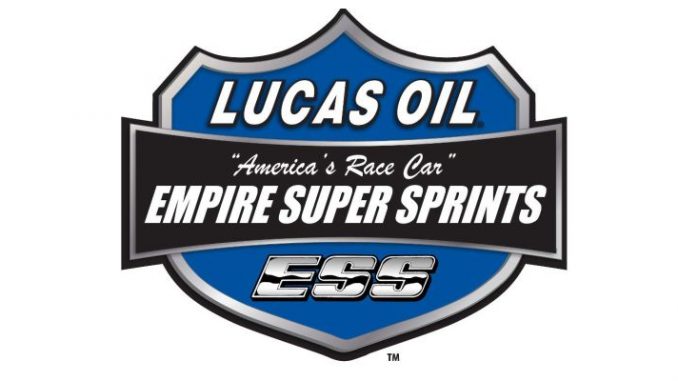 CANANDAIGUA, NY – Steve Poirier found his lane open up right at the drop of the green flag and he took full advantage. Taking to the outside of the Canandaigua Motorsports Park half-mile from his third starting position, Poirier took the lead and stayed there for all 25 laps to collect his fifth Lucas Oil Empire Super Sprint A-Main of the 2015 season.
The entire night went caution free with 20 of the 22 A-Main starters seeing the checkered flag.
The win for the Quebec star also extended his point lead for his quest of his sixth overall ESS title and also in the NAPA Auto Parts US Tour 2015 as well. The victory was Poirier's 52nd of his ESS career inching him closer to Mike Woodring on top of the win list at 59.
"It just worked out for me, I saw Tommy (Wickham) go to the inside behind Mike (Stelter) and it opened up the outside for me so I made the move." Noted the driver of the FM Industries #28FM. "From there my car felt pretty good on the top so I stayed there."
Poirier didn't pull out to a big lead however as Stelter's Mach 1 chassied #36 stayed close looking for his first A-Main win since 2005. "When you lead you just don't know if your line is the best, you stay where you feel comfortable and hope it works out." Poirier continued. "You do look around a bit, if I see blue on the inside I know it's probably Jason (Barney) as he is an expert there. You try not to beat yourself when leading, you try to stay aggressive and stay comfortable."
The win came in his trusty now five year old Eagle chassis. "This car has been clipped twice, fixed many times but not enough to junk it. It just fits my style." Steve continued. "Other teams get close to you or even better so we tried a few other chassis but it's just not as good as this one."
Barney did come from his sixth place starting spot to slip by Stelter in the closing stages but he just didn't have enough to stage a challenge but shortly afterwards he revealed why. "I had no brakes the entire race. I think I had something for the 28 but you needed brakes with the traffic and the way the track was." Said Barney who picked up his second runner-up finish in as many nights.
"We had such a good car but it's a bit frustrating, winning in ESS is so tough and when you get the chance like we did the last two nights you need to take advantage." Barney went on, "I tried hard and then when I hit the inside tire and my left front went totally flat I'm a bit lucky I'm here (second place)."
For Stelter, a smile from ear to ear was present as it was his first podium finish in many years. "This feels awesome, to get a top three has been a long time coming." The long-time ESS faithful continued. "We just found something with the car and it's better, the driver is getting his confidence back so I hope we can get some good finishes here in the end of the season."
Mike went on, "I'm a low buck guy and when you can get a few good runs together it makes you feel good. I'm glad I could do it close to home."
Matt Tanner and Shawn Donath made up the top five. Rounding out the top ten were Wickham, Bryan Howland, Chuck Hebing, Cory Sparks and Joe Trenca.
ESS/Canandaigua Notes – A total of 23 sprints in the pits for the Lucas Oil ESS second visit of the year to Canandaigua…Tyler Graves, Jonathan Preston and Derrick Juliano made their first starts for 2015…Danny Varin dropped a lifter during the heats and didn't start the A-Main…Next week it's off to Brewerton on Friday and then to Weedsport on Sunday for our $2,000 to win Night of Legends.
Lucas Oil A-Main – Steve Poirier ($2,075), Jason Barney ($1,075), Mike Stelter ($850), Matt Tanner ($630), Shawn Donath ($565), Tommy Wickham ($660), Bryan Howland ($455), Chuck Hebing ($470), Cory Sparks ($450), Joe Trenca ($400), Darryl Ruggles ($485), Paul Kinney ($395), Paul Habeck ($470), Parker Evans ($290), Rob Dietrick ($285), Alysha Ruggles ($280), Paulie Colagiovannu ($325), Jonathan Preston ($270), Dave Axton ($300), Derrick Juliano ($310), Tyler Graves ($270), Jeff Cook ($250)
DNS – Danny Varin ($350)
Lap Leaders – Poirier 1-25
Car Mate Trailers $25 To Win Heats – Barney, Sparks, Howland.
Danny Willmes Enterprises/Cobra Coaches Dash – D. Ruggles ($100)
Other Bonuses:
Insinger Performance Hard Charger – Barney (4 pos.) $50
Engler Machine and Tool Halfway – Poirier $50
Ohsweken Speedway 20th Anniversary – Juliano $50
Beard Sewer and Drain Determination Award – Hebing $50
SUNY Canton Smart Move – Stelter $50
Fondations 55 Pick 5 – Donath $35
911 Restoration – Sparks and D. Ruggles $25
Bitner Automotive Blistering Fast Time – Poirier (17.133)
Hoosier Tire – Axton $200
Vahlco Wheels – Wickham $190
For more Information on the Lucas Oil Empire Super Sprints:
Web: www.empiresupersprints.com
Twitter: @ESSprints
Facebook: https://www.facebook.com/EmpireSuperSprints
Android App: Empire Super Sprints