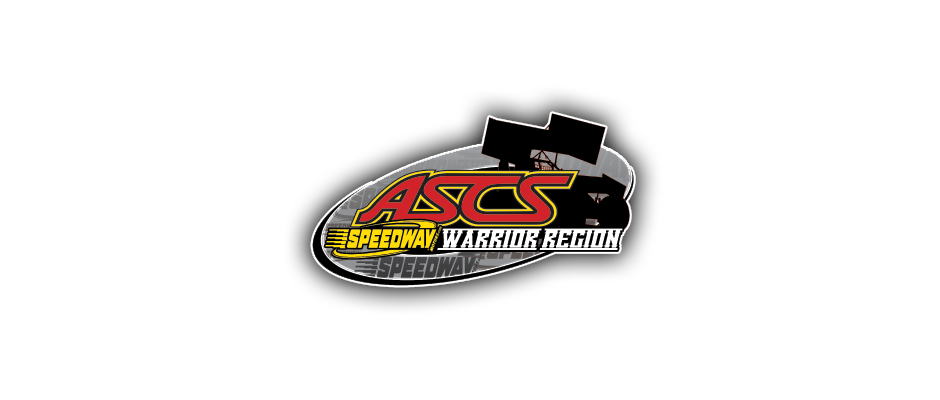 From Bryan Hulbert
Moberly, MO — (September 6, 2015) — Two nights on either side of the podium with the Speedway Motors ASCS Warrior Region, Oklahoma's Wayne Johnson finally found the center step on Sunday night. Parking the Stone Mountain Access Systems No. 77x in Victory Lane at the Randolph County Raceway, Johnson collected $4,000 in his fourth overall victory of the season.
Taking advantage of a caution with one lap in the books, Johnson worked past New Mexico's Johnny Herrera to lead the remainder of the 25 lap feature event. After winning Friday with ASCS Red River Region, and Saturday with the ASCS Warriors, Herrera settled for the runner-up spot with Derek Hagar picking up his third podium of the weekend. Tyler Thomas came from ninth to fourth with Josh Fisher completing the top-five.
Jonathan Cornell was sixth with Evan Martin seventh. Jay Russell from 14th was eighth with Alex Sewell ninth from 16th. Eighteenth starting Corey Nelson completed the top-ten.
The Speedway Motors ASCS Warrior Region sees action again at the U.S. 36 Raceway in Cameron, Mo. on Saturday, September 12, followed by the fifth annual Hockett/McMillin Memorial on Friday, September 25 and Saturday, September 26 at the Lucas Oil Speedway in Wheatland, Mo. with the Lucas Oil ASCS National Tour.
For continued updates on the Speedway Motors ASCS Warrior Region, log onto http://www.ascsracing.com.
Race Results:
ASCS Warrior Region
Randolph County Raceway – Moberly, Mo.
Sunday, September 6, 2015
Car Count: 25
Heat 1 (8 Laps): 1. 72X-Josh Fisher; 2. 38-Cody Baker; 3. 86-Tyler Thomas; 4. 8-Alex Sewell; 5. 76-Jay Russell; 6. 5-Matt Close; 7. 41-Scott Comstock
Heat 2 (8 Laps): 1. 4-Evan Martin; 2. 51-Mitchell Moore; 3. 27-Danny Thoman; 4. 9M-Ricky Lee Stangl; 5. 24C-Lanny Carpenter; 6. 93-Taylor Walton; 7. (DNF) 14-Randy Martin
Heat 3 (8 Laps): 1. 53-Joe Beaver; 2. 92-Jordan Weaver; 3. 77-Kyle Bellm; 4. 34-Corey Nelson; 5. 72-Curtis Boyer; 6. 20K-Kevin Ulmer; 7. 48-Dean Hathman
B Feature 1 (12 Laps): 1. 72-Curtis Boyer[3]; 2. 34-Corey Nelson[1]; 3. 93-Taylor Walton[5]; 4. 9M-Ricky Lee Stangl[2]; 5. 48-Dean Hathman[7]; 6. 5-Matt Close[6]; 7. 20K-Kevin Ulmer[4]; 8. (DNF) 41-Scott Comstock[8]; DNS 14-Randy Martin
A Feature 1 (25 Laps): 1. 77X-Wayne Johnson[1]; 2. 45X-Johnny Herrera[2]; 3. 9JR-Derek Hagar[3]; 4. 86-Tyler Thomas[9]; 5. 72X-Josh Fisher[4]; 6. 28-Jonathan Cornell[5]; 7. 4-Evan Martin[6]; 8. 76-Jay Russell[14]; 9. 8-Alex Sewell[16]; 10. 34-Corey Nelson[18]; 11. 72-Curtis Boyer[17]; 12. 51-Mitchell Moore[7]; 13. 9M-Ricky Lee Stangl[20]; 14. (DNF) 38-Cody Baker[11]; 15. (DNF) 77-Kyle Bellm[13]; 16. (DNF) 93-Taylor Walton[19]; 17. (DNF) 24C-Lanny Carpenter[15]; 18. (DNF) 92-Jordan Weaver[12]; 19. (DNF) 27-Danny Thoman[10]; DNS 53-Joe Beaver