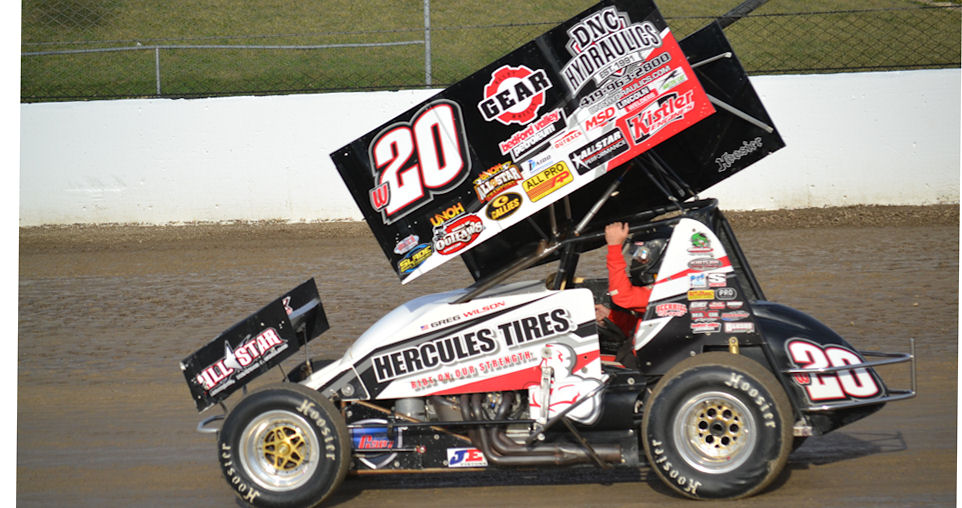 Aaron Fiedler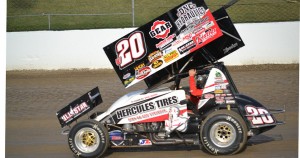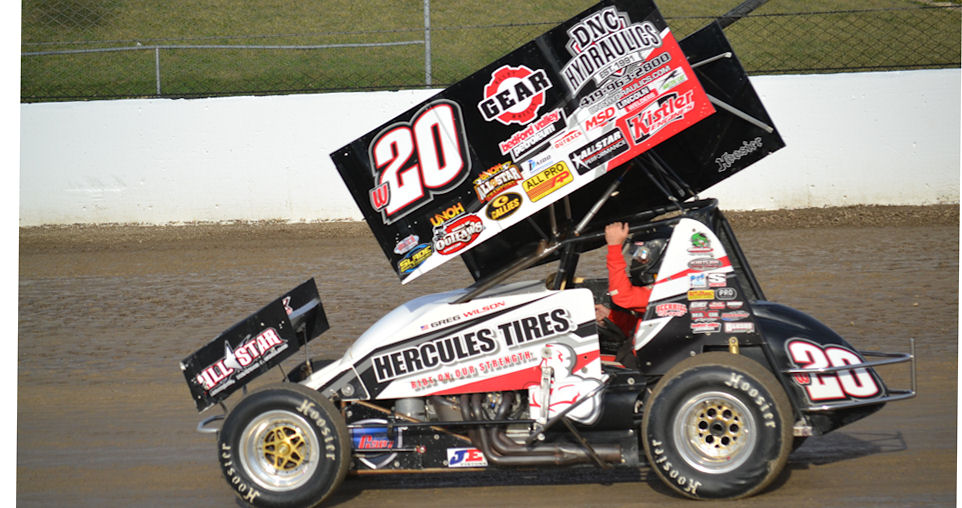 Rossburg,Ohio (Sept. 25, 2015)-
Greg Wilson's ascent through the field at Eldora Speedway's 4-Crown Nationals on Friday night was steady and underneath everyone's radar as he rode the bottom of the track to his first ever World of Outlaws Sprint Car Series victory.
The Benton Ridge, Ohio-native and All Star Circuit of Champions regular, passed Rico Abreu midway through the feature and ran away with the win, leading second-place Shane Stewart by nearly seven seconds at the end.
"This is a World of Outlaws win!" an emotional Wilson said in victory lane. "I was starting to wonder. I just turned 40 – hell, I thought I was going to have to get Depends and quit this stuff. You ain't going to wipe this smile off for a long time."
Wilson is the 21st different driver to score a World of Outlaws feature win this season and the second driver in 2015 to claim a first-ever series win.
Chad Kemenah and Tim Shaffer led the field to the green flag in the kickoff to the 4-Crown Nationals weekend. Kemenah led through the early going as Abreu dispatched of Shaffer in his No. 24 Abreu Vineyards car for second by lap eight. Stewart then got around the 'Steel City Outlaw' three laps later to take over third.
As Kemenah began working his way through traffic, Abreu closed the gap and ran him down. As the two worked to complete lap 14, Abreu got around Kemenah, just underneath him, as they exited turn four. With Abreu in the lead, the battle intensified for the top four positions as Stewart looked for the lead and Kemenah tried to hang on.
Meanwhile, Wilson, who started ninth, jumped to bottom of the track in his No. W20 Hercules Tire/All-Star Plumbing car from the start and made easy work of the cars in front of him. By the time Abreu took over the lead, Wilson had moved into the top five, then the top three.
With an intense battle underway between Abreu and Stewart for the lead on the top side of the track, Wilson drove by on the bottom with little notice.
"Thought I was actually racing Shane there for the lead because I didn't see Greg Wilson," Abreu said.
"At first I thought it was Donny (Schatz)," Stewart said. "To be honest with you, I saw a black car and when I saw Wilson go by. He is exceptionally good here on the bottom."
While the battle continued between Abreu and Stewart through the second half of the feature, Wilson walked away, building up a large lead. Stewart eventually got by Abreu but the Outlaw was unable to make up time on the Ohio driver.
"I want to thank everybody – this has been a long time coming," Wilson said. "I'm a blessed dude. To win at Eldora, I was in tears. If you're going to win somewhere, this is the best place to do it in front of the best fans in the country."
"I'm truly a blessed guy and thankful for everything that the fans, the people that have helped me my whole career. This is for all those guys as much as it is for me."
Wilson, who has three All-Star wins this season, including one at Eldora back in June, said he and his Warnimont Motorsports team have been focused on improvement this season and have been making changes in that direction.
"We upgraded our motor program and we're still working out kinks with everything," Wilson said. "We're not (a big budget team) by any means – we won tonight on some used tires we got from Sheldon Haudenschild. That's pretty darn cool."
The 30-lap feature went flag-to-flag with no stoppages.
Stewart, who was the Kings Royal winner at Eldora back in mid-July, said the track was different than what they have been used to all summer. It took some adjustment he said.
"It was a great finish for us," Stewart said. "I didn't think after the dash that I had a good enough car to run second. Just a great effort by all my guys… We threw everything at it but the kitchen sink and made some gains from the dash to the feature and it worked out OK."
Abreu, who has two series wins this season, said he thought he had something for the rest of the field.
"We had a really good car tonight," Abreu said. "Just wasn't there at the right time, I felt. A lot of fun though – just super slick and slow and get your car going real good so that was a lot of fun."
A new battle that has emerged over the last two weeks is that for third, fourth and fifth in the championship driver standings. Brad Sweet moved into the third position from fifth as Kerry Madsen and Joey Saldana slipped back. Still, just 10 points separate the three drivers. In the owner standings, 10 points is the margin between the third through sixth positions.
The World of Outlaws Sprint Car Series returns to action tomorrow night at Berlin Raceway in Marne, Mich. for the NAPA Berlin Brawl. Present a NAPA receipt at the time of purchase to receive $5 off (limit two per receipt). To find out more information and to learn how to buy tickets, visit http://woosprint.com/berlin-raceway.
Follow the World of Outlaws Sprint Car Series on Twitter at www.twitter.com/WorldofOutlaws, like it on Facebook atwww.facebook.com/WorldofOutlaws, or check out the latest videos on YouTube at www.youtube.com/WorldofOutlaws.
Eldora Speedway Notebook
RACE NOTES: Greg Wilson's win tonight at the 4-Crown Nationals was his first ever World of Outlaws Sprint Car Series victory… Greg Wilson is the 21st different driver to win a series feature this season and second first time winner… Dale Blaney was the night's KSE Racing Hard Charger, advancing 16 positions to finish in fifth… Shane Stewart took home quick time tonight with a lap of 13.099. It was his fifth quick time of the season… The battle for third, fourth and fifth in points is heating up as Brad Sweet moved into third and Kerry Madsen and Joey Saldana slipped into fourth and fifth. Just 10 points separate the drivers.
CONTINGENCY WINNERS – MSD Ignitions ($25 cash): Mikey Kuemper; MSD Ignitions ($50 cash): Greg Wilson; Sweet Manufacturing ($50 cash): Shane Stewart; Penske Shocks ($50 cash): Donny Schatz; Mobil 1 ($50 cash): Jacob Allen;JE Pistons ($50 cash): Jason Sides; Lincoln Welders ($50 cash): Daryn Pittman; VP Racing Fuels ($50 cash): Chad Kemenah; Edelbrock ($50 cash): Jacob Allen; Comp Cams ($50 cash): Brad Sweet; Cometic Gasket ($50 cash): David Gravel;Super Flow ($50 cash): David Gravel; Sweet Manufacturing ($50 product certificate): Greg Wilson;KSE Racing Products ($100 product certificate): Dale Blaney; Comp Cams ($50 product certificate): Greg Wilson;Mobil 1(20% off Mobil1RacingStore.com): Steve Kinser; JE Pistons (Set of Rings): Kerry Madsen; JE Pistons (Set of Rings): Jason Johnson.
A-Main – (30 Laps) – 1. W20-Greg Wilson [9] [$10,000]; 2. 2-Shane Stewart [4] [$5,500]; 3. 24-Rico Abreu [3] [$3,200]; 4. 15-Donny Schatz [5] [$2,800]; 5. 1-Dale Blaney [21] [$2,500]; 6. 9-Daryn Pittman [11] [$2,300]; 7. 7S-Jason Sides [13] [$2,200]; 8. 10H-Chad Kemenah [1] [$2,100]; 9. 1A-Jacob Allen [18] [$2,050]; 10. 49-Brad Sweet [7] [$2,000]; 11. 51-Paul McMahan [6] [$1,500]; 12. 45-Tim Shaffer [2] [$1,200]; 13. 67-Christopher Bell [20] [$1,100]; 14. 7-David Gravel [12] [$1,050]; 15. 89-Cody Darrah [22] [$1,000]; 16. 21-Cap Henry [24] [$900]; 17. 29-Kerry Madsen [19] [$800]; 18. 17W-Bryan Clauson [10] [$800]; 19. 71M-Joey Saldana [8] [$800]; 20. 11N-Randy Hannagan [16] [$800]; 21. 1ST-Gary Taylor [23] [$800]; 22. 11-Steve Kinser [14] [$800]; 23. 41-Jason Johnson [17] [$800]; 24. 11K-Mikey Kuemper [15] [$800]. Lap Leaders: Chad Kemenah 1-13, Rico Abreu 14-15, Greg Wilson 16-30. KSE Hard Charger Award: 1-Dale Blaney [+16]
Qualifying – 1. 2-Shane Stewart, 13.099; 2. 45-Tim Shaffer, 13.277; 3. 10H-Chad Kemenah, 13.306; 4. 24-Rico Abreu, 13.368; 5. W20-Greg Wilson, 13.433; 6. 17W-Bryan Clauson, 13.448; 7. 9-Daryn Pittman, 13.478; 8. 7-David Gravel, 13.518; 9. 7S-Jason Sides, 13.524; 10. 15-Donny Schatz, 13.543; 11. 11-Steve Kinser, 13.544; 12. 51-Paul McMahan, 13.554; 13. 49-Brad Sweet, 13.555; 14. 11K-Mikey Kuemper, 13.562; 15. 71M-Joey Saldana, 13.582; 16. 11N-Randy Hannagan, 13.582; 17. 1S-Logan Schuchart, 13.615; 18. 19-Paige Polyak, 13.615; 19. 41-Jason Johnson, 13.617; 20. 1A-Jacob Allen, 13.632; 21. 99-Brady Bacon, 13.654; 22. 29-Kerry Madsen, 13.663; 23. 67-Christopher Bell, 13.712; 24. 1-Dale Blaney, 13.734; 25. 89-Cody Darrah, 13.768; 26. 71A-R.J. Johnson, 13.940; 27. 82-Dusty Zomer, 13.998; 28. 1ST-Gary Taylor, 14.007; 29. 21-Cap Henry, 14.043; 30. 38-Jared Horstmen, 14.093; 31. 33M-Caleb Griffith, 14.945
Heat 1 – (8 Laps – Top 5 finishers transfer to the A-feature) – 1. 49-Brad Sweet [1]; 2. 2-Shane Stewart [4]; 3. 7S-Jason Sides [2]; 4. W20-Greg Wilson [3]; 5. 21-Cap Henry [8]; 6. 89-Cody Darrah [7]; 7. 99-Brady Bacon [6]; 8. 1S-Logan Schuchart [5]
Heat 2 – (8 Laps – Top 5 finishers transfer to the A-feature) – 1. 15-Donny Schatz [2]; 2. 45-Tim Shaffer [4]; 3. 29-Kerry Madsen [6]; 4. 17W-Bryan Clauson [3]; 5. 11K-Mikey Kuemper [1]; 6. 19-Paige Polyak [5]; 7. 38-Jared Horstmen [8]; 8. 71A-R.J. Johnson [7]
Heat 3 – (8 Laps – Top 5 finishers transfer to the A-feature) – 1. 71M-Joey Saldana [1]; 2. 11-Steve Kinser [2]; 3. 10H-Chad Kemenah [4]; 4. 67-Christopher Bell [6]; 5. 9-Daryn Pittman [3]; 6. 82-Dusty Zomer [7]; 7. 41-Jason Johnson [5]; 8. 33M-Caleb Griffith [8]
Heat 4 – (8 Laps – Top 5 finishers transfer to the A-feature) – 1. 51-Paul McMahan [2]; 2. 24-Rico Abreu [4]; 3. 11N-Randy Hannagan [1]; 4. 1-Dale Blaney [6]; 5. 1A-Jacob Allen [5]; 6. 7-David Gravel [3]; 7. 1ST-Gary Taylor [7]
Dash – (6 Laps, finishing order determined first 8 starting positions of A-feature) – 1. 10H-Chad Kemenah [2]; 2. 45-Tim Shaffer [3]; 3. 24-Rico Abreu [1]; 4. 2-Shane Stewart [4]; 5. 15-Donny Schatz [5]; 6. 51-Paul McMahan [6]; 7. 49-Brad Sweet [7]; 8. 71M-Joey Saldana [8]
Last Chance Showdown – (12 Laps – Top 4 finishers transfer to the A-feature) – 1. 7-David Gravel [1] [-]; 2. 41-Jason Johnson [4] [-]; 3. 89-Cody Darrah [6] [-]; 4. 1ST-Gary Taylor [9] [-]; 5. 19-Paige Polyak [3] [$300]; 6. 82-Dusty Zomer [8] [$250]; 7. 38-Jared Horstmen [10] [$225]; 8. 71A-R.J. Johnson [7] [$200]; 9. 99-Brady Bacon [5] [$200]; 10. 1S-Logan Schuchart [2] [$200]; 11. 33M-Caleb Griffith [11] [$200]