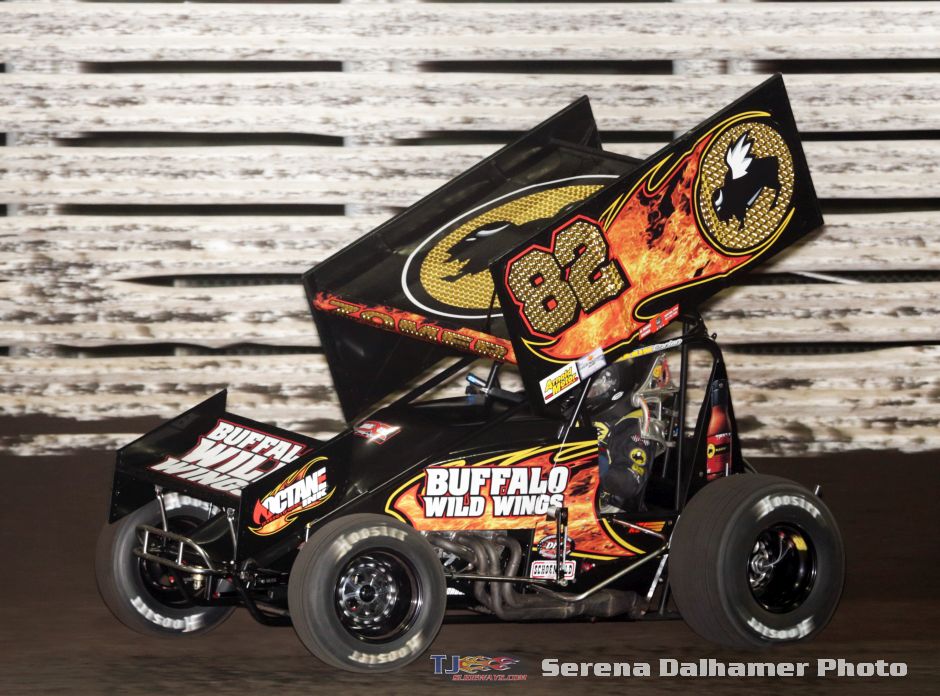 From Bryan Hulbert
Queen Creek, AZ — (October 10, 2015) — The trip to Arizona was worth the miles for Dusty Zomer as the Buffalo Wild Wings No. 82 topped action at the Arizona Speedway for his third win of the season with the ASCS Southwest Region.
Taking off from the outside of the front row, Zomer was chased to the line by eighth starting Bob Ream, Jr. with James Mosher in tow. Ryan Linder and Lance Norick completed the top-five. Lance Norick was sixth with Casey Buckman seventh. J.T. Imperial crossed seventh from 11th with Perry McMillan, Chris Masters, and Kaylene Verville making up the top-ten.
The ASCS Southwest Region returns to action at the Cocopah Speedway on October 31.
For continued updates on the ASCS Southwest Region, log onto http://www.ascsracing.com.
Race Results:
ASCS Southwest Region
Arizona Speedway – Queen Creek, Ariz.
Saturday, October 10, 2015
Car Count: 18
Heat 1 (8 Laps): 1. 01-Kaylene Verville; 2. 91-Casey Buckman; 3. 9-Ryan Linder; 4. 17K-Kyle Danielson; 5. 29-Darrell Sickles; 6. 55-Brent McKee
Heat 2 (8 Laps): 1. 90-Lance Norick; 2. 82-Dusty Zomer; 3. 75X-J.T. Imperial; 4. 8-Bob Ream Jr; 5. 27-Perry McMillan; 6. 4-Ryan Murphy
Heat 3 (8 Laps): 1. 20Z-Rick Ziehl; 2. 12-James Mosher; 3. 98-Chris Masters; 4. 14-Cody Sickles; 5. 43-Tanner Wolverton; 6. 22-Mike Rux Jr
A Feature 1 (25 Laps): 1. 82-Dusty Zomer[2]; 2. 8-Bob Ream Jr[8]; 3. 12-James Mosher[3]; 4. 9-Ryan Linder[5]; 5. 90-Lance Norick[6]; 6. 91-Casey Buckman[1]; 7. 75X-J.T. Imperial[11]; 8. 27-Perry McMillan[14]; 9. 98-Chris Masters[9]; 10. 01-Kaylene Verville[4]; 11. 4-Ryan Murphy[15]; 12. 29-Darrell Sickles[13]; 13. 55-Brent McKee[17]; 14. 14-Cody Sickles[12]; 15. 20Z-Rick Ziehl[7]; 16. 17K-Kyle Danielson[10]; 17. 43-Tanner Wolverton[18]; 18. 22-Mike Rux Jr[16]