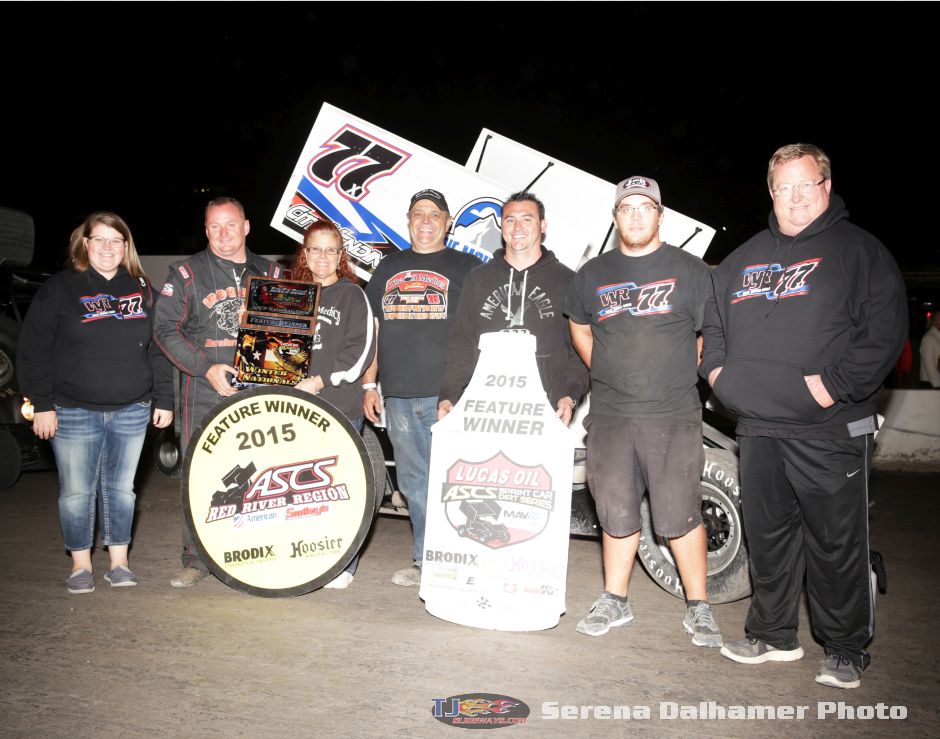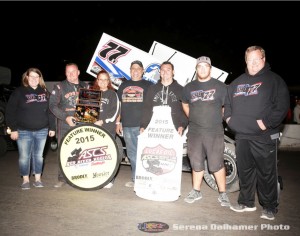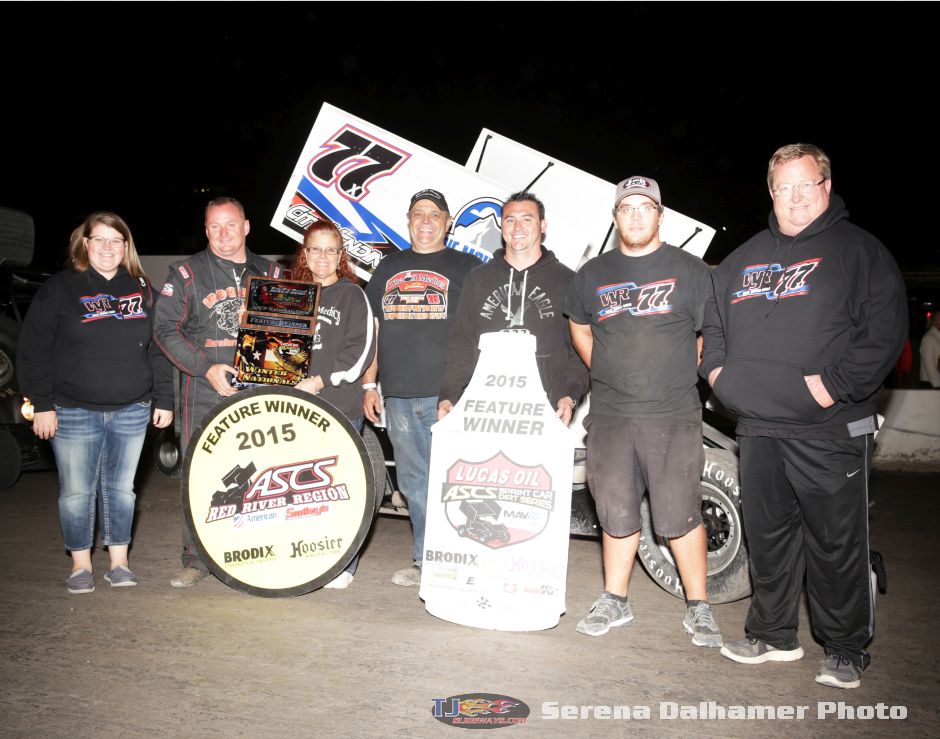 By Bill W
October 21, 2015 – Wayne Johnson and the #77x team enjoyed another win at the Devil's Bowl Speedway in Mesquite, Texas in last Friday's prelim for the ASCS Winternationals. A second place run in the finale, saw Wayne take over the second place spot in ASCS points. The team will finish up their season October 28-31 at the Short Track Nationals at I-30 Speedway in Little Rock, Arkansas.
A good heat race run from fourth to second started things out well on Friday. "We got a good start there, and moved up to second," says Wayne. "My teammate Alex Hill beat me there, and she did a really good job."
Wayne is usually good for a poor feature draw, but he would draw the pole on this night. "I've drawn the front row two times with ASCS this year," he says. "I was able to win both nights. The track blew off in the feature. It was good racing."
He would run a little different line than most in the main event. "When you're out front, you don't always know how hard you need to go," says Wayne. "I was running the bottom in three and four and the top of one and two. Everyone else was running the top all the way around."
Wayne would only see one challenger. "I saw Joe Wood on the outside, but I stayed with the bottom," he says. "I saw him on the entry, but not the exit, so I knew I was pulling away from him. But I could tell it was getting harder to run the bottom. We had a caution, and the team signaled me to go to the top of three and four. We drove away from there."
The win locked him into Saturday night's finale. He would draw a starting spot inside row four. "We drew where we normally do!" says Wayne. "We got a really good start though, and got up to fourth. We were able to get by Joe Wood. We ran the leaders down from there. At that point, it was lockdown rubber. We got in line."
A break would come while running third. "With about four to go, one of the leaders lost their right rear and that gave us second," says Wayne. "Ours was in trouble. On the white flag lap, it started shaking. It ended up making it. It blew in turn one after the checkers."
For Sale
Wayne Johnson Racing has plenty of equipment for sale. If you are interested in buying cars or parts, call him at 405 306-5426 or e-mail him at WayneJohnsonRacing@yahoo.com.
Mechanic with CDL Needed
Wayne is also looking for a mechanic with a CDL. You would have to be willing to relocate to Knoxville. Salary depends on experience. For more information, contact Wayne at the number above.
Follow Updates on Facebook!
Wayne will update as his race night commences at his Facebook page. Find it by searching for Wayne Johnson Racing or clicking the following link…
http://www.facebook.com/#!/WayneJohnsonRacing
Outlaw Wings – "The Wing with an Attitude"
Check out the new "recessed rivet" design put out by Outlaw Wings. Talk to Wayne about purchasing Outlaw Wings for your car! Outlaw Wings – "The Wing with an Attitude"!
Wayne's Fast Facts
Wayne won the prelim at the 2009 Short Track Nationals. The 1997 event champion topped Sammy Swindell, Tony Bruce Jr., Paul McMahan and Marshall Skinner. The race was on November 5, after being delayed a week due to wet weather.
Partner of the Week – Schoenfeld Headers
Founded in 1974, Schoenfeld Headers is the largest circle track header manufacturer in the world. At Schoenfeld Headers, they listen to you, the customer, understanding your needs and giving you a quality product at a fair price.  Check out their catalog at www.SchoenfeldHeaders.com today!
"Wednesday's with Wayne"
"Wednesday's With Wayne" is an up close look at the past, present and future of colorful and talented sprint car
driver Wayne Johnson. You'll never know what to expect next with Wayne, so don't miss us on Wednesdays!
To receive "Wednesday's with Wayne", send an e-mail to sprntcar@hotmail.com with"Wayne" in the subject line.
Wayne Johnson Racing would like to thank partners, Todd Carlile, Townline Variety, Outlaw Wings, City Vending, Stone Mountain Access Systems and product sponsors The Oil Medics, Sebastian Sandblasting & Powdercoating, Rod End Supply, Astro Titanium, Schoenfeld Headers, Simpson, Butlerbuilt, Xtreme Accu-Tach, Weld Wheels, Slade Shocks, Kustom Sprint Car, Fisher Racing Engines, Team Achieve, Speedway Graphics and Canyon Apparel.