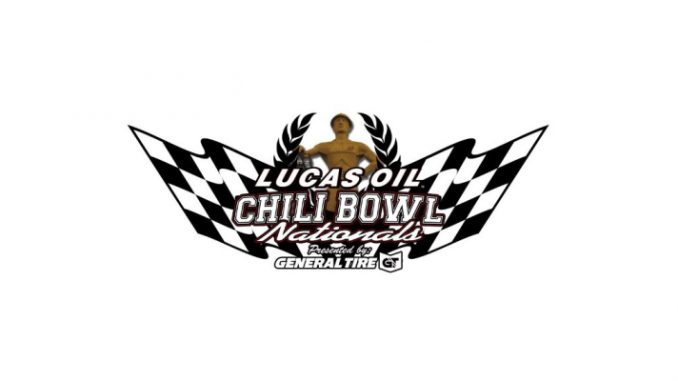 From Bryan Hulbert
Tulsa, OK — (December 16, 2015) — A bit of a change is in line for drivers who finish in the top-three on their qualifying night during the 30th annual Lucas Oil Chili Bowl Nationals presented by General Tire.
Whereas traditionally, a draw has been held following Friday night's races to determine the Top 12 lineup in Saturday's championship event, drivers will instead let their skills speak for themselves with head-to-head battles and a chance to rise from 12th to the pole of Saturday's A-Feature.
The traditional draw will still take place, but this is simply to determine the order of each two lap battle.
The format will work like this:
* The top three drivers in the Preliminary "A" Main finishes will qualify for Saturday's "A" Main and will be locked into a Pole Dash on Friday night.
* Starting with the third place drivers, each will draw for positions 9-12. Second place drivers will draw for positions 5-8. Preliminary night winners will draw for positions 1-4.
* Once each of the 12 qualifying drivers have drawn, they will then race head-to-head starting with the drivers who drew 11th and 12th with the lower seeded driver getting lane choice.
* Drivers will run two (2) laps with the winner moving on to face the next lower seeded driver until the first 12 positions have been earned.
* The remainder of the field will consist of six (6) drivers who will advance from each B main to the A for a total of 24 cars (and one possible defending champion provisional.
Asked why to change, Competition Director, Matt Ward explained, "We watched this done at Knoxville this year and it really appealed to us. We want to give it a try and see how it works this year, but we fell that it will give the drivers a fairer shot at their starting position for Saturday's 55 lap feature event."
In talking with Mr. Ward, the subject of car appearance rules came up, and why they had to be put in place.
"The Chili Bowl has seen some wild designs, and that's part of what makes this event so unique, but it can also hurt the competition when you stray too far from the traditional Midget, and that is something we are having to address now with more and more cars running the square tail tanks," said Ward. "We have had to come up with a ruling on the square tank due to some teams modifying it to basically make it act like a wing, so we will be enforcing that this year as well."
The rule on the square tail tank reads:
* Square Tail Tanks that have been used in the past 5 years will be allowed on the car. Tail tanks must be smooth and cannot have any airfoils that would act is such a way as to produce downforce on the rear of the car. This includes Wickerbills, Side Panels, Spoilers, and Wings of any kind. Any team found to be in violation is subject to immediate disqualification and will not be allowed to resume until the infraction has been corrected.
Appearance rules put in place in 2015 will still be enforced, and read as such:
* Right and Left side cockpit body panels may be a maximum of thirty-six (36) inches high as measured from the bottom frame tube at rear motor plate and projected rearward twenty-three (23) inches with a minimum eight (8) inches vertical opening from the afore mentioned point forward, including side visor
* Side visors on roll cage will be limited to eight (8) inches tall.
* Panels attached to nerf bars will not be permitted.
* All paneling must not extend past edge of frame rails more than thickness of material.
* One (1″) inch turnout allowed on all body and sail panel edges, except sun visor.
* The number of allowable wheels is restricted to two (2) front wheels and two (2) rear wheels on each car. Use of anything other than a wheel and tire assembly is prohibited.
A reminder to all teams, your Right Rear Tire must be a Hoosier.
Anyone with questions about the upcoming Lucas Oil Chili Bowl Nationals presented by General Tire can contact Matt Ward at (918) 995-1650. For more information, and continued updates on the Chili Bowl Nationals, log onto http://www.chilibowl.com.
Fans can also follow the Chili Bowl at http://www.Facebook.com/cbnationals and Twitter (@cbnationals)