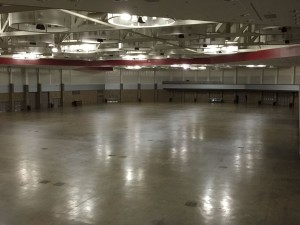 From the Rumble Series
Fort Wayne, IN — (December 22, 2015) — Beginning Wednesday morning 152,000 square feet of Fort Wayne's massive Allen County War Memorial Coliseum will be converted from empty space into an indoor racing facility, complete with a 1/7 mile oval, seating for 4500 spectators and pit area for over 250 entrants in four racing divisions.
After the construction is complete, the stage will be set for the 18th annual Rumble in Fort Wayne on Saturday and Sunday (Dec. 26 & 27).
The primary focus of construction will be the racing oval itself, as 160 ton of concrete barriers are strategically moved into place, to serve as the perimeter of the speedway. Once in position, 800′ of chain link fencing and 2400′ of cable will be put into place.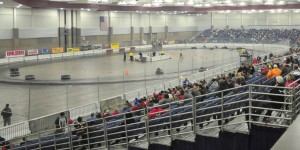 With the protective boundaries in place, crews will begin the finishing touches which include 100 bagged straw bales placed in potential impact points, belted plywood as soft walls on the corner exits and the placement of safety lights for the competitors.
Upon completion of Wednesday's project, the track will set idle until Christmas evening. Teams from eight states and Canada will begin converging upon the Coliseum that afternoon.
The final ingredient of completing the race track will then take place, as soda syrup is sprayed onto the concrete flooring of the Coliseum's Expo Center and carefully spread by pick-up trucks as they make multiple laps around the oval. It is the syrup that provides the initial adhesion of the race cars to the concrete; from which a base of tire rubber is built upon.
A brief practice session for the entrants will conclude Friday's agenda before two days of complete racing programs challenge the unique facility. Saturday afternoon will highlight the go-kart and quarter midget divisions, while the evening portion will showcase the midgets, along with winged and non-winged 600cc midgets. Sunday's format will be a bit tighter as the full program, with all divisions, moves to afternoon action.
Complete time schedules and entry lists are available on the Rumble's website www.rumbleseries.com.