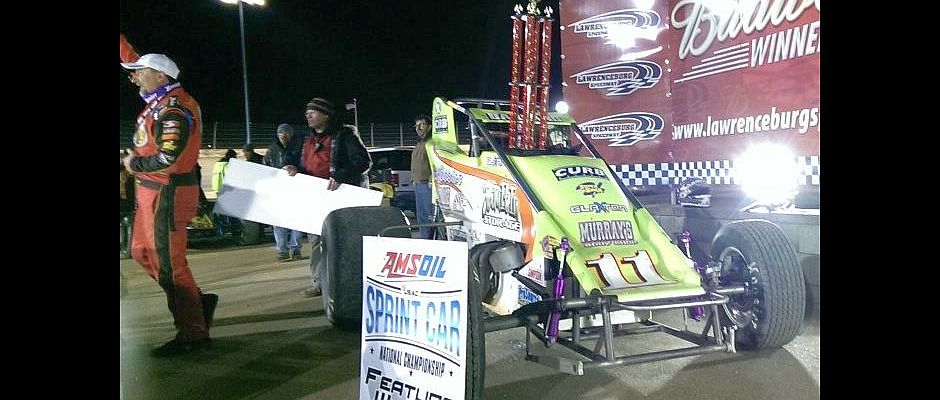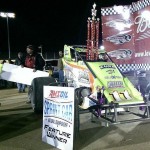 From USAC
Lawrenceburg, IN — (April 2, 2016) — In what became a contest of survival of the fittest, Dave Darland was the last man standing, making his tires last to the finish to extend his all-time USAC AMSOIL Sprint Car National Championship career victory tally to 58 in Saturday night's 30-lap feature at Lawrenceburg (Ind.) Speedway. With the win, Darland continued his incredible streak of winning at least one USAC National feature in each year to 24 consecutive seasons!
Darland, of Lincoln, Ind., started 10th and picked his way to the front one-by-one, conserving his right-rear tire as several of the frontrunners fell by the wayside in the latter half of the feature. Justin Grant was the first one to fall victim to tire wear while running in the third spot on lap 19, bringing out the yellow, and moving Darland to third behind Robert Ballou and Thomas Meseraull.
Defending USAC National Sprint car champ Ballou and USAC's most recent feature winner at Lawrenceburg, Meseraull, battled for the top spot throughout the middle portion of the race as the field began to gravitate toward the bottom of the track to the rubber. Though Meseraull threw everything he could at Ballou, he was unable to wrestle away the position.
With just 10 to go, Meseraull's right rear tire began to soften as Shane Cottle and Jerry Coons, Jr. tangled in turn two, bringing out the yellow flag. With right rear tire degradation imminent on Meseraull's machine, all he could do was hold on, but a yellow for fifth-running Chad Boespflug, who lost a right rear tire with eight laps to go, brought a stoppage to the action once again.
On the restart, the right rear tires of leader Ballou and second-place Meseraull began to show their cords. Meseraull's was the first to give way on a lap 22 restart while Ballou's only lasted two more laps until the 24th lap. Darland took over the lead and, with his tires appearing to show limited wear, seemingly took control of the event.
Late-race challenger Brady Bacon stood second when action resumed, but he quickly became the next victim, wearing out a right rear on lap 25.
After Aaron Farney's tire gave way with three to go and a Landon Simon spin in turn three, due to the number of yellow flags and the total laps run under green and yellow conditions during the feature, the decision was made by race control to throw the red flag so that teams could stop for a splash of fuel for the final dash to the finish.
The final restart saw C.J. Leary lined up behind Darland for the final three-lap sprint, but a strong restart by Darland erased all doubt, providing him with an insurmountable lead in the final laps as he wheeled his Jeff Walker/Curb-Agajanian Racing/Jam-It-In-Storage – Hoosier Tire-sponsored Maxim/Claxton as straight as an arrow on the bottom of the racetrack on his way to his first victory of the season over Leary, Scotty Weir, Chase Stockon, Max McGhee, KSE Hard Charger Dallas Hewitt, new series point leader Meseraull, Ballou, Grant and Farney.
Darland earned his first USAC win in the seat of a Jeff Walker-owned car since October of 2012 at Canyon Speedway Park in Peoria, Arizona while Walker's number 11 found USAC victory lane for the first time since Chris Windom's triumph in 2013 "4-Crown Nationals" at the Eldora Speedway in Rossburg, Ohio.
Darland, who dedicated his victory to longtime friend and sponsor Steve Stroud, who passed away in February of this year, netted his seventh career USAC National Sprint win at Lawrenceburg Speedway, two more than any other driver. Darland knew early on that tire conservation was going to be the key to putting his car in victory lane at night's end.
"I knew from the beginning that it was going to be tough to save tires, but I knew everybody else was in the same boat, so we just had to make the best of it," Darland said. "We were fast, but had to save our stuff and I'm glad we could hold on and get it done."
Leary's maiden voyage in the Michael Dutcher Racing number 17GP went about as smoothly as he could hope for, recording ProSource qualifying time to begin the night and finishing a strong second place at the checkered flag for the second consecutive year in the April Lawrenceburg show.
"I was running up top at the start because I didn't even really know how much rubber was down on the bottom," Leary admitted. "But once I moved down, it was just a matter of riding and trying to save your stuff. I hate to run second again, but it was a good first night in Mike's (Dutcher) stuff, so I'm pretty happy."
Weir's run to third in the Todd Keen machine was his best result since April of 2014 when he scored a third at Gas City (Ind.) I-69 Speedway.
"I watched the B-Main and knew it was going to lay rubber, so I had the mindset from the beginning that I was just going to ride and try to outlast everybody," Weir said. Thankfully, it sort of played out that way for us and we had a solid run."
Contingency award winners include C.J. Leary (ProSource Fast Qualifier), Chase Stockon (Simpson Race Products First Heat), Chad Boespflug (Competition Suspension (CSI) Second Heat), Jarett Andretti (Benic Enterprises Third Heat), Thomas Meseraull (Indy Race Parts Fourth Heat) and Dallas Hewitt (KSE Hard Charger).
———————————————–
USAC AMSOIL SPRINT CAR NATIONAL CHAMPIONSHIP RACE RESULTS: April 2, 2016 – Lawrenceburg, Indiana – Lawrenceburg Speedway
PROSOURCE QUALIFYING: 1. C.J. Leary, 17GP, Dutcher-13.861; 2. Justin Grant, 5, Baldwin-13.996; 3. Robert Ballou, 1, Ballou-14.027; 4. Max McGhee, 17, McGhee-14.224; 5. Brady Bacon, 69, Dynamics-14.304; 6. Shawn Westerfeld, 89, Westerfeld-14.317; 7. Kody Swanson, 71p, Phillips/Wolters-14.339; 8. Thomas Meseraull, 66, Amati-14.350; 9. Scotty Weir, 18w, Keen-14.433; 10. Chad Boespflug, 98E, NineEight/Eberhardt/Zirzow-14.455; 11. Dave Darland, 11, Walker/Curb-Agajanian-14.570; 12. Kyle Cummins, 3R, Byram-14.602; 13. Aaron Farney, 15F, Farney-14.618; 14. Carson Short, 21, Short-14.817; 15. Jerry Coons Jr., 10E, Edison-14.848; 16. Kevin Thomas Jr., 2E, Epperson-14.878; 17. Chase Stockon, 32, 32 TBI-14.883; 18. Jon Stanbrough, 81, Stanbrough-15.050; 19. Jarett Andretti, 18, Andretti-15.073; 20. Shane Cottle, 57, Hazen-15.140; 21. Chris Windom, 21x, Pollock-15.153; 22. Isaac Chapple, 52, LNR/Chapple-15.197; 23. Joss Moffatt, 5J, Moffatt-15.211; 24. Dallas Hewitt, 16, Hewitt-15.222; 25. Kyle Robbins, 17R, Robbins-15.234; 26. Casey Shuman, 4J, 4J Motorsports-15.278; 27. Garrett Abrams, 32A, Abrams-15.304; 28. Brandon Mattox, 04, Burton-15.316; 29. Cole Ketcham, 41K, Ketcham-15.387; 30. Landon Simon, 24, LSR-15.475; 31. Bret Mellenberndt, 97, Mellenberndt-15.517; 32. Matt Goodnight, 39, Goodnight-15.521; 33. Logan Jarrett, 29, Jarrett-15.565; 34. Aric Gentry, 10, GBR-15.774; 35. Kent Wolters, 71wp, Wolters-16.310; 36. Riley VanHise, 96, VanHise-16.883.
SIMPSON RACE PRODUCTS FIRST HEAT: (8 laps) 1. Stockon, 2. Leary, 3. Bacon, 4. Weir, 5. Windom, 6. Farney, 7. Jarrett, 8. Robbins, 9. Ketcham. 2:06.75
COMPETITION SUSPENSION (CSI) SECOND HEAT: (8 laps) 1. Boespflug, 2. Stanbrough, 3. Westerfeld, 4. Grant, 5. Short, 6. Shuman, 7. Simon, 8. Chapple, 9. Gentry. NT
BENIC ENTERPRISES THIRD HEAT: (8 laps) 1. Andretti, 2. Darland, 3. Ballou, 4. Coons, 5. Moffatt, 6. Abrams, 7. Mellenberndt, 8. Wolters, 9. Swanson. 2:07.35
INDY RACE PARTS FOURTH HEAT: (8 laps) 1. Meseraull, 2. Cottle, 3. Cummins, 4. Hewitt, 5. Mattox, 6. Thomas, 7. Goodnight, 8. VanHise, 9. McGhee. NT
SEMI: (12 laps) 1. McGhee, 2. Thomas, 3. Farney, 4. Short, 5. Moffatt, 6. Ketcham, 7. Robbins, 8. Shuman, 9. Simon, 10. Goodnight, 11. Abrams, 12. Chapple, 13. VanHise, 14. Mellenberndt, 15. Swanson, 16. Mattox, 17. Jarrett, 18. Wolters, 19. Windom. NT
FEATURE: (30 laps) 1. Dave Darland, 2. C.J. Leary, 3. Scotty Weir, 4. Chase Stockon, 5. Max McGhee, 6. Dallas Hewitt, 7. Thomas Meseraull, 8. Robert Ballou, 9. Justin Grant, 10. Aaron Farney, 11. Jerry Coons Jr., 12. Brady Bacon, 13. Jarett Andretti, 14. Kyle Cummins, 15. Kevin Thomas Jr., 16. Landon Simon, 17. Carson Short, 18. Cole Ketcham, 19. Shawn Westerfeld, 20. Chad Boespflug, 21. Shane Cottle, 22. Jon Stanbrough, 23. Joss Moffatt. NT
—————————-
**Wolters and Jarrett flipped at the start of the semi.
FEATURE LAP LEADERS: Laps 1-3 Westerfeld, Laps 4-24 Ballou, Laps 25-30 Darland.
NEW USAC AMSOIL SPRINT CAR NATIONAL CHAMPIONSHIP POINTS: 1-Meseraull-269, 2-Cummins-268, 3-Stockon-253, 4-Darland-240, 5-Grant-240, 6-Ballou-233, 7-Bacon-229, 8-McGhee-228, 9-Bryan Clauson-209, 10-Leary-208.