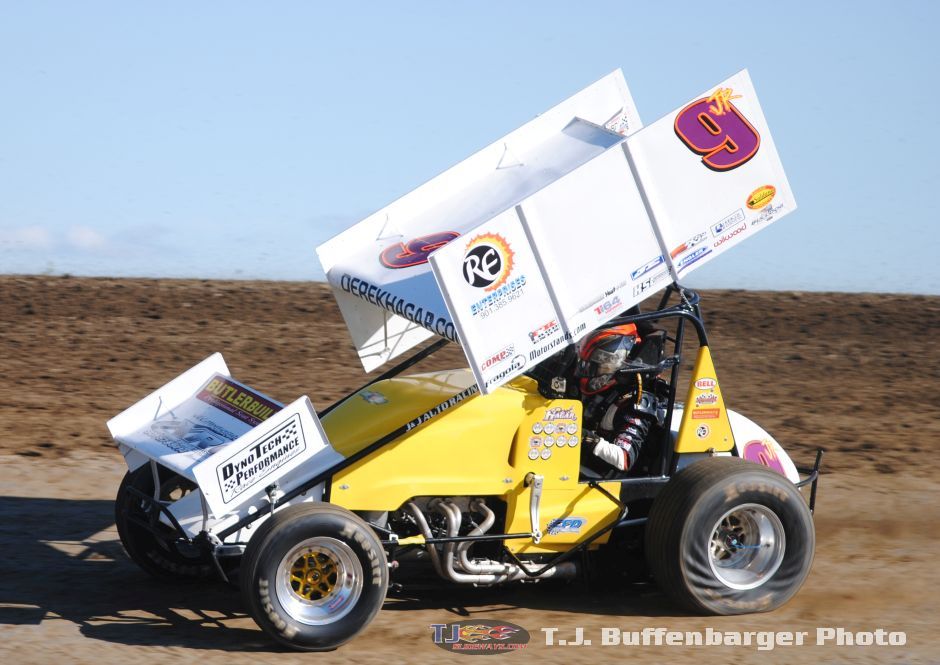 From Bryan Hulbert
Lewisburg, TN — (April 30, 2016) — Mother Nature tried, but this time she was merciful as the Lucas Oil ASCS Southern Outlaw Sprints debuted at the Duck River Raceway Park this past Saturday night.
Increasing his advantage in the 2016 driver standings with the Lucas Oil ASCS Southern Outlaw Sprints, Arkansas' Derek Hagar parked the DHR Suspension No. 9jr in Victory Lane for his first ASCS sanctioned victory of 2016 at the Tennessee oval.
The 15th different winner in overall ASCS competition in 2016, Hagar came from fifth to grab the win. Making it a pair of Marion, Arkansas drivers at the top of the A-Feature finish, Marshall Skinner crossed second. The win by Hagar dropped Skinner to a 49 point deficit in the 2016 standings. Completing the night's podium was the Bobby Sparks Racing No. 91 of Steven Russell. Defending series champion, Michael Miller, and 12th starting Nick Snyder rounded out the top five.
Tennessee's Morgan Turpen came from 17th to sixth with Jeff Willingham, Tristan Lee, Kyle Amerson, and Casey Hinds making up the top-ten.
The Lucas Oil ASCS Southern Outlaw Sprints return to action on May 21 at the Southern Raceway in Milton, Fl. For continued updates on the Lucas Oil ASCS Southern Outlaw Sprints, log onto http://www.ascsracing.com.
Race Results:
ASCS Southern Outlaw Sprints
Duck River Raceway Park – Lewisburg, Tenn.
Saturday, April 30, 2016
Car Count: 18
Heat 1 (8 Laps): 1. 9JR-Derek Hagar; 2. 26-Marshall Skinner; 3. 10-Terry Gray; 4. 29-Kyle Amerson; 5. 28-Jeff Willingham; 6. 38-Ryan Moore
Heat 2 (8 Laps): 1. 4M-Michael Miller; 2. 09-Timmy Thrash; 3. 16-Anthony Nicholson; 4. 116-Nick Snyder; 5. 01-Shane Morgan; 6. 10M-Morgan Turpen
Heat 3 (8 Laps): 1. 1S-Joey Schmidt; 2. 91-Steven Russell; 3. 88-Brandon Blenden; 4. 20-Casey Hinds; 5. 00-Tristan Lee; 6. 99-Don Warren
A Feature (25 Laps): 1. 9JR-Derek Hagar[5]; 2. 26-Marshall Skinner[7]; 3. 91-Steven Russell[4]; 4. 4M-Michael Miller[6]; 5. 116-Nick Snyder[12]; 6. 10M-Morgan Turpen[17]; 7. 28-Jeff Willingham[15]; 8. 00-Tristan Lee[14]; 9. 29-Kyle Amerson[9]; 10. 20-Casey Hinds[11]; 11. 09-Timmy Thrash[8]; 12. 99-Don Warren[18]; 13. 10-Terry Gray[2]; 14. 88-Brandon Blenden[10]; 15. 01-Shane Morgan[13]; 16. 1S-Joey Schmidt[1]; 17. 16-Anthony Nicholson[3]; 18. 38-Ryan Moore[16]