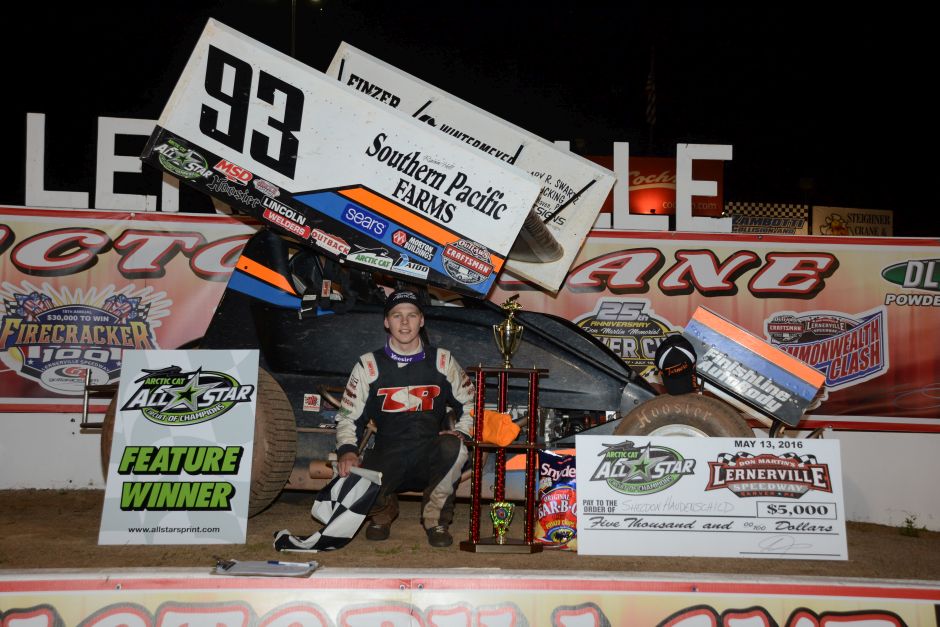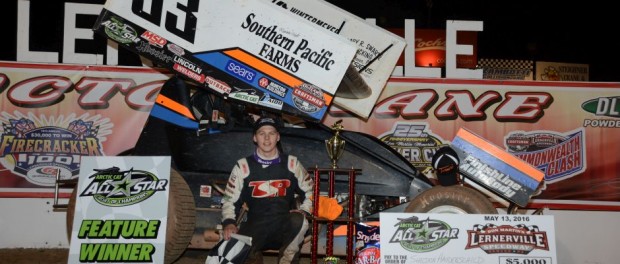 From Tyler Altmeyer
Sarver, PA — (May 13, 2016) — Wooster's own Sheldon Haudenschild lived up to his family's exciting reputation on Friday evening at Lernerville Speedway, mastering all areas of an action-packed racing surface to earn his first Arctic Cat All Star Circuit of Champions victory of the 2016 season. Haudenschild started third on the feature grid, earning his spot at the front of the field during a lap ten restart. Despite heavy periods of traffic, multiple cautions, and repetitive charges by Chad Kemenah, Danny Holtgraver and Tim Shaffer, Haudenschild held on to capture a seventh career Arctic Cat All Star Circuit of Champions victory, his first at the historic Lernerville Speedway. Danny Holtgraver would cross under the final checkers second, followed by Chad Kemenah, Tim Shaffer and Andrew Palker.
"You have to show up and be ready to race at these All Star races," explained Sheldon Haudenschild. "We were pretty good all night. During the feature, we were challenged quite a few times. I could see guys trying to drive below me. I knew if I kept hitting my marks and stayed out of trouble, we would be OK. I really can't thank this team enough. We've been showing a lot of speed so far this year. We hope to continue that."
After a complete restart due to a caution on the opening lap, main event action would officially ignite with the feature pole sitter, the "Steel City Outlaw" Tim Shaffer, showing the way. Haudenschild showed speed almost instantly and raced just behind Shaffer, making heavy challenges for the lead during the first five circuits. A battle in traffic between Shaffer, Haudenschild and Chad Kemenah would eventually unfold, allowing Kemenah to slip by Haudenschild on lap six before taking command over Shaffer on lap seven. Unfortunately for Tim Shaffer, a tangle with the turn two cushion would force the pilot of the Rudzik Racing/No. 49 off of the racing surface, allowing Sheldon Haudenschild to reclaim second in the running order.
A caution, followed by red flag conditions on lap ten, would halt the feature field. When green flag conditions resumed, Sheldon Haudenschild made a bid for the lead and succeeded, driving by Hunter Racing's Chad Kemenah. The pilot of the Southern Pacific Farms/No. 93 rolled ahead of the field for the next ten circuits, but not unchallenged. "Downtown" Danny Holtgraver, who started on the inside of row three, climbed his way into a podium position by halfway, eventually racing bumper to bumper with Haudenschild in traffic before caution flags reappeared on lap 20.
Green flag conditions resumed, but only for three circuits. The main event's second red flag was displayed on lap 23, resulting in a fuel stop.
Tim Shaffer, who was fourth in the running order during the lap 23 restart, made a huge bid for the top spot after passing the front stretch cone, but would come up short, drifting back to fourth by the feature finish. Shaffer's attempt to slide by the top-three would hold up Danny Holtgraver and Chad Kemenah, not allowing any attempt at catch Sheldon Haudenschild. Haudenschild would go on to capture the $5,000 top prize, not affected by traffic that stacked two to three wide in the closing circuits. Pittsburgh's Danny Holtgraver followed in second, with former Arctic Cat All Star champion Chad Kemenah rounding out the podium finishers.
"Man, it feels good to be home and up here on this platform," said Danny Holtgraver. "I think we may have had something for Sheldon there at the end, we just kinda got hung up on that last restart. Regardless, I can't thank my guys enough. They gave me a great race car. We'll take this second place finish and move on to tomorrow and work for one spot higher."
The Arctic Cat All Star Circuit of Champions will continue their tour of Western Pennsylvania on Saturday evening, May 14, at Mercer Raceway Park in Mercer, Pennsylvania. It will be the first and only appearance by the regional travelers in 2016, awarding a $5,000 winner's share. The Arctic Cat All Stars made three appearances at the Mercer County oval in 2016, crowning three different winners including Chad Kemenah, Lee Jacobs and Ryan Smith. Smith, dubbed the "Kunkletown Kid," is the most recent Arctic Cat All Star to earn a feature victory at Mercer Raceway Park, earning $5,000 on July 4, 2015.
Mercer Raceway Park will open pit gates at 3:30 pm on Saturday afternoon, May 14, with the mandatory drivers beginning at 5:30 pm. Hot laps are scheduled to hit the racing surface at 6, sharp! For more information, please visit Mercer Raceway Park live on the Web at www.mercerracewaypark.com.
Contingency Awards/Results – Lernerville Speedway – Friday, May 13, 2016
EMi Driver's Meeting: 41 entries
State Water Heaters Warm-Ups: Eric Williams – 13.317 Seconds
Lincoln Electric Fast Qualifier: Dale Blaney – 12.720 Seconds
Kistler Racing Products Heat #1: Tim Shaffer
All Pro Aluminum Cylinder Heads Heat #2: Bryan Sebetto
Hunt Brothers Pizza Heat #3: Eric Williams
Kistler Racing Products Heat #4: Logan Wagner
JE Pistons Dash: Tim Shaffer
Daido Engine Bearings Main Event Winner: Sheldon Haudenschild
MSD Performance Hard Charger Award: T.J. Michael
Outback Steakhouse A-Main 5th Place Finisher: Andrew Palker
Outback Steakhouse A-Main 10th Place Finisher: Caleb Armstrong
Outback Steakhouse A-Main 15th Place Finisher: Jack Sodeman Jr.
(Lincoln Electric, Daido Engine Bearings, MSD Performance, Outback Steakhouse; Need decal to qualify for contingency award)
Qualifying
1.1-Dale Blaney, 12.720; 2.22-Cole Duncan, 12.916; 3.7C-Caleb Armstrong, 12.955; 4.93-Sheldon Haudenschild, 12.986; 5.5K-Adam Kekich, 12.992; 6.10H-Chad Kemenah, 13.014; 7.70-Danny Holtgraver, 13.024; 8.49-Tim Shaffer, 13.044; 9.22s-Brandon Spithaler, 13.076; 10.23JR-Jack Sodeman, 13.077; 11.57X-Andrew Palker, 13.115; 12.21-Cap Henry, 13.117; 13.35-Jared Zimbardi, 13.155; 14.7-Eric Williams, 13.173; 15.60-Kory Crabtree, 13.180; 16.81-Lee Jacobs, 13.184; 17.7W-Logan Wagner, 13.208; 18.10-Carl Bowser, 13.221; 19.13-Brandon Matus, 13.227; 20.8-Bryan Sebetto, 13.232; 21.40-Caleb Helms, 13.288; 22.46-Michael Bauer, 13.301; 23.7K-Dan Shetler, 13.333; 24.8D-Billy Dietrich, 13.341; 25.19-Joe Kubiniec, 13.374; 26.11K-Kraig Kinser, 13.383; 27.11-Scott Priester, 13.386; 28.4-Danny Smith, 13.387; 29.8M-TJ Michael, 13.402; 30.O8-Dan Kuriger, 13.443; 31.49H-Bradley Howard, 13.524; 32.X-Cory Good, 13.541; 33.2-AJ Flick, 13.676; 34.57-Gary Edwards, 13.685; 35.76-David Jones, 13.696; 36.33-Brent Matus, 13.750; 37.23-Darren Pifer, 13.872; 38.24-Alex Paden, 13.890; 39.51-John Garvin, 14.289; 40.5-Bob McMillin, 14.536; 41.4K-William Kiley, 14.964;
Heat 1, Group A – (8 Laps)
1. 49-Tim Shaffer[2] ; 2. 70-Danny Holtgraver[3] ; 3. 22s-Brandon Spithaler[1] ; 4. 23JR-Jack Sodeman[5] ; 5. 40-Caleb Helms[6] ; 6. 5K-Adam Kekich[4] ; 7. X-Cory Good[7] ; 8. 57-Gary Edwards[8] ; 9. 23-Darren Pifer[9] ; 10. 24-Alex Paden[10] ; 11. 4K-William Kiley[11]
Heat 2, Group B – (8 Laps)
1. 8-Bryan Sebetto[1] ; 2. 10H-Chad Kemenah[4] ; 3. 81-Lee Jacobs[2] ; 4. 21-Cap Henry[3] ; 5. 8D-Billy Dietrich[5] ; 6. 11-Scott Priester[6] ; 7. 33-Brent Matus[8] ; 8. 76-David Jones[7] ; 9. 51-John Garvin[9] ; 10. 5-Bob McMillin[10]
Heat 3, Group C – (8 Laps)
1. 7-Eric Williams[1] ; 2. 57X-Andrew Palker[2] ; 3. 7C-Caleb Armstrong[3] ; 4. 22-Cole Duncan[4] ; 5. 10-Carl Bowser[6] ; 6. 2-AJ Flick[10] ; 7. 19-Joe Kubiniec[9] ; 8. 46-Michael Bauer[8] ; 9. 60-Kory Crabtree[5] ; 10. 13-Brandon Matus[7]
Heat 4, Group D – (8 Laps)
1. 7W-Logan Wagner[1] ; 2. 93-Sheldon Haudenschild[3] ; 3. 1-Dale Blaney[4] ; 4. 35-Jared Zimbardi[2] ; 5. 11K-Kraig Kinser[6] ; 6. 7K-Dan Shetler[5] ; 7. 4-Danny Smith[7] ; 8. 8M-TJ Michael[8] ; 9. 49H-Bradley Howard[10] ; 10. O8-Dan Kuriger[9]
Dash 1 – (6 Laps)
1. 49-Tim Shaffer[1] ; 2. 10H-Chad Kemenah[2] ; 3. 93-Sheldon Haudenschild[4] ; 4. 57X-Andrew Palker[3] ; 5. 70-Danny Holtgraver[6] ; 6. 22-Cole Duncan[5] ; 7. 1-Dale Blaney[7] ; 8. 7-Eric Williams[8]
B-Main 1 – (12 Laps)
1. 46-Michael Bauer[4] ; 2. 5K-Adam Kekich[1] ; 3. 13-Brandon Matus[3] ; 4. 4-Danny Smith[8] ; 5. 2-AJ Flick[13] ; 6. 8M-TJ Michael[9] ; 7. 49H-Bradley Howard[11] ; 8. 76-David Jones[15] ; 9. 24-Alex Paden[18] ; 10. 51-John Garvin[19] ; 11. 23-Darren Pifer[17] ; 12. 5-Bob McMillin[20] ; 13. 4K-William Kiley[21] ; 14. X-Cory Good[12] ; 15. 7K-Dan Shetler[5] ; 16. 11-Scott Priester[7] ; 17. 19-Joe Kubiniec[6] ; 18. 57-Gary Edwards[14] ; 19. 33-Brent Matus[16] ; 20. 60-Kory Crabtree[2] ; 21. O8-Dan Kuriger[10]
A-Main 1 – (30 Laps)
1. 93-Sheldon Haudenschild[3] ; 2. 70-Danny Holtgraver[5] ; 3. 10H-Chad Kemenah[2] ; 4. 49-Tim Shaffer[1] ; 5. 57X-Andrew Palker[4] ; 6. 21-Cap Henry[15] ; 7. 1-Dale Blaney[7] ; 8. 22-Cole Duncan[6] ; 9. 11K-Kraig Kinser[20] ; 10. 7C-Caleb Armstrong[13] ; 11. 81-Lee Jacobs[12] ; 12. 7W-Logan Wagner[9] ; 13. 8M-TJ Michael[25] ; 14. 4-Danny Smith[24] ; 15. 23JR-Jack Sodeman[14] ; 16. 40-Caleb Helms[17] ; 17. 13-Brandon Matus[23] ; 18. 35-Jared Zimbardi[16] ; 19. 33-Brent Matus[26] ; 20. 5K-Adam Kekich[22] ; 21. 8D-Billy Dietrich[18] ; 22. 51-John Garvin[28] ; 23. 7-Eric Williams[8] ; 24. 10-Carl Bowser[19] ; 25. 49H-Bradley Howard[27] ; 26. 22s-Brandon Spithaler[11] ; 27. 8-Bryan Sebetto[10] ; 28. 46-Michael Bauer[21
Current Arctic Cat All Star Circuit of Champions Standing (5/13/2016):
Dale Blaney: 856
Chad Kemenah: 830
Sheldon Haudenschild: 794
Cap Henry: 770
T.J. Michael: 756
Tim Shaffer: 746
Lee Jacobs: 710
Danny Holtgraver: 708
Caleb Helms: 664
Ryan Smith: 640