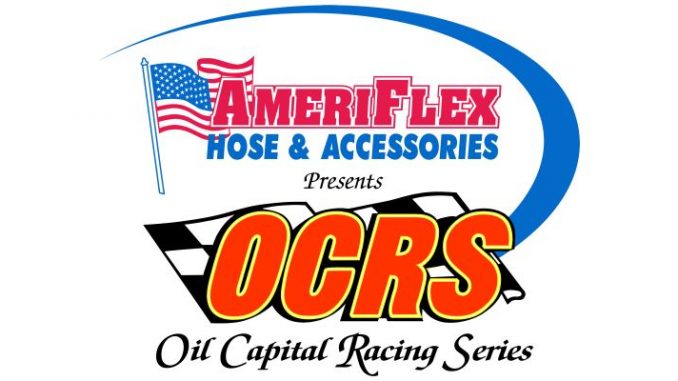 By John Rittenoure
Salina, Okla. (May 14, 2016) – Sheldon Barksdale is having a season to remember racing with the Ameri-Flex Hose and Accessories / Oil Capital Racing Series.
The Norman, Okla. native won his second straight and third Ameri-Flex / OCRS sprint car main event of the season Saturday at the Salina Highbanks Speedway.
"It is great to get two-in-a-row like that and to claim three victories this year is really good," said Barksdale of winning three times in five weeks. "I am blessed to have the luck that we have had.
"I want to thank my team for all their work. It has been a roll for sure."
Barksdale was able to draw the number one pill in the re-draw and start on the pole, but outside front row starter Whit Gastineau jumped out to lead the first 13 laps. Barksdale gave chase with defending champion Robert Sellers following in third. On lap 12 Sellers drove into second dropping Barksdale to third. But on lap 13 Barksdale regained the runner-up spot and Sean McClelland followed him around Sellers for third.
"Whit (Gastineau) got by us there early and we can of followed him," Barksdale said of losing the early lead. "Robert (Sellers) got into the mix and we were able to get by both of them."
Barksdale got a run on Gastineau on lap 14 and powered into the lead. Sean McClelland followed along with Zach Chappell dropping Sellers to fourth.
"I got a really good run off of turn four," Barksdale said. "You could tell that Whit was really tight off the corner and that gave us an opening to beat him into turn one."
Gastineau started falling off the pace and pulled out with tire issues after 17 laps. Chappell suddenly became a factor passing McClelland for second on lap 19 then closed on Barksdale in the final laps.
"I heard he was back there," Barksdale said of Chappell. "When you are leading you are kind of a sitting duck. "You don't know how far back they are, but you just have to hit your marks and not make any mistakes. "I tried to save my tires there at the end and it worked out."
Chappell seemed to be getting faster as the race progressed and nearly caught Barksdale in the final two laps.
"The car just came to me," Chappell said of his late charge toward Barksdale. "We were pretty quick from the start.
"We got there on the white flag lap and I had a pretty good run going then I turned into a really bad push in turns 1 and 2. That put us back about seven car lengths then we caught back up.
"Maybe another lap or two….. but Sheldon did a great job."
Chappell earned the Action Auto Collision Hard Charger award from 14th starting position to second.
"Our motor was stumbling a little on restarts and that set us back a little bit," Chappell said. "These guys have been working hard on this car and giving me a great piece to drive."
The key for Chappell, who moved into the series points lead with his second place finish, was how he attacked the track surface.
"I started up high and then kind of slowly worked my way down," he said. "Cautions worked our way and lapped cars kind of helped us out. It just came together tonight."
At the finish McClelland finished in third ahead of Sellers and fifth place Shayla Waddell.
Oil Capital Racing Series
Salina High Banks
Salina, OK
Saturday May 14, 2016
Drive Shafts. Inc. Heat Race #1 (8 laps): 1. 20S­ Sheldon Barksdale[7], 2. 2W­ Whit Gastineau[2], 3. 5$­Danny Smith[1], 4. 55 ­Johnny Kent[6], 5. 50Z­ Zach Chappell[5], 6. 84­ Alex DeCamp[3], 7. 3­ Brian Gramm[4], 8. 7D­ David Baxter[8],
A1 Machine Shop Heat Race #2 (8 laps): 1. 4­Shane Sellers[6], 2. 31­Casey Wills[4], 3. 79­Tim Kent[1], 4. 8­Alex Sewell[5], 5. 9$­Kyle Clark[2], 6. 69­Glen Passmore[7], 7. 10X­Darien Roberts[3], 8. 33­James Estes[8],
Car and Fleet Parts Heat Race #3 (8 laps): 1. P78­Perry Pickard[2], 2. 1­Sean McClelland[4], 3. 4X­Robert Sellers[8], 4. 88S­Shayla Waddell[7], 5. 5­Cameron Hagin[6], 6. 007­Michael Bookout[1], 7.88­Terry Easum[3], 8. 18­Rob Hooper[5],
AmeriFlex Hose & Accessories A-Main (25 laps): 1. 20S­ Sheldon Barksdale[1], 2. 50Z­ Zach Chappell[14], 3. 1­ Sean McClelland[5], 4. 4X­Robert Sellers[3], 5. 88S ­Shayla Waddell[4], 6. 55­ Johnny Kent[9], 7. 4­ Shane Sellers[7], 8. 9$ ­Kyle Clark[15], 9. 69­Glen Passmore[16], 10. P78­ Perry Pickard[6], 11. 5­ Cameron Hagin[13], 12. 007­ Michael Bookout[18], 13. 88­ Terry Easum[21], 14. 31­Casey Wills[8], 15. 8 ­Alex Sewell[12], 16. 3­Brian Gramm[19], 17. 7D­David Baxter[22], 18. 2W­Whit Gastineau[2], 19. 79­Tim Kent[11], 20. 84­Alex DeCamp[17], 21. 10X ­Darien Roberts[20], 22. 5$­ Danny Smith[10], 23. 18­ Rob Hooper[24], 24. 33­James Estes[23],