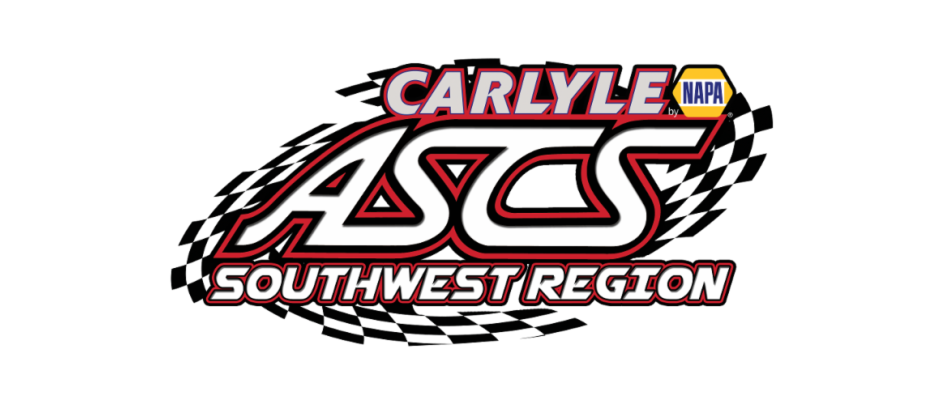 From Bryan Hulbert
Queen Creek, AZ — (May 14, 2016) — For the first time in his career, Arizona's Stevie Sussex parked in Victory Lane with the Carlyle Tools ASCS Southwest Region. Sussex got the job done at the Arizona Speedway.
Sussex in the 42nd driver to win a Carlyle Tools ASCS Southwest Regional event.
Giving chase almost the first half of the race, the No. 21az made the race winning pass on Lap 12 from Rick Ziehl who would hold on to finish second. Coming from 10th, Bob Ream, Jr. took the final podium step with Rickey Hood fourth in his first start of the season with the Southwest Region in the No. 14USA. Lance Norick from 14th was the night's SpeedMart Hard Charger with a fifth place finish.
R.J. Johnson, J.T. Imperial, Casey Buckman, James Aragon, and Brian Hosford, from 17th, round out the top-ten.
Heat Race winners scored an extra $25 from Ron Gilson Photography with Rickey Hood, Rick Ziehl and Kaylene Verville each picking up the bonus cash. Beaver Stripes kicked in an extra $100 to the night's 11th place finisher. New Mexico's Jesse Baker claimed the cash.
The Carlyle Tools ASCS Southwest Region returns to action on June 4 at the Arizona Speedway in Queen Creek, Ariz. For continued updates, log onto http://www.ascsracing.com.
Race Results:
ASCS Southwest Region
Arizona Speedway – Queen Creek, Ariz.
Saturday, May 14, 2016
Car Count: 24
Heat 1 (8 Laps): 1. 14USA-Rickey Hood; 2. 9S-Derek Sell; 3. 51-R.J. Johnson; 4. 9-Ryan Linder; 5. 75X-J.T. Imperial; 6. 2-Alex Pettas; 7. 17K-Kyle Danielson; 8. 55-Ryan Murphy
Heat 2 (8 Laps): 1. 20Z-Rick Ziehl; 2. 21AZ-Stevie Sussex III; 3. 91-Casey Buckman; 4. 8-Bob Ream Jr; 5. 90-Lance Norick; 6. 14-Cody Sickles; 7. 32-Brian Hosford; 8. 74-Colton Hardy
Heat 3 (8 Laps): 1. 01-Kaylene Verville; 2. 7-Danny Mathus; 3. 4U-James Aragon; 4. 22-Mike Rux Jr; 5. 22B-Jesse Baker; 6. 8A-Jordan Stetson; 7. 5H-Dennis Krob; 8. 29-Darrell Sickles
A Feature (25 Laps): 1. 21AZ-Stevie Sussex III[3]; 2. 20Z-Rick Ziehl[2]; 3. 8-Bob Ream Jr[10]; 4. 14USA-Rickey Hood[6]; 5. 90-Lance Norick[14]; 6. 51-R.J. Johnson[7]; 7. 75X-J.T. Imperial[13]; 8. 91-Casey Buckman[12]; 9. 4U-James Aragon[4]; 10. 32-Brian Hosford[17]; 11. 22B-Jesse Baker[15]; 12. 17K-Kyle Danielson[16]; 13. 2-Alex Pettas[19]; 14. 74-Colton Hardy[22]; 15. 22-Mike Rux Jr[11]; 16. 01-Kaylene Verville[8]; 17. 29-Darrell Sickles[24]; 18. 14-Cody Sickles[20]; 19. 9S-Derek Sell[1]; 20. 7-Danny Mathus[5]; 21. 9-Ryan Linder[9]; 22. 8A-Jordan Stetson[21]; 23. 55-Ryan Murphy[23]; 24. 5H-Dennis Krob[18]