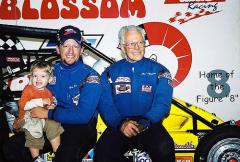 By Eric Bunn
(Lebanon, IN)  When the Indianapolis Speedrome opened it gates for its very first race on September 9, 1941 the featured event was for midget race cars.  The UAW American Made Mel Kenyon Midget Series will continue the tradition of midget racing at the Indianapolis Speedrome Saturday night with a 50 lap feature on the 1/5th mile oval.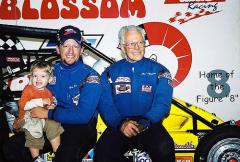 Over the years, the "Speedrome" has hosted midget racing, including several 500 lap events.  Mel Kenyon, the King of the Midgets whose name graces the USSA midget series, was a regular visitor to the Speedrome's victory lane grabbing numerous wins in NAMARS and USAC sanctioned events.  On Saturday night Kenyon will be found in the pit area preparing cars and coaching drivers.
Kenyon's son Brice won the 2004 Ford Focus Midget Series Regional Championship at the Speedrome, providing a bridge from his father's generation to the current group of UAW American Made Mel Kenyon Midget Series drivers at the Indianapolis Speedrome.
The Speedrome is widely regarded as a track where a driver can hone his or her skills.  The 1/5th mile distance and low banking put a premium on skill and patience, valuable skills for race driver to possess.   The close, bumper to bumper racing pays big dividends to the drivers with the best car control
Spectator gates for Saturday's Lincoln Tech Indianapolis Speedrome UAW American Made Mel Keny9onMidgetSeries open at 4:30 with qualifying at 6:05 followed by racing at 7.  The USSA midgets will be joined by the Indy Fastcarts, the Thundercar, Pro Compact and Super Stock Figure 8 classes to provide fans with a full night of racing.