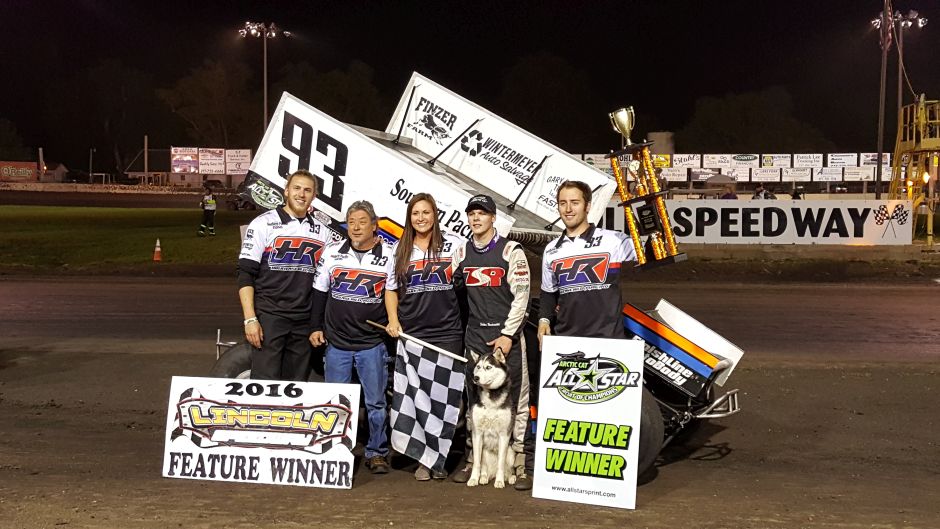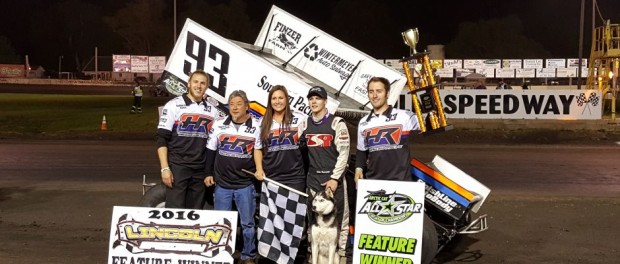 From Tyler Altmeyer
Lincoln, IL — (May 20, 2016) — For the second time in as many starts, Wooster, Ohio's Sheldon Haudenschild earned a trip to Arctic Cat All Star Circuit of Champions victory lane, this time during a first ever appearance at the Lincoln Speedway in Lincoln, Illinois. Haudenschild took advantage of a lap-17 restart to earn his position at the front of the field, driving around pole sitter Parker Price-Miller on a rubbered-up racing surface to clinch a second consecutive, $5,000, Arctic Cat All Star payday. The pilot of the Southern Pacific Farms/No. 93 now has eight career main event victories with the Arctic Cat All Star Circuit of Champions, raising his 2016 win total to two. Parker Price-Miller would hold on to finish second, followed by "Downtown" Danny Holtgraver, his second consecutive All Star podium finish.
"Feels great to get one more of these," said Sheldon Haudenschild. "I just can't thank Bonzai and the guys enough for what they do for this team. They work their butt's off every week and it clearly shows. I have a lot of great sponsors who back this team. Without their help and support, we wouldn't be here. I just can't thank them enough."
Sheldon Haudenschild raced in a podium position during the entire 35-lap main event, getting away third after the initial start before capturing second from Chad Kemenah on lap two. Haudenschild made early challenges for the top spot by lap four, attempting back-to-back slide jobs on leader Parker Price-Miller, but Price-Miller prevailed and maintained control. It would be lap 17 before Haudenschild could make a bid for the top spot stick, driving around the outside of Parker Price-Miller during a single-file restart. Haudenschild controlled the remaining distance, surviving one additional restart on lap 22.
"I've seen my dad do it a few times, so I figured I had a shot to make it work," explained Haudenschild regarding his winning move. "I figured that was my only shot to make it work. I restarted as close as I could to Parker (Price-Miller), worked around him and it stuck. I'm just happy to be in victory lane. We'll head to Wilmot Raceway tomorrow and try again."
The Arctic Cat All Star Circuit of Champions will continue their trek through the Midwest on Saturday, May 21, with a visit to the Wilmot Raceway in Wilmot, Wisconsin. Arctic Cat All Star competitors will race head-to-head with the Interstate Racing Association (IRA) Outlaw Sprint Series on Saturday night, dueling for a $5,000 top prize during the Fifth Annual IRA/All Star Sprint Challenge. Dale Blaney, the six-time and defending All Star point champion, will lead the charge into Wisconsin on Saturday evening. The Ohio native has earned the last five Arctic Cat All Star main event victories in the "Badger State," including four consecutive IRA/All Star Sprint Challenges.
Wilmot Raceway will open pit gates for race teams at 12-noon on Saturday, May 21. A mandatory drivers meeting will be hosted at 5:30 pm, followed by warm-ups at 6:15 pm. Racing is scheduled to hit the speedway at 6:45 pm. Those seeking additional information should visit Wilmot Raceway online at www.wilmotraceway.com.
Contingency Awards/Results – Lincoln Speedway, Illinois – Friday, May 20, 2016
EMi Driver's Meeting: 32 Entries
State Water Heaters Warm-Ups: Sheldon Haudenschild – 11.689 Seconds
Lincoln Electric Fast Qualifier: Sheldon Haudenschild (2nd Quick – 11.421 Seconds)
Kistler Racing Products Heat #1: Cap Henry
All Pro Aluminum Cylinder Heads Heat #2: Joe B. Miller
Hunt Brothers Pizza Heat #3: Chad Kemenah
Kistler Racing Products Heat #4: Kraig Kinser
JE Pistons Dash: Parker Price-Miller
Daido Engine Bearings Main Event Winner: Sheldon Haudenschild
MSD Performance Hard Charger Award: Caleb Armstrong (+11)
Outback Steakhouse A-Main 5th Place Finisher: Dale Blaney (6th)
Outback Steakhouse A-Main 10th Place Finisher: Caleb Armstrong
Outback Steakhouse A-Main 15th Place Finisher: Lee Jacobs (16th)
(Lincoln Electric, Daido Engine Bearings, MSD Performance, Outback Steakhouse; Need decal to qualify for contingency award)
Qualifying
1.2-Parker Price-Miller, 11.330; 2.93-Sheldon Haudenschild, 11.421; 3.57X-Andrew Palker, 11.482; 4.21-Cap Henry, 11.560; 5.10H-Chad Kemenah, 11.708; 6.1-Dale Blaney, 11.708; 7.7C-Caleb Armstrong, 11.769; 8.40-Caleb Helms, 11.786; 9.70-Danny Holtgraver, 11.788; 10.12-Jerrod Hull, 11.791; 11.20N-Hunter Schuerenberg, 11.875; 12.42-Cory Bruns, 11.890; 13.44-AJ Bruns, 11.978; 14.81-Lee Jacobs, 11.990; 15.8M-TJ Michael, 12.076; 16.51B-Joe B. Miller, 12.079; 17.29-Joey Moughan, 12.079; 18.22-Bret Tripplett, 12.080; 19.1M-Jim Moughan, 12.157; 20.11K-Kraig Kinser, 12.219; 21.77U-Chris Urish, 12.230; 22.65-Jordan Goldesberry, 12.244; 23.60-Kory Crabtree, 12.293; 24.4K-Kody Kinser, 12.332; 25.95-Hunter Mackison, 12.390; 26.52F-Logan Faucon, 12.517; 27.6B-Andy Baugh, 12.587; 28.23D-Trey Datweiler, 12.631; 29.10-Dustin Homan, 12.808; 30.10s-Jeremy Standridge, 13.140; 31.49H-Bradley Howard, 13.167; 32.9X-Paul Nienhiser, 99.990;
Heat 1, Group A – (10 Laps)
1. 21-Cap Henry[2] ; 2. 57X-Andrew Palker[3] ; 3. 93-Sheldon Haudenschild[4] ; 4. 44-AJ Bruns[5] ; 5. 42-Cory Bruns[1] ; 6. 23D-Trey Datweiler[6] ; 7. 10-Dustin Homan[7]
Heat 2, Group B – (10 Laps)
1. 51B-Joe B. Miller[2] ; 2. 81-Lee Jacobs[3] ; 3. 65-Jordan Goldesberry[5] ; 4. 2-Parker Price-Miller[4] ; 5. 77U-Chris Urish[1] ; 6. 49H-Bradley Howard[8] ; 7. 6B-Andy Baugh[7] ; 8. 52F-Logan Faucon[6]
Heat 3, Group C – (10 Laps)
1. 10H-Chad Kemenah[4] ; 2. 70-Danny Holtgraver[2] ; 3. 12-Jerrod Hull[1] ; 4. 22-Bret Tripplett[5] ; 5. 95-Hunter Mackison[7] ; 6. 7C-Caleb Armstrong[3] ; 7. 1M-Jim Moughan[6] ; 8. 10s-Jeremy Standridge[8]
Heat 4, Group D – (10 Laps)
1. 11K-Kraig Kinser[6] ; 2. 1-Dale Blaney[4] ; 3. 60-Kory Crabtree[7] ; 4. 40-Caleb Helms[3] ; 5. 8M-TJ Michael[1] ; 6. 4K-Kody Kinser[8] ; 7. 29-Joey Moughan[5] ; 8. 20N-Hunter Schuerenberg[2]
Dash 1 – (8 Laps)
1. 2-Parker Price-Miller[2] ; 2. 93-Sheldon Haudenschild[4] ; 3. 10H-Chad Kemenah[6] ; 4. 81-Lee Jacobs[1] ; 5. 70-Danny Holtgraver[5] ; 6. 57X-Andrew Palker[7] ; 7. 21-Cap Henry[3] ; 8. 1-Dale Blaney[8]
B-Main 1 – (14 Laps)
1. 7C-Caleb Armstrong[1] ; 2. 23D-Trey Datweiler[8] ; 3. 1M-Jim Moughan[4] ; 4. 4K-Kody Kinser[5] ; 5. 29-Joey Moughan[3] ; 6. 49H-Bradley Howard[11] ; 7. 6B-Andy Baugh[7] ; 8. 10s-Jeremy Standridge[10] ; 9. 10-Dustin Homan[9] ; 10. 20N-Hunter Schuerenberg[2] ; 11. 52F-Logan Faucon[6]
A-Main 1 – (35 Laps)
1. 93-Sheldon Haudenschild[2] ; 2. 2-Parker Price-Miller[1] ; 3. 70-Danny Holtgraver[5] ; 4. 10H-Chad Kemenah[3] ; 5. 12-Jerrod Hull[12] ; 6. 1-Dale Blaney[8] ; 7. 21-Cap Henry[7] ; 8. 22-Bret Tripplett[15] ; 9. 11K-Kraig Kinser[10] ; 10. 7C-Caleb Armstrong[21] ; 11. 51B-Joe B. Miller[9] ; 12. 1M-Jim Moughan[23] ; 13. 60-Kory Crabtree[13] ; 14. 40-Caleb Helms[16] ; 15. 77U-Chris Urish[18] ; 16. 81-Lee Jacobs[4] ; 17. 65-Jordan Goldesberry[11] ; 18. 8M-TJ Michael[20] ; 19. 42-Cory Bruns[17] ; 20. 57X-Andrew Palker[6] ; 21. 44-AJ Bruns[14] ; 22. 23D-Trey Datweiler[22] ; 23. 95-Hunter Mackison[19] ; 24. 4K-Kody Kinser[24]
Current Arctic Cat All Star Circuit of Champions Standings (5/20/2016):
Dale Blaney: 994
Chad Kemenah: 972
Sheldon Haudenschild: 944
Cap Henry: 906
T.J. Michael: 870
Danny Holtgraver: 852
Lee Jacobs: 828
Caleb Helms: 786
Kraig Kinser: 758
Caleb Armstrong: 752