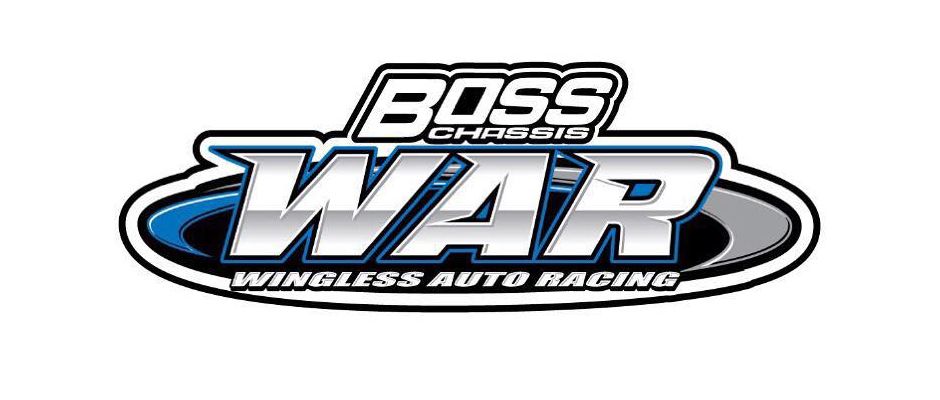 From Chad Buford
Sedalia, MO — (May 20, 2015) — Moving from his third starting spot into the lead on the opening lap, Korey Weyant picked up the Boss Chassis WAR Series win at the Missouri State Fair Speedway on Friday night.
Weyant moved past polesitter Riley Kreisel and second starting Clinton Boyles on lap one and set a torrid pace on the fast half-mile. Fellow Illinois driver Shane Cockrum also showed muscle early as he worked his way into second.
Lap by lap, Weyant extended his lead as he hit heavy lapped traffic around lap ten.
Weyant was finishing lap thirteen when he made contact with the lapped car of Chris Desselle. The contact sent Desselle into a series of wild flips down the frontstretch just past the flagstand. Desselle was able to walk from his demolished car, but it was then determined that he needed to be airlifted for further tests.
With twelve laps officially complete, Weyant would have the cushion of two lapped cars between himself and second place Cockrum.
Weyant again set a torrid pace on the restart as Cockrum disposed of the lapped cars and set his sights on Weyant. Weyant was too strong as he went on to take the $1000 first prize in his Ealey Transportation/Mahan's Fiberglass Eagle with Automotive Machine power under the hood.
Cockrum, in his second ever WAR start aboard the Helm Racing Wesmar-powered Eagle, was a strong second. Hagar made a late charge to finish third in the DKM Motorsports Maxim with Stanton-Mopar power. Boyles extended his string of consecutive top-five finishes to seven by finishing fourth in the Hockett Racing/Lucas Oil Maxim with RMS power. Kreisel would round out the top five in his Smith Racing/R&K Express Engine Connection-powered MRP. Chris Parkinson was sixth in his 54th Street Bar and Grill/Country Kids Daycare DRC with power from Kevin's Liberty Machine. Thirteenth-starting TJ Muths was the Indy Race Parts Hard Charger as he finished seventh in his Quality Body Shop Maxim with power from a Scott Engine. Warren Johnson was eighth in his Watowa-Weber Racing/Mike's Body Shop Bullet with a 305 engine under the hood. Kenny Potter was ninth in his Dayco Painting Triple X with Wesmar power. Rounding out the top ten was Patrick Budde in the APT Powdercoating/Loyet Landscape Maintenance Maxim with Budde power.
The Boss Chassis WAR Series will make their third appearance of the year at the I-35 Speedway in Winston, MO on Saturday June 4.
Boss Chassis WAR Series
5/20/16
Missouri State Fair Speedway-15 cars
Hinchman Racewear Heat One- 8 laps
1. 99-Korey Weyant, Springfield, IL (1); 2. 12-Shane Cockrum, Benton, IL (2); 3. 65-Chris Parkinson, Gladstone, MO (3); 4. 75K-Derek Hagar, Marion, AR (5); 5. 55-Kenny Potter, Harrisonville, MO (5); 6. 42-Warren Johnson, Overland Park, KS (6); 7. 65M-TJ Muths, Sedalia, MO (8); 8. 10-Will Register, Sedalia, MO (8)
Wilwood Disc Brakes Heat Two- 8 laps
1. 77-Clinton Boyles, Greenwood, MO (2); 2. 90X-Riley Kreisel, Warsaw, MO (6); 3. 21C-Chris Desselle, Richmond, MO (4); 4. 90-Patrick Budde, Bartelso, IL (3); 5. 7L-Lee Lengel, Spring Hill, KS (1); 6. 27-Danny Thoman, Higginsville, MO (5); 7. 8-Jeff Wingate, Centertown, MO (7)
A-Main- 20 laps
1. 99-Weyant (3); 2. 12-Cockrum (4); 3. 75K-Hagar (7); 4. 77-Boyles (2); 5. 90X-Kreisel (1); 6. 65-Parkinson (6); 7. 65M-Muths (13); 8. 42-Johnson (11); 9. 55-Potter (9); 10. 90-Budde (8); 11. 7L-Lengel (10); 12. 21C-Desselle (5)-DNF; 13. 27-Thoman (12)-DNF; 14. 10-Register (15); 15. 8-Wingate (14)