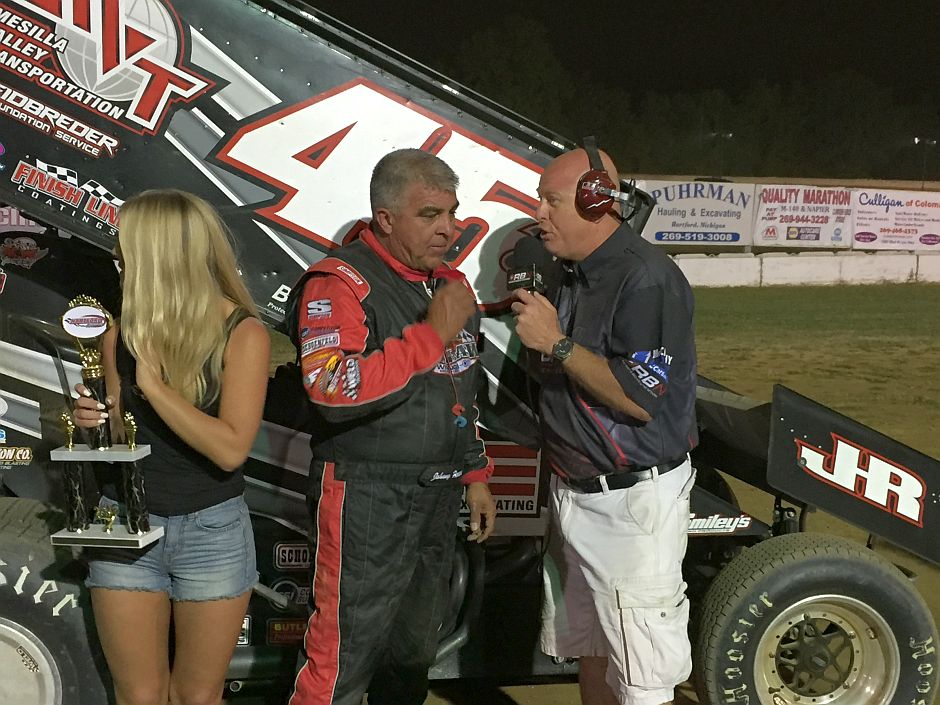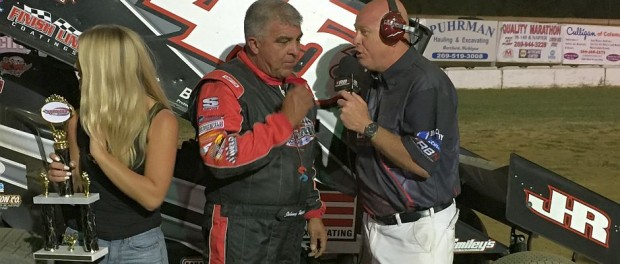 By T.J. Buffenbarger
Johnny Herrera won the Lucas Oil American Sprint Car Series presented by MAVtv / Great Lakes Super Sprints event Friday night at Hartford Motor Speedway. Herrera held off a final lap charge by Sam Hafertepe Jr. for the victory. Hafertepe stalked Herrera through traffic throughout the 25-lap event setting him up for a final lap pass in the middle of the track. Herrera slid up the track as the two made contact coming off turn four heading down the front stretch with Herrera just edging Hafertepe for the victory.
"I went down in there and pretty much hit my marks every lap, but missed that time and blew across the middle," said Herrera of the final lap. "I missed it and if I had tried to save it (Hafertepe) would have driven around the outside. So I'm glad I did miss it and slid up in front of him and broke his momentum."
After a couple of attempts to start the feature that saw front row starters Josh Baughman and Blake Hahn spin in different incidents Herrera took the lead from Hafertepe at the start. Herrera and Hafertepe quickly pulled away from the rest of the field. Each time the lead duo approached lapped traffic a caution would appear and give Herrera a clean track.
Then after a restart with three laps to go Hafertepe hung with Herrera until the white flag when Hafertepe went up to the middle of the race track in turns three and four and tried to motor around Herrera. Hafertepe appeared to have enough power to get around, but Herrera slid up the track as the duo raced towards the finish line, actually making contact, before Herrera nosed out Hafertepe for the victory.
Afterwards a dejected Hafertepe broke down the final laps.
"On that last restart with three to go (Herrera) had already taken my line away and started blocking in three and four and one and two there was only one line to run down there," said Haferepe. "So I thought he was actually missing the line quite a bit and would get out of the groove, so I thought if I make a Hail Mary run on the top I could probably drive around him. I got close to him. Last lap he knew I was up there, so he just slid out in front of me and actually hit us in the left front there to keep us from passing him. You do what you have to do to win a race sometimes. If we had taken him out I would have been the bad guy. I think we raced him pretty clean and we know we have the fastest car, so we will build on our second place run and go from there.
Wayne Johnson rounded out the podium with a methodical third place finish moving up a couple of spots in the later portion of the main event.
"We haven't been that good of late, so we changed cars. We made some good changes, now we need to make it better," said Johnson. "We'll take a third and go on to the next race."
Hahn, Baughman, and Herrera won heat race events while Andy Teuessen won the B-Main event. During the first heat race Joe Geibe hit the wall between turns one and two and took a violent series of front over back flips. Geibe exited the car under his own power.
ASCS National & GLSS
Hartford Speedway – Hartford, Mich.
Friday, June 3, 2016
Car Count: 26
ButlerBuilt Heat Races (8 Laps, top 16 in Passing Points to the A-Feature.)
Heat 1 (8 Laps): 1. 52-Blake Hahn[4]; 2. 2C-Wayne Johnson[3]; 3. 2-Kyle Sauder[5]; 4. 05-Brad Loyet[7]; 5. 23-Seth Bergman[8]; 6. 10C-Jeremy Campbell[9]; 7. 91L-Alexis Adgate[6]; 8. (DNF) 19J-Linden Jones[2]; 9. (DNF) 23G-Joe Geibe[1]
Heat 2 (8 Laps): 1. 17-Josh Baughman[3]; 2. 2L-Logan Forler[2]; 3. 22H-Randy Hannagan[4]; 4. 14K-Kyle Bellm[1]; 5. 16-Ryan Ruhl[5]; 6. 49T-Gregg Dalman[7]; 7. 11-Trey Smith[6]; 8. 19-Brett Mann[9]; 9. 3-Kyle Locke[8]
Heat 3 (8 Laps): 1. 45X-Johnny Herrera[4]; 2. 2M-Dustin Daggett[1]; 3. 15H-Sam Hafertepe Jr[8]; 4. 95-Matt Covington[5]; 5. 87-Aaron Reutzel[7]; 6. 31-Andy Teunessen[2]; 7. 11R-Chase Ridenour[6]; 8. (DNF) 16B-Jerrod Wilson[3]
BMRS B-Feature (12 laps, taking top 6.)
B Feature (12 Laps): 1. 31-Andy Teunessen[2]; 2. 49T-Gregg Dalman[1]; 3. 11R-Chase Ridenour[4]; 4. 19-Brett Mann[5]; 5. 16B-Jerrod Wilson[6]; 6. 11-Trey Smith[3]; 7. 3-Kyle Locke[7]; 8. (DNF) 19J-Linden Jones[8]; (DNS) 91L-Alexis Adgate; (DNS) 23G-Joe Geibe
Protect the Harvest A-Feature (25 Laps)
A Feature (25 Laps): 1. 45X-Johnny Herrera[2]; 2. 15H-Sam Hafertepe Jr[4]; 3. 2C-Wayne Johnson[6]; 4. 2L-Logan Forler[8]; 5. 05-Brad Loyet[5]; 6. 2M-Dustin Daggett[9]; 7. 17-Josh Baughman[1]; 8. 95-Matt Covington[12]; 9. 23-Seth Bergman[11]; 10. 10C-Jeremy Campbell[14]; 11. 49T-Gregg Dalman[18]; 12. 14K-Kyle Bellm[13]; 13. 11R-Chase Ridenour[19]; 14. 31-Andy Teunessen[17]; 15. 22H-Randy Hannagan[10]; 16. 52-Blake Hahn[3]; 17. 16B-Jerrod Wilson[21]; 18. 87-Aaron Reutzel[16]; 19. 19-Brett Mann[20]; 20. 2-Kyle Sauder[7]; 21. 16-Ryan Ruhl[15]; 22. 11-Trey Smith[22]
Lap Leader(s): Johnny Herrera 1-25
FSR High Point Driver: Blake Hahn
KSE Hard Charger: Gregg Dalman +7
Provisional(s): N/A