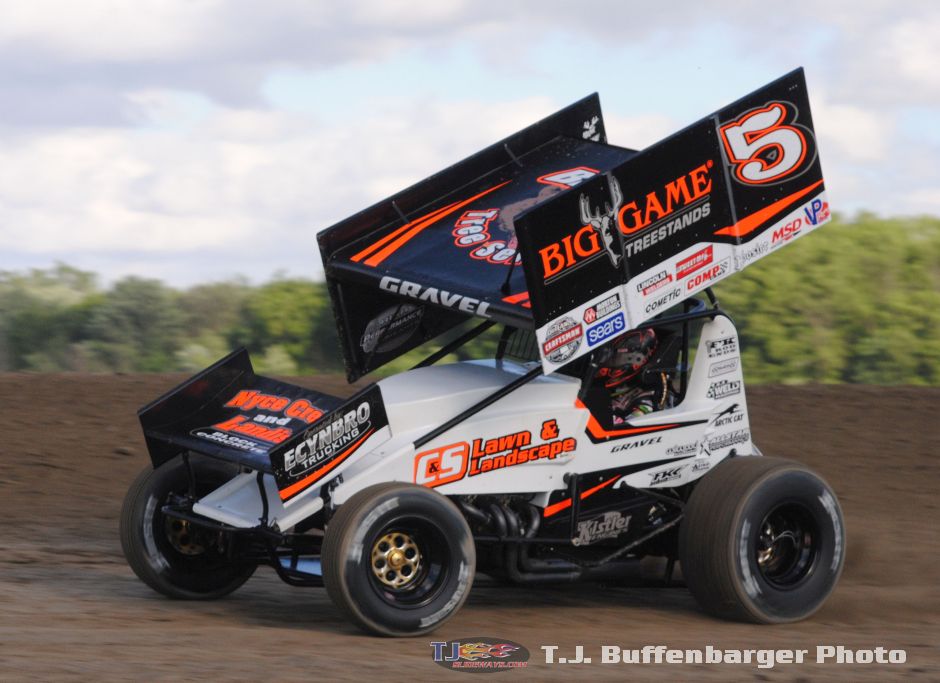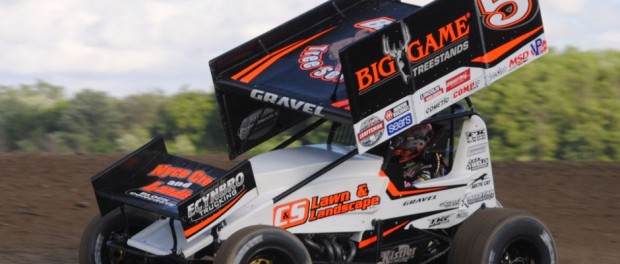 By T.J. Buffenbarger
Lake Odessa, MI – (June 5, 2015) – David Gravel from Watertown, Connecticut found himself in the right place at the right time thanks to a clever restart strategy that put him in position to win the rain shortened World of Outlaws Craftsman Sprint Car Series event Sunday night at I-96 Speedway.
Throughout the night leaders had chosen the outside line for the double file restarts. On the last restart Gravel chose the inside lane to build up a sizeable lead going into slower traffic. On lap 17 rain began to fall and World of Outlaws officials declared the race was officially over. For Gravel the rain was a surprise based on the forecast earlier in the day.
"I had no idea," said Gravel about the impending weather that closed in on the track before the feature. "I looked at the radar earlier in the night and I thought there was a zero percent chance, so it was a big surprise to me."
Gravel jumped into the lead from the front row with Joey Saldana and Brad Sweet in tow. Six laps into the feature the lead trio entered lapped traffic where Saldana and Sweet started dicing for second position and allowed Gravel to pull away. As Sweet looked to the inside of Saldana he lost momentum and allowed James McFadden to race around the outside of him for third. McFadden immediately went after Saldana for second making an incredible move to take the position. While trying to counter the move Saldana ended up stopped backwards off turn four to bring out the caution flag. Saldana restarted at the tail of the field.
Gravel chose the inside lane for the restart and pulled away from Sweet as Shane Stewart drove around McFadden for third. Behind them Donny Schatz was making his presence felt from 10th starting position moving around two cars into sixth position. One lap later Schatz drove into the top five.
Stewart continued moving forward pressing Sweet for the second position, taking the spot on lap nine. Sweet tried to cross over and counter the move, but was unable to make the pass.
While this was taking place Gravel had built up a full straightaway lead by lap 11. Stewart and Sweet continued to race with both making bobbles, Stewart in turn two and Sweet bicycling in turn three, with neither driver able to take advantage of the other's misfortune.
Schatz continued to march forward passing McFadden for fourth when McFadden got picked by a slower car in his lane.
Up front Gravel's large lead disappeared when slipped in turn two. Stewart quickly closed in in when the red flag appeared for McFadden getting upside down along with Max Stambaugh in turn two. Both drivers emerged from their heavily damaged cars uninjured.
Before the race could restart rain began to fell and the red flag was displayed. After an eight-minute rain delay World of Outlaws officials declared the race complete with Gravel as the winner. Stewart held on for second with Sweet, Schatz, and Tim Shaffer rounding out the top five.
Once the rain started to hit Gravel's visor he has a myriad of thoughts going through his head.
"I was thinking about many laps we had in and didn't know what was going to happen. It would really stink if we got rained out and we had to make up the race or something like that. I was just hoping they would call the race, make it official, get lucky, and we did."
For Gravel the decision to restart from the inside lane proved to be one that may have won him the race.
"There was a smooth lane down there. They kind of watered the bottom all night, and the top, but I thought it was a little less risky to start on the bottom because there was a smooth lane and they had been watering it, and I could kind of control it a bit more," said Gravel. "I was just happy to get two good starts and hold them off."
For Gravel and his CJB Motorsports team the victory gives them some momentum going into the series' next event Wednesday at Lincoln Park Speedway in Putnamville, Indiana.
"I'm glad to get a night in with the rain yesterday, rain late night, and rain in the morning. Just happy to get the race in and go onto Putnamville and see what we can do. "