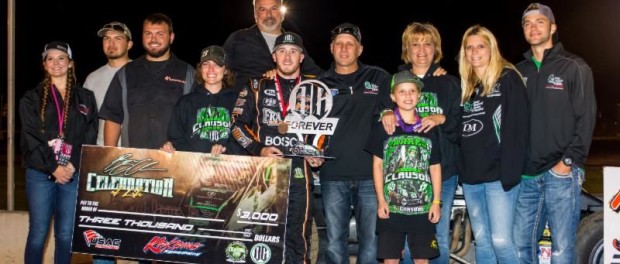 From Richie Murray
KOKOMO, Ind. (September 2, 2016) — Over the past nine days, there's been nobody hotter at Kokomo Speedway than Kevin Thomas, Jr.
After taking a preliminary win and the championship night feature during "Sprint Car Smackdown V" one week ago, Thomas continued his tear Friday night, leading the final 25 laps to win the "Bryan Clauson Celebration of Life" USAC AMSOIL Sprint Car non-points "Special Event" feature at the O'Connor family's ¼-mile dirt oval.
Tyler Courtney won the blind redraw prior to the night's feature by selecting the package of candy adorned with the #1 during a special pre-race ceremony. That put him on the pole position, his second consecutive start from the front at Kokomo in as many races.
The 27-lap feature represented each year of Bryan's life and, on the flagstand to wave the green flag for the night's event was Bryan's mom, Diana, as a full house of spectators had eyes on the front row of Courtney and Tyler Thomas.
As action began, T. Thomas shot out front to the advantage at the start on the topside as Courtney slipped back to third on the bottom after a slow start.
Just as it was one week ago, K. Thomas immediately began to mount a charge to the front, already gassing his way to second from his fourth-starting spot on the first lap past Jarett Andretti and Courtney.
On the third lap, a closing K. Thomas chased the unrelated T. Thomas into turn one, sliding up in front of the Oklahoma driver to grab the race lead off of turn two.
With K. Thomas taking over the lead and pulling away, the race for second became the show as fourth-running Dave Darland went to the high side, making it three-wide alongside Courtney on the bottom and T. Thomas in the middle before soaring past both in turn four to take the second spot.
By the tenth lap, K. Thomas' lead was in excess of one second over Darland, but a slight hiccup on the turn two cushion by K. Thomas on the 11th lap allowed Darland to shrink the gap, cutting the interval in half as he eyed the leader squarely within his crosshairs.
Yet, as the two began to enter traffic just a handful of laps later, K. Thomas was able to carve his way back to a 1.2 second advantage over Darland after blasting past a slew of lapped cars nearing 10 laps to go to provide himself some breathing room.
Justin Grant, making just his seventh start in the McGhee no. 17, made his presence known after picking his way near the front of the pack from his ninth-starting position. On lap 21, Darland diamonded his way off the turn three cushion as Grant slid through the middle. Suddenly, the right rear tire of Darland and the left rear of Grant made slight contact, sending a puff of smoke off the treads, thus, slowing down Grant's approach.
Just one lap later, Grant came right back into the fight, overtaking Darland for second off of the second turn. However, T. Thomas, running eighth, found himself facing backwards just in front of the flagstand to bring out the feature's only yellow flag. By rule, the lineup for the restart reverted to the running order on the last completed lap, sending Grant back to third behind Darland with just six laps remaining.
As K. Thomas led the train on the bottom on the lap 22 restart, the all-out war between Darland and Grant for second resumed. Darland stuck to the top into turn one, but Grant cut down off the banking midway between turns one and two to pull side-by-side with Darland off of turn two. The two remained shackled together for the next two circuits until Grant dove to the extreme inside off of turn four, encountering the lapped car of Travis Hery on his way, which forced him to fall in line behind Darland as he crossed the stripe with four laps to go.
Darland and Grant briefly managed to close on leader K. Thomas to within six car lengths, but K. Thomas turned up the wick, firing up the afterburners to distance himself from second and third in the closing laps.
Though, with two laps to go, Grant continued to scrap his way toward the front, using a big run off of turn four to squeeze his way in front of Darland into turn one to take second.
Up front, no one was a challenge to Kevin Thomas, Jr., although Grant was able keep him honest by chopping a half-straightaway deficit to just six car lengths in the last two laps. But, in the end, K. Thomas took the victory by less than a half-second with Grant, Darland, Brady Bacon and Shane Cottle (from 20th) rounding out the top-five.
Cullman, Alabama's Kevin Thomas, Jr. won his third USAC AMSOIL Sprint Car race in his last four Kokomo Speedway visits – all within the span of nine nights – in Friday night's USAC non-points "Special Event" program.
(RYAN SELLERS PHOTO)
It was K. Thomas' third victory in his last four USAC AMSOIL Sprint Car starts at Kokomo during a highly-successful nine-day span for the Cullman, Alabama native who scored Friday night's victory in his 4J Motorsports/Franklin Equipment – CEP Concrete/DRC/Chevy.
"Bryan (Clauson), and everyone else here, would race here (at Kokomo Speedway) for one dollar," Thomas said. "I have to say this is now the biggest win, no matter what it pays. There's races you want to win because they pay big money, but this one you want to win for the right reasons."
Ione, California's Justin Grant sure made it interesting as he closed in on K. Thomas at the end of the 27-lap feature, making one wonder if he had had just three more laps, could he have won it in his Sam McGhee Motorsports/Brown & Miller Racing Solutions – Mike McGhee & Associates/Maxim/Foxco?
"This 17 car is awesome," Grant exclaimed after finishing second. "I can't thank the McGhee family enough and Sam for doing such a good job on the thing. We definitely had the best racecar; we just need to work on our sandbagging program in qualifying because being quick time every night and starting deep in a tough heat is just not getting us anywhere."
Dave Darland, of Lincoln, Indiana, settled for third in his Jeff Walker-Curb-Agajanian Racing/Jam-It-In Storage – Hoosier Tire/Maxim/Claxton after running second until being passed by Grant with just two laps to go.
"The car's getting better and better all the time," Darland said. "Jeff (Walker) works hard on it and tries everything he can think of to make it better. We've recently picked up a lot. We've gotten the thing a lot better; it's a lot easier to drive and a lot more comfortable to drive. But if we'd have to do over again right now, we'd make some changes. Jeff knows what to do."
Contingency award winners Friday night at Kokomo include Kevin Thomas, Jr. (Can't Thank the Guys Enough Award – $630), Justin Grant (BC Bad Ass of the Night – $630, Pass of the Night – $200 & Fast Qualifier – $200), Shane Cottle (BC Hard Charger Award – $630), Cole Smith (BC #GYATK Challenge Winner – $1000), Hunter O'Neal (BC #GYATK Challenge Runner-Up – $500) and Cody Clarkson (BC #GYATK Challenge 3rd Place – Right Rear Tire from Hoosier).
—————————————————————————-
USAC AMSOIL SPRINT CAR NATIONAL CHAMPIONSHIP "SPECIAL EVENT" RACE RESULTS: September 2, 2016 – Kokomo, Indiana – Kokomo Speedway – "Bryan Clauson Celebration of Life"
QUALIFYING: 1. Justin Grant, 17, McGhee-12.957; 2. Jarett Andretti, 18, Andretti-12.978; 3. Chris Windom, 5, Baldwin-13.014; 4. Jon Stanbrough, 81, Stanbrough-13.020; 5. Josh Hodges, 74x, Hodges-13.026; 6. Jerry Coons, Jr., 10E, Edison-13.177; 7. Max McGhee, 4p, 4p Racing-13.178; 8. Tyler Courtney, 23c, TOPP-13.217; 9. Aaron Farney, 17GP, Dutcher-13.287; 10. A.J. Hopkins, 14H, Hopkins-13.346; 11. Colten Cottle, 1RL, Lambertson-13.385; 12. Tyler Thomas, 04, Burton-13.389; 13. Shane Cottle, 57, Hazen-13.435; 14. Casey Shuman, 75, DOW-13.436; 15. Kyle Robbins, 17R, Robbins-13.473; 16. Tony DiMattia, 50, DiMattia-13.616; 17. Josh Spencer, 66J, Spencer-13.643; 18. Kevin Thomas, Jr., 4J, 4J Motorsports-13.660; 19. Matt Goodnight, 39, Goodnight-13.721; 20. Travis Hery, 21H, Hery-13.767; 21. Brian Karraker, 23K, Karraker-13.827; 22. Logan Jarrett, 29, Jarrett-13.867; 23. Matt Westfall, 54, Westfall-13.909; 24. Ted Hines, 12, Hines-13.934; 25. Cole Smith, 29s, Smith-13.979; 26. Dave Darland, 11, Walker/Curb-Agajanian-14.069; 27. Dustin Ingle, 2DI, DPI-14.088; 28. Jadon Rogers, 66, Amati-14.150; 29. Jamie Frederickson, 58, Frederickson-14.173; 30. Josh Cunningham, 17c, Cunningham-14.233; 31. Cody Clarkson, 15, Clarkson-14.273; 32. Brady Bacon, 18x, Keen-14.286; 33. Travis Welpott, 18w, Welpott-14.356; 34. Tyler Hewitt, 97x, One More Time-14.387; 35. Steve Thomas, 20, Thomas-14.533; 36. Jake Scott, 3x, Tarr-14.630; 37. Lee Underwood, 24L, Underwood-14.708; 38. Jared Chastain, 52c, Chastain-14.936; 39. Hunter O'Neal, 56w, Waltz-15.012; 40. Ben McMurray, 1, McMurray-15.069; 41. Cole House, 95, House-15.081; 42. Drew Abel, 04x, PCA-15.335; 43. Matt Cooley, 19, Cooley-15.593; 44. David Hair, 44, Hair-15.689; 45. Parker Frederickson, 34, Frederickson-16.893; 46. Paul Dues, 87, Dues-15.689; 47. Dave Gross, 87, Gross-NT.
FIRST HEAT: (8 laps) 1. Darland, 2. Hewitt, 3. Welpott, 4. Abel, 5. Dues, 6. Cooley, 7. O'Neal, 8. P. Frederickson. NT
SECOND HEAT: (8 laps) 1. K. Thomas, 2. Bacon, 3. Westfall, 4. Robbins, 5. Underwood, 6. Cunningham, 7. Scott, 8. Chastain. 2:04.95
THIRD HEAT: (8 laps) 1. Coons, 2. Grant, 3. Jarrett, 4. Stanbrough, 5. Hery, 6. Ingle, 7. Hair, 8. S. Cottle. NT
FOURTH HEAT: (8 laps) 1. Andretti, 2. McGhee, 3. Farney, 4. DiMattia, 5. Goodnight, 6. Hines, 7. S.Thomas, 8. Shuman. 2:00.86
FIFTH HEAT: (8 laps) 1. T. Thomas, 2. Hodges, 3. C. Cottle, 4. Hopkins, 5. Spencer, 6. J. Frederickson, 7. Rogers, 8. House. 2:02.37
SIXTH HEAT: (8 laps) 1. Courtney, 2. Windom, 3. Karraker, 4. Smith, 5. Clarkson, 6. McMurray, 7. Gross. 2:03.31
FIRST SEMI: (12 laps) 1. Hery, 2. S. Cottle, 3. Stanbrough, 4. Abel, 5. Underwood, 6. O'Neal, 7. Ingle, 8. Cunningham, 9. Scott, 10. Hair, 11. Chastain, 12. Dues, 13. Cooley, 14. Robbins, 15. P. Frederickson. NT
SECOND SEMI: (12 laps) 1. DiMattia, 2. Hopkins, 3. Goodnight, 4. Smith, 5. Hines, 6. Shuman, 7. Clarkson, 8. J. Frederickson, 9. Rogers, 10. S. Thomas, 11. House, 12. McMurray, 13. Spencer, 14. Gross. NT
FEATURE: (27 laps) 1. Kevin Thomas, Jr., 2. Justin Grant, 3. Dave Darland, 4. Brady Bacon, 5. Shane Cottle, 6. Jerry Coons, Jr., 7. Jarett Andretti, 8. Tyler Courtney, 9. Josh Hodges, 10. A.J. Hopkins, 11. Jon Stanbrough, 12. Chris Windom, 13. Aaron Farney, 14. Colten Cottle, 15. Max McGhee, 16. Matt Westfall, 17. Tyler Thomas, 18. Travis Hery, 19. Tony DiMattia, 20. Matt Goodnight, 21. Brian Karraker, 22. Logan Jarrett, 23. Travis Welpott, 24. Tyler Hewitt. NT
——————————–
FEATURE LAP LEADERS: Laps 1-2 T. Thomas, Laps 3-27 K.Thomas.
NEXT USAC AMSOIL SPRINT CAR NATIONAL CHAMPIONSHIP RACE: September 16 – Terre Haute, Indiana – Terre Haute Action Track – "Jim Hurtubise Classic"
**RICHIE MURRAY – USAC MEDIA