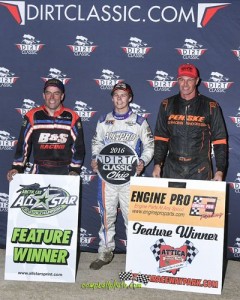 By Brian Liskai
ATTICA, Ohio (September 3, 2016) – Sheldon Haudenschild overcame an early race incident and passed Byron Reed on lap 20 and survived late race cautions to claim the biggest win of his young sprint car career. The Wooster, Ohio native scored his 7th Arctic Cat All Star Circuit of Champions win of 2016 at Attica Raceway Park Saturday and earned a $10,000 payday for the first Dirt Classic Ohio.
For Haudenschild, who is third in the All Star point standings, it was the 13th career series win, two of which have come at Attica. He gave the huge crowd a thrilling "spin to win" victory on All Pro Cylinder Heads Night, the third of his career at the track, to close Attica's 2016 season.
Haudenschild lead the first eight laps and upon entering heavy lapped traffic and battling Dale Blaney and Byron Reed, he spun in turn four but was able to keep going and dropped to third. He would quickly rebound and took second on lap 15 and drove around Reed for the lead for good on lap 20.
"I just pinned it and kept it running. I knew on this track if I could just keep it going I'd get a top five. The track was awesome…hats off to those guys. I spun out there and I kind of had to regroup and make sure I wasn't spinning my tires and get through the first half and be there at the end. Dale (Blaney) actually made a mistake in turn four and about jumped the top which was definitely easy to do. I saw Dale entering a little lower in turn one and I tried to do that a couple of times once I got to second and I figured I'd just rail it and see what I could do. I ended up getting a good run on Byron (Reed) into three and had a pretty good slide job and tried to hit my marks from there. I still made a couple of mistakes…I got to the lappers and I thought Byron would be there. I just kept ripping it," said Haudenschild beside his Southern Pacific Farms, Finzer Farms, Callies Performance Products, Finish Line Auto Body, Willwood, Smith Titanium, Walker Filtration, GME, BMRS backed machine.
As for the $10,000 payday? Haudenschild says it all goes back into the team. "All our money goes back to our crew and this race car. That's the only way we stay out here and keep racing. We have to win and make a little bit of money to keep going," he added.
For Reed, who won his eighth Attica track championship this season and picked up the victory Friday night, a second place run continued his strong run in 2016.
"I'm really happy. I think I've finished second at every All Star race here this year. When I saw the top was so good I knew we were in trouble with Sheldon. He's so good on the top. Would have liked to have seen a little traffic. I think I might have made it interesting. I think I was maybe a little more maneuverable than he was but he was killing us on the top. But overall I'm pretty happy. It's been a great year. The most win's I've ever had in a season and hopefully it's not over yet," said Reed beside his Crown Battery, Ken Gill Construction backed #5.
Blaney's third place run vaulted him into the All Star point lead though it is slim over Chad Kemenah. Kemenah came back from an early flat tire and drove to a 10th place finish to stay within six points of Blaney.
"The track had a few ripples in it getting into both corners and getting into three I couldn't get to where I wanted to. I was just kind of holding on and the middle went away getting into one. We were fair…pretty good all night long really. If we can finish on the podium for the rest of the year we'll be there at the end of this thing. It's a good night overall for us and Janet and CH Motorsports and Muddy and Big Game and Penske Shocks, Gf1, Fisher Racing Engines…everyone does a great job with our team," said Blaney.
Ashland, Ohio's Ryan Markham used lapped traffic to take the lead from JR Gentry on lap eight of the Summit Racing Equipment UMP Late Model feature and then held off challenges from Doug Drown and Mike Bores as he drove to his third win of the season at Attica. It was his 10th career win at the track and kept him atop the Attica Raceway Park-Wayne County Speedway Late Model Series Challenge point lead. Markham has won three of the five point races in 2016.
"I just had to get up on the wheel. It's a little treacherous up there…I kept getting tight down here (turns one and two) and got a little push. But, if you slow down it's harder to drive so better to go a little faster. Since we put this Swartz Chassis together we have three wins here and three second places with it. We had a good run here last night until we had a tire go down," said Markham beside his H&T Demolition; Harriger Towing; Accu-Force; Innovative Graphics; Cool-It Thermo Tec. Backed #5M.
"I want to thank Paul Harriger. I think he got a speeding ticket on his way up here to help me tonight. It's a good thing he got here because we got the nose boogered up. I have to give a big shout out to Bret Chance. He did a little shock stuff for me last night and we put it on today and it was pretty good. I want to thank Accu-Force for all the work they do for me and Malcuit Engines," added Markham.
Fremont, Ohio's Matt Foos, a former Attica dirt truck champion, continued his fantastic rookie year in the Fremont Fence 305 Sprints. Foos would take the lead on lap 10 after fellow rookie Trevor Baker spun but kept going. Foos picked his way through traffic like a seasoned veteran the last five laps to score his second win of the year.
"This is unbelievable. This is my dad's (Dave, crew chief) 50th win with all the guys he's had working together. It's so awesome. My dad's been on me pretty hard bout being easy on the right foot," said Foos beside his Rich and Shelly Farmer owned machine with sponsorship help from Level Performance, Fremont Auto Parts, Automatic Fire Protection, Big D's Pizza.
When asked what the biggest thing he has learned in his rookie sprint car season, Foos replied, "It's not about even driving. It's about becoming a better person. Settling yourself down and having composure. Not letting anything bother you. You are here to do a job."
The 40-lap All Star feature got off to a rocky start. First Reed would be penalized a row for jumping the initial start. On the second attempt Stuart Brubaker and Duane Zablocki got together after a lap was completed. On the ensuing restart D.J. Foos would stop on the track and Cole Duncan would spin. After three laps were scored eighth running Chris Andrews coast to a stop. On the restart Haudenschild would rocket away with Blaney and Reed battling for second while Craig Mintz, Tim Shaffer, Chad Kemenah and Brent Marks gave chase.
Haudenschild encountered extremely heavy lapped traffic by the ninth circuit and he would spin in turn four but kept his car under power and fell back to third with Blaney taking over the point. Reed would drive under Blaney for the top spot on lap 13 with Blaney and Haudenschild staying within striking distance. Broc Martin brought out the caution on lap 16 with Reed maintaining the lead over Haudenschild, Blaney, Mintz, Shaffer, Marks and Kemenah.
When the green reappeared Reed drove to the bottom while Haudenschild blasted away around the top. Haudenschild rim-rode into the lead on lap 20 with Reed, Blaney, Mintz and 14th place starter Travis Philo in tow. Andrews would bring out the caution again on lap 22. On the ensuing restart Cap Henry and Shaffer would tangle with Henry ending up on his side. When the green came back out Haudenschild rocketed away, building up a lead over Reed, Blaney, Mintz, Marks, Philo and Danny Holtgraver who started 20th.
Haudenschild narrowly avoided disaster on lap 31 when he made hard contact while trying to lap Broc Martin, sending Martin crashing into the fourth turn fence. Once again with a clear track, Haudenschild pulled away on the restart with Reed, Blaney, Marks, Mintz, Philo, Lee Jacobs (up from 26th) and Holtgraver giving chase.
Haudenschild built a 2.5 second lead and cruised to the win over Reed, Blaney, Marks, Mintz and Philo.
Markham and Gentry brought the field to green for the 25 lap late model feature and the pair battled hard for the lead with Rick Bond and Mike Bores side by side right behind. Gentry got the slight advantage over Markham with Bores and Bond trading the third spot over the first six laps. Markham drove into the lead on lap eight but Gentry, Bores and now Doug Drown were within half a car length. Markham utilized the high line to begin to pull away slightly as Bores and Drown raced side by side over the next four laps for second.
Drown began eating away at Markham's lead but a bobble on the cushion in turn three cost him valuable real estate. The first caution flew on lap 14 for Nick Cox. On the restart Markham was able to pull away from Drown with Bores, Matt Irey and Brad Malcuit in pursuit. Bores drove under Drown for second on lap 18 just before the caution flew for a Malcuit spin. On the ensuing restart Bores ducked under Markham but couldn't get by with Drown racing right off their rear bumpers.
With two laps to go Drown was within half a car length of Markham. But, Markham would hit his marks perfectly and drove to the win over Drown, Bores, Irey and 15th place starter Dave Hornikel.
Rookie Trevor Baker jumped into the lead of the 305 sprint feature and built a sizeable lead as Ricky Peterson, Foos, Jamie Miller, Dan Hennig and Steve Rando gave chase. Foos took the second position on lap three just prior to the caution for Kyle Capodice who slowed to a stop. Baker got a great restart and pulled away from Foos, Peterson, Miller, Rando, Jordan Ryan, Hennig and Dustin Dinan.
Disaster struck for Baker on lap nine as he spun in turn two but kept going, falling back to fifth. Now in the lead, Foos used the middle line to build a bit of a lead over Peterson, Miller and Rando. Dinan would coast to a stop on lap 12. Foos again got a great restart and pulled away from Peterson while Miller and Rando battled for third with Ryan, Baker, Brandon Moore, Luke Griffith and Josh Harrison in tow. With 10 laps to go Rando would take third while Peterson began to inch closer to Foos.
Foos encountered lapped traffic with five laps to go but picked his way through and drove to the win over Peterson, Rando, Miller and Ryan.
The first Dirt Classic Ohio was deemed a huge success. Since 2014, the event, which began at Lincoln Speedway in Pennsylvania as a way to get more money into the hands of race teams, has paid out nearly a half million dollars, nearly $200,000 this year alone. And, through the Kasey Kahne Foundation, which was created by the NASCAR star to help charities supporting chronically ill children and their families, over $60,000 has been raised through the Dirt Classic. The Attica Fair Association sold 50/50 raffle tickets to benefit the Kasey Kahne Foundation, raising over $1,600 Saturday. The 50/50 winner then donated $1,000 of his winnings to former 305 sprint driver Junior Felver and his wife Sara and their four-year-old daughter Peyton who is fighting a rare form of cancer.
Attica Raceway Park Promoter John Bores and his staff would like to thank all the race teams, fans, marketing partners, push truck and wrecker operators and safety personnel for their support in 2016 and look forward to more excitement in 2017.
Attica Raceway Park
Saturday, Sept. 3, 2016
All Pro Aluminum Cylinder Heads Night
Denotes starting position – [*]
Arctic Cat All Star Circuit of Champions
Qualifying
1.10H-Chad Kemenah, 12.466; 2.19m-Brent Marks, 12.480; 3.21-Cap Henry, 12.592; 4.1-Dale Blaney, 12.595; 5.57X-Andrew Palker, 12.623; 6.73-Chris Andrews, 12.647; 7.49-Tim Shaffer, 12.677; 8.23-DJ Foos, 12.685; 9.O9-Craig Mintz, 12.710; 10.93-Sheldon Haudenschild, 12.727; 11.5-Byron Reed, 12.729; 12.16-Stuart Brubaker, 12.756; 13.33M-Max Stambaugh, 12.799; 14.97-Gary Taylor, 12.812; 15.9X-Cole Duncan, 12.840; 16.40-Caleb Helms, 12.843; 17.9Z-Duane Zablocki, 12.893; 18.60K-Jody Keegan, 12.899; 19.45L-Brian Lay, 12.901; 20.81-Lee Jacobs, 12.917; 21.5T-Travis Philo, 12.933; 22.8M-TJ Michael, 12.943; 23.11N-Randy Hannagan, 12.970; 24.7C-Caleb Armstrong, 12.986; 25.49H-Bradley Howard, 13.017; 26.83M-Broc Martin, 13.050; 27.38-Dean Jacobs, 13.101; 28.11K-Kraig Kinser, 13.171; 29.9-Jordan Ryan, 13.180; 30.70-Danny Holtgraver, 13.477; 31.84-Brandon Hanks, 13.491; 32.33K-Kyle Patrick, 13.642; 33.60-Kory Crabtree, 13.646; 34.49D-Shawn Dancer, 14.109; 35.49E-Bob Howard, 14.510;
Heat 1, Group A – (10 Laps, top 5 to A)
1. 16-Stuart Brubaker[1] ; 2. 5-Byron Reed[2] ; 3. 23-DJ Foos[3] ; 4. 10H-Chad Kemenah[4] ; 5. 9Z-Duane Zablocki[6] ; 6. 40-Caleb Helms[5] ; 7. 81-Lee Jacobs[7] ; 8. 9-Jordan Ryan[8] ; 9. 60-Kory Crabtree[9]
Heat 2, Group B – (10 Laps, top 5 to A)
1. 1-Dale Blaney[2] ; 2. O9-Craig Mintz[1] ; 3. 21-Cap Henry[3] ; 4. 19m-Brent Marks[4] ; 5. 97-Gary Taylor[6] ; 6. 33M-Max Stambaugh[5] ; 7. 9X-Cole Duncan[7] ; 8. 11N-Randy Hannagan[8] ; 9. 49D-Shawn Dancer[9]
Heat 3, Group C – (10 Laps, top 5 to A)
1. 49-Tim Shaffer[2] ; 2. 73-Chris Andrews[3] ; 3. 45L-Brian Lay[5] ; 4. 57X-Andrew Palker[4] ; 5. 7C-Caleb Armstrong[7] ; 6. 38-Dean Jacobs[9] ; 7. 8M-TJ Michael[6] ; 8. 49H-Bradley Howard[8]
Heat 4, Group D – (10 Laps, top 5 to A)
1. 83M-Broc Martin[2] ; 2. 93-Sheldon Haudenschild[4] ; 3. 5T-Travis Philo[3] ; 4. 11K-Kraig Kinser[1] ; 5. 70-Danny Holtgraver[5] ; 6. 84-Brandon Hanks[6] ; 7. 33K-Kyle Patrick[7]
Dash 1 – (6 Laps, determines A-main starting positions)
1. 1-Dale Blaney[1] ; 2. 5-Byron Reed[4] ; 3. 49-Tim Shaffer[3] ; 4. 93-Sheldon Haudenschild[5] ; 5. 19m-Brent Marks[2] ; 6. 73-Chris Andrews[6] ; 7. 10H-Chad Kemenah[8] ; 8. O9-Craig Mintz[7]
B-Main 1 – (12 Laps, top 4 to A)
1. 40-Caleb Helms[3] ; 2. 9X-Cole Duncan[2] ; 3. 33M-Max Stambaugh[1] ; 4. 11N-Randy Hannagan[6] ; 5. 81-Lee Jacobs[4] ; 6. 8M-TJ Michael[5] ; 7. 38-Dean Jacobs[8] ; 8. 49H-Bradley Howard[7] ; 9. 33K-Kyle Patrick[11] ; 10. 49D-Shawn Dancer[13] ; 11. 84-Brandon Hanks[10] ; 12. 49E-Bob Howard[14] ; 13. 60-Kory Crabtree[12] ; 14. 9-Jordan Ryan[9] ; 15. 60K-Jody Keegan[15]
A-Main 1 – (40 Laps)
1. 93-Sheldon Haudenschild[4] ; 2. 5-Byron Reed[2] ; 3. 1-Dale Blaney[1] ; 4. 19m-Brent Marks[5] ; 5. O9-Craig Mintz[8] ; 6. 5T-Travis Philo[14] ; 7. 81-Lee Jacobs[26] ; 8. 70-Danny Holtgraver[20] ; 9. 11K-Kraig Kinser[16] ; 10. 10H-Chad Kemenah[7] ; 11. 11N-Randy Hannagan[24] ; 12. 8M-TJ Michael[21] ; 13. 40-Caleb Helms[23] ; 14. 7C-Caleb Armstrong[19] ; 15. 97-Gary Taylor[18] ; 16. 21-Cap Henry[12] ; 17. 45L-Brian Lay[13] ; 18. 83M-Broc Martin[10] ; 19. 16-Stuart Brubaker[9] ; 20. 73-Chris Andrews[6] ; 21. 33M-Max Stambaugh[25] ; 22. 49-Tim Shaffer[3] ; 23. 57X-Andrew Palker[15] ; 24. 9X-Cole Duncan[22] ; 25. 23-DJ Foos[11] ; 26. 9Z-Duane Zablocki[17]
Hard Charger: 81-Lee Jacobs +19
305 Sprints – Fremont Fence
Heat 1 – (8 Laps, top 5 to A)
1. 1XX-Jordan Ryan[2] ; 2. 66-Jamie Miller[7] ; 3. 11G-Luke Griffith[3] ; 4. 9R-Dustin Rall[6] ; 5. 10-Josh Harrison[5] ; 6. 1J-Jeremy Shambaugh[1] ; 7. 36-Seth Schneider[8] ; 8. 39C-Scott Riley[9] ; 9. 13-Jeremy Duposki[4]
Heat 2 – (8 Laps, top 5 to A)
1. 2F-Matt Foos[6] ; 2. 32H-Dan Hennig[1] ; 3. 45-Trevor Baker[3] ; 4. 47-Matt Lucius[2] ; 5. 20B-Cody Bova[7] ; 6. 4T-James Taddeo[8] ; 7. 25-Jason Keckler[9] ; 8. 75-Jerry Dahms[5] ; 9. 77I-John Ivy[4]
Heat 3 – (8 Laps, top 5 to A)
1. 1X-Dustin Dinan[1] ; 2. 19R-Steve Rando[4] ; 3. 7M-Brandon Moore[2] ; 4. 2-Ricky Peterson[7] ; 5. 2L-Landon LaLonde[3] ; 6. 12-Kyle Capodice[8] ; 7. 4*-Tyler Street[5] ; 8. 20I-Kelsey Ivy[9] ; 9. 51-Chase Dunham[6]
B-Main 1 – (10 Laps, top 5 to A)
1. 4T-James Taddeo[2] ; 2. 12-Kyle Capodice[3] ; 3. 36-Seth Schneider[4] ; 4. 4*-Tyler Street[6] ; 5. 25-Jason Keckler[5] ; 6. 20I-Kelsey Ivy[9] ; 7. 77I-John Ivy[11] ; 8. 1J-Jeremy Shambaugh[1] ; 9. 39C-Scott Riley[7] ; 10. 13-Jeremy Duposki[10] ; 11. 75-Jerry Dahms[8] ; 12. 51-Chase Dunham[12]
A-Main 1 – (25 Laps)
1. 2F-Matt Foos[3] ; 2. 2-Ricky Peterson[1] ; 3. 19R-Steve Rando[5] ; 4. 66-Jamie Miller[8] ; 5. 1XX-Jordan Ryan[11] ; 6. 7M-Brandon Moore[7] ; 7. 45-Trevor Baker[2] ; 8. 10-Josh Harrison[13] ; 9. 11G-Luke Griffith[10] ; 10. 9R-Dustin Rall[12] ; 11. 20B-Cody Bova[14] ; 12. 25-Jason Keckler[20] ; 13. 36-Seth Schneider[18] ; 14. 32H-Dan Hennig[4] ; 15. 4*-Tyler Street[19] ; 16. 4T-James Taddeo[16] ; 17. 2L-Landon LaLonde[15] ; 18. 47-Matt Lucius[6] ; 19. 1X-Dustin Dinan[9] ; 20. 12-Kyle Capodice[17]
Hard Charger: 25-Jason Keckler +8
Late Models – Summit Racing Equipment
Heat 1 – (8 Laps)
1. 15B-Mike Bores[3] ; 2. 36-Matt Irey[7] ; 3. 007-Rick Bond[1] ; 4. 5M-Ryan Markham[8] ; 5. 13-Scott Smith[6] ; 6. 69-John Mayes Jr.[5] ; 7. 7-Nick Cox[2] ; 8. 71-Dave Hornikel[4]
Heat 2 – (8 Laps)
1. 240-Doug Drown[2] ; 2. 14-JR Gentry[3] ; 3. 79-Brad Malcuit[5] ; 4. 59-Larry Bellman[4] ; 5. 24-Jerry Aber[7] ; 6. 3-Shaun Cains[1] ; 7. 40-Wayne Maffett Jr[6]
A-Main 1 – (25 Laps)
1. 5M-Ryan Markham[1] ; 2. 240-Doug Drown[8] ; 3. 15B-Mike Bores[3] ; 4. 36-Matt Irey[5] ; 5. 71-Dave Hornikel[15] ; 6. 007-Rick Bond[4] ; 7. 59-Larry Bellman[6] ; 8. 40-Wayne Maffett Jr[14] ; 9. 24-Jerry Aber[10] ; 10. 13-Scott Smith[9] ; 11. 14-JR Gentry[2] ; 12. 79-Brad Malcuit[7] ; 13. 7-Nick Cox[11] ; 14. 3-Shaun Cains[12] ; 15. 69-John Mayes Jr.[13]
Hard Charger: 71-Dave Hornikel +10