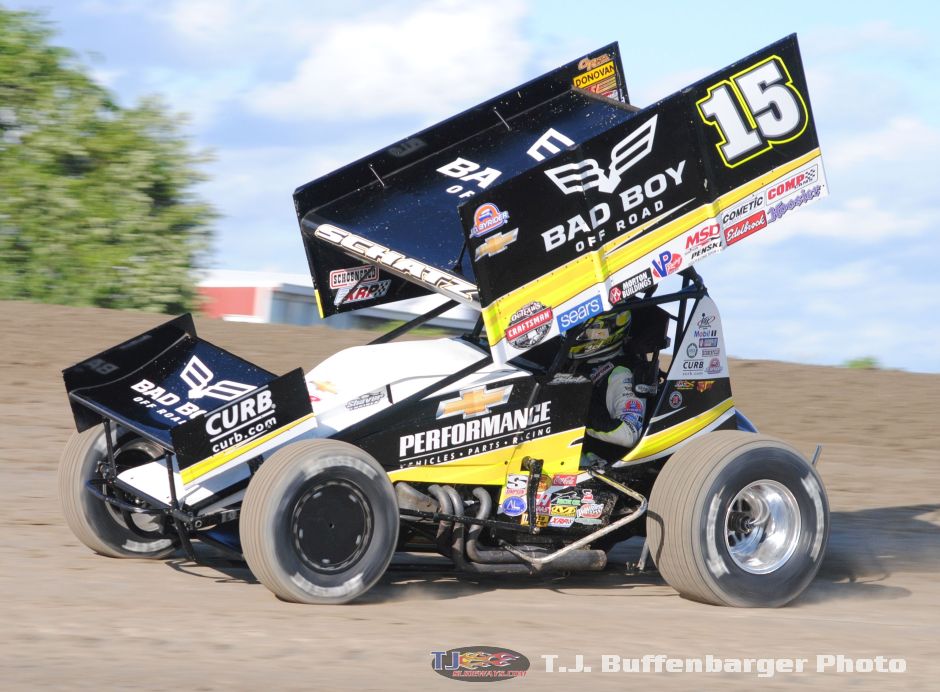 From Gary Thomas
LEBANON, Ore. (September 7, 2016) – After taking the lead early on, Fargo, North Dakota's Donny Schatz proceeded to dominate the final half of the feature on Wednesday night at Willamette Speedway to score his World of Outlaws Craftsman Sprint Car Series leading 21st victory of the season.
With the win Schatz has now captured five of the seven World of Outlaws events held since the Knoxville Nationals aboard his Tony Stewart Racing/ Bad Boy Off Road No. 15 machine. The triumph came during a non-stop 30-lap affair that was completed in just over seven minutes.
"What a great job by this whole Tony Stewart Racing team once again so I can't say enough about them," Schatz commented. "I felt like I wasted a little time in traffic early, but then started getting through it really well. I know that if you stumble at any moment the guys we race with are so good that they will pounce on you. It's always special to come back to Oregon also, since I won my first World of Outlaws race in this state back in 1998. It was definitely a demanding track, and going 30-laps non-stop is never easy to do. I know that I can definitely use a drink about right now."
Schatz started on the outside of the front row, but lost the early lead at the waving of the green flag to pole sitter Brad Sweet. The Grass Valley, California driver rolled the bottom side, while Schatz utilized the high-line to sweep around for the lead on lap four. Once entering traffic Sweet stayed close and made a bid for the lead on lap 11. Schatz was able to hang on though and stretched his lead from there on out, leading much of the time by a full straightaway.
The battle for second turned out to be an entertaining one between Sweet and Bixby, Oklahoma's Shane Stewart in traffic.
Stewart sliced his way past Sweet at the halfway point of the 30-lap contest, only to have him return the favor for the spot four-laps later. The duo continued to race closely together while battling through the slower cars, until Stewart took back the runner up position that he would never relinquish on lap 22. The second place result was a great rebound for Stewart and his Larson Marks Racing team after tough luck has plagued them in recent weeks.
"We had a really good car in the feature and this is a great finish for our whole team," Stewart said. "We've been real good lately, but have fought through a lot of bad luck, so hopefully this will get the monkey off our backs. We've worked really hard to gain speed over the course of the season and I think we have done that, so I definitely want to thank all my guys for their support. I wish I would have moved up a little quicker, but hats off to Donny [Schatz] and his guys because they are always tough. Hopefully we can carry this momentum into Chico this weekend."
Sweet's bid at a clean sweep for the night came up just short, with him crossing the stripe in third at the helm of the Kasey Kahne Racing No. 49 mount. He began the evening by setting a new Willamette Speedway track record in qualifying, before winning his heat race and the dash. It marked Sweet's second straight podium finish in World of Outlaws Craftsman Sprint Car Series competition.
"We would have liked to win the feature tonight, but that's racing," Sweet commented following the race. "It was a lot of fun battling with Shane [Stewart] through lapped traffic. We just needed to be a little bit better on the top, but I can't complain about a podium finish. We had really fast car all night long, so I want to thank my whole team for giving me great stuff again. I look forward to heading back home to California this weekend for the Gold Cup in Chico. That's one event I definitely want to get under my belt so we'll give it our best shot."
Owasso, Oklahoma's Daryn Pittman gave second & third a strong run in traffic, before settling for a fourth place finish at the checkered. The former Outlaw champ looked solid in the feature aboard the Kasey Kahne Racing No. 9 Sprinter. After winning the last two events Watertown, Connecticut's David Gravel brought home a fifth place finish on Wednesday behind the wheel of the CJB Motorsports No. 5.
The remainder of the top-10 was completed by Bartlett, Tennessee's Jason Sides; Eunice, Louisiana's Jason Johnson; Fresno, California's Dominic Scelzi; Brownsburg, Indiana's Joey Saldana and Hanover, Pennsylvania's Logan Schuchart.
As noted, Sweet captured the dash and the opening heat race, while Daryn Pittman claimed the other heat race held. Paul McMahan won the night's 10-lap qualifying race. Sweet's new Willamette Speedway track record of 11.513 to open the night was also his series-leading 12th fast time of the season.
The World of Outlaws Craftsman Sprint Car Series will now head south to California for the 63rd annual Gold Cup Race of Champions at Silver Dollar Speedway in Chico this Friday & Saturday September 9 & 10. Get more info on the prestigious event.
World of Outlaws Craftsman® Sprint Car Series Statistical Report; Willamette Speedway, Ore.; Sept 7, 2016
A-Main – (30 Laps) 1. 15-Donny Schatz [2] [$6,000]; 2. 2-Shane Stewart [3] [$3,500]; 3. 49-Brad Sweet [1] [$2,000]; 4. 9-Daryn Pittman [4] [$1,800]; 5. 5-David Gravel [9] [$1,500]; 6. 7S-Jason Sides [5] [$1,400]; 7. 41-Jason Johnson [12] [$1,350]; 8. 41X-Dominic Scelzi [10] [$1,300]; 9. 83-Joey Saldana [7] [$1,250]; 10. 1S-Logan Schuchart [8] [$1,200]; 11. 7-Paul McMahan [6] [$900]; 12. 44W-Austen Wheatley [11] [$800]; 13. 33V-Henry VanDam [14] [$700]; 14. 55-Trey Starks [15] [$650]; 15. 18-Jason Solwold [16] [$600]; 16. 21-Robbie Price [18] [$550]; 17. W20-Greg Wilson [13] [$500]; 18. 1A-Jacob Allen [17] [$500]; 19. 13-Clyde Knipp [19] [$500]. Lap Leaders: Brad Sweet 1-2, Donny Schatz 3-30; KSE Hard Charger Award: 41-Jason Johnson [+5].
Qualifying – 1. 49-Brad Sweet, 11.513; 2. 1A-Jacob Allen, 11.602; 3. 7S-Jason Sides, 11.656; 4. 9-Daryn Pittman, 11.695; 5. 5-David Gravel, 11.753; 6. 1S-Logan Schuchart, 11.764; 7. 41-Jason Johnson, 11.804; 8. 15-Donny Schatz, 11.807; 9. 44W-Austen Wheatley, 11.827; 10. 83-Joey Saldana, 11.839; 11. 7-Paul McMahan, 11.858; 12. 2-Shane Stewart, 11.876; 13. W20-Greg Wilson, 11.891; 14. 18-Jason Solwold, 11.892; 15. 33V-Henry VanDam, 11.904; 16. 55-Trey Starks, 11.944; 17. 41X-Dominic Scelzi, 12.273; 18. 21-Robbie Price, 12.352; 19. 13-Clyde Knipp, 12.420
Heat 1 – (10 Laps – Top 6 finishers transfer to the A-feature) 1. 49-Brad Sweet [1]; 2. 7S-Jason Sides [2]; 3. 7-Paul McMahan [6]; 4. 41-Jason Johnson [4]; 5. 5-David Gravel [3]; 6. 44W-Austen Wheatley [5]; 7. W20-Greg Wilson [7]; 8. 41X-Dominic Scelzi [9]; 9. 33V-Henry VanDam [8]; 10. 13-Clyde Knipp [10]
Heat 2 – (10 Laps – Top 6 finishers transfer to the A-feature) 1. 9-Daryn Pittman [2]; 2. 15-Donny Schatz [4]; 3. 1S-Logan Schuchart [3]; 4. 2-Shane Stewart [6]; 5. 83-Joey Saldana [5]; 6. 1A-Jacob Allen [1]; 7. 55-Trey Starks [8]; 8. 18-Jason Solwold [7]; 9. 21-Robbie Price [9]
Heat 3 – (10 Laps – Top 6 finishers transfer to the A-feature) 1. 7-Paul McMahan [1]; 2. 2-Shane Stewart [4]; 3. 83-Joey Saldana [6]; 4. 1S-Logan Schuchart [2]; 5. 5-David Gravel [5]; 6. 41X-Dominic Scelzi [11]; 7. 44W-Austen Wheatley [7]; 8. 41-Jason Johnson [3]; 9. W20-Greg Wilson [9]; 10. 33V-Henry VanDam [13]; 11. 55-Trey Starks [10]; 12. 18-Jason Solwold [12]; 13. 1A-Jacob Allen [8]; 14. 21-Robbie Price [14]; 15. 13-Clyde Knipp [15]
Craftsman Club Dash – (6 Laps, finishing order determined first 6 starting positions of A-feature) 1. 49-Brad Sweet [1]; 2. 15-Donny Schatz [4]; 3. 2-Shane Stewart [6]; 4. 9-Daryn Pittman [2]; 5. 7S-Jason Sides [3]; 6. 7-Paul McMahan [5]