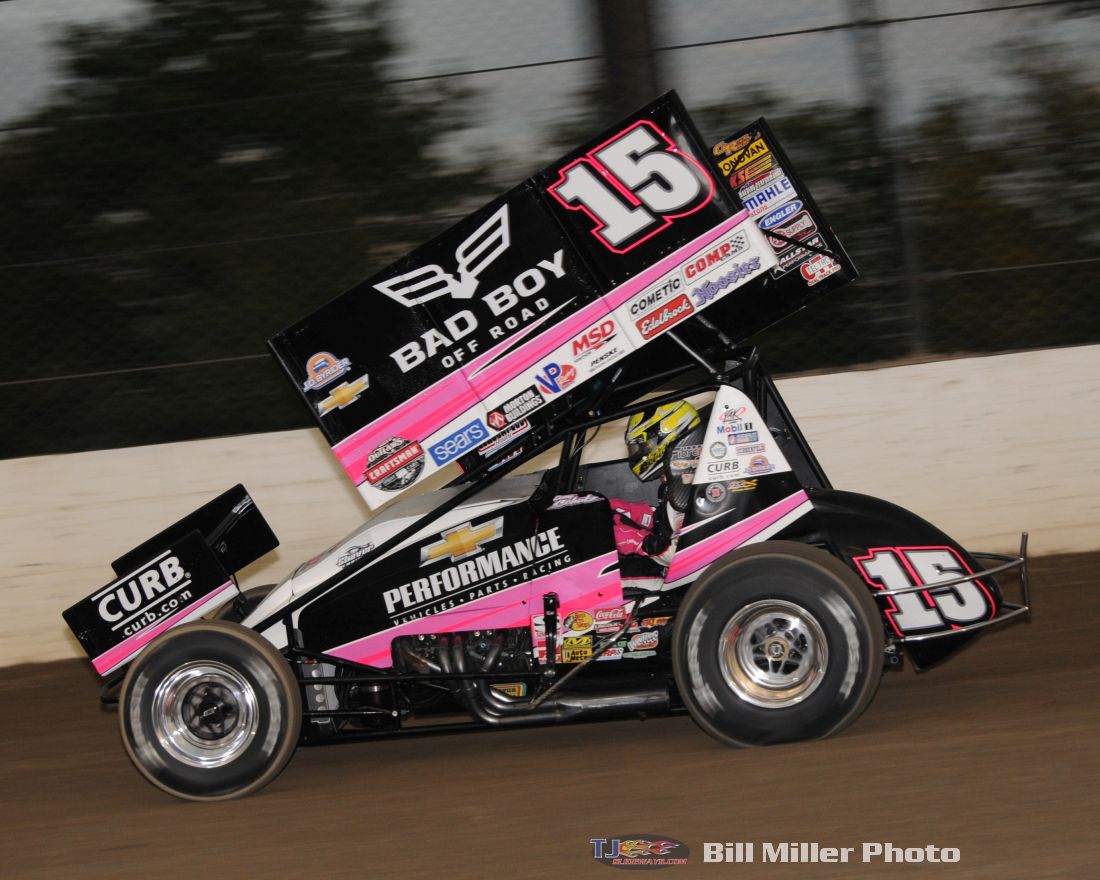 By Brendan Capria
SARVER, Pa. – Sept. 24, 2016 – Donny Schatz continued his historic season Saturday night, claiming his 23rd World of Outlaws Craftsman® Sprint Car Series win at Lernerville Speedway. The series had not competed in the track's Commonwealth Clash presented by Classic Ink since 2014, and thousands of fans rallied behind its drivers as if they never left.
"This was a fun car to drive," Schatz said. "The racetrack changed, and I didn't know whether or not that top groove was going to come in. But it did. It was pretty decent all over. [Turns] One and two stayed really good around the bottom, and in some spots you could run through the middle. It's a great racetrack. We didn't get the win at Silver Cup, and I felt like we had a great chance. But, we got the job done tonight. I wish [my crew] was standing here instead of me."
The 26-car feature lineup was set to endure 35 laps on the famed 4/10-mile oval for a $10,000-to-win purse. Logan Schuchart, who finished second the previous night, led the field into the green flag. But similar to the night before, the opening lap was plagued by a caution that escalated into a red flag entering turn one.
Within the opening lap of the feature, a red put the race on standby. Notably, Paul McMahan's No. 7 Destiny Motorsports Maxim car somersaulted off the cushion of the first lap along with another car. However, when the red flag was upgraded to yellow, several World of Outlaws teams pitched-in to get his car back on the track. Repairing both wings and an axle, McMahan found his way back on the track. The crowd erupted and applauded the collective effort in the pits.
On the restart Schatz, who started fourth in the feature, undertook Tim Shaffer for third in turn three. Early into the next lap, another caution regrouped the field. Yet another strong restart from Schatz boosted his No. 15 Tony Stewart/Curb-Agajanian Racing J&J car passed Brad Sweet for second position before another red flag. On lap 10, an "open red" allowed drivers to repair and ready their cars for the next 25 laps.
"A little bit of weight here and there but nothing major," said Schatz, when asked if he made any adjustments during the open red. "Anytime you give this race team the opportunity to change something, it's always for the better. We just had to bide our time there. Everyone put so much emphasis on the starts, but they never pay a race off the starts. You have to make sure you're good at the end. That's something these guys do an awesome job at."
Though his team made adjustments, Schatz's pursuit to the lead did not change. He used the restarts to his advantage. He was able to come within one-second of Schuchart's No. 1S Bobby Allen Triple X car on the restart. Schuhart, also using the cushion, fended-off Schatz's advances momentarily. That is, until Schatz used heavy lapped traffic to get by the race leader on lap 13.
Schatz never looked back. With 10 laps remaining, Schatz increased his lead to 3.523 seconds. In the next seven laps, he nearly doubled his lead to 6.313 seconds. The seven-time Series Champion took the checkers with by a 7.620 margin. He lapped up to eighth position.
Schuchart recorded his second consecutive runner-up performance in two nights, while Sweet's No. 49 Kasey Kahne Racing GF1 car rounded-out the podium. Schuchart recorded his best performance at Lernerville Speedway. He finished ninth in his first Commonwealth Clash as a Platinum driver in 2014.
"We got second last night and second tonight," Schuchart said. "It's hard to complain when you're running podium finishes up front. It's hard to beat the [No.] 15. I mean, I felt pretty good at times and there were other times when I didn't. Obviously, he pulled away when he passed me, and those guys are pretty good. We have a little bit to work on, but we're fast and we don't have anything to complain about. We're happy and proud of our guys, and everyone who's here."
Sweet finished the night recording his 41st top five performance of the season. He currently ranks fourth in the points race. Though Sweet has consistently finished on the podium this season, he has not won since July 2.
"Anytime you can get up here in the World of Outlaws it's good," Sweet said. "We would've liked to win one of these every now and then. It seems like we've been on the podium, but [we] haven't been able to win in a long time. We're really trying hard."
Schatz changed his paint scheme for the past couple races to pink for breast cancer awareness. Schatz's Tony Stewart Racing Bad Boy Off Road/ Chevrolet Performance team has continued this three-year tradition with the emphasis of "it takes a team to make the dream."
"It's neat when you get to do these different paint schemes," Schatz said. "Breast Cancer Awareness Month is coming up, and we brought this car out a little early because we're all for it. To be able to get it in victory lane, it means a lot to me."
World of Outlaws Craftsman Sprint Car Series
Lernerville Speedway
Sarver, PA
Saturday September 24, 2016
Feature – (35 Laps) – 1. 15-Donny Schatz [4] [$10,000]; 2. 1S-Logan Schuchart [1] [$5,500]; 3. 49-Brad Sweet [2] [$3,200]; 4. 5-David Gravel [9] [$2,800]; 5. 2-Shane Stewart [5] [$2,500]; 6. 9-Daryn Pittman [6] [$2,300]; 7. 83-Joey Saldana [8] [$2,200]; 8. 49X-Tim Shaffer [3] [$2,100]; 9. 5T-Travis Philo [15] [$2,050]; 10. 10-Carl Bowser [17] [$2,000]; 11. 7S-Jason Sides [18] [$1,500]; 12. 41-Jason Johnson [16] [$1,200]; 13. O7-Doug Esh [14] [$1,100]; 14. W20-Greg Wilson [13] [$1,050]; 15. 1A-Jacob Allen [12] [$1,000]; 16. 7W-Logan Wagner [20] [$900]; 17. 7-Paul McMahan [11] [$800]; 18. 23JR-Jack Sodeman [21] [$800]; 19. 7K-Dan Shetler [19] [$800]; 20. O8-Dan Kuriger [23] [$800]; 21. 33M-Brent Matus [26] [$]; 22. 19JK-Joe Kubiniec [24] [$800]; 23. 51-John Garvin [25] [$]; 24. 2F-A.J. Flick [22] [$800]; 25. 58-Jimmy Seger [10] [$800]; 26. 24X-Sye Lynch [7] [$800]; Lap Leaders: Logan Schuchart 1-13, Donny Schatz 14-35; KSE Hard Charger Award: 10-Carl Bowser [+7]
Qualifying – 1. 9-Daryn Pittman, 12.787; 2. 1S-Logan Schuchart, 12.818; 3. 24X-Sye Lynch, 12.819; 4. 83-Joey Saldana, 12.826; 5. 49-Brad Sweet, 12.831; 6. 2-Shane Stewart, 12.895; 7. 15-Donny Schatz, 12.896; 8. 1A-Jacob Allen, 12.905; 9. 5-David Gravel, 12.907; 10. 7S-Jason Sides, 12.911; 11. 7-Paul McMahan, 12.984; 12. 49X-Tim Shaffer, 13.021; 13. W20-Greg Wilson, 13.022; 14. 58-Jimmy Seger, 13.028; 15. 5T-Travis Philo, 13.045; 16. 41-Jason Johnson, 13.056; 17. 23JR-Jack Sodeman, 13.067; 18. O7-Doug Esh, 13.097; 19. 7K-Dan Shetler, 13.167; 20. 19JK-Joe Kubiniec, 13.245; 21. 10-Carl Bowser, 13.276; 22. 13-Clyde Knipp, 13.302; 23. 2F-A.J. Flick, 13.303; 24. 7W-Logan Wagner, 13.334; 25. 13X-Brandon Matus, 13.470; 26. O8-Dan Kuriger, 13.475; 27. 56-Ralph Spithaler, 13.494; 28. 40-George Hobaugh, 13.617; 29. 55W-Michael Wagner II, 13.741; 30. 51-John Garvin, 13.741; 31. 33M-Brent Matus, 13.900; 32. 23-Darren Pifer, 14.201; 33. 4K-William Kiley, 14.851; 34. 1R-Gale Ruth, nt; 35. 76-David Jones, nt; 36. 22S-Brandon Spithaler, nt
Heat 1 – (8 Laps – Top 5 finishers transfer to the A-feature) – 1. 9-Daryn Pittman [1]; 2. 49-Brad Sweet [2]; 3. 5-David Gravel [3]; 4. W20-Greg Wilson [4]; 5. 10-Carl Bowser [6]; 6. 23JR-Jack Sodeman [5]; 7. 55W-Michael Wagner II [8]; 8. 4K-William Kiley [9]; 9. 13X-Brandon Matus [7]
Heat 2 – (8 Laps – Top 5 finishers transfer to the A-feature) – 1. 2-Shane Stewart [2]; 2. 1S-Logan Schuchart [1]; 3. 58-Jimmy Seger [4]; 4. O7-Doug Esh [5]; 5. 7S-Jason Sides [3]; 6. 13-Clyde Knipp [6]; 7. O8-Dan Kuriger [7]; 8. 51-John Garvin [8]
Heat 3 – (8 Laps – Top 5 finishers transfer to the A-feature) – 1. 15-Donny Schatz [2]; 2. 24X-Sye Lynch [1]; 3. 7-Paul McMahan [3]; 4. 5T-Travis Philo [4]; 5. 7K-Dan Shetler [5]; 6. 2F-A.J. Flick [6]; 7. 33M-Brent Matus [8]; 8. 56-Ralph Spithaler [7]; 9. 76-David Jones [9]
Heat 4 – (8 Laps – Top 5 finishers transfer to the A-feature) – 1. 49X-Tim Shaffer [3]; 2. 83-Joey Saldana [1]; 3. 1A-Jacob Allen [2]; 4. 41-Jason Johnson [4]; 5. 7W-Logan Wagner [6]; 6. 19JK-Joe Kubiniec [5]; 7. 23-Darren Pifer [8]; 8. 40-George Hobaugh [7]; 9. 22S-Brandon Spithaler [9]
Craftsman Club Dash – (6 Laps, finishing order determined first 8 starting positions of A-feature) – 1. 1S-Logan Schuchart [1]; 2. 49-Brad Sweet [2]; 3. 49X-Tim Shaffer [3]; 4. 15-Donny Schatz [4]; 5. 2-Shane Stewart [5]; 6. 9-Daryn Pittman [6]; 7. 24X-Sye Lynch [7]; 8. 83-Joey Saldana [8]
Last Chance Showdown – (12 Laps – Top 4 finishers transfer to the A-feature) – 1. 23JR-Jack Sodeman [1] [-]; 2. 2F-A.J. Flick [4] [-]; 3. O8-Dan Kuriger [6] [-]; 4. 19JK-Joe Kubiniec [2] [-]; 5. 40-George Hobaugh [8] [$300]; 6. 13-Clyde Knipp [3] [$250]; 7. 55W-Michael Wagner II [9] [$225]; 8. 23-Darren Pifer [12] [$200]; 9. 51-John Garvin [10] [$200]; 10. 33M-Brent Matus [11] [$200]; 11. 4K-William Kiley [13] [$200]; 12. 13X-Brandon Matus [5] [$200]; 13. 56-Ralph Spithaler [7] [$200]; 14. 1R-Gale Ruth [14] [$200]; 15. 76-David Jones [15] [$200]; 16. 22S-Brandon Spithaler [16] [$200]