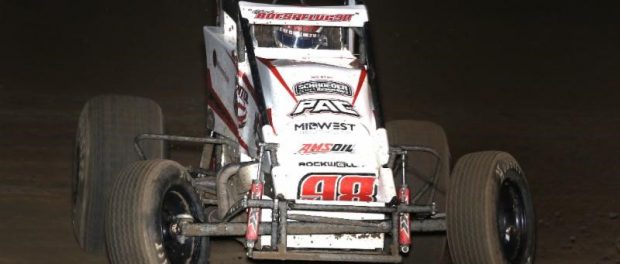 From Richie Murray
PERRIS, Calif. (November 10, 2016) — In what has already been a banner year for Chad Boespflug, the Hanford, California native checked off yet another highlight-reel moment during the 2016 season – a USAC victory in his home state – after winning night one of the 21st Budweiser "Oval Nationals" at Perris Auto Speedway.
In fact, the Thursday Perris triumph marks the fifth different state Boespflug has won in during his five career USAC point-paying victories – Indiana, Ohio, New Jersey, Nebraska and California, not to mention his $60,000 two-night performance at South Dakota's Badlands Motor Speedway in a non-points special event back in August.
Though the box score shows Boespflug leading all 30 laps, it was never quite that easy. Especially so when you have to fend off the hottest sprint car driver in the USA.
Boespflug got the jump at the start, drifting up to the topside to take the lead into turn one ahead of fellow native-Californian Thomas Meseraull. Just four laps in, though, Chris Windom rode the bottom line past Meseraull between turns one and two, then was able to clear him by the midway point of the backstretch to grab second.
On laps seven and eight, Boespflug and Windom engaged in a side-by-side battle for the lead as Ryan Bernal began to surge in the third spot. Bernal would fall out of contention just moments after bursting onto the scene, biking his machine between turns three and four, resulting in a flat left rear tire that brought out the yellow flag.
On the lap eight restart, Boespflug immediately distanced himself from Windom, lifting the left front as he raced down the back straightaway to put a seven car-length gap between first and second.
By lap 12, though, Windom used the extreme bottom on the infield berm to catch and pull even with Boespflug for the lead, but Boespflug hung on by the skin of his teeth to nip Windom at the line to stay at the front by a single car length.
Just after the halfway point, Boespflug hiked the left rear as he bounced through the entrance of turn three and over the cushion, momentarily losing the lead to Windom, the winner of the last three USAC AMSOIL National Sprint Car races coming into Thursday's Perris round.
However, good fortune found Boespflug as, simultaneously, a caution fell for a three-car tangle involving Austin Liggett, Hunter Schuerenberg and Danny Faria, Jr. prior to the entire lap being scored. The field reverted to the running order on the last completed lap, which relegated Windom to second behind Boespflug on the lap 16 restart.
The second half of the race was all Boespflug as he left Windom in the distance without encountering an ounce of trouble, save for a kiss of the concrete with his right rear tire at the exit of turn four with seven laps to go, to take his sixth USAC Sprint Car win of the season – fourth points-paying – in his NineEight Motorsports-EZR/Capitol Renegade – Beaver Stripes/Maxim/Claxton.
"I saw Chris (Windom)'s nose there before that first yellow," Boespflug remembers. "I was trying to give it away; I was overdriving it in (turns) three and four and I just had to make sure I hit my marks racing with Chris and Derek (Claxton). They've been so stellar these last couple of weeks. We've been good early on, but we just need to be better in the end. (Crew Chief) Davey Jones and I walked the entire track and got a good setup for what we thought we needed and it worked. I got tighter as the race went on. Usually, we start out too tight, but this time, we got tighter as the race went on which I think was to our advantage. The bottom seemed to go away a little bit, so under the yellows, I tried to pack it in and help kill it as much as I could."
It was Boespflug's first win at Perris and, even though he has plenty of previous experience on the Southern California half-mile, he credits much of his success on Thursday night to the open practice session at the track one night prior.
"Everything we learned happened last night at the open practice," Boespflug admits. "We didn't test for speed; we wanted to make sure we could race and move around on the racetrack and have a car that's drivable for me. I think we found that and everything we learned definitely worked tonight. But, it's pretty special. I raced here for almost an entire year in 2006 back when I lived out here. I'm just so happy to be able to put this on my resume."
Chris Windom scored second in his Baldwin Brothers Racing/Fox Paving – AMSOIL/DRC/Claxton Mopar. The Canton, Illinois driver saw his winning streak come to an end as he attempted to become the first driver since Rick Hood in 1985 to win four-straight USAC National Sprint Car features.
"We had a really good car all night," Windom said. "I was just searching there in the feature. I think we were better than Chad there in the middle of the race. On the restarts, we got a little snug on the right rear. He got too far away from us the first five laps after the (lap 16) restart. I couldn't reel him back in. But, we were fast all night. Derek (Claxton)'s done a great job on this car the last few months. We'd won three in a row and we were hoping to make it four, but we'll take a second on opening night. We have a lot of momentum and a lot of confidence coming into this weekend, so we'll keep plugging away and, hopefully, we can come back and win the one that counts on Saturday."
USAC AMSOIL National Sprint Car point leader Brady Bacon took third in the Dynamics, Inc./Mean Green – Lykins Oil/Triple X/Williams Mopar, his season-leading 20th top-five finish in his 39th series start of the season.
"We drew a pretty high pill and had to go out pretty late and didn't quite get the qualifying time we would've liked," Bacon said. "It set us back and we had to start 11th in the feature. It took us awhile to get up through there, but we were fortunate enough to get up to third. I think we might've had something for them if we could've started a little closer to the front. It puts you in a good spot having a good first night. You can't afford to have any problems these first two nights with the way the points work, so I think we're in pretty good shape. We were fast right out of the box tonight!"
Contingency award winners Thursday night at Perris Auto Speedway included Damion Gardner (ProSource/Woodland Auto Display Fast Qualifier), Bud Kaeding (Simpson Race Products/Extreme Mufflers First Heat Winner and KSE Racing Products/BR Motorsports/King Racing Products Hard Charger), Brady Bacon (Competition Suspension, Inc. (CSI)/DJ Safety Second Heat Winner), Chad Boespflug (Benic Enterprises/Circle Track Performance Third Heat Winner), Brody Roa (Indy Race Parts/Stand 21 Racer Goes Safer Foundation Fourth Heat Winner), Carson Macedo (Keizer Aluminum Wheels Fifth Heat Winner), Austin Williams (Brown & Miler Racing Solutions Semi Winner) and Jon Stanbrough (Wilwood Brakes 13th Place Feature Finisher).
—————————————————————————
USAC AMSOIL NATIONAL & CRA SPRINT CAR RACE RESULTS: November 10, 2016 – Perris, California – Perris Auto Speedway – 21st Budweiser "Oval Nationals" presented by All Coast Construction
PROSOURCE/WOODLAND AUTO DISPLAY QUALIFYING: 1. Damion Gardner, 4, Alexander-16.249; 2. Dave Darland, 11, Walker/Curb-Agajanian-16.313; 3. Chris Windom, 5, Baldwin-16.333; 4. Ryan Bernal, 56, Phulps-16.407; 5. Thomas Meseraull, 42x, Bates-16.413; 6. Austin Williams, 2, Jory-16.437; 7. Jake Swanson, 92, Sertich-16.459; 8. Chad Boespflug, 98E, NineEight/EZR-16.514; 9. R.J. Johnson, 51, Martin-16.576; 10. Carson Macedo, 42, Cheney-16.609; 11. Joe Stornetta, 3T, Finkenbinder-16.634; 12. Brady Bacon, 69, Dynamics-16.658; 13. Kevin Thomas, Jr., 1, Ballou-16.712; 14. Brody Roa, 91R, BR-16.727; 15. Danny Faria, Jr., 17v, Faria-16.788; 16. Richard Vander Weerd, 10, Vander Weerd-16.796; 17. C.J. Leary, 30, Leary-16.814; 18. Mike Spencer, 4s, Gansen-16.828; 19. Josh Hodges, 17, McGhee-16.837; 20. Austin Liggett, 83, Liggett-16.838; 21. Chase Stockon, 32, 32 TBI-16.847; 22. Isaac Chapple, 52, LNR-16.850; 23. Jon Stanbrough, 81, Stanbrough-16.860; 24. Logan Williams, 5w, Jory-16.898; 25. Hunter Schuerenberg, 19, Underwood-16.959; 26. Bud Kaeding, 16, Martin-16.973; 27. Aaron Farney, 17GP, Dutcher-17.020; 28. Max Adams, 5m, Adams-17.147; 29. Kyle Edwards, 39E, Edwards-17.192; 30. Cody Williams, 44, Jory-17.218; 31. Matt Mitchell, 21A, Burkhart-17.245; 32. Troy Rutherford, 11x, Bellegante-17.284; 33. Chris Gansen, 4G, Gansen-17.287; 34. Colton Slack, 3F, Finkenbinder-17.324; 35. Bret Mellenberndt, 97, Mellenberndt-17.331; 36. Verne Sweeney, 98v, Tracy-17.429; 37. Cody Majors, 81x, Watt-17.453; 38. Parker Colston, 64, Gore-17.609; 39. Tommy Malcolm, 5x, Napier-17.656; 40. Eddie Tafoya, 51T, Tafoya-17.708; 41. A.J. Bender, 21, Bender-17.899; 42. Randy Waitman, Y69, Waitman-17.911; 43. Jeremy Ellertson, 98, Ellertson-17.958; 44. Anthony Lopiccolo, 36, Springstead-18.099.
SIMPSON RACE PRODUCTS/EXTREME MUFFLERS FIRST HEAT: (10 laps) 1. Kaeding, 2. Stockon, 3. Gardner, 4. Vander Weerd, 5. Stornetta, 6. A. Williams, 7. Mitchell, 8. Bender, 9. Sweeney. 2:53.79
COMPETITION SUSPENSION (CSI)/DJ SAFETY SECOND HEAT: (10 laps) 1. Bacon, 2. Leary, 3. Darland, 4. Farney, 5. Swanson, 6. Chapple, 7. Rutherford (#11 Rutherford), 8. Waitman, 9. Majors. 2:52.36
BENIC ENTERPRISES/CIRCLE TRACK PERFORMANCE THIRD HEAT: (10 laps) 1. Boespflug, 2. Thomas, 3. Windom, 4. Stanbrough, 5. Spencer, 6. Adams, 7. Gansen, 8. Colston, 9. Ellertson. 2:51.09
INDY RACE PARTS/STAND 21 RACER GOES SAFER FOUNDATION FOURTH HEAT: (10 laps) 1. Roa, 2. Bernal, 3. Johnson, 4. L. Williams, 5. Hodges, 6. Malcolm, 7. Slack, 8. Edwards, 9. Lopiccolo. NT
KEIZER ALUMINUM WHEELS FIFTH HEAT: (10 laps) 1. Macedo, 2. Meseraull, 3. Schuerenberg, 4. Faria, 5. Liggett, 6. Mellenberndt, 7. Tafoya, 8. C.Williams. NT
BROWN & MILLER RACING SOLUTIONS SEMI: (12 laps) 1. A. Williams, 2. Swanson, 3. Hodges, 4. Liggett, 5. Chapple, 6. Rutherford, 7. Malcolm, 8. Edwards, 9. Slack, 10. Majors, 11. Gansen, 12. Sweeney, 13. Lopiccolo, 14. Stornetta, 15. Bender, 16. Colston, 17. Adams, 18. Mitchell, 19. Tafoya, 20. Spencer, 21. Mellenberndt, 22. Ellertson. NT
BILL PRATT FEATURE: (30 laps) 1. Chad Boespflug, 2. Chris Windom, 3. Brady Bacon, 4. Damion Gardner, 5. Austin Williams, 6. Dave Darland, 7. Carson Macedo, 8. R.J. Johnson, 9. Richard Vander Weerd, 10. Kevin Thomas, Jr., 11. Bud Kaeding, 12. Brody Roa, 13. Jon Stanbrough, 14. C.J. Leary, 15. Josh Hodges, 16. Thomas Meseraull, 17. Chase Stockon, 18. Ryan Bernal, 19. Jake Swanson, 20. Logan Williams, 21. Aaron Farney, 22. Danny Faria, Jr., 23. Max Adams, 24. Chris Gansen, 25. Hunter Schuerenberg, 26. Austin Liggett. NT
—————————-
**Mellenberndt and Stornetta flipped during the semi.
FEATURE LAP LEADERS: Laps 1-30 Boespflug.
KSE RACING PRODUCTS/BR MOTORSPORTS/KING RACING PRODUCTS HARD CHARGER: Bud Kaeding (23rd to 11th)
NEW USAC AMSOIL SPRINT CAR NATIONAL CHAMPIONSHIP POINTS: 1-Bacon-2546, 2-Stockon-2253, 3-Darland-2125, 4-Meseraull-2101, 5-Windom-2090, 6-Boespflug-2076, 7-Leary-1953, 8-Robert Ballou-1919, 9-Farney-1350, 10-Thomas-1324.
NEW USAC/CRA AMSOIL SPRINT CAR CHAMPIONSHIP POINTS: 1-D. Gardner-1516, 2-Vander Weerd-1336, 3-Swanson-1248, 4-Roa-1217, 5-A. Williams-1190, 6-Spencer-1003, 7-Adams-892, 8-L. Williams-772, 9-C. Williams-739, 10-Gansen-688.
NEXT USAC AMSOIL NATIONAL & CRA SPRINT CAR CHAMPIONSHIP RACES: November 11-12 – Perris, California – Perris Auto Speedway – 21st Annual Budweiser "Oval Nationals"