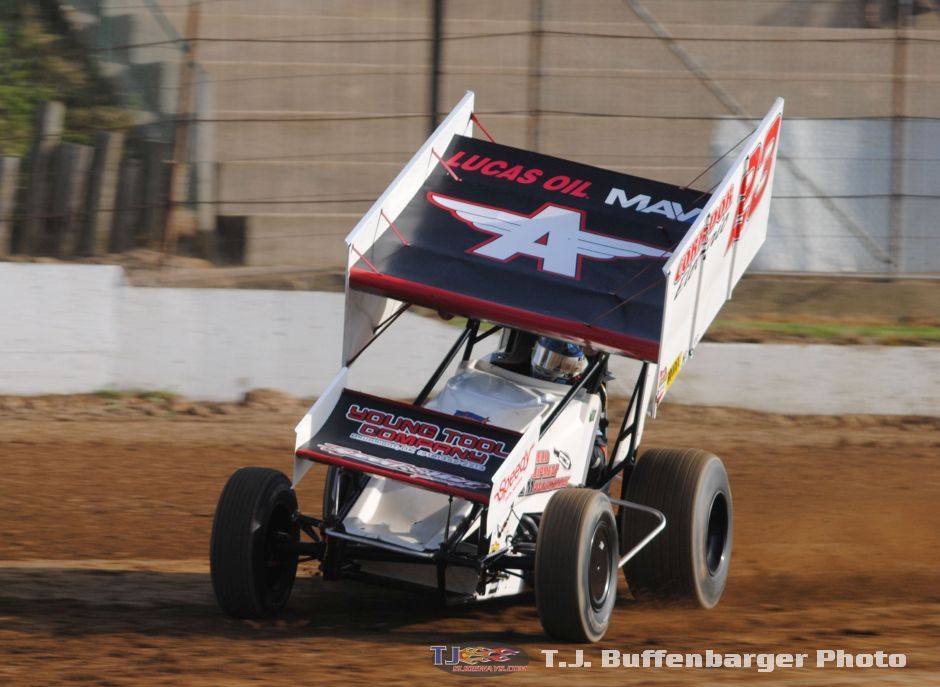 From Bryan Hulbert
SOMERTON, Ariz. (November 11, 2016)- Seeking his first Lucas Oil ASCS presented by the MAVTV Motorsports Network win of the 2016 season, Seth Bergman finally got the job done with his first career win at the Cocopah Speedway in Somerton, Ariz. in a caution free nail bitter to open up the 2016 Lucas Oil ASCS National Season Finale and snap a 45 race winless streak.
"We made some changes and man, this thing has been bad fast ever since. I can't say enough about my guys. They work their tails off on this thing and I just feel like the lucky guy that gets to get behind the wheel," commented Bergman who is the sixth different winner in Lucas Oil ASCS competition at the Cocopah Speedway.
Addressing the crowd following his ninth career Lucas Oil ASCS victory, Bergman said, "I don't know about you guys up there, but I was on pins and needles, so I'm sure you had to be too. That was excited."
Fighting a sticking throttle on the opening rotations to drop from third to fourth, the Corridor Electric No. 23 rode fourth the opening seven rounds as fellow Washington native, Jason Solwold, led the charge into slower traffic.
With traffic in play, Solwold had fast company as Herrera, Bergman, and Hafertepe began putting in their bid for the lead. Dicing in and out of the back markers, the No. 23 worked on second on Lap 12. Carrying momentum the following lap, Bergman shot to the race lead and began putting car lengths between Solwold and himself.
Setting sail into more slower traffic, Seth pulled the slide around a lapped car, but found a rut though the second turn. Upsetting the car and nearly ending Seth's night, the Washington native narrowly recovered, but allowed Jason Solwold back into the lead on the 15th round.
Rebuilding his run, Seth was not to be denied; making the race winning pass on Lap 18 with Sam Hafertepe, Jr. in tow. Racing back and forth with the No. 15h in the closing laps, Solwold eventually worked back into second but would trail Bergman by 0.593 seconds at the checkered flag.
Solwold's first A-Feature appearance at the Cocopah Speedway in ASCS competition, Jason finds himself solidly locked into Saturday's finale.
"Seth ran a heck of a race. We just got hung up behind a lapped car and that was racing us all pretty hard there and just came out on the short end of the stick there but Seth got up there and set a good pace. We just needed to be better with the car but finishing second locks us into tomorrow."
Rolling like a house of fire in the closing laps, Aaron Reutzel advanced 11 spots to take the final podium step. Asked what would have made the race a little easier, the Texas native replied, "I needed to get through my Qualifier better. I made a mistake that cost me and we ended up starting 14th, but we were really good. I don't even fell like I needed a caution because them racing through lapped traffic is what helped me get through there. The car was awesome."
Settling for fourth, Sam Hafertepe, Jr. garnered the final transfer into Saturday's Championship event and will start the A-Feature as the 2016 Lucas Oil ASCS presented by the MAVTV Motorsports Network Champion.
Roger Crockett completed the top-five the HAM Construction No. 35m.
As high as second at one point, slower traffic pushed Johnny Herrera back to a sixth place finish with Wayne Johnson seventh. From 17th, California's Dominic Scelzi rolled to an eighth place finish with 14 year old Michael Kofoid ninth. Cory Eliason completed the top-ten.
The 2016 Lucas Oil ASCS finale at the Cocopah Speedway drew 40 drivers split into five Heat Races with wins going to Thomas Kennedy, Alex Pettas, Matt Covington, D.J. Netto, and Johnny Herrera. Qualifiers were topped by Seth Bergman, Cory Eliason, and Roger Crockett. The B-Mains went to Dominic Scelzi and Logan Forler.
Provisional starts were used by Colton Hardy on a Regional Provisional. A Promoter's Provisional was awarded to Chase Goetz.
The final night of the 25th season of Lucas Oil ASCS competition is Saturday, November 12 with gates opening at 5:00 P.M. and Racing at 7:00 P.M. (MT). For more information, log onto http:/www.cocopahspeedway.com.
For continued updates on the Lucas Oil ASCS presented by the MAVTV Motorsports
Network, log onto http://www.ascsracing.com.
Race Results:
ASCS National / ASCS Southwest
Cocopah Speedway – Somerton, Ariz.
Friday, November 11, 2016
Car Count: 40
ButlerBuilt Heat Races (Top 30 in Race Passing Points advance to Qualifiers on a 24 car invert)
Heat 1 (8 Laps): 1. 82-Thomas Kennedy[2]; 2. 4S-Michael Kofoid[4]; 3. 12-James Mosher[3]; 4. 5H-Cory Eliason[7]; 5. 2L-Logan Forler[5]; 6. 77M-Nate Maxwell[1]; 7. 14-Cody Sickles[6]; (DNS) 34-Brad Wise
Heat 2 (8 Laps): 1. 2-Alex Pettas[1]; 2. 9-Ryan Smith[4]; 3. 15H-Sam Hafertepe Jr[7]; 4. 20Z-Rick Ziehl[8]; 5. 22-Jesse Baker[2]; 6. 14H-Ben Holmberg[3]; 7. (DNF) 14K-Kyle Bellm[6]; 8. (DNF) 77-Damon McCune[5]
Heat 3 (8 Laps): 1. 95-Matt Covington[2]; 2. 1X-Mason Moore[1]; 3. 87-Aaron Reutzel[8]; 4. 52-Blake Hahn[4]; 5. 17-Dustin Gates[3]; 6. 41-Dominic Scelzi[5]; 7. 8-Bob Ream Jr[6]; (DNS) 28-Jonathan Cornell
Heat 4 (8 Laps): 1. 3C-D.J. Netto[2]; 2. 2C-Wayne Johnson[3]; 3. 18-Jason Solwold[8]; 4. 18W-Colby Copeland[6]; 5. 90-Lance Norick[1]; 6. 91-Chase Goetz[7]; 7. 44-Jake Helsel[5]; 8. 29-Darrell Sickles[4]
Heat 5 (8 Laps): 1. 45X-Johnny Herrera[3]; 2. 35M-Roger Crockett[2]; 3. 23-Seth Bergman[5]; 4. 9R-Reece Goetz[1]; 5. 98-Chris Masters[4]; 6. 74-Colton Hardy[7]; 7. (DNF) 0J-Jeremy McCune[6]; (DNS) 14USA-Jeff Slinkard
Hoosier Tire Qualifiers (Top 16 in combined Passing Points advance to the A-Feature)
Qualifier 1 (8 Laps): 1. 23-Seth Bergman[2]; 2. 1X-Mason Moore[1]; 3. 18-Jason Solwold[6]; 4. 3C-D.J. Netto[4]; 5. 52-Blake Hahn[7]; 6. 87-Aaron Reutzel[5]; 7. 41-Dominic Scelzi[10]; 8. 17-Dustin Gates[9]; 9. 98-Chris Masters[8]; 10. 2-Alex Pettas[3]
Qualifier 2 (8 Laps): 1. 5H-Cory Eliason[2]; 2. 18W-Colby Copeland[1]; 3. 4S-Michael Kofoid[4]; 4. 45X-Johnny Herrera[6]; 5. 20Z-Rick Ziehl[3]; 6. 82-Thomas Kennedy[5]; 7. 91-Chase Goetz[8]; 8. 9R-Reece Goetz[7]; 9. 22-Jesse Baker[9]; 10. 14H-Ben Holmberg[10]
Qualifier 3 (8 Laps): 1. 35M-Roger Crockett[2]; 2. 2C-Wayne Johnson[3]; 3. 15H-Sam Hafertepe Jr[6]; 4. 9-Ryan Smith[4]; 5. 95-Matt Covington[5]; 6. 2L-Logan Forler[7]; 7. 12-James Mosher[1]; 8. 74-Colton Hardy[8]; 9. 90-Lance Norick[9]; 10. 77M-Nate Maxwell[10]
BMRS B-Features (Top 3 finishers transfer to the tail of the A-Feature)
B Feature 1 (12 Laps): 1. 41-Dominic Scelzi[2]; 2. 52-Blake Hahn[1]; 3. 8-Bob Ream Jr[7]; 4. 17-Dustin Gates[4]; 5. 74-Colton Hardy[3]; 6. 91-Chase Goetz[10]; 7. 22-Jesse Baker[6]; 8. 14-Cody Sickles[8]; 9. 14H-Ben Holmberg[5]; 10. 44-Jake Helsel[9]; (DNS) 28-Jonathan Cornell; (DNS) 29-Darrell Sickles
B Feature 2 (12 Laps): 1. 2L-Logan Forler[1]; 2. 9R-Reece Goetz[4]; 3. 14K-Kyle Bellm[8]; 4. 12-James Mosher[2]; 5. 90-Lance Norick[6]; 6. 0J-Jeremy McCune[9]; 7. 98-Chris Masters[5]; 8. 77-Damon McCune[10]; 9. 77M-Nate Maxwell[7]; 10. (DNF) 2-Alex Pettas[3]; 11. (DNF) 14USA-Jeff Slinkard[12]; (DNS) 34-Brad Wise
Protect the Harvest A-Feature
A Feature (25 Laps): 1. 23-Seth Bergman[3]; 2. 18-Jason Solwold[1]; 3. 87-Aaron Reutzel[14]; 4. 15H-Sam Hafertepe Jr[2]; 5. 35M-Roger Crockett[6]; 6. 45X-Johnny Herrera[4]; 7. 2C-Wayne Johnson[7]; 8. 41-Dominic Scelzi[17]; 9. 4S-Michael Kofoid[8]; 10. 5H-Cory Eliason[5]; 11. 95-Matt Covington[13]; 12. 1X-Mason Moore[10]; 13. 9-Ryan Smith[11]; 14. 18W-Colby Copeland[12]; 15. 52-Blake Hahn[19]; 16. 20Z-Rick Ziehl[16]; 17. 82-Thomas Kennedy[15]; 18. 2L-Logan Forler[18]; 19. 9R-Reece Goetz[20]; 20. 8-Bob Ream Jr[21]; 21. 91-Chase Goetz[24]; 22. (DNF) 14K-Kyle Bellm[22]; 23. (DNF) 74-Colton Hardy[23]; 24. (DNF) 3C-D.J. Netto[9]
Lap Leader(s): Jason Solwold 1-12, 16-17; Seth Bergman 13-15, 18-25;
FSR High Point Driver: Jason Solwold
Hard Charger: Aaron Reutzel +11
Provisional(s): Colton Hardy (Regional); Chase Goetz (Promoter)
2016 ASCS National Driver Standings (Top 10): 1. Sam Hafertepe, Jr. 4,963; 2. Johnny Herrera 4,715; 3. Wayne Johnson 4,507; 4. Blake Hahn 4,333; 5. Matt Covington 4,240; 6. Logan Forler 4,133; 7. Aaron Reutzel 3,891; 8. Seth Bergman 3,890; 9. Kyle Bellm 3,047; 10. Josh Baughman 2,968;