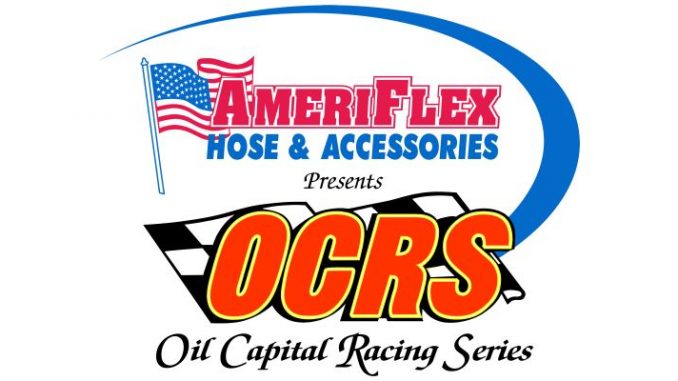 From John Lemon
TULSA, Ok. (January 5, 2017) – Coming off the heels of the highest paying event to a race winner in Ameri-Flex / OCRS sprint car series history with the initial 'Ameri-Flex Challenge' last year, now comes 'Ameri-Flex Challenge II', which is the next premier sprint car race from the Oil Capital Racing Series. Ameri-Flex Hose & Accessories in Tulsa Oklahoma is returning once again as the title sponsor of this special event.
Ameri-Flex Challenge II is structured to pay the race teams over $20,000 which will make AFC II the largest purse in series history for a single day program. The destination for AFC II will be the Salina Highbanks Speedway in Salina Oklahoma with a date set for August 26, 2017.
The Salina Highbanks will also present ASCS sprint cars from their Red River Region and race cars from the past with the Kansas Antique Racers on the docket with the full program billed by the racetrack as the 'Oklahoma Thunder Nationals'. The AFC II portion of the program will see the event winner earning $3,000 while paying out $500 to start the main event. The pay is exceptional as the 13th place driver will earn $1,000! Who said 13 was unlucky?
As in 2016, "car owners" will need to qualify their cars to be in the AFC II program. The method of qualifying has changed from last year's Ameri-Flex Challenge. Here are the qualifying details for AFC II:
The top 30 car owners in Ameri-Flex / OCRS points after the last race prior to AFC II are qualified to be in the program providing said car owners make at least 50% of the events held prior to AFC II.
In the event any dates are added to the schedule after the first race of the season, any events held prior to AFC II will factor into the number of events a car owner needs to achieve 50% participation to qualify for the event. Likewise, in the event that AFC II has to be rescheduled for any reason, any race(s) held prior to the rescheduled AFC II date will be part of the equation to determine a 50% minimum attendance to qualify.
As with 2016, any driver wishing to compete in AFC II must make at least 40% of the scheduled shows prior to the AFC II event to participate.
The event format will be announced at a later date with all cars participating receiving equivalent championship points towards the 2017 racing season.
"We (OCRS) are constantly flattered and amazed by all the support we keep getting for our series," expressed OCRS President Barry Grabel. "Corvan and Logan Robison of Ameri-Flex Hose and Accessories keep stepping up and we are just fortunate that they value our series the way they do. In addition, we must express our sincere gratitude to the Salina Highbanks Speedway for their efforts into the Ameri-Flex Challenge program, these are truly a great bunch of people to be working with."
"We want this to be one of the biggest races yet for the Ameri-Flex / OCRS series," says Ameri-Flex President / Owner Corvan Robison. "With a good payout throughout the field, hopefully this will be quite an entertaining race. I consider the Salina Highbanks my home track since the closing of Tulsa Speedway years ago."
Robison echoed: "It ain't that far to go see some damn good racing! I know Keith Sanders, Dave Bohannon and David Edwards (Salina's main principals) will put on a great show! I know the fans can expect a great show and the OCRS sprint car drivers will drive their guts out to earn all the cash being offered!"
Speaking on behalf of the Salina Highbanks Speedway, track promoter David Edwards shared these thoughts:
"We welcome the opportunity to showcase Ameri-Flex Challenge II and OCRS next summer. Sprint cars are a good fit for our racetrack as we primarily attract people from a four state area (Oklahoma, Arkansas, Kansas & Missouri). OCRS produces good racing that our fans come to expect."
Edwards went on to say: "The Salina Highbanks has a good long term relationship with Ameri-Flex. We use them through our construction business as well as the racetrack and Ameri-Flex has been great supporters of the Salina Highbanks Speedway. We are pleased to work with Corvan and Ameri-Flex on this program. This should be a great night for everyone."
Additional sponsors for AFC II will be announced in the near future. If you are interested in being a part of this spectacular program, contact John Lemon at (918) 850-5341.
The guaranteed purse for Ameri-Flex Challenge II is as follows:
1) $3000
2) $1500
3) $1200
4) $1000
5) $1000
6) $1000
7) $1000
8) $1000
9) $1000
10) $1000
11) $1000
12) $1000
13) $1000
Positions 14 through 20: $500 each
Total A-Feature Purse: $19,200. Non Qualifiers receive $125 each
Total purse with 10 non-qualifiers: $20,450
Note: All rules and/or qualifications for Ameri-Flex Challenge II are subject to modification by the Oil Capital Racing Series if deemed necessary. Question or inquiries can be directed to Barry Grabel at (918) 260-3899 of John Lemon at (918) 850-5341.