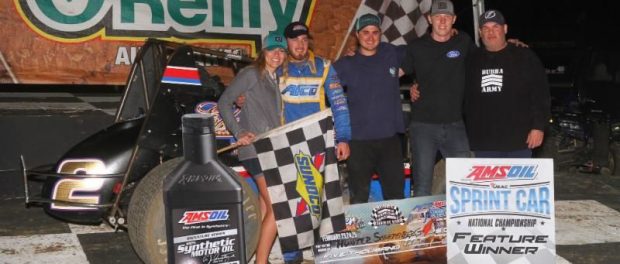 From Richie Murray
OCALA, Fla. (February 25, 2017) — A seventh-place starting position and a 360 degree spin at the midway point was not enough to deter Hunter Schuerenberg on the path to a "Winter Dirt Games VIII" victory Saturday night at Bubba Raceway Park.
The 27-year-old Sikeston, Missouri native steadily moved his way toward the front of the field throughout the 30-lap event before surging into the lead with seven laps remaining to collect his first USAC AMSOIL National Sprint Car feature victory in nearly three years since a 2014 victory in McCool Junction, Nebraska as well as his ninth career series triumph, joining Mario Andretti and Robbie Stanley for 47th on the all-time list.
At the drop of the green, though, outside front row starter Thomas Meseraull held the point, fending off a furious challenge from previous night's winner Justin Grant and defending USAC Silver Crown titlist Chris Windom for the first pair of laps.
Following a yellow brought about by a Kyle Cummins spin after contact with Isaac Chapple in a battle for the seventh position, Windom used a massive run on the restart to slide up in front of Meseraull and snare the lead away in turn one, instantly stretching out his lead by the tenth lap as Meseraull and Grant battled for second.
At the feature's midway point, Schuerenberg and Carson Short fought side-by-side for the fourth position. In turn four, the two made contact, vaulting Short's right rear over the nose of Schuerenberg's ride. Short landed on all fours before sliding front-bumper-first into an infield tire marker, stopping him in his tracks. Meanwhile, Schuerenberg was sent into a complete 360 spin, but kept his foot on the gas and continued down the front straightaway as the yellow flew for the stopped car of Short.
"The bottom started going away there," Schuerenberg recalls. "I whoaed up there too much trying to hit the bottom and I think Carson just had a head of steam. It was one of those racing deals. I don't think he really meant to do it partially because I slowed down quite a bit trying to hit my marks."
Schuerenberg restarted fourth with 15 to go, joining Grant and Meseraull in their pursuit of race leader Windom who began to pull away in the latter stages to a one second advantage with a mere 10 laps remaining, but a lap 21 caution bunched up the field at the front of the pack for the ensuing restart.
On this occasion, Windom was unable to break way as Grant challenged low and a surging Schuerenberg ripped the top-side to remain within the shadows of the orange No. 5 that paced the field. Suddenly, though, Windom's right rear tire appeared to be going flat, but the determination of Windom refused to deflate after both Grant and Schuerenberg completely surrounded him, both low and high, on lap 22.
Grant clawed his way along the bottom of turn three to briefly occupy the top spot, yet Windom was able to duck back under Grant to retain a lead of the narrowest of margins at the stripe. On the 23rd lap, Schuerenberg used the momentum on the cushion to ride his way to the front and, one lap later, Windom's quest for victory vanished as the tread on his right rear tire gave way, resulting in a yellow with just seven laps to go.
When racing resumed, it was all too clear Schuerenberg was the class of the field on this night as he constructed a lead that grew to nearly two seconds on the final lap to score the win in his Roof Bolt Racing/Eddie Gilstrap Motors – Roof Bolt Xpress/Eagle/Tranter over Grant, Meseraull, Chad Boespflug and Brady Bacon, who earned $700 in cash for the BC Badass Passing Award this weekend courtesy of the Hughes Family and the Indiana Mafia.
Saturday night marked the first USAC victory for the Roof Bolt Racing team and Schuerenberg's first career USAC victory at Ocala, a place in which he has scored six top-five finishes in his 11 most recent starts at the 3/8-mile D-shaped dirt track.
"We've got a different car this year and we've got some new partners involved," Schuerenburg explained. "Being away from non-wing racing for a while and doing the wing thing, there were things I took from that and applied to the non-wing car, which is quite a bit different than what I've typically done in the past. I've been rebuilding engines myself and learned quite a bit with making more power where I think I needed it. It's nice to take the perspective of driving the car and then learning more about engines, you can apply what you learned on them to what you feel with your foot."
"Justin has many of the same tendencies as me," Schuerenberg asserts. "If he gets the chance and he's racing somebody, he's probably going to be on the top. When Windom's tire was going down, I noticed that and I knew going into the first corner, Justin was probably going to the outside to try and get Windom. I thought if Windom got through that corner quick enough, I could follow him to get around Justin when he left the bottom open and, from there, I'd just have to worry about getting by Chris. I knew Windom would go to the bottom in (turns) three and four, so I went to the top to try to beat him in one. I've been racing with Chris and Justin for 10 years now. You kind of know those guys' habits, where they're going to go and what they're going to do. They know the same things about me too. It's nice because you don't have to worry about those guys running over you, but in that situation, it kind of helped me because I knew what I thought they were going to do. Sometimes it works out; sometimes it doesn't. I tried what I was thinking that time and it worked out, but it may not work out the next time. It was just a hold-your-breath type of race, but it was a fun one. If you're going to win one, I'd rather win it like that rather than just lead the whole thing."
Ione, California's Justin Grant followed up Friday night's winning performance with a solid second place run and takes ahold of the early season point lead in his Sam McGhee Motorsports/Mike McGhee & Associates – Brown & Miller Racing Solutions/Maxim/Foxco.
"Obviously, we wanted to win," Grant acknowledged. "Second place is a good night. It was good for points and we've set out to chase the points deal this year, so I took what I could get. I made a couple mistakes throughout the race, but I think those guys were just a little better than we were. Had I run a perfect race, we were good enough to beat them. But missing a step here and there, it just got away from us. Sam gave me a great car again and it seems like we're close every night. It's nice when it feels like we missed, yet we were still able to run second."
San Jose, California's Thomas Meseraull captured the victory in the 2016 "Winter Dirt Games" finale. Although the results from 2017's event did not include a victory celebration, Meseraull was extremely pleased with his third-place finish in his debut weekend performance aboard the Rick Pollock/Bates Commodities – Jonathon Pollock Engines/Maxim/Pollock.
"The car was great," Meseraull exclaimed. "It was a big difference from yesterday when it was my first time in the car and I was still getting a feel for it and getting on the same page as Rick. We did that tonight. We knew we had to qualify better, but we had a little bit of timing problems. We just worked it out. It just needed more timing and the difference was night and day. I'm really excited to run top-three. I thought we had a fourth or fifth-place car, but Windom blew a tire and that helped us out. I just got up on the wheel and was able to keep Chad (Boespflug) and Chase (Stockon) behind us. I'm just happy to get out of Florida in one piece."
Contingency award winners Saturday night at Bubba Raceway Park include Carson Short (ProSource Fast Qualifier), Max McGhee (Simpson Race Products First Heat Winner), Landon Simon (Competition Suspension, Inc. Second Heat Winner), Chase Stockon (Chalk Stix Third Heat Winner), Dave Darland (Indy Race Parts Semi Winner), Brady Bacon (KSE Racing Products/ProSource Hard Charger/BC Badass Passing Award) and Tyler Courtney (Wilwood Brakes 13th Place Finisher).
———————————-
USAC AMSOIL SPRINT CAR NATIONAL CHAMPIONSHIP RACE RESULTS: February 25, 2017 – Ocala, Florida – Bubba Raceway Park – "Winter Dirt Games VIII"
PROSOURCE QUALIFYING: 1. Carson Short, 21, RCM-13.955; 2. Kyle Cummins, 3R, Rock Steady-14.056; 3. Chase Stockon, 32, 32 TBI-14.072; 4. Chris Windom, 5, Baldwin-14.083; 5. C.J. Leary, 30, Leary-14.138; 6. Thomas Meseraull, 21x, Pollock-14.178; 7. Justin Grant, 11, McGhee-14.239; 8. Hunter Schuerenberg, 2, Roof Bolt-14.264; 9. Isaac Chapple, 52, LNR/Chapple-14.279; 10. Dave Darland, 71p, Phillips/Curb-Agajanian-14.325; 11. Jarett Andretti, 18, Andretti-14.365; 12. Chad Boespflug, 69, Dynamics-14.374; 13. Max McGhee, 4J, 4J Motorsports-14.398; 14. Brady Bacon, 63, Dooling/Hayward-14.403; 15. Tyler Courtney, 23c, TOPP-14.425-14.425; 16. Jerry Coons, Jr., 20N, Nolen-14.477; 17. Landon Simon, 24, LSR-14.492; 18. Aaron Farney, 15F, DCT-14.511; 19. Shane Cottle, 44, Pace-14.704; 20. Jeff Bland, Jr., 17GP, Dutcher-14.716; 21. Josh Hodges, 74x, Hodges-14.782; 22. Joe Liguori, 44D, Staab-14.964; 23. Rob Caho, Jr., 78, Caho-14.965; 24. Dallas Hewitt, 16, Kaser/Seeling-15.179; 25. Frank Carlsson, 20, Carlsson-16.468; 26. Robert Bell, 71, Bell-17.044.
SIMPSON RACE PRODUCTS FIRST HEAT: (8 laps) 1. McGhee, 2. Grant, 3. Short, 4. Windom, 5. Coons, 6. Darland, 7. Cottle, 8. Liguori, 9. Carlsson. 1:55.37
COMPETITION SUSPENSION (CSI) SECOND HEAT: (8 laps) 1. Simon, 2. Schuerenberg, 3. Andretti, 4. Bacon, 5. Cummins, 6. Bland, 7. Caho, 8. Bell, 9. Leary. 1:56.62
CHALK STIX THIRD HEAT: (8 laps) 1. Stockon, 2. Courtney, 3. Boespflug, 4. Meseraull, 5. Chapple, 6. Hodges, 7. Farney, 8. Hewitt. 1:53.91
INDY RACE PARTS SEMI: (12 laps) 1. Darland, 2. Farney, 3. Cottle, 4. Hodges, 5. Bland, 6. Caho, 7. Hewitt, 8. Leary, 9. Bell, 10. Carlsson, 11. Liguori. 2:54.00
FEATURE: (30 laps) 1. Hunter Schuerenberg, 2. Justin Grant, 3. Thomas Meseraull, 4. Chad Boespflug, 5. Brady Bacon, 6. Chase Stockon, 7. Dave Darland, 8. Kyle Cummins, 9. Jarett Andretti, 10. Carson Short, 11. Shane Cottle, 12. Jerry Coons, Jr., 13. Tyler Courtney, 14. Isaac Chapple, 15. C.J. Leary, 16. Chris Windom, 17. Jeff Bland, Jr., 18. Josh Hodges, 19. Max McGhee, 20. Rob Caho, Jr., 21. Dallas Hewitt, 22. Landon Simon, 23. Aaron Farney. NT
—————————-
FEATURE LAP LEADERS: Laps 1-2 Meseraull, Laps 3-23 Windom, Laps 24-30 Schuerenberg.
KSE RACING PRODUCTS/PROSOURCE HARD CHARGER: Brady Bacon (13th to 5th)
WILWOOD BRAKES 13TH PLACE FINISHER: Tyler Courtney
NEW USAC AMSOIL SPRINT CAR NATIONAL CHAMPIONSHIP POINTS: 1-Grant-155, 2-Schuerenberg-144, 3-Boespflug-141, 4-Stockon-139, 5-Bacon-128, 6-Meseraull-120, 7-Leary-99, 8-Andretti-99, 9-Windom-96, 10-Coons-96.
NEXT USAC AMSOIL SPRINT CAR NATIONAL CHAMPIONSHIP RACE: April 1 – Lawrenceburg, Indiana – Lawrenceburg Speedway