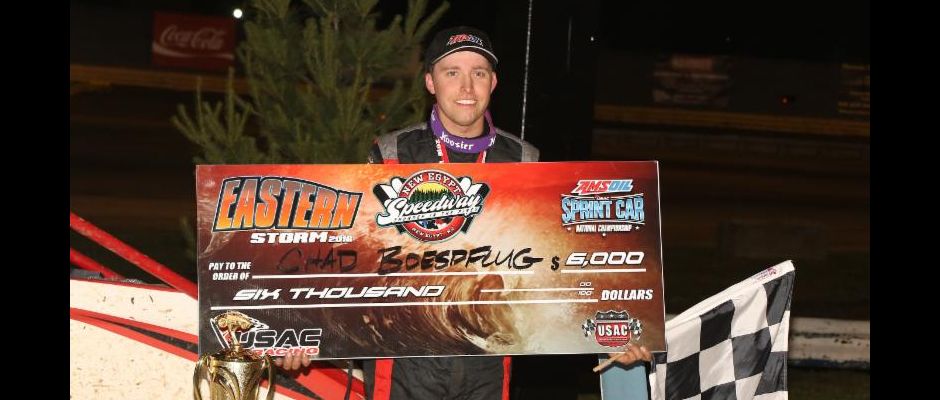 From Christine Musselman
PLAINFIELD, Ind. (March 1, 2017) – After just a few days "home" in Indiana Chad Boespflug will pack his bags and head to the west coast this weekend to compete in the Amsoil USAC/CRA Opener at Perris Auto Speedway in Perris, California. While the Amsoil USAC National Season waits for the weather to break in the Midwest Boespflug has the opportunity to fill the void racing from coast to coast.
Saturday March 4th Boespflug will climb back behind the wheel of the Dwight Cheney Racing #42 Maxim for the Sokola Shootout at The PAS. Boespflug and Cheney have some history together competing in select USAC/CRA events together in California in years past. The duo will pick back up where they left off Saturday. Boespflug had success at the end of 2016 in with his own car picking up the Oval Nationals Prelim night win at The P.A.S. This weekend will be a little different for Boespflug as he will return to just the driver hat instead of the of the driver/owner. Although not in the same equipment as his last visit to The P.A.S. Boespflug is confident in the cars Cheney has prepared for them to compete in this weekend.
"As I have said before any time I get the chance to return to my home state of California to race I usually jump on the opportunity. Our season in the Midwest doesn't start until the end of March beginning of April so to have the chance to race for Dwight Cheney during the USAC National season downtime is great. I am looking forward to working with Cheney again this weekend. Cheney has rebuilt over the winter and I am looking forward to coming out a bit early to help get things buttoned up with his new Maxim Chassis'. Hopefully we get a a good run in this weekend and I can fit a few more races into the already busy schedule this year in California."