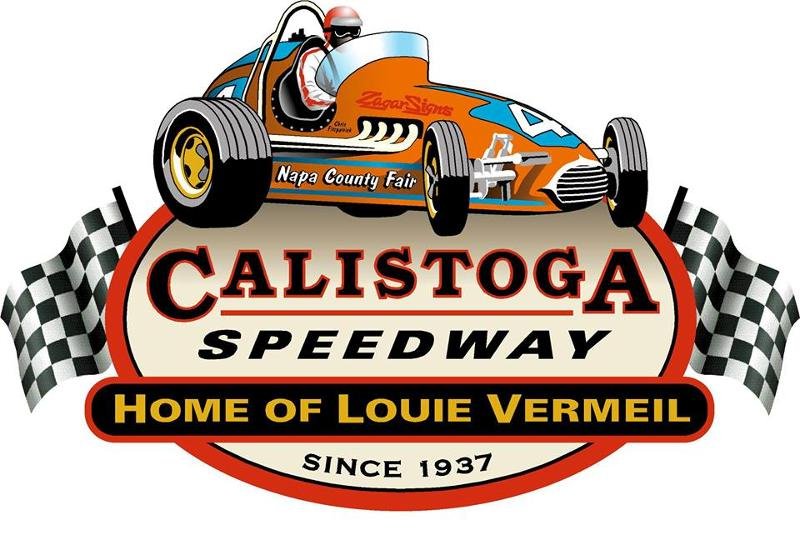 From Troy Hennig
ROSEVILLE, Cal. (February 22, 2017) — Since 1938 the sights, sounds and smells of oval dirt track auto racing has entertained generations of fans over the years at the historic Calistoga Speedway located at the Napa Fairgrounds. The picturesque half-mile mile dirt oval track is widely considered one of the best destinations for auto racing enthusiasts. Nestled in the rolling hills of the Napa Valley, Calistoga Speedway will offer a wide variety of entertaining and diverse shows for 2017.
The season kicks off on April 22nd with the popular sights and sounds of Monster Trucks. While Monster Trucks are new to the Calistoga Speedway they have a wide-ranging following of loyal and devoted fans. "We wanted to extend the entertainment options for our fans in 2017," said Tommy Hunt of HMC Promotions. Tickets can be purchased for this high flying, car crunching loud and aggressive night of entertainment by visiting www.ticketleap.com and typing HMC Promotions in the search bar.
The Wine Country Classic returns on June 24th with a new addition. Traditionally, this night has been a stand-alone King of the West 410 sprint car show. However, this year the Speedway will also host the newly formed Elk Grove Ford Sprint Car Challenge Tour presented by Abreu Vineyards featuring 360 winged drivers. "Fans will get to see a twin billing of separate 410 and 360-winged sprint car shows on this night," said Hunt. Fans are encouraged to call the HMC Promotions office at (916) 773 7225 to reserve tickets.
After a year hiatus, the AMA Pro Flat Track Motorcycles returns on July 29th. American Flat Track is America's original extreme sport. At its core, it's a highly competitive, adrenaline-fueled American motorcycle sport featuring customized motorcycles reaching top speeds of up to 140mph, piloted by young, athletic and marketable world-class athletes. Fans can purchase tickets for this upcoming event by heading to http://calistogahalfmile.com/ and clicking on the Buy Tickets Now option.
The Labor Day weekend will once again feature a tribute to traditional non-wing sprint car and midget racing. Things get kicked off Friday night, September 1st, with the Calistoga Speedway Hall of Fame Induction Dinner. The 2017 Calistoga Speedway Hall of Fame Inductees include; Rendy Boldrini, Duane Bonini, Dave Bradway Jr., Jack Gordon, Gene Figoni, Don Melvin and Galen Unruh. A follow up release with detail these inductees and their contributions to Calistoga Speedway.
The following two nights, September 2nd and 3rd, will feature some of the best USAC drivers in the Country. A lucrative amount of money and prestige is on the line for these modern-day gladiators during these two nights of racing known as the Louie Vermeil Classic. Fans are encouraged to call the HMC Promotions office at 916-773-7223 to reserve tickets.
Just two weeks later the Calistoga Speedway will host the greatest show on dirt, The World of Outlaws, featuring the best 410-winged sprint car drivers in the world. The 2017 Wine Country Outlaw Showdown at CALISTOGA Speedway is a two-night show beginning on Friday night September 15th and concludes on Saturday night September 16th. This will be the lone chance for Northern California fans to witness the World of Outlaws on the big and fast half-mile speedway. Fans can buy their tickets on line at https://dirtcar.ticketforce.com/