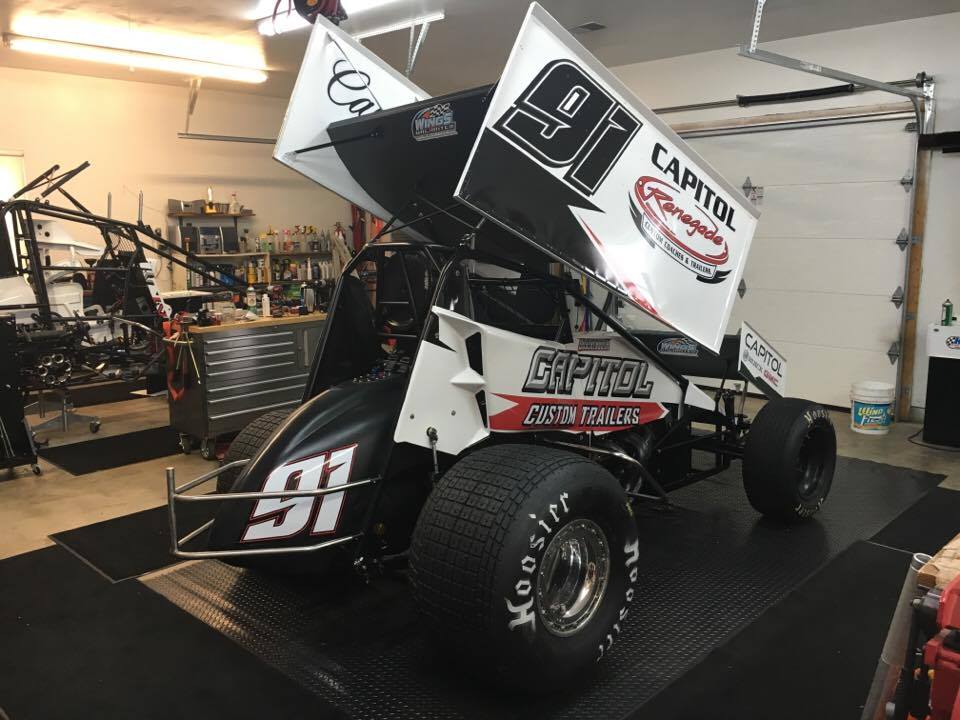 From Christine Musselman
PLAINFIELD, Ind. (March 6th, 2017) – Chad Boespflug returned to Indiana early this morning after a weekend in California spent competing in the Amsoil USAC/CRA Season Opener at Perris Auto Speedway in Perris, CA. Boespflug drove the Cheney Racing #42 to a top ten finish Saturday despite struggling with brake issue on the newly built car all night. The team addressed the brake issues each time the car came off the track, but they were unable to completely resolve the issue.
"It was the first time out for the new car so there were a few bugs to be worked out. We fought brakes all night so it was a bit sketchy getting into the corners, especially there where carrying a lot of speed into the corners is crucial to keep you momentum going. Cheney and the guys never gave up and kept thrashing all night to get me comfortable and the brake issue worked out. Unfortunately the issue lingered in the main. This trip was helpful to get the new car figured out and I look forward to going back west to race with Cheney in the near future." -Chad Boespflug
Home for a few days and then on the road again is becoming the new normal for Boespflug lately. Boespflug returned to his "day" job as a project manager early this morning not long after returning from California. Unlike most he juggles a full time job and a full time racing career. Long hours during the week as a project manager for an Indianapolis based company does not stop when he hits the road, the work continues for Boespflug just remotely. Thus allowing him to be able to do the travel needed to chase his racing career. This week will be deja vu for Boespflug except the destination is on the opposite side of the country. Friday evening Boespflug and Crew Chief Davey Jones will travel east to Central Pennsylvania where Boespflug will make his debut against the Pennsylvania Posse at Lincoln Speedway Saturday in Abbottstown, PA and Williams Grove Speedway Sunday in Mechanicsburg, PA. Boespflug will return to the Wayne Quackenbush Owned Capitol Renegade / Capitol Custom Trailers #91 Maxim chassis. Quackenbush and Boespflug teamed up at the end of 2016 for Boespflug to begin cutting his teeth in the wing sprint car world. Tentatively Boespflug and Quackenbush plan to compete in as many events as they can fit into the breaks in the Amsoil USAC National Schedule.
"At the end of last year I made my wing sprint car debut at the World Finals in Charlotte against the best competition in wing sprint car racing aside from the Knoxville Nationals. I had the opportunity to drive the Quackenbush Capitol Renegade / Capitol Custom Trailers #91 just once in a practice session before diving right in. World Finals was a huge learning curve for me, like most things you do for the first time are. It took a bit to get used to the different feels that you don't experience in a non wing sprint car, but by the end of World Finals I was a lot more comfortable. I am ready to get back into a wing car. As the saying goes "Go Big or Go Home" and I'm going to do just that again as I throw myself to the wolves of wing racing in Central Pennsylvania. The local competition will be tough, but once again I am going for laps and to gain experience as I venture out of my comfort zone. Racing in company with guys like Lance Dewease and Danny Dietrich who have thousands of laps in not just a wing car, but in PA is an honor. Those guys have defeated the Outlaws so racing against and watching them on their home turf I will be able to learn a lot and take that away from this experience. I can not thank the Wayne and David Quackenbush enough for taking the chance with me and giving me the opportunity to branch to the "Dark Side" as non wing fans call it. Hopefully mother nature is on our side this weekend and we are able to race Saturday at Lincoln and Sunday at The Grove." – Chad Boespflug opened up about his wing sprint car experience and upcoming debut against the Pennsylvania Posse.