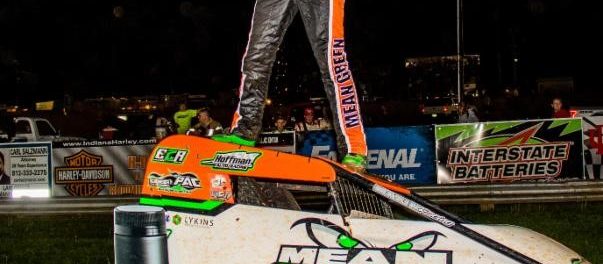 From Richie Murray
BLOOMINGTON, Ind. (April 14, 2017) — On a restart two-thirds of the way into Friday night's 30-lap USAC AMSOIL Sprint Car National Championship feature at Bloomington (Ind.) Speedway, Chad Boespflug found himself playing defense on Chris Windom.
Some say defense wins championships, but in auto racing, a driver has to be on the offensive. And that's exactly what the Hanford, California native did after seeing his lead slip away on the 22nd lap. Down the stretch, Boespflug attacked the topside and went after Windom, instigating a compelling, five-lap, hair-raising wheel-to-wheel showdown in which the two were locked into a constant side-by-side battle.
After ripping off lap-after-lap that appeared as if he was on a single-car qualifying run, Boespflug emerged ahead of Windom on the white flag lap, leading the final two circuits to take his first career Bloomington victory and first as a driver for the legendary Hoffman Auto Racing/Dynamics, Inc. team.
"It's awesome to drive for the Hoffmans," Boespflug exclaimed. "To have the success we've had with so far with a fourth, two seconds and now a win, it's extra special all the way around. It's just a great group effort. Everybody works so hard when we get to the track. They don't complain or anything; they just do what's needed to be done and it shows every night when we get to the racetrack. It's an honor to get a win for Mean Green, the Hoffmans and everybody involved."
A lightning quick racing surface was prepared for the series' first visit to the southern Indiana staple in 2017. New 10-lap and 12-lap records were established during the preliminary events, setting the course for an action-packed main event.
At the start of the feature, outside front-row starter Boespflug asserted himself to grab the race lead from polesitter Dave Darland entering the first turn where he immediately settled in on the rim of the quarter-mile red clay oval.
A lap three caution for Hunter Schuerenberg fell after the sixth-place-running driver came to a stop on the wrong side of the banking between turns one and two, but that only momentarily put a clamp on Boespflug's run. On the ensuing restart, Darland held the low line while Boespflug occupied the top, which he used to pull away and extend his advantage in the early sequence.
Meanwhile, Windom, the series' most recent winner at Lawrenceburg (Ind.) Speedway two weeks prior, was on the move. After blitzing from sixth to third on the opening lap, Windom made his next move when he disposed of Shane Cottle and Dave Darland for the second position on lap eight and now had only race leader Boespflug to contend with.
However, Windom still trailed Boespflug by more than a second at the moment, but he unrelentingly kept digging on the bottom while Boespflug remained up top when the two came upon lapped traffic. Most of the lappers occupied the low line, forcing Windom to migrate to the top where he and third-place Darland followed in hot pursuit.
A pair of yellows for the stopped cars of Josh Hodges and Max McGhee brought about a pair of yellow flags, thus creating a clear track ahead of the leaders when racing resumed. Yet, the clear track didn't signal a utopian path to victory for Boespflug. Not only did he have to contend with Windom hot on his tracks, the uncontrollables began to enter his mind, though he let them slide to the back of his mind as he kept his thoughts focused on what he could control – the race at hand.
"About halfway through, the car got really soft on the right rear," Boespflug explained. "I wasn't sure if I had a tire going down or a shock broke. I had to rally through and not worry about that. I just had to worry about my race."
The lap 21 restart, in particular, was beneficial to Windom as Boespflug took a lower than usual line into turn one, entering the middle of the track which presented Windom an opportunity he refused to let slip through his fingers. Boespflug fought to gain a foothold in the middle, but by then, Windom was wheel-to-wheel underneath Boespflug. Boespflug quickly got back to the cushion and was able to nip Windom by the narrowest of margins at the flagstand on lap 21, but a lap later, Windom hit his marks perfectly on the bottom to jump out front and officially take the lead on the 22nd go-round.
"When Chris got around me there, I was overprotecting more than anything," Boespflug remembers. "I was racing behind me instead of in front of me. That allowed him to get around me."
At that moment, Darland, hanging in contention and running third, blew a left rear tire at the start/finish line, ending on this night a bid to extend his record-streak of USAC National features to 25 consecutive years.
When action resumed with seven laps remaining, Windom got a solid jump that spurted him out to a five-car-length lead ahead of Boespflug. With seemingly nothing to lose, Boespflug ventured back to the high side and put it all on the line.
Little-by-little, Boespflug drew closer and, with only five laps remaining, was side-by-side with the 2016 Silver Crown champ. Lap-after-lap, the two appeared as if they were engaged in a game of slot car racing, with both smooth on the rail, running distinctive lines with neither able to budge ahead by more than a foot or so at any particular point.
Lap 26, 27 and 28 all resulted in Windom clinging to a scant lead at the line, but Boespflug was still wide open on the outside, a move that would pay large dividends as he raced around Windom to grab the lead coming to the white flag.
On the final lap, as Boespflug inched away, Windom took one final, last ditch effort, but it wouldn't be nearly enough as he slid up behind Boespflug off the final corner, as Boespflug darted under the checkered flag to take his first series victory of the season and became the fourth different winner in as many races in his Dynamics, Inc./Mean Green – PAC Springs/Maxim/Claxton, ahead of Windom, Chase Stockon, Justin Grant and B & W Auto Mart/KSE Racing Products Hard Charger Kevin Thomas, Jr.
"Chris stayed on the bottom and I thought, 'well, here's my shot," Boespflug said. "Right before that last yellow, I was hanging with him there a little bit. I just had to stand up on the wheel and, when I saw that white flag, I didn't lift for the entire last lap. I just held her to the floor!"
It was a reversal of fortunes for Boespflug who finished second to Windom last October at the Terre Haute (Ind.) Action Track in a fierce battle that was reminiscent of Friday night's Bloomington classic. At Terre Haute in the Fall of 2016, the two swapped the lead 26 times, unofficially, without banging wheels or turning a wheel wrong.
Running out front and continuously hitting your marks is something that takes an enormous amount of concentration, but Boespflug believes when you race wheel-to-wheel in the situation he did, it allows you to take your mind off the methodical aspects of driving, and just race.
"It's actually better when you're racing somebody because you forget about everything you're thinking about," Boespflug said. "You just drive the hell out of the racecar, really. You're just focusing on what you have to do and hitting your marks. Chris raced me as clean as can be and I felt I did the same thing. He ran the bottom and I ran the top for five laps, side-by-side and didn't touch each other at all."
Chris Windom of Canton, Illinois, came up just short of becoming the series' first repeat winner of 2017, finishing second after leading seven laps in his Baldwin Brothers Racing/Fox Paving – AMSOIL/DRC/Claxton.
"We were pretty good on the top and bottom," Windom said. "I felt like we were a little stronger on the bottom and I was kind of committed to it. I didn't want to be switching from the top to the bottom because it's easy to miss your marks doing that. I got to the lead and it just started to slick off a little too much. With five to go, I felt like I had to slow down a little too much. By the time I realized I needed to get back to the top, Chad was already next to me with two or three laps to go. He ran three or four perfect laps there on the top and it was just enough to get back by us."
Fort Branch, Indiana's Chase Stockon is still trying to piece his season back together after a series of setbacks on and off the track. A late February tornado swept through Fort Branch, damaging his home, shop, toterhome, trailer and pickup truck. His first race following the tornado resulted in an opening lap flip at Lawrenceburg. Despite the stressful times, Stockon was able to put it all together Friday night for a solid third-place run in his 32 TBI Racing/Superior Tank & Trailer – Crescent Electric Supply/DRC/Fisher.
"We fought issues with this thing," Stockon admits. "This is the same car we had at Lawrenceburg. We straightened it up and Joe (Devin) fixed it. We've had motor issues, bent butterflies and trying to get it to idle right. We finally got it fixed this morning, then loaded up and came straight here (to Bloomington). The way things have been going, we're definitely relieved. It makes it that much sweeter."
Contingency award winners Friday night at Bloomington Speedway include C.J. Leary (B & W Auto Mart/ProSource Fast Qualifier & Wilwood Brakes 13th Place Finisher), Brent Beauchamp (Simpson Race Products First Heat Winner), Tyler Courtney (Competition Suspension, Inc. Second Heat Winner), Kevin Thomas, Jr. (Chalk Stix Third Heat Winner & KSE Racing Products/B & W Auto Mart Hard Charger) and Tyler Thomas (Indy Race Parts Fourth Heat Winner).
USAC AMSOIL SPRINT CAR NATIONAL CHAMPIONSHIP RACE RESULTS: April 14, 2017 – Bloomington, Indiana – Bloomington Speedway