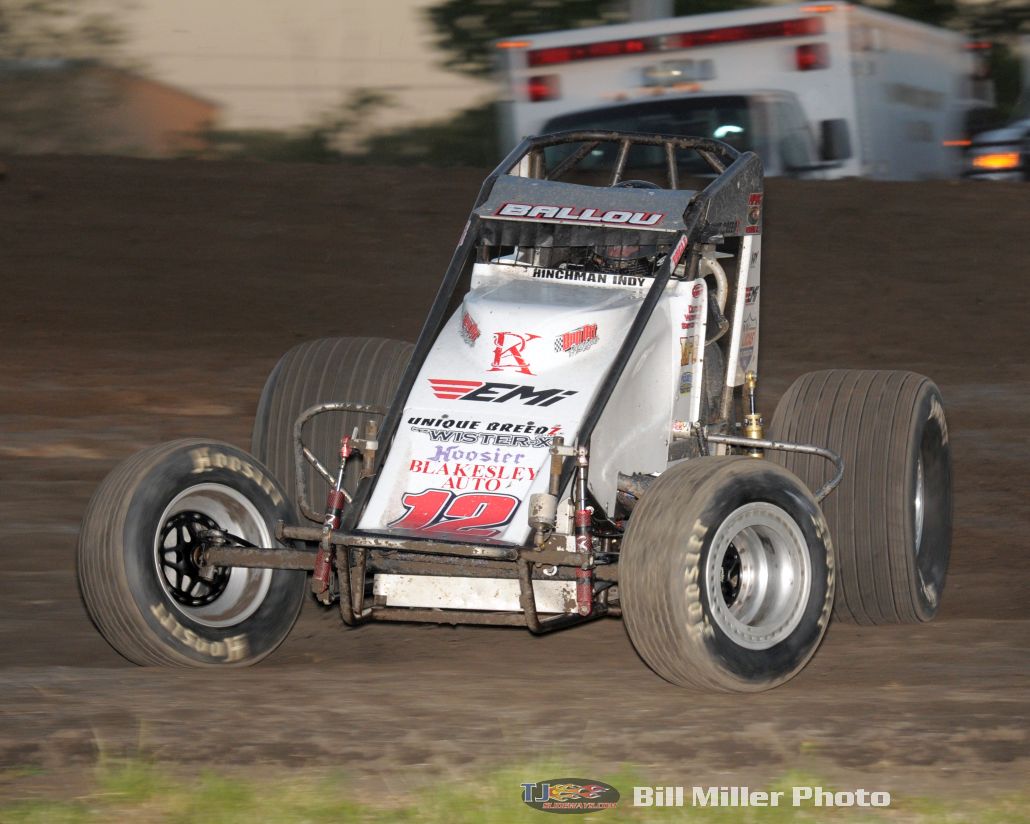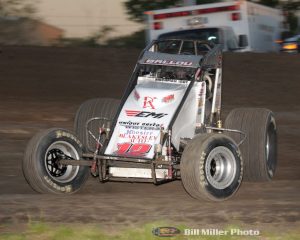 By Richie Murray
No driver has ever won three editions of the "Tony Hulman Classic" consecutively, but this Friday night, June 23 at western Indiana's Terre Haute Action Track, Robert Ballou has the opportunity to reverse 47-years of history.
The Rocklin, California native won the 2015 and 2016 editions in equally dramatic fashion. Ballou caught Chris Windom with three laps remaining to capture the traditional rifle trophy in '15. With less than 10 to go in last season's "Hulman Classic," Ballou battled back-and-forth with Thomas Meseraull before coming right back at him with nine laps to go, utilizing a monster slide job into turn one. Ballou opened it up in the final stages to capture his second consecutive victory in the race, which had previously only been achieved by Steve Butler (1987-88) and Levi Jones (2008-09).
Ballou, the 2015 USAC AMSOIL Sprint Car National Champion, defied the odds with his comeback victory at Eldora Speedway in May, his second race back after an eight-month recovery following devastating injuries in a crash last September. Since then, he's had an up-and-down stretch that got its bumpiest during last week's Eastern Storm, a five-race, six-night series that tested patience and equipment.
Ballou backed up his Eldora victory with a solid fourth at I-80 Speedway and a runner-up finish at Iowa's Knoxville Raceway a day later. But, a rough patch through Pennsylvania's Eastern Storm saw a sixth-place result on opening night at Grandview Speedway as his best. A night later, he was 13th at Lincoln Speedway, then followed up a night later with a turn-three crash at Williams Grove Speedway that put him 23rd in the final box score.
Ballou appeared to be back in his element on the half-mile Port Royal Speedway. He dominated the first 26 circuits of the 30-lap feature before a late-race caution bunched up the field. Windom got by him with a slider on the restart and drove away for the victory while Ballou, battling for second on the final lap with Justin Grant saw his night end two corners short of the checkered as he smacked backward into the outer guardrail before flipping over multiple times. He was uninjured, but would not be in attendance the following night in the Eastern Storm finale at Susquehanna Speedway.
The Terre Haute Action Track will be a welcome change of scenery to Ballou this Friday when the series returns to the Midwest half-mile, a track size that he has earned 12 of his 27 career USAC National Sprint Car feature wins on.
Speaking of Eastern Storm, Chris Windom of Canton, Illinois captured the title by four points over Cullman, Alabama's Kevin Thomas, Jr. Windom owns four total Action Track USAC victories, including the last two appearances by USAC at the Wabash Valley Fairgrounds oval – a National Sprint Car triumph in October of 2016 and the "Sumar Classic" Silver Crown season opener in April of this year.
The most recent driver to win three-straight USAC events at Terre Haute across all three USAC National divisions was J.J. Yeley in 2002-2003. Yeley scored a sprint win to end 2002, began the season with another sprint score to begin 2003 and completed the trifecta with a Silver Crown triumph later that spring.
Thomas, a Terre Haute USAC Sprint winner in 2013, won his first USAC feature of the season last Thursday at Williams Grove, while Indianapolis, Indiana's Tyler Courtney was victorious for the second time in the Eastern Storm finale Sunday at Susquehanna.
Third in Eastern Storm points, Brady Bacon of Broken Arrow, Oklahoma, won last Tuesday at Grandview and was a USAC Sprint feature victory in September of 2014 at the Action Track, but the two-time USAC National Sprint Car champ has yet to add a "Hulman Classic" trophy to his collection.
Ballou is among four past winners expected to compete in Friday night's race, including Dave Darland (1993 & 2014), Jon Stanbrough (2002 & 2007) and Windom (2011).
The "Hulman Classic" began with George Snider's victory in 1971 and continues today as the longest, annually-contested event on the USAC AMSOIL National Sprint Car calendar. Except for a brief period between 1988 and 1991 when the event moved to the pavement at Indianapolis Raceway Park, the Hulman Classic has been held at the Terre Haute Action Track.
Former winners of the race include ten Indianapolis 500 veterans, 14 past USAC National Sprint Car championships and even an NHRA Top Fuel Drag Racing star, Doug Kalitta.
Pit gates open this Friday for the "Tony Hulman Classic" at 3pm with the grandstands set to open at 4. Cars hit the track at 6:30.
Friday's "Tony Hulman Classic," as well as every USAC event, can be viewed one-day after the race, on-demand at
http://www.Loudpedal.TV/
.