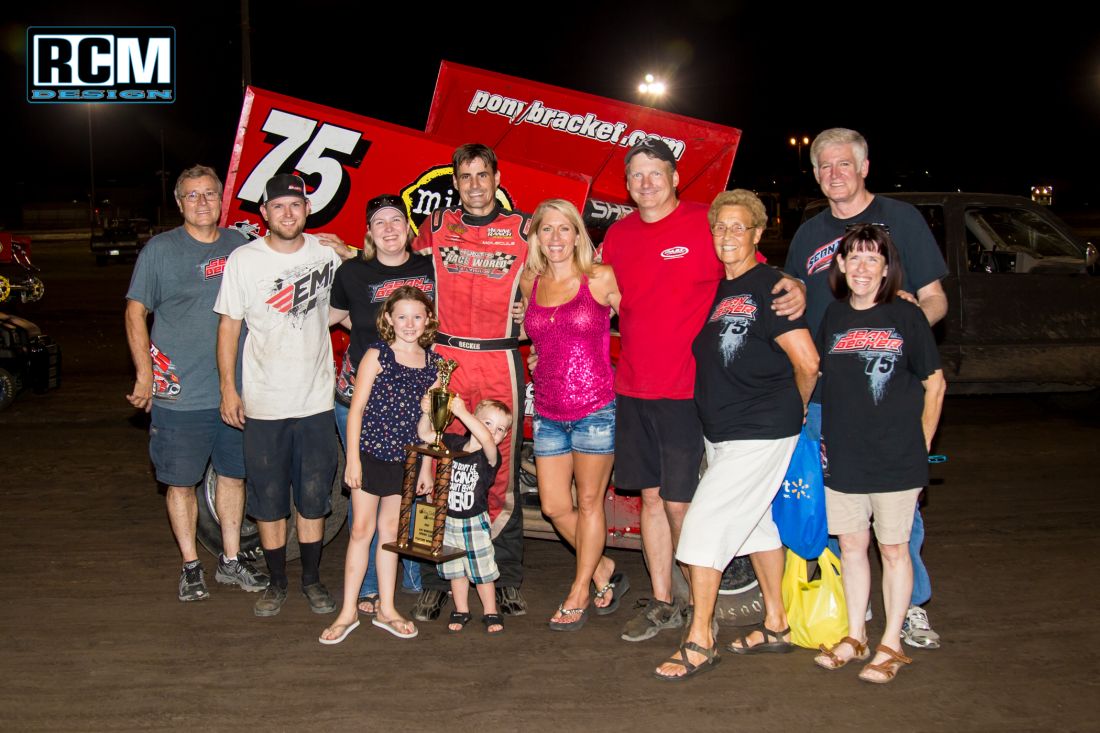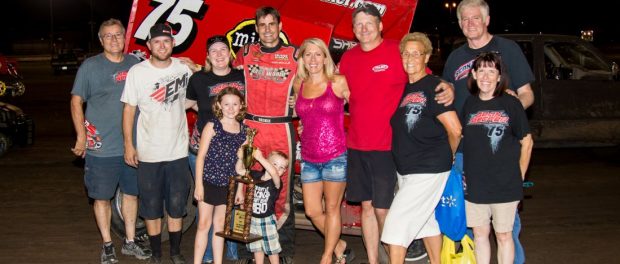 From Troy Hennig
CHICO, Ca. (June 30, 2017) — Sean Becker seemed to drive with a purpose Friday night at his home track Silver Dollar Speedway and thrilled the crowd as he captured his 60th career sprint car win at Chico. Becker started in the sixth spot, outside row three and for some reason seemed more determined tonight. Becker drove by the likes of Andy Forsberg, Mason Moore and Kalib Henry on his way to the win. It was an emotional victory lane setting as car owners Dan and Cindi Menne, Sean's wife Lisa and his parents were all ready to celebrate in victory lane. "This was a much-needed win," said Becker in victory lane. "Like they say, 'Winning cures all ills' and tonight I am just so happy to get the win and celebrate with the people who have always believed in me."
While Becker and team should get all the credit, a tip of the hat goes out to Chase Majdic. The teenager led the first 15 laps of the main event until Becker passed him coming out of turn two. Soon, Majdic will get that first win. With two laps remaining, Andy Forsberg used a slower car to his advantage and drove around Majdic for second. Forsberg also started the night by turning the fastest lap in qualifying at a 11.524. Michael Ing started eighth and finished a respectable fourth. Justyn Cox made a rare Friday night start and finished fifth. Cox stared seventh and had great on track battled with Mason Moore and Ing throughout the night. Moore came home in the sixth spot.
Majdic won the first heat race and Becker was the winner in heat two. A total of 12 sprint cars attended point race No. 8.
It is not often you get to make a race winner tear up. However, that was exactly what happened when I asked Craig Swim who he wanted to thank after capturing his first wingless sprint car feature win. After gathering his thoughts and emotions Swim thanked his wife who he said, "Has stuck behind me over the course of five years and always believing in me." Swim was solid all night and led the entire 20 lap distance. "I think I need to get back into better shape as I fell out of the seat the final few laps," admitted Swim with a smile. Tony Richards applied pressure to Swim late it the race and made a last-ditch attempt to steal the win but was not able to pull it off. Casey McClain drove a great race and finished third. Jeremy Wilson came home in fourth. Gary Paulson rounded out the top five but pulled off late with a motor issue. Richards won the eight-lap heat race.
Phil Marino won the action packed 20-lap street stock main event. Marino gave up the lead at one point when he hit a slick spot in turn four the spun him towards the infield. Corey Hall became the new leader. However, later in the race, Hall slowed down coming off turn two. Ahead of Hall was a smoking race car and it was assumed maybe Hall had thought the yellow was going to come out. Marino took advantage and regained the lead. Hall resumed in the second spot and wound up finishing a few car lengths back of Marino. Gary Newman charged from seventh to third. Danny Dozier started eighth and finished fourth. Richard Workman finished fifth in the feature but earlier in the night won the eight-lap heat race.
Phillip Shelby won his third IMCA Sport Mod main event of the year during the Friday night season in Chico. This win wasn't easy as Justin Foux led a majority of the race only to surrender to Shelby late in the event. "I want to give Foux credit," said Shelby. "He was fun to race with and he drives me clean." Foux ended up finishing second. Shane Devolder drove up to the third spot. Tyler Rodgers came home fourth. Rodgers won the eight-lap heat race earlier in the night.
Jason Armstrong won the 20-lap Vintage Hardtop main event. Armstrong had such a big lead that he spun in turn four on the final lap and still won easily. Ron Ruiz won the eight-lap heat race.