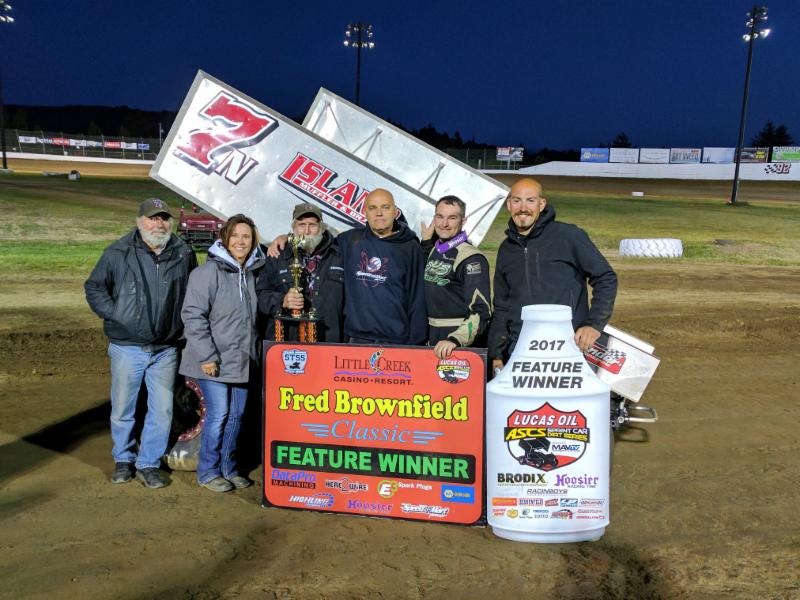 By Bryan Hulbert
ELMA, Wa. (July 1, 2017) — Wheeling the Henderson Motorsports No. 7n to the green from the pole position, Medford, Oregon's Roger Crockett went flag-to-flag to pick up his second career victory at Grays Harbor Raceway in National competition with the Lucas Oil American Sprint Car Series presented by the MAVTV Motorsport Network in the 3rd annual Fred Brownfield Classic presented by Little Creek Casino and Resort.
"It's a huge deal to get the win here at Elma. We've been fighting some gremlins these past couple weeks. We were getting some good finishes and the car's been good, but we were just missing that little extra and finally dialed the thing in tonight," commented Roger who reveled the team had been tracking down a vibration through Dirt Cup and the opening night of the Brownfield that ended up being the U-Joint.
"This National Tour is no joke. There's a lot of good guys out here, so it feels really good to come out on top."
A complete restart after Harli White and Sam Hafertepe, Jr. came to a stop off the fourth turn, the next attempt was also scrubbed when Devin Madonia came to a rest entering the third turn. Taking the green the third time with Matt Covington rolling to his outside, Roger was able to fend off the charge of the A-Rock Material No. 95.
Building a lead over five seconds at one point, Crockett was smooth through traffic as Wayne Johnson gave chase in the Outlaw Wings No. 2c. Working on cutting Roger's advantage down, the lead was almost up for grabs on Lap 24 as Crockett got crossed up.
Asked about what happened, Roger replied, "That's a deal where you're pushing and pushing. I started getting the wing back and when I did, the car got tight so I started driving even harder, and just got into some dirty air and the car jumped out from underneath me. Luckily I was able to gather it up, but it was a scary moment for a second there."
Looking like the race was going to go the distance, the caution finally displayed on Lap 28 for Jay Cole who came to a rest off the fourth turn.
With lapped cars to his advantage, Roger was uncontested with his advantage at the line 1.901 seconds over Wayne Johnson.
A solid turnaround from Friday night, Wayne gave praise to his crew for getting the car figured out and rolling in the right direction. Johnny Herrera parked his No. 45x third for the second night in a row, after a multi lap battle with the No. 87 of Aaron Reutzel. Falling back to fifth in traffic just two laps before the caution, the restart saw something turn foul for Aaron, as 22nd starting Blake Hahn raced by for the fifth spot. Advancing 17 positions, Hahn was Saturday's CP-Carrillo Hard Charger of the Night.
Matt Covington ended up sixth with Jason Solwold also charging hard from 20th to seventh. Craig Dollansky was eighth with Seth Bergman coming from 18th to ninth. Coming from 21st, Skylar Gee came up to round out the evening's top-ten.
A field of 36 was on hand for the finale of the 3rd annual Fred Brownfield Classic presented by Little Creek Casino and Resort. Four Heat Races went to Henry Van Dam, Seth Bergman, Wayne Johnson, Harli White, and Colton Heath. B-Mains were topped by Jay Cole and Seth Bergman. No Provisional starts were used.
The Lucas Oil American Sprint Car Series begins its turn back to the mid-west with the series next stop coming on at Gallatin Speedway in Belgrade, Mont. on Friday, July 7 and Saturday, July 8 for the second annual Grizzly Nationals. Both nights begin at 7:00 P.M. (MDT). More information can be found on the track's Facebook page.
For continued updates on the American Sprint Car Series, from the National Tour to any of the seven regional tours that make up the over 150 races that make up the ASCS Nation in 2017, log onto http://www.ascsracing.com.
Race Results:
Lucas Oil ASCS National Tour
Grays Harbor Raceway – Elma, Wash.
3rd annual Fred Brownfield Classic – Night 2
Saturday, July 1, 2017
Car Count: 36
Event Count: 38
Heat Races (Top 12 in Passing Points advance to the A-Feature)
Heat 1 (8 Laps): 1. 33V-Henry VanDam, [1]; 2. 8R-Chance Crum, [2]; 3. 42-Devin Madonia, [4]; 4. 0J-Jay Cole, [6]; 5. 18-Jason Solwold, [5]; 6. 3-J.J. Hickle, [8]; 7. 11M-Evan Margeson, [7]; 8. 97R-Jason Reed, [3]
Heat 2 (8 Laps): 1. 2C-Wayne Johnson, [2]; 2. 57C-Chris Schmelzle, [1]; 3. 2L-Logan Forler, [3]; 4. 91-Chase Goetz, [4]; 5. 23-Seth Bergman, [7]; 6. 44W-Austen Wheatley, [8]; 7. 9A-Luke Didiuk, [5]; 8. 8X-John Stuart, [6]
Heat 3 (8 Laps): 1. 17W-Harli White, [3]; 2. 9R-Reece Goetz, [4]; 3. 15H-Sam Hafertepe Jr, [7]; 4. 21P-Robbie Price, [6]; 5. 22X-Trevor Cook, [2]; 6. 9-Shawn Rice, [1]; 7. 52-Blake Hahn, [5]; 8. 5R-Steve Reeves, [8]
Heat 4 (8 Laps): 1. 33-Colton Heath, [2]; 2. 33S-Lance Sargent, [3]; 3. 1-Craig Dollansky, [6]; 4. 17-Cameron (Cam) Smith, [8]; 5. 12-Jared Ridge, [5]; 6. 99-Skylar Gee, [4]; 7. 15-Jeff Dunlap, [7]; 8. (DNF) 6A-Kyle Miller, [1]
BMRS B-Features (Top 3 from each advance to the A-Feature)
ASCS Sprints – B Feature 1 (Lineups): 1-Cole.J 2-Forler.L 3-Goetz.C 4-B Feature 1 (12 Laps): 1. 0J-Jay Cole, [1]; 2. 2L-Logan Forler, [2]; 3. 99-Skylar Gee, [6]; 4. 12-Jared Ridge, [5]; 5. 44W-Austen Wheatley, [4]; 6. 97R-Jason Reed, [10]; 7. 15-Jeff Dunlap, [7]; 8. 5R-Steve Reeves, [9]; 9. 9A-Luke Didiuk, [8]; 10. (DNF) 91-Chase Goetz, [3]
B Feature 2 (12 Laps): 1. 23-Seth Bergman, [2]; 2. 18-Jason Solwold, [4]; 3. 52-Blake Hahn, [8]; 4. 21P-Robbie Price, [1]; 5. 11M-Evan Margeson, [6]; 6. 6A-Kyle Miller, [10]; 7. 22X-Trevor Cook, [5]; 8. (DNF) 8X-John Stuart, [9]; 9. (DNF) 3-J.J. Hickle, [3]; 10. (DNF) 9-Shawn Rice, [7]
Protect the Harvest A-Feature:
A Feature (30 Laps): 1. 7N-Roger Crockett, [1]; 2. 2C-Wayne Johnson, [8]; 3. 45X-Johnny Herrera, [4]; 4. 33-Colton Heath, [6]; 5. 52-Blake Hahn, [22]; 6. 95-Matt Covington, [2]; 7. 18-Jason Solwold, [20]; 8. 1-Craig Dollansky, [10]; 9. 23-Seth Bergman, [18]; 10. 99-Skylar Gee, [21]; 11. 87-Aaron Reutzel, [3]; 12. 15H-Sam Hafertepe Jr, [7]; 13. 33V-Henry VanDam, [11]; 14. 17-Cameron (Cam) Smith, [12]; 15. 57C-Chris Schmelzle, [15]; 16. 8R-Chance Crum, [14]; 17. 9R-Reece Goetz, [9]; 18. 2L-Logan Forler, [19]; 19. 33S-Lance Sargent, [13]; 20. 0J-Jay Cole, [17]; 21. (DNF) 42-Devin Madonia, [16]; 22. (DNF) 17W-Harli White, [5]
Lap Leader(s): Roger Crockett 1-30
CP-Carrillo Hard Charger: Blake Hahn +17
FSR High Point Driver: Harli White
Provisional(s): N/A
Northwest Focus Midget Feature: 1. 83 – Chance Crum, 2. 24 – Nick Evans, 3. 92 – Seth Hespe, 4. 14 – Garret Thomas, 5. 2J – Johnathan Jorgenson, 6. 44 – Shane Smith, 7. 34S – Lee St Paul, 8. 25 – Michael Hodel, 9. 14D – Doug Davidson, 10. 92T – Katie Turner, 11. 8X – Otto Jorgenson, 12. 3 – Wade Spreckelmeyer, 13. 2a – Renee Angel, 14. 57 – Hailey Bower, 15. 11T – Ray Stebbins, 16. 67 – Dave Mead, 17. 13A – Ally Pyles, 18. 3h – Hannah Lindquist, 19. 3B – Brain Hayes, 20. 98 – Glenn Bitrolf, 21. 16 – Nik Larson, 22. 57A – Brian Aune, 23. 21J – Ryan Cully, 25. 19 – Thomas Walker,