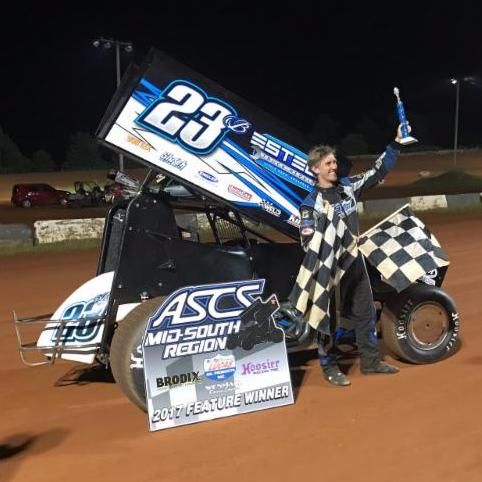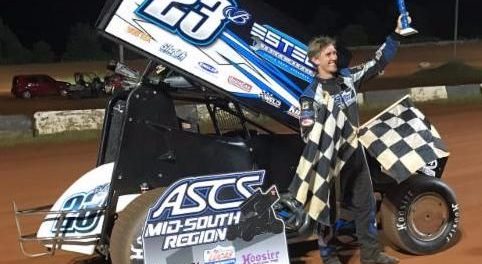 From Bryan Hulbert
MURFREESBORO, Ark. (July 2, 2017) – Adding his name to yet another win list within the American Sprint Car Series, Tennessee's Brian Bell raced to his first victory with the ASCS Mid-South Region on Sunday night at Diamond Park Speedway. The season's fourth winner in as many events, Bell now has wins three ASCS Regional tours, with his overall win count at 10.
Winning from the pole of the 25 lap A-Feature, Bell was pursued to the finish by fellow Tennessee shoe, Howard Moore, with Mississippi's Andy McElhannon taking the final podium step. Ernie Ainsworth and Wally Henson completed the top-five.
Charlie Louden, Justin Webb, Kevin Hinkle, Dustin Gates, and Brandon Hinkle rounded out the top-ten.
The ASCS Mid-South Region races again on Monday, July 3 with the series debut at Crowley's Ridge Raceway in Paragould, Ark. Information on the track can be found online at http://www.crraceway.com.
For continued updates on the American Sprint Car Series, from the National Tour to any of the seven regional tours that make up the over 150 races that make up the ASCS Nation in 2017, log onto http://www.ascsracing.com.
Race Results:
ASCS Mid-South
Diamond Park Speedway – Murfreesboro, Ark.
Sunday, July 2, 2017
Car Count: 15
Heat 1 (8 Laps): 1. 23B-Brian Bell, [5]; 2. 42-Andy McElhannon, [4]; 3. 2H-Wally Henson, [2]; 4. X-Charlie Louden, [8]; 5. 21-Kevin Hinkle, [3]; 6. 30-Joseph Miller, [7]; 7. 32M-Adam Miller, [1]; 8. 31-Justin Webb, [6]
Heat 2 (8 Laps): 1. D6-Dakota Gaines, [1]; 2. 40-Howard Moore, [5]; 3. 91A-Ernie Ainsworth, [4]; 4. 26M-Fred Mattox, [6]; 5. 6-Dustin Gates, [7]; 6. 21B-Brandon Hinkle, [2]; 7. 32X-Robert Richardson, [3]
Qualifier 1 (8 Laps): 1. 40-Howard Moore, [3]; 2. 91A-Ernie Ainsworth, [1]; 3. 6-Dustin Gates, [5]; 4. 26M-Fred Mattox, [4]; 5. 31-Justin Webb, [8]; 6. 21-Kevin Hinkle, [6]; 7. 32X-Robert Richardson, [7]; 8. D6-Dakota Gaines, [2]
Qualifier 2 (8 Laps): 1. 23B-Brian Bell, [3]; 2. 42-Andy McElhannon, [2]; 3. X-Charlie Louden, [1]; 4. 2H-Wally Henson, [4]; 5. 21B-Brandon Hinkle, [6]; 6. 30-Joseph Miller, [5]; 7. 32M-Adam Miller, [7]
Pizza Express of Oklahoma A Feature (25 Laps): 1. 23B-Brian Bell, [1]; 2. 40-Howard Moore, [2]; 3. 42-Andy McElhannon, [3]; 4. 91A-Ernie Ainsworth, [4]; 5. 2H-Wally Henson, [8]; 6. X-Charlie Louden, [5]; 7. 31-Justin Webb, [11]; 8. 21-Kevin Hinkle, [13]; 9. 6-Dustin Gates, [6]; 10. 21B-Brandon Hinkle, [10]; 11. 32X-Robert Richardson, [14]; 12. 32M-Adam Miller, [15]; 13. D6-Dakota Gaines, [9]; 14. 30-Joseph Miller, [12]; 15. 26M-Fred Mattox, [7]