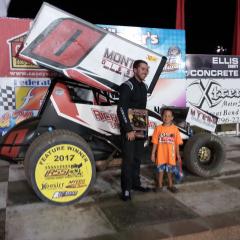 By Nick Schwein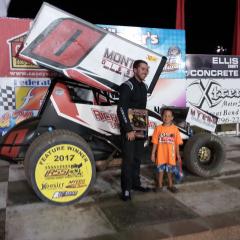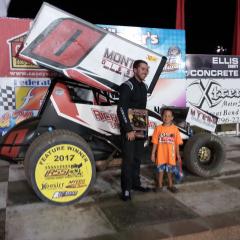 Steven Richardson has been so close to winning the Wheatshocker Nationals in the past.
He remembers that race all too well from 2015.
"About a foot or so," the Liberal sprint car driver said about finishing second to Zach Blurton in a photo finish.
So Richardson isn't shy about what it would mean to win the national race at RPM Speedway in Hays — along with the $2,000 payout and an expensive grill as an added bonus.
"Man, honestly, if I were to sweep the Wheatshocker Nationals and take home the grill and the money (Sunday) … " Richardson said, trailing off a bit. "Because I love this place so much. The fans here are awesome, and the stands are always packed full. People that come to race here are great. This would be huge. This is my Knoxville Nationals. If that means anything to most racers, that's how important it is. I wish we could race here more often. I would never leave."
That's just how much it would mean to Richardson, and he knows he's in a prime spot to accomplish that goal after Saturday night's qualifier.
Richardson started on the front row and bested the field en route to winning the first night of the Wheatshocker Nationals in Hays. The final night will be Sunday night, with races starting at 7 p.m.
Only the top six Saturday night automatically locked themselves into Sunday's finale.
"It's huge because now we have the luxury of watching the track progress and seeing what it's going to do," Richardson said. "We're locked into those front three rows. That's where you have to be to win this thing. Not saying people can't win it from farther back, but that's huge — especially with the talent out here. You don't want to have to chase anybody down. Hopefully we can do well in the redraw tomorrow night and start up front again and take home the money."
Richardson was the pole-sitter for Saturday night's A-main and jumped to the point at the drop of the green flag.
But he wasn't able to run away and hide. Instead. Koby Walters, who started third, was right on his bumper for the first few laps.
After a restart on Lap 6, Walters jumped in front, leading for two laps before he and Richardson exchanged slide job after slide job for the lead.
Richardson inched ahead on Lap 8, only to see Walters lead the next two laps.
"We were good at first," Walters said. "We could stay right there with him, and then we had the caution. I had my one shot at the caution and got by him for a little bit. Then my car started falling away slowly."
When Richardson finally cleared Walters for good on Lap 11, there was nothing but clear sailing for Richardson for a few laps.
"I felt like I had the faster car," Richardson said. "He generally is really good on the bottom, but I felt really good on the top. I felt if I could just get out there in front of him and keep it out there in front and quit exchanging those slide jobs and letting everyone else catch up to us, we had a pretty good chance. But you never know who's coming from behind you."
He had no time to relax as Andy Shouse, who started fifth, worked his way forward.
As lap traffic came into play, Shouse got by Walters on Lap 19. By that time, Richardson had worked his way out to a 1.5-second lead.
"The car was a little tight at first," Shouse said. "The longer the race went on, the freer it got and the better the car started moving. I definitely think at the end — I don't know who was behind me or who was coming — I felt like with the cars in front of me, we had a better car."
Richardson did get bottle up for a few moments in lap traffic, but nothing too significant he couldn't hold on for the win.
"Mainly everybody was running around the bottom or lower than I was on the race track," he said. "I kinda had a clear lane at the top. I knew it was going to kinda set a pick for some of the guys behind me. I was really looking forward to getting into it. Once we were there, there were just a couple guys who weren't sure what line they were going to run, so that held us up a tad bit. But this is one of the rare occasions where it was nice to see it."
Shouse did close the gap in the final few laps but ran out of time when the checkered flag fell.
"I think one or two more laps, especially when we got into lap traffic and it slowed him down a little bit," Shouse said. "And we were running such different lines that I was catching him quick enough that I think I would have had a shot at him."
Jed Werner of Plainville, who started 14th, worked his way to third, followed by Walters in fourth.
"Right now, we have the car," Walters said. "The car is good how we have it — at least close."
Blurton was fifth, and Austin McLean rounded out the automatic qualifiers by taking sixth.
Richardson will try to become only the fourth driver to sweep both nights of the Wheatshocker Nationals tonight. He won the first night in 2015 before finishing second by inches to Blurton on the final night.
Other drivers who have swept the two-day show include Brian Herbert (2016), Ty Williams (2012) and C.J. Johnson (2008). This is the ninth year the event has taken place in Hays, with 2013 the only year it wasn't ran.
"The competition this year is just as good as it has been any other year," Richardson said. "Some of the guys that have been racing with us have been progressing — Austin McLean, Koby Walters, Tracey Hill, all those kids, and Jed Werner, too. They're all good. It's harder than ever right now to win one of these things. They were throwing everything they had at us this race, and we held on to it. (Sunday) night is the important night. It's the big money and the grill."
Heat race winners were Shane Sundquist, Tracey Hill and Zach Blurton
The Keizer Aluminum Wheels Hard Charger Award went to Jed Werner, moving up 10 positions to finish 3rd.
Results
A Feature
1 Steven Richardson
2 Andy Shouse
3 Jed Werner
4 Koby Walters
5 Zach Blurton
6 Austin McLean
7 Ty Williams
8 Todd Plemons
9 Lance Davis
10 Darren Berry
11 Brian Herbert
12 Nate Berry
13 Keefe Hemel
14 Nick Nichols
15 Shane Sundquist
16 Aaron Ploussard
17 Jake Bubak DNF
18 Kaden Taylor DNF
19 Brandon Anderson DNF
20 Tracey Hill DNS
B Feature
1 Kaden Taylor
2 Jed Werner
3 Brandon Anderson
4 Jake Bubak
5 Ty Williams
6 Lance Davis
7 Brian Herbert
8 Aaron Ploussard
9 Craig Jecha
10 Howard Van Dyke
11 Buddy Tubbs DNF
12 Eric Matthews DNF
13 Scott Rhoades DNS
Heat race winners – Sundquist, Hill, Blurton
The Keizer Aluminum Wheels Hard Charger Award goes to Jed Werner, moving up 10 positions to finish 3rd.